Four outstanding women recognised for contributions to their marginalised, climate-impacted communities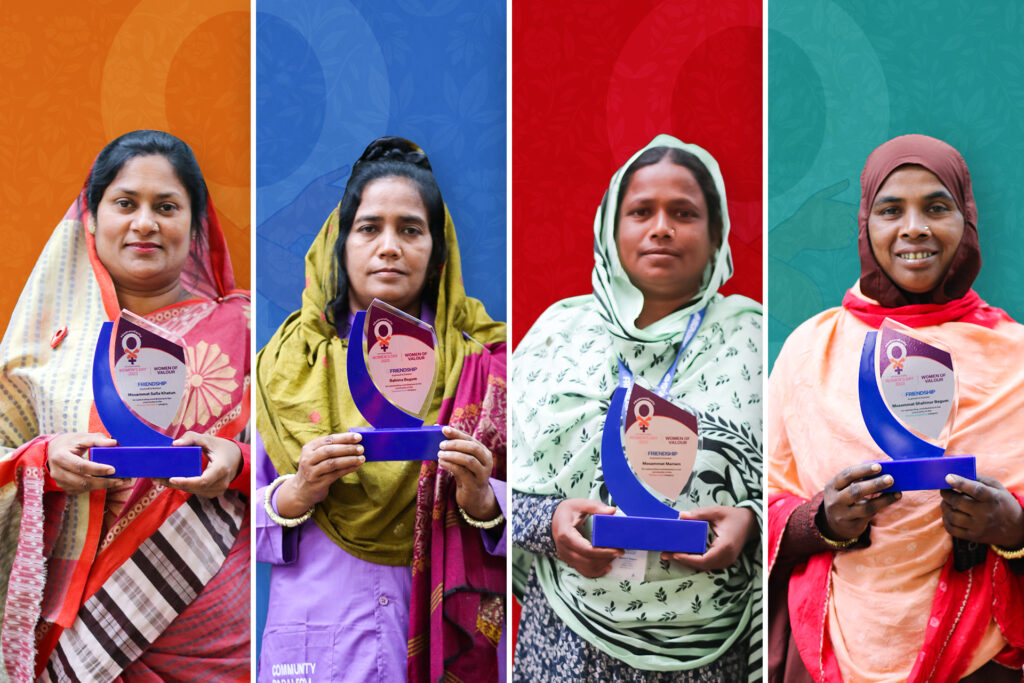 by Tahmeed Chaudhury
March 9, 2023
Friendship has presented four community workers as Women of Valour on the occasion of the International Women's Day 2023 at the Dhaka Reporters Unity premises in Dhaka. The awards, introduced in 2022 and given to outstanding women for remarkable contributions to their communities in hard-to-reach, climate-impacted areas, are presented in four categories representing each of Friendship's commitments to stakeholders: Saving Lives, Poverty Alleviation, Climate Adaptation and Empowerment.
The stories of the winners are below:
Saving Lives: Mosammat Mariam Begum
A teacher at Friendship Primary School Kharjani, Mosammat Mariam Begum was visiting her two sons who live in Gaibandha Sadar when she ran into a woman weeping hysterically on the street in front of the house, surrounded by a dozen curious onlookers. She walked to her and asked her what happened. Mariam found out the woman lived in a rented flat in the same building as her sons and was several months pregnant, with labour right around the corner.
The woman, Deepti Rani, explained how her husband was unemployed, and her family a deep financial struggle. But the unborn child was overgrown and had started defecating inside her. The doctor told her she needed an urgent ultra-sonogram and a C-section surgery, otherwise both hers and her child's lives are at risk. But her husband was unable to pay for the interventions. She was desperate and feared for her life and that of the baby.
Deepti's story moved Mariam to tears. Mariam assured her she will figure something out and immediately went back to Kharjani and returned with BDT 15,000, which she gave to Deepti for the surgery. Deepti underwent C-section surgery days later and gave birth to a healthy daughter. She is amazed at how a stranger from a different faith came forward to her aid. "Mariam apa came as a blessing during the most difficult time of my life and rescued me when my own family did not come forward to help. I think of her as my family now," she says.
Mariam's empathy towards a distraught stranger and her quick lifesaving intervention earned her the Women of Valour award in the Saving Lives category.
Poverty Alleviation: Mosammat Sufia Khatun
Mosammat Sufia Khatun was once a homemaker in the coastal town of Shankarhati in Shyamnagar, Satkhira. She and her husband, a daily labourer, struggled to make ends meet with the income that flowed into the household. The arrival of their son brought joy to the couple. But, it was short lived. Sufia's husband was struck by lightning and died, leaving her and their toddler in poverty and staring at an uncertain future. To make matters worse, her son died two years later, leaving her in complete disarray.
As she was struggling to pick up the pieces of her life, she stumbled upon the Regional Manager of Friendship's Sustainable Economic Development programme. Stirred by her story, he invited her to join the Friendship Farmer's Club (FFC). Once a member, she was trained to produce vermicompost, an earthworm fertilizer that boosts nutrients and soil structure to help increase plant growth and suppress pest attacks. She was a keen learner and quickly put her newfound skills to good use, becoming an unusually successful entrepreneur and selling her product to the market with help from the FFC.
Her venture earns her a decent return of BDT 6,000-7,000 each month, enough for her to sustain herself and be financially independent. Furthermore, she shares her skills with other members of FFC to help them start their own vermicompost ventures. Jayanti Rani Mondal, a fellow FFC member who learned how to make vermicompost from her says. "Sufia apa is keen to share her knowledge and skills, and inspires others to follow her path to prosperity. Learning to make vermicompost from her was beneficial. Not only does it allow me to earn some money, it also helps my husband produce better harvests."
Sufia Khatun's remarkable journey from helplessness and solitude to financial independence and empowerment earned her the Women of Valour award in the Poverty Alleviation category.
Climate Adaptation: Mosammat Shahinur Begum
Situated at the heart of the Teesta River, Madaripara char of Sundarganj, Gaibandha is prone to frequent floods, especially during the monsoon season, affecting the lives and livelihoods of inhabiting communities and often destroying their homes. Boats are the obvious method of transport all year round, but they grow in significance during the flood season, when they are vital for saving lives and property.
Mosammat Shahinur Begum is a Friendship Community Medic-aide (FCM) and a member of the Friendship Disaster Management Committee (FDMC) in Madaripara char. As an inhabitant of the village, she too suffered the wrath unleashed by floods every year. She knew that her community needed boats dedicated to rescue operations, moving homes and livestock, and ensuring vital supplies during disasters.
Shahinur had an old diesel engine at home, and she knew that with some help she could build a boat which could be a life-saving asset in her community. She shared her intentions with members of the FDMC. The members joined forces to arrange 10 cubic feet of wood and a BTD 8,000 loan from its emergency fund. Shahinur then hired carpenters to build a boat.
During the floods in June and July 2022, the boat became a lifeline for at least 49 families and Shahinur herself. The families used the boat to move themselves and their possessions to safety, and even move their homes. The users paid their own fuel costs, but did not have to pay any additional transportation costs during the flood.
"The entire village was flooded," said Md Haydar, a resident of Madaripara. "I needed to buy groceries from the bazaar since we were running out of food in the house. When I sought Shahinur apa's help, she sent me her boat, and I purchased food for the house. I will be grateful to Shahinur apa for taking an initiative that helped multiple households like mine during such turbulent times."
Shahinur's initiative has made her community more resilient to climate disasters, earning her the Women of Valour award in the Climate Adaptation category.
Empowerment: Mosammat Rahima Khatun
Mosammat Rahima Khatun works as a paralegal at Friendship's Legal Information Booth in char Khanjanmara, Rowmari. She is highly regarded in the village for providing access to legal services to the oppressed, marginalised people in her community and has been vocal against child marriage, domestic abuse and dowry. In multiple instances, she stepped in and brought justice to people, stopping 15 child marriages as a paralegal.
Rahima's seventh grader daughter one day informed her that her classmate at the Kutir Char School and College, Hashi Akhter, is being married off by her parents. Only 13, Hashi comes from an impoverished family of five; father, mother, two brothers and herself. Her father, Hashem Ali, wanted to get her married to relieve some financial burden, however, Hashi did not want to go through the marriage.
Hearing Hashi's story, Rahima immediately reached out to her parents and explained to them that marriage of a girl below the age of 18 is illegal and how this would be an injustice to their daughter's hopes and dreams. Hashem remained unmoved. Unable to convince him, Rahima sought help from the principal of Kutir Char School and College, Md. Jahangir Alam. Fond of Hashi, Jahangir immediately reached out to Hashem and arranged a meeting. Understanding his financial struggles, Jahangir assured him that he would bear the academic and other expenses of Hashi until she reached the age of 18 only if he agreed to stop the marriage.
Moved by Jahangir's kindness and empathy, Hashi's father eventually agreed to put an end to the marriage and instead allow Hashi to focus on her education. Hashi is grateful to Rahima and Jahangir for their intervention. "I dream of obtaining a higher education, which will allow me to be independent and contribute to my community. Rahima aunty and Jahangir sir are the reasons why my dream remains intact and I will forever be indebted to them," she says.
For her role in stopping child marriages, and bridging justice to domestic abuse and dowry victims, Rahima has been awarded the Women of Valour award in the Empowerment category.