Our work is only complete when every individual within the communities we serve, and the communities as a whole are empowered to transform their lives and reach their full potential.
Therefore, one of our priority is to educate, build capacity, and give people the tools to uplift themselves and their communities.
When Friendship arrived on the river island areas in northern Bangladesh, there were hardly any schools in the remote islands.
It was impossible for the government or NGOs to run schools at such distances from the mainland, especially on a landscape that was constantly eroding and forming anew.
Friendship overcame the problem by training locals who had a certain minimum education, and equipping them to run primary schools.
The pupils consistently outperform the national average despite significant challenges in their remote riverine environments.
The challenge of bringing quality education became more difficult to manage at the secondary level due to the scarcity of well-educated teachers in these remote communities.
As a result, secondary schools had to be taught through pre-recorded video classes screened through a solar-powered media system. The classes are assisted by trained facilitators who are able to contact the teachers as necessary.
The students in secondary schools have also achieved a high success rate at national exams. In villages with Friendship schools, child marriage has declined significantly, since parents are less willing to get their girls married if they gain an education and better life opportunities.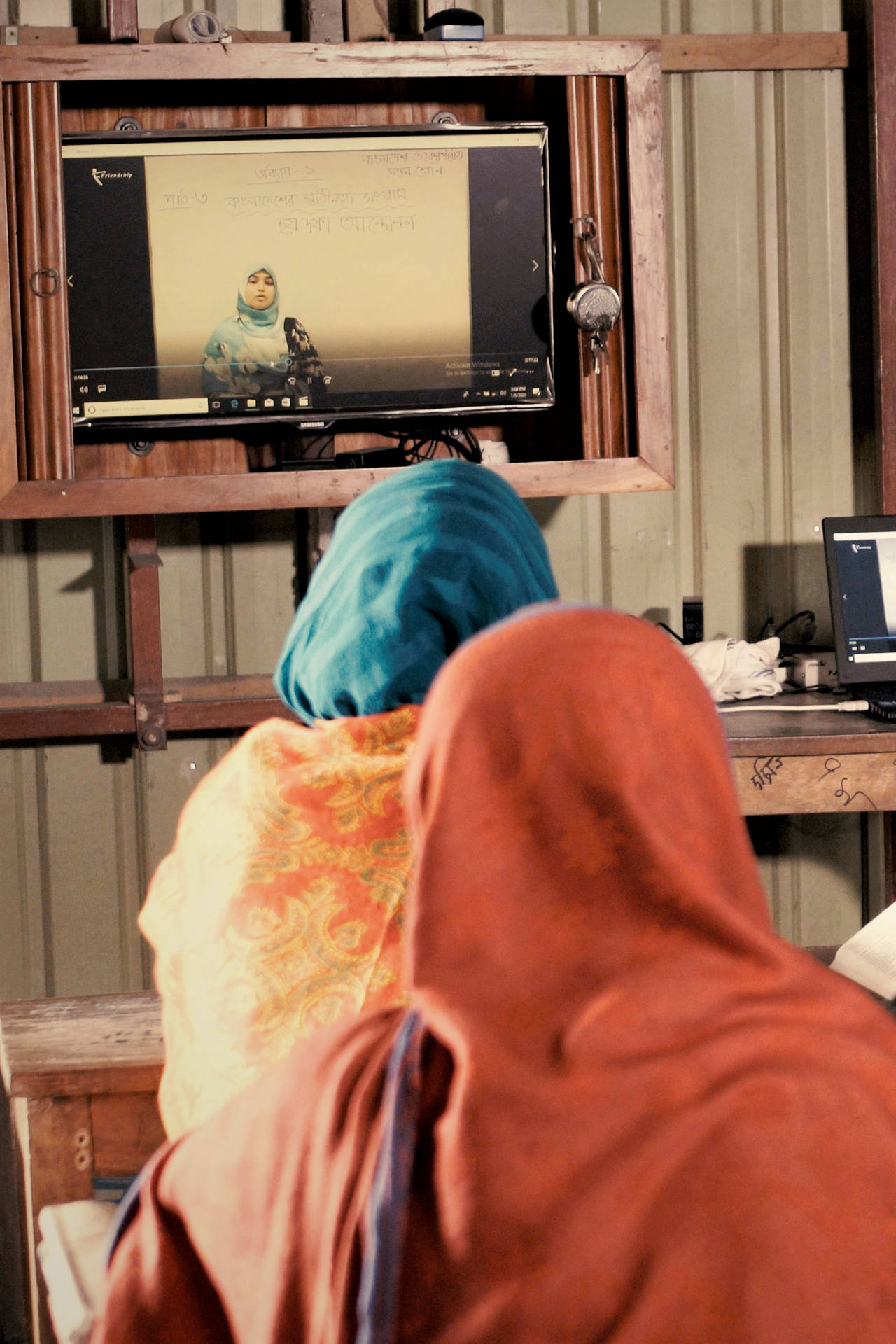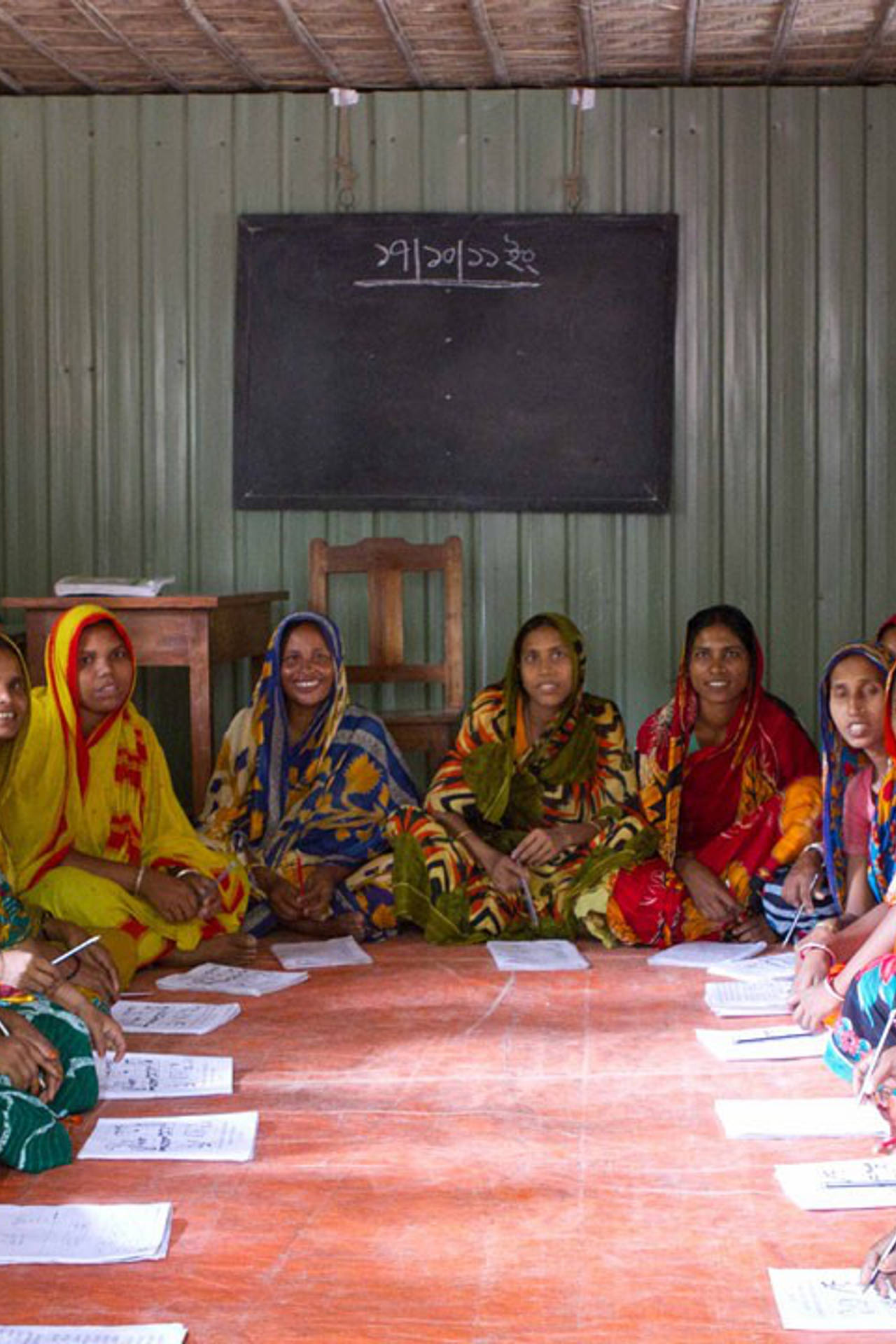 We offer adults a second chance at education through our adult literacy program that teaches reading, writing and basic arithmetic.
This allows them to gain confidence in their lives and not depend on others for everyday tasks such as reading a signboard or a medicine label, keeping accounts of earnings and expenditures, and signing contracts.
In turn, these adult students are frequently motivated to send their children to Friendship schools.
SYSTEMATIC RECRUITMENT FROM WITHIN THE COMMUNITIES
Friendship employs almost 5,000 people, more than half of whom are recruited from within the communities where we operate.
These community workers include medic-aides, teachers, paralegals, skilled birth assistants, solar technicians, para-vets, etc., each of whom serve an essential purpose in improving the quality of life of their neighbours whilst being empowered themselves through training and connectivity with local governments and other resource points.
These people trained to work for Friendship are also given skills to be entrepreneurs so that they are empowered to be self-sufficient regardless of our presence.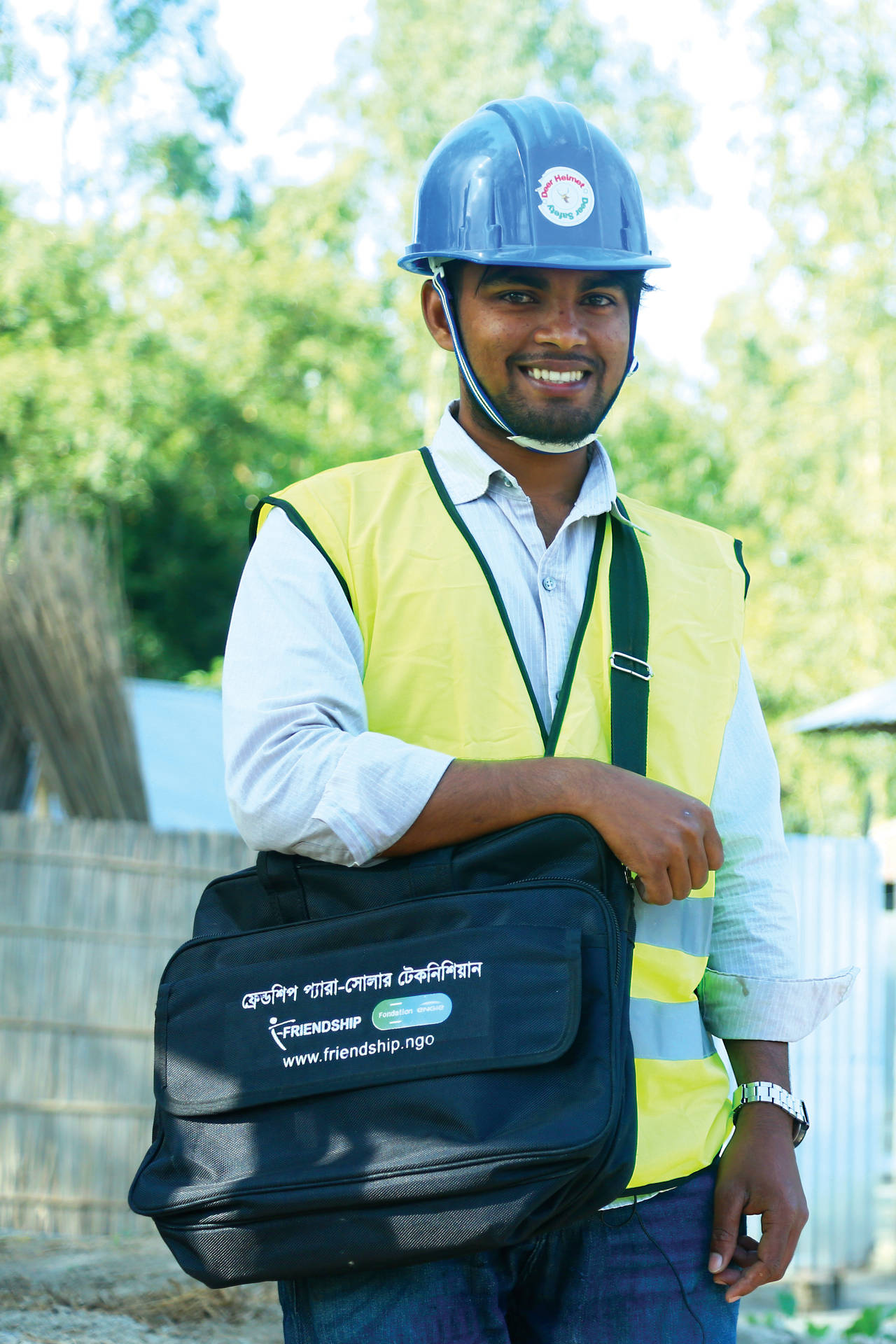 PARTICIPATORY APPROACH / RELIANCE ON COMMUNITY-BASED GROUPS
Friendship works with active participation from local communities in all its interventions, both in determining their needs and addressing them. We form committees and groups within each community to take charge of social and environmental issues facing them.
Examples of this are the Friendship Community Civil Society Group (FCSG), the Friendship Disaster Management Committees (FDMC), the Friendship Community Development Committees (FCDC) or the School Management Committees (SMC).
Each of these have a defined purpose and members dedicated to those goals. For example, FCSGs are responsible for disseminating information within their community, identifying issues faced by the community and assisting them in finding the best means of resolving them.
LEGAL BOOTHS AND AWARENESS RAISING ON JUSTICE AND HUMAN RIGHTS
Unlike inhabitants of the mainland, chars dwellers cannot always access the public services or institutions they are entitled to.
We have been able to offer remote communities access to paralegals to whom community members can address their questions. Our paralegals explain the basic legal, human and citizens' rights, and describe the means for protecting and obtaining these rights.
They also help resolve common justice problems that community members face on a day-to-day basis and work to prevent child marriages.
Often the poor don't have access to schooling and can't read or write. It is therefore challenging to inform them of their rights.
One successful means of raising awareness is via theatre shows. The enactment of taboo topics (child marriage, dowry, child labour, domestic violence, etc.) conveys information and guidance in an entertaining manner, breaking down social barriers.
These shows are a highly engaging and are a powerful tool that help create an immediate and lasting positive impact.
EMPOWERING CARPENTERS FOR CULTURAL HERITAGE PRESERVATION
Bangladesh's boat-building skills have been passed down orally from one generation to the next for millennia.
There are no written records documenting these ancient techniques, but they constitute a unique heritage of the most diverse fleet of riverine vessels in the world with more than a hundred different types of wooden boats.
Yet, as the wooden sailboats were pushed into extinction by motorised, steel-bodied vessels, their extraordinary craft was disappearing into irrelevance.
Friendship worked supported these master carpenters by commissioning miniature replicas built using the same techniques as the full-sized boats as a way to document and preserve the numerous designs from all over Bangladesh. As a result, these carpenters continue to make a living.
Moreover they have travelled around the world to exhibit their craft, and enjoy a status as the last remaining artisans of their craft.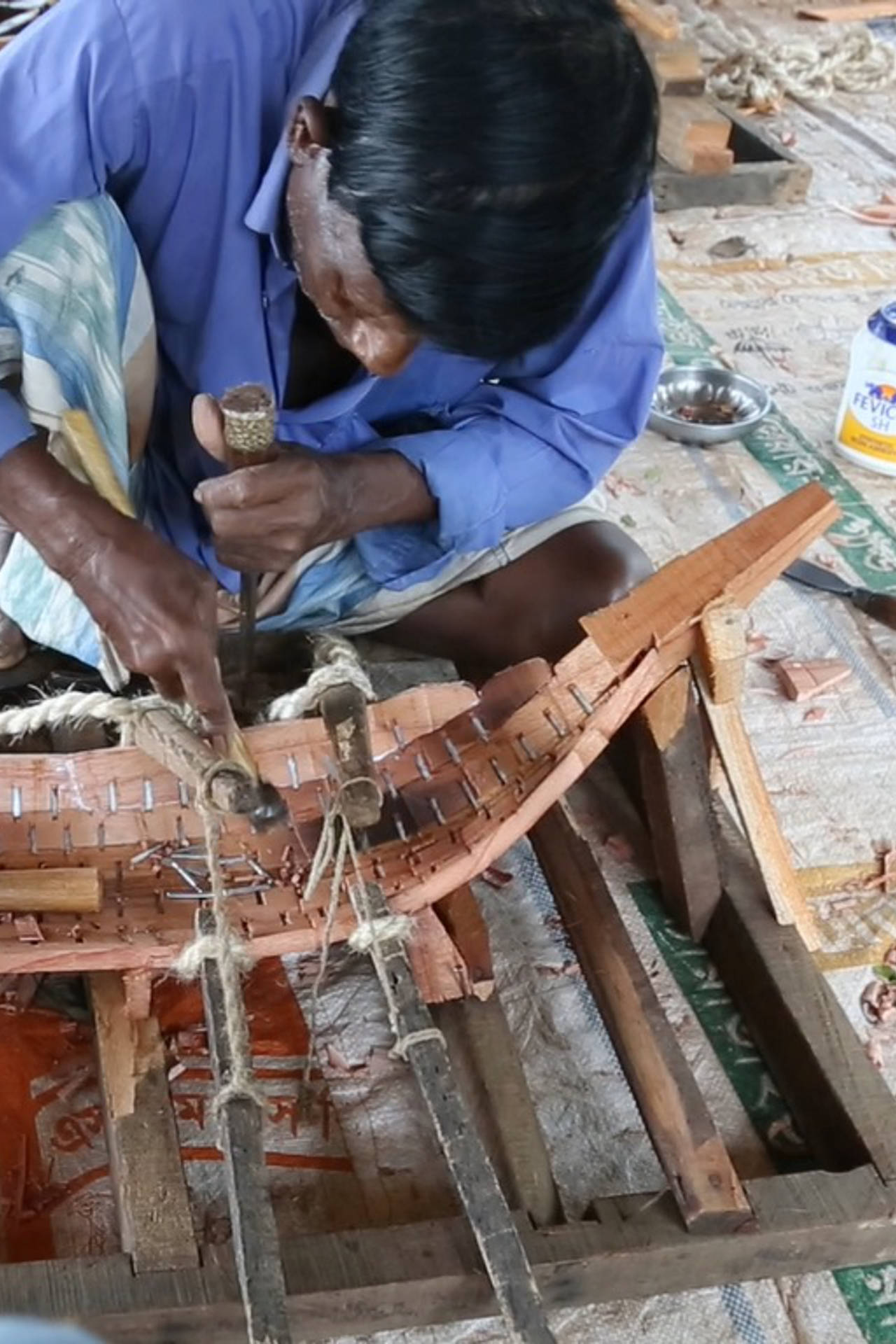 Improving the lives of persons with disabilities (PWD)
Friendship ensures door-to-door services like physiotherapy, counselling and routine follow-ups to households with persons that have disabilities.
It raises awareness through community sensitisation and youth groups to make the public more empathetic towards and inclusive of persons with disabilities. It also informs persons with disabilities of their rights, and connects them to vital services.
Friendship also helps increase accessibility to local government assistance, including helping beneficiaries obtain disability ID cards, disability allowances, assistive devices such as canes, walkers, hearing-aids, wheelchairs and braille pads, and treatment from public hospitals.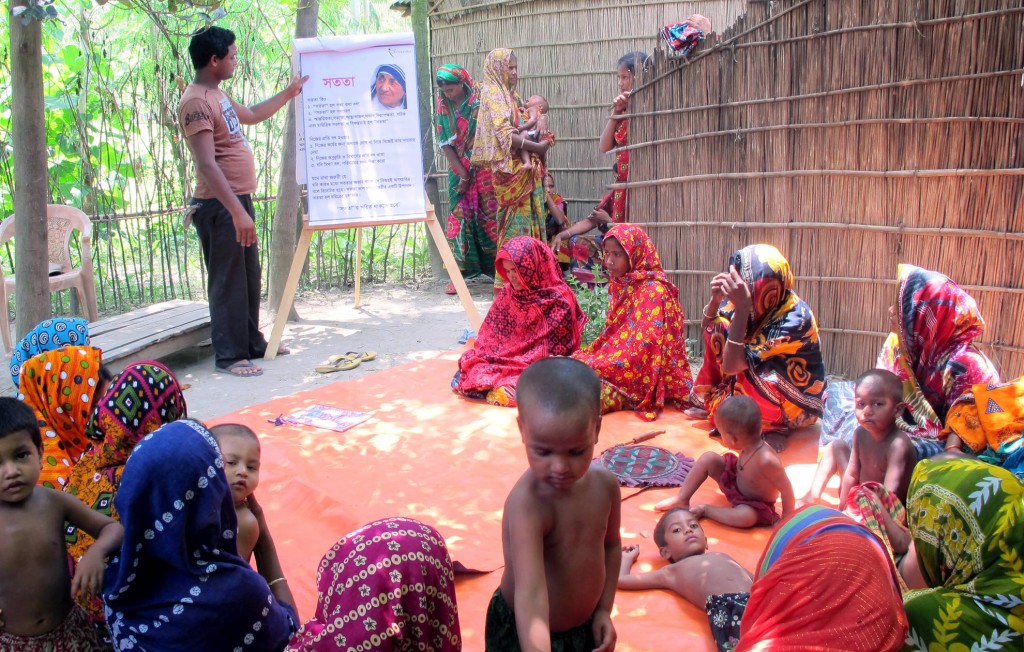 Nurturing dignity and ethics
Certain moral values (such as justice, empathy, honesty, respect, dignity, etc.) form the core of Friendship's Code of Ethics. Every month, we explore one of these themes during gatherings with community members. It familiarises citizens with these common positive values and helps emphasise the fact that they have responsibilities to the community as well as rights. Also in our schools, we are keen that the children develop a good understanding of certain fundamental human values. Teachers discuss these values with pupils who can relate these to real-life situations and share their own experiences.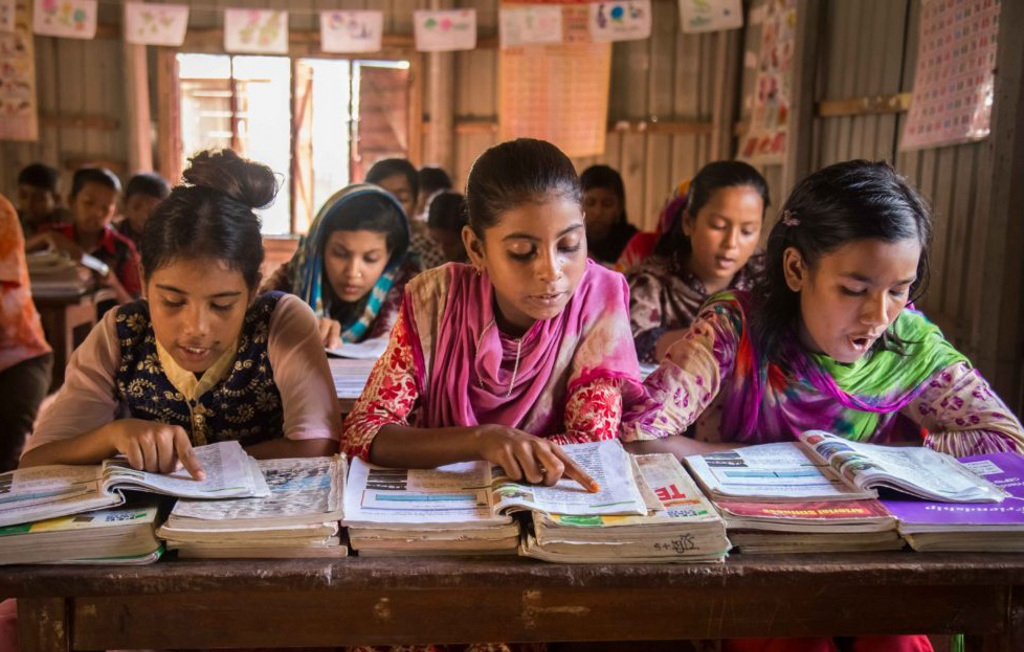 Strong focus on girls' education
In most underprivileged areas of Bangladesh where opportunities are limited, teenage girls are particularly vulnerable to the practice of early and forced marriage. In this context, Friendship strongly emphasises participation in and continuation of education for young girls to help them develop a sense of empowerment. Parents are continuously counselled on the importance of educating their daughters. Teachers and school management committees also look out for female children at risk of marriage and reach out to their families in case of attempted child and forced marriages.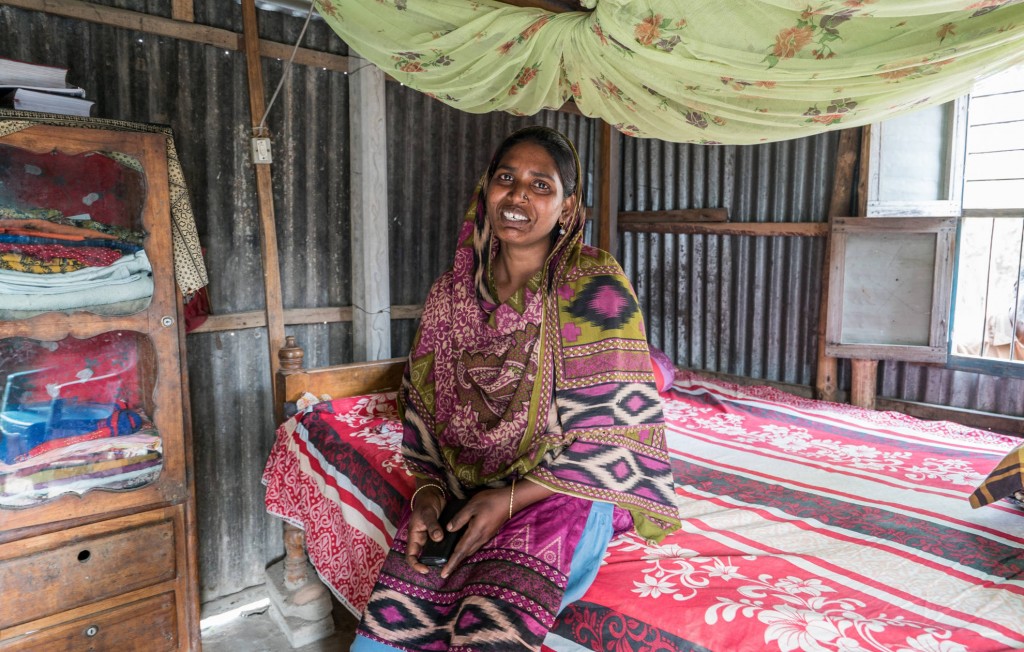 Gender-Based Violence support
To address the prevalence of gender-based violence (GBV), we ensure both preventative steps and support for survivors. Our network of volunteers, community health workers and community paralegals routinely disseminate necessary awareness messages against GBV at both household and group levels. Separate sessions are sometimes done with male individuals to sensitise them that GBV is both unjustified and a punishable offence. In certain locations, Friendship also has a 24/7 helpline where individuals can reach out to for both information and support.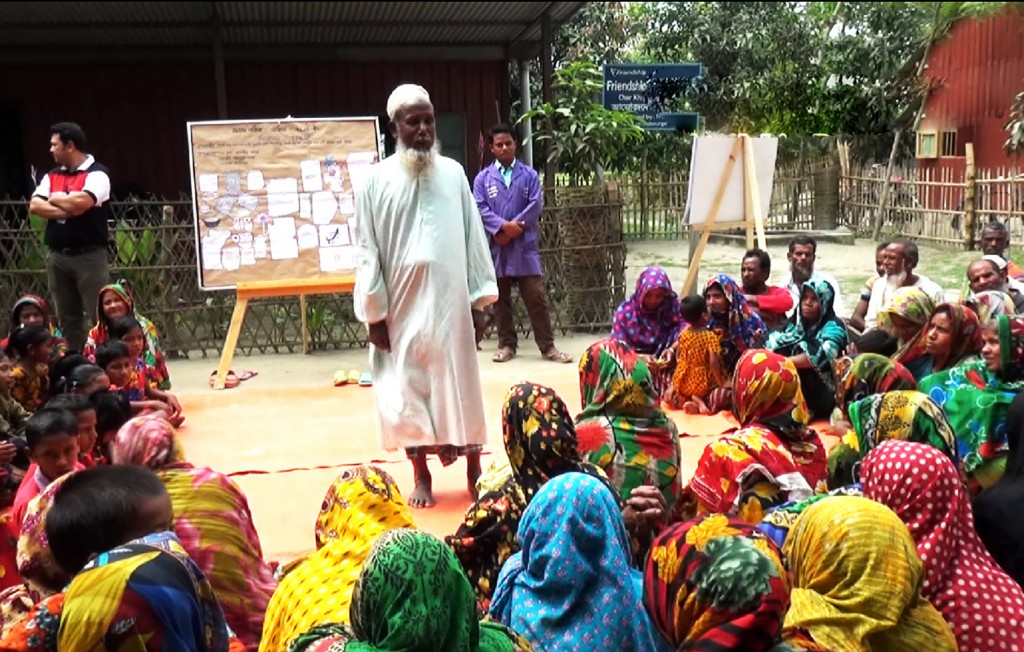 Increase social awareness and decision-making
The communities that we serve have little to no say in governance and different legal and social matters pertinent to them. In this regard, we organise community members into groups such as Adult Groups (AG), Friendship Civil Society Groups (FCSG) and Friendship Community Youth Groups (FCYG). These are platforms to create a direct bridge between those who govern and those who are governed. Trained volunteers known as Friendship Community Governance Aides (FCGA) and Friendship Community Paralegals (FCP) facilitate regular discussions on citizens' rights and entitlements from the government, including budgetary allocations.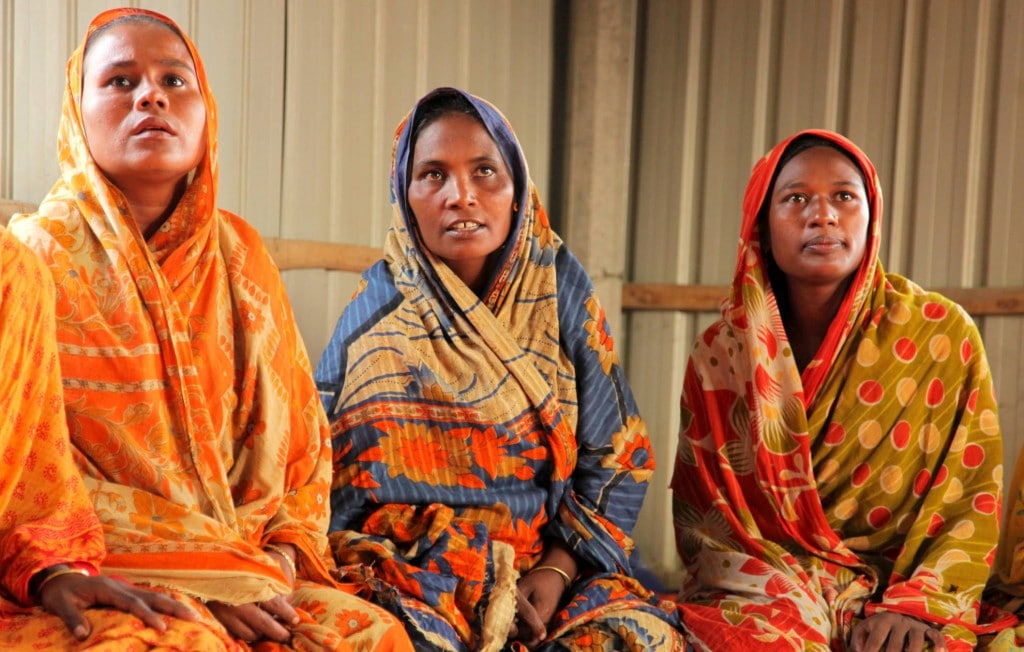 Income Generating Activities for Adult Learners
Adult learners' classes include more life-oriented skills such as reading and writing skills, mathematics for day-to-day use and personal budgeting, etc. In these sessions, we prioritise women who are especially deprived of employment opportunities. We connect them to different income-generating activity training sessions such as homestead gardening, livestock rearing or in our vocational weaving and tailoring centres. Once they have their own source of income, women not only become more independent but also gain a great deal of self-confidence.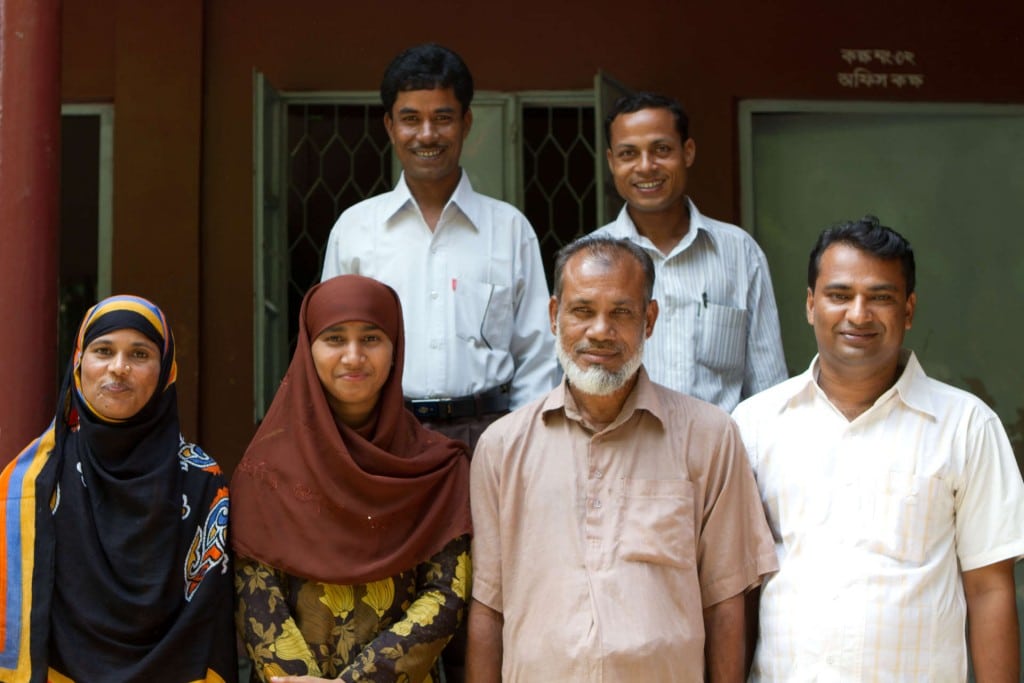 School Management Committees
School Management Committees consist of 11 members selected from within the community to ensure the successful running of each school. They manage and protect the school equipment, work towards reducing drop-out rates, contribute towards school maintenance, and discuss potential improvements with local government officials and other agencies. They actively value education across their community.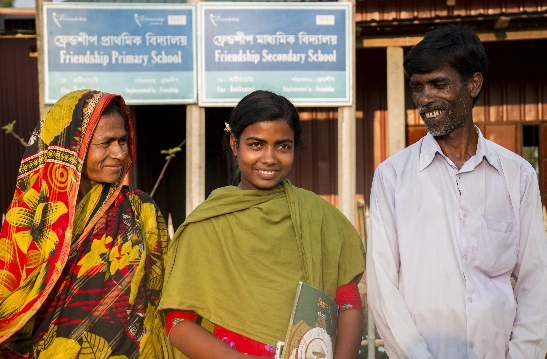 Educate one child, help the whole family
Resources are often limited compared to the needs in these remote rural areas. This is why, in a constant concern for equity, we strive to ensure that at least one child per family attends our schools and benefits from primary education. That child then shares the knowledge acquired at school with siblings and other family members who are unable to attend.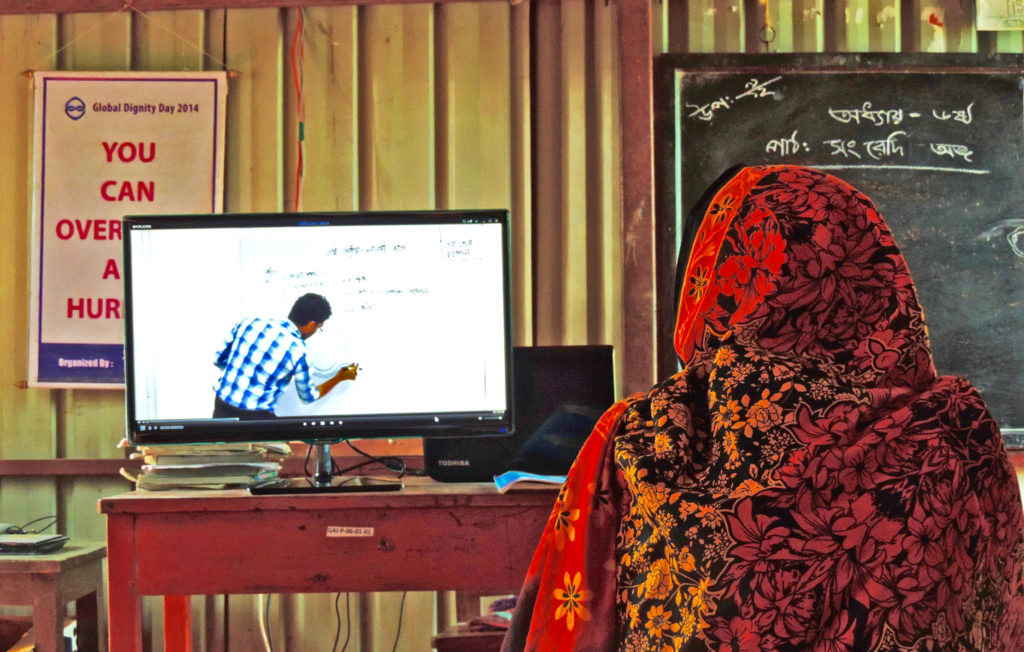 Video lessons on Government TV
At the time students were locked down due to the global pandemic, we contributed our video lessons to the government's online school and for broadcast on national television to help students nationwide continue their education from home. We have made almost 1,000 videos available on our platform on the new Friendship Education YouTube Channel for wider availability. These online lessons include our Code of Ethics and are aligned with the national curriculum. It contributes to SDG 4 (quality education) which is a value multiplier to all other SDGs.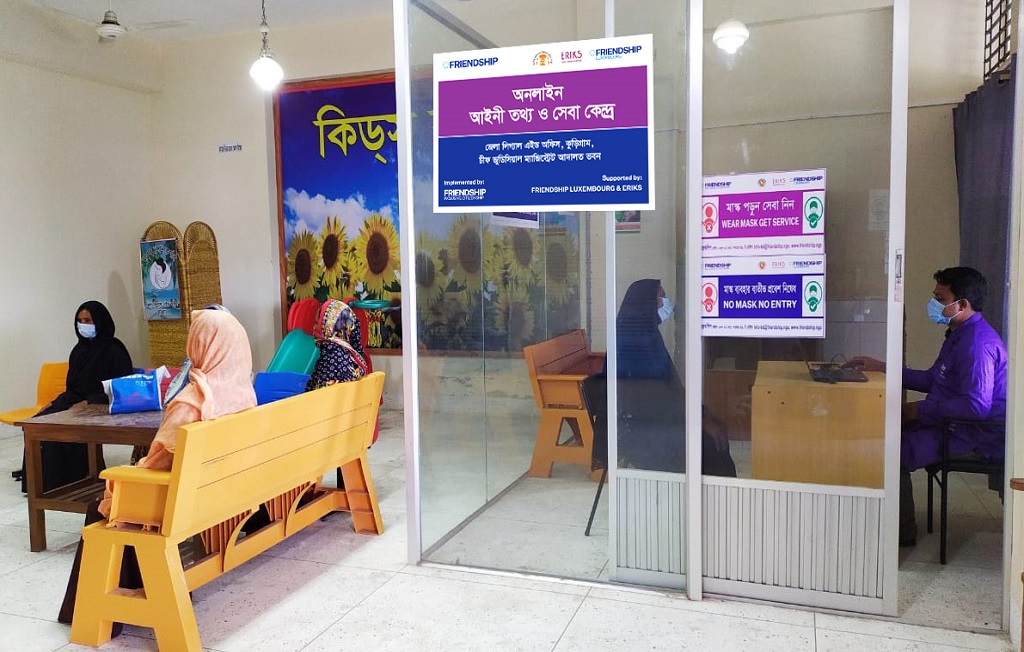 Help Desk in Kurigram Judge Court
Friendship runs Online Legal Information and Help Desks in the district Judge Courts in Kurigram and Gaibandha, making an access point for marginalised and underprivileged people to free legal services that they are entitled to as citizens. Friendship is the only non-governmental organisation in these districts to be given a physical presence to facilitate information services on legal aid inside the court premises. The help desk also provides Alternate Dispute Resolution services.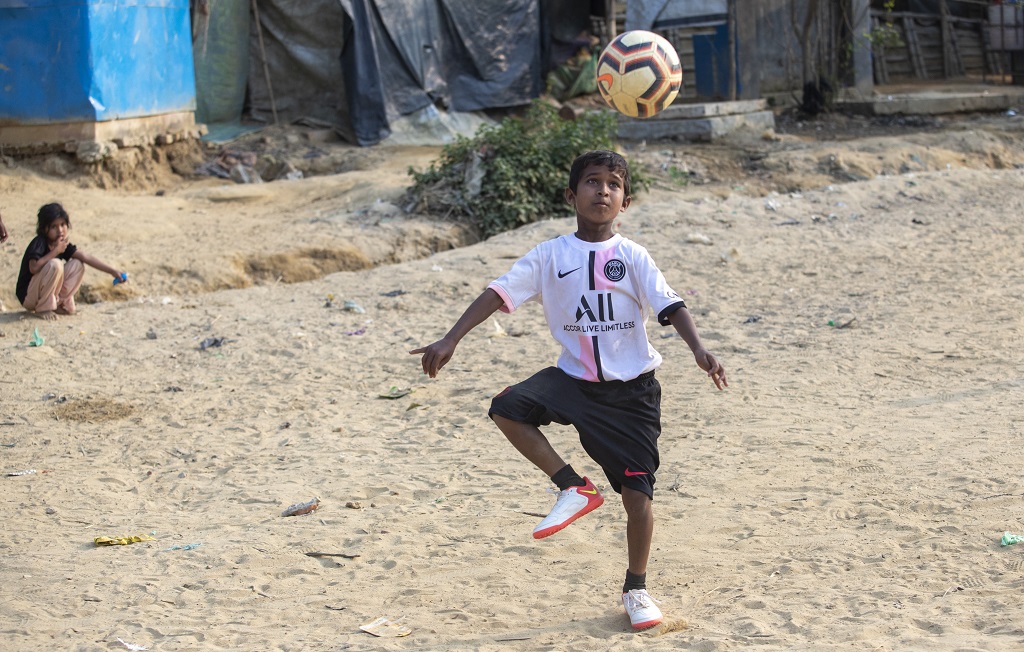 Sports for refugee and host community children
Friendship partnered with the Dutch organisation Klabu, the football club Paris Saint-Germain's (PSG) endowment fund, and UNHCR to initiate a club centre and mobile sports library for refugee and host communities in Ukhiya, Cox's Bazar. Boys and girls can watch football matches and borrow sportswear, equipment and gear. There is also coaching for sports teams in seven schools and in the refugee camps.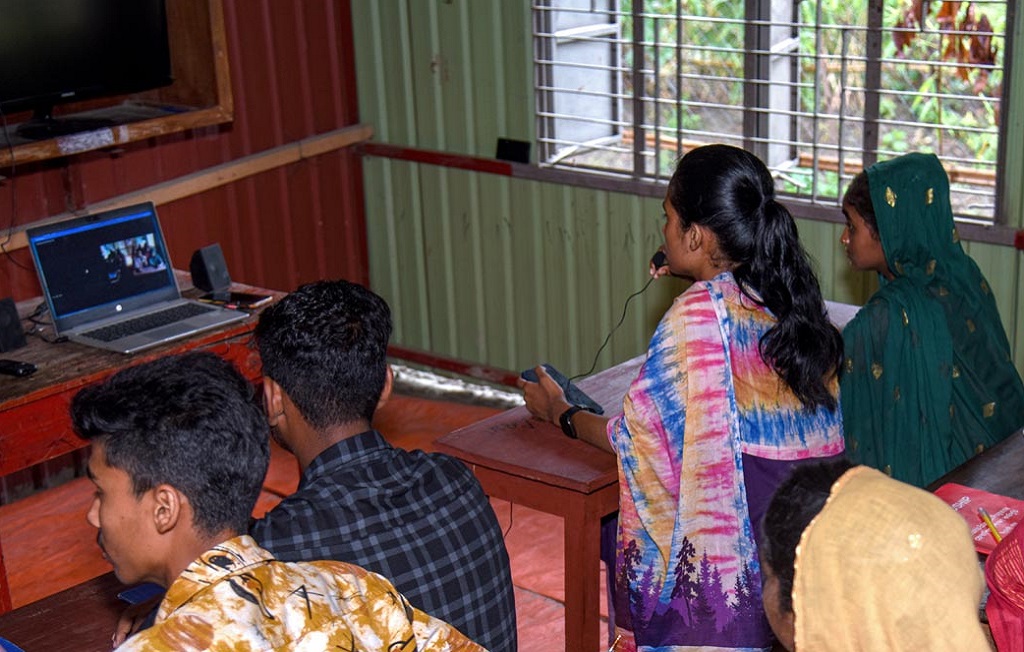 Digital Literacy, Connectivity and Climate Youth
In partnership with the Malala Fund, Friendship schools have introduced basic computer literacy training, and are grooming Friendship School students to be climate advocates.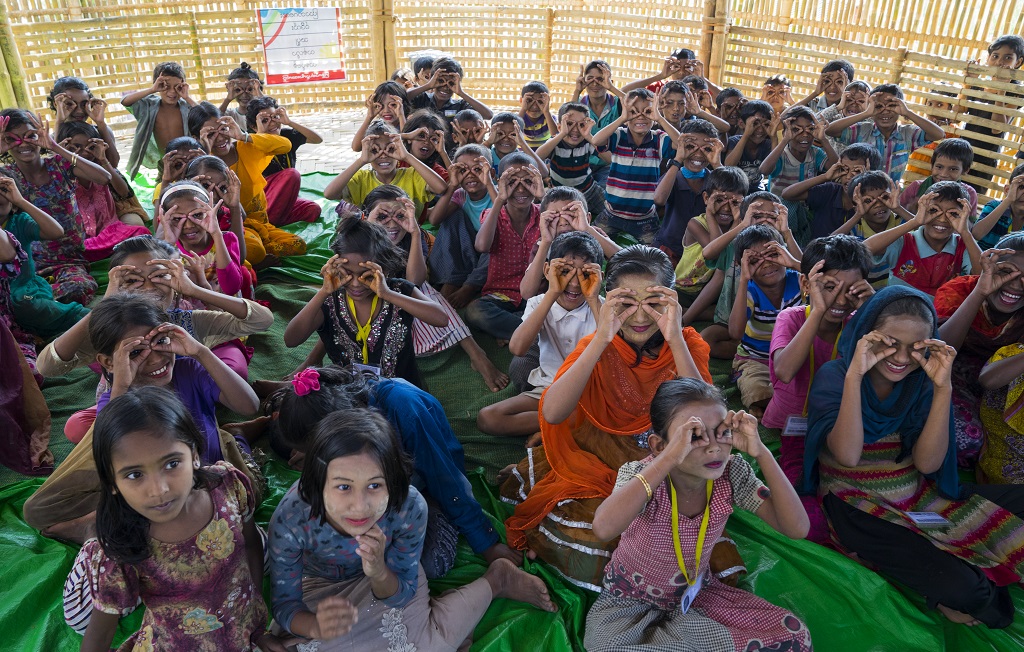 Learning centres for Rohingya refugees
Friendship runs close to 500 learning centres in Ukhiya, in partnership with UNICEF. The centres educate 26,440 students, using a competency-based Myanmar curriculum.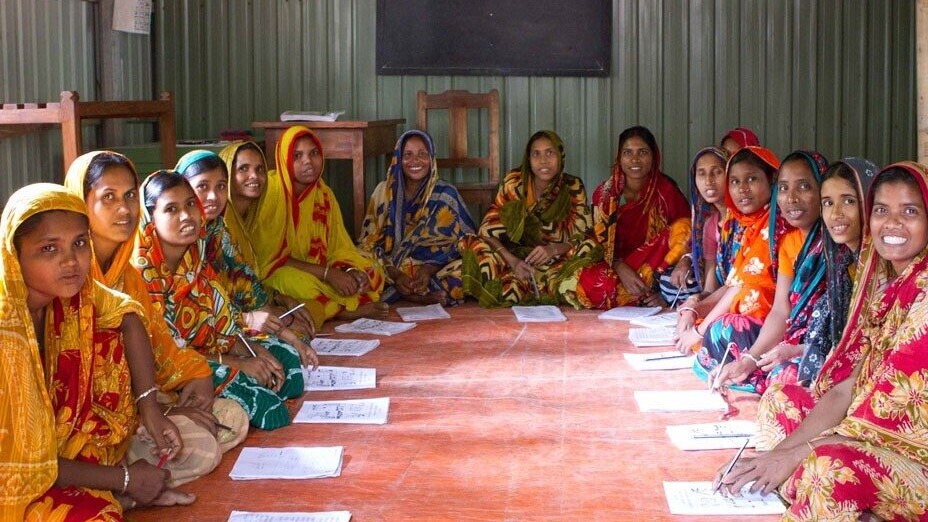 Friendship wins UNESCO Confucius Prize for Literacy
Empowerment, Friendship Bangladesh, Friendship France, News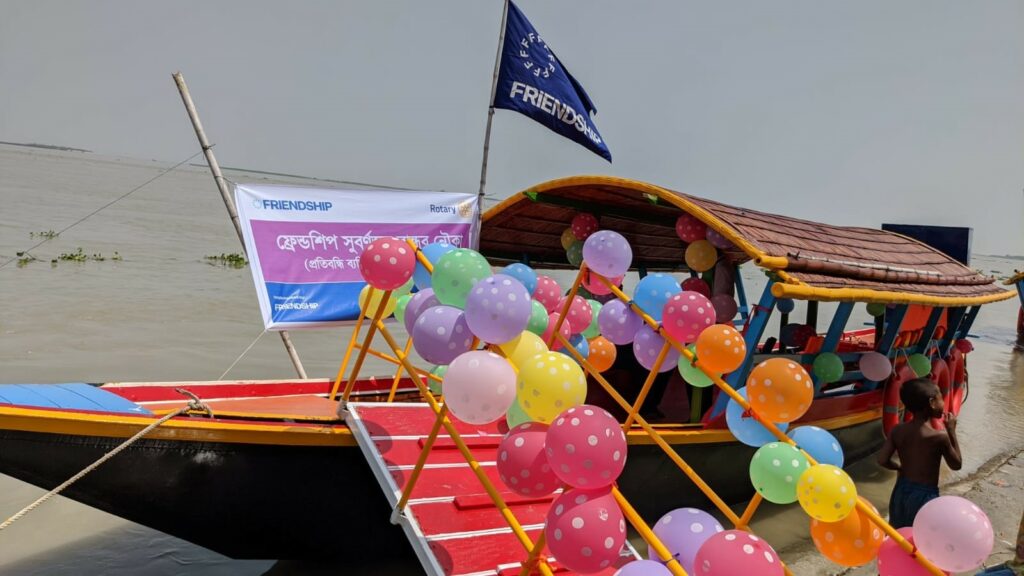 Transforming Lives through Inclusivity and Accessibility for All
Empowerment, Friendship Bangladesh, News, Saving Lives