Bangladesh is a huge delta crossed by more than 300 rivers. It is one of the most exposed and vulnerable countries in the world to natural disaster such as floods, tropical storms or cyclones.
Despite early warning and evacuation systems, climate change increases the frequency and intensity of the disasters, causing displacement, losses and poverty trap for millions.
In Bangladesh, it is not a question of whether a disaster is going to happen, but rather when it will happen and with which intensity. The populations have no other choice but to adapt. Friendship works with the communities on preparedness, response and strengthening resilience.
All specialists agree that mangroves forests are a prime ecosystem to preserve and restore to fight climate change.
Friendship's mangrove afforestation programme combines the regenerative effects of mangroves with their ability to protect landscapes from tidal surges and erosion.
Mangrove trees planted in river mudflats improve biodiversity and protect the embankments that keep saline water out of agricultural soils. The plantations will also bring economic benefits to local communities in the form of shrimps, crabs, bees, fruit, fish, twigs and thatch once the forests are mature.
In addition, as a co-benefit of this nature-based adaptation solution, mangrove trees capture five times as much carbon dioxide from the air as other types of forest.
Plinths are clusters villages raised above flood levels to provide a shelter to house displaced communities and their possessions, including livestock, during flooding.
Friendship's plinths are equipped with safe drinking water, washrooms and infrastructure to accommodate the immediate needs of shelter seekers.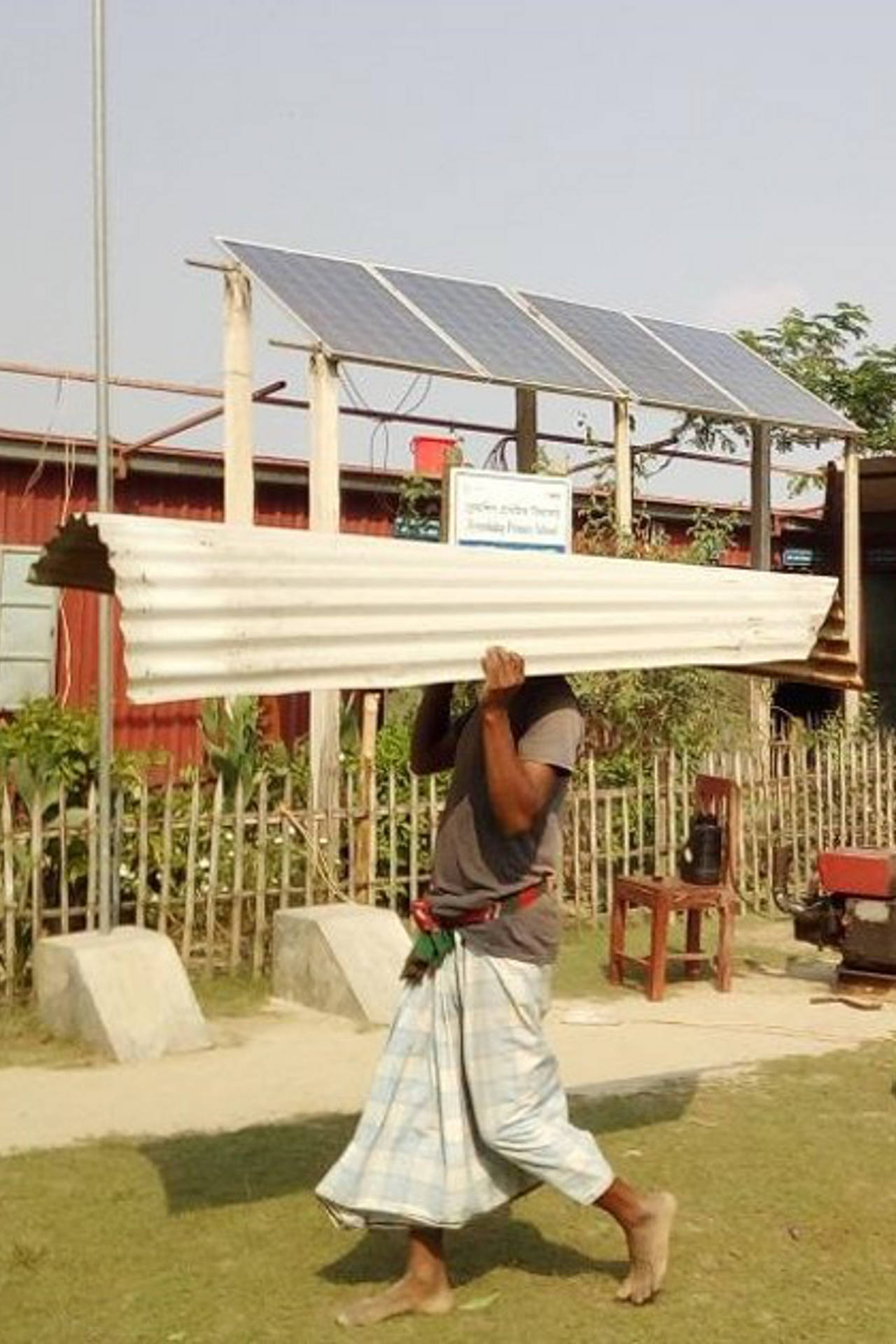 CLIMATE COMPATIBLE INFRASTRUCTURE
Friendship has worked with the government and other NGOs to create a building standard that conforms to climatic realities across the country.
All of our buildings interact with their environment to maximise utility and sustainability.
For example, our schools are easily dismantlable if the island breaks during floods but are built to endure storms. The Friendship Centre, built to withstand flooding, minimise its carbon footprint and complement the local climate, is a winner of the prestigious Aga Khan Award for Architecture. Similarly, the Friendship Hospital Shyamnagar was awarded the best new building in the world for 2021 by the Royal Institute of British Architects (RIBA) for its environmentally conscious architecture that is also conducive to the patients physical and mental healing.
Friendship provides families with access to low cost solar-powered lighting and communities with solar powered streetlights.
The river islands of the Brahmaputra where Friendship operates are completely off the power grid, due to remoteness and unstable landscape caused by erosion.
The solar home lighting systems allow rural families to extend their workday into the evening hours, and students to study in the evening.
They are also healthier and less of a fire hazard than the old kerosene lamps.
The easily dismantlable photovoltaic systems also power our schools and disaster-time mobile charging facilities. Three new solar micro-grids—including the first of its kind in the char areas—will supply electricity to 560 families.
DISASTER PREPAREDNESS COMMITTEES
Friendship establishes disaster management committees in coastal and char villages, and works with them to develop strategies and prepare risk-reduction action plans for implementation during natural disasters to keep the community safe and to mitigate their impact.
Friendship Disaster Management Committees are fora in which communities can share their experiences, assess potential risks, identify needs and develop practical solutions using local knowledge and Friendship's resources.
CLIMATE ADAPTIVE AGRICULTURE TECHNIQUES, TRAINING & DEMONSTRATIONS
Floods and tidal surges can ruin a farmer's investments for a planting season, leaving them with debts that are difficult to pay off.
Repeated disasters like this can bring on a cycle of debt and poverty.
Friendship trains farmers in adaptive agriculture techniques, such as saline-resistant crops and floating seed beds, and introduces alternative products such as shrimp or crabs, which are better suited to changing environments.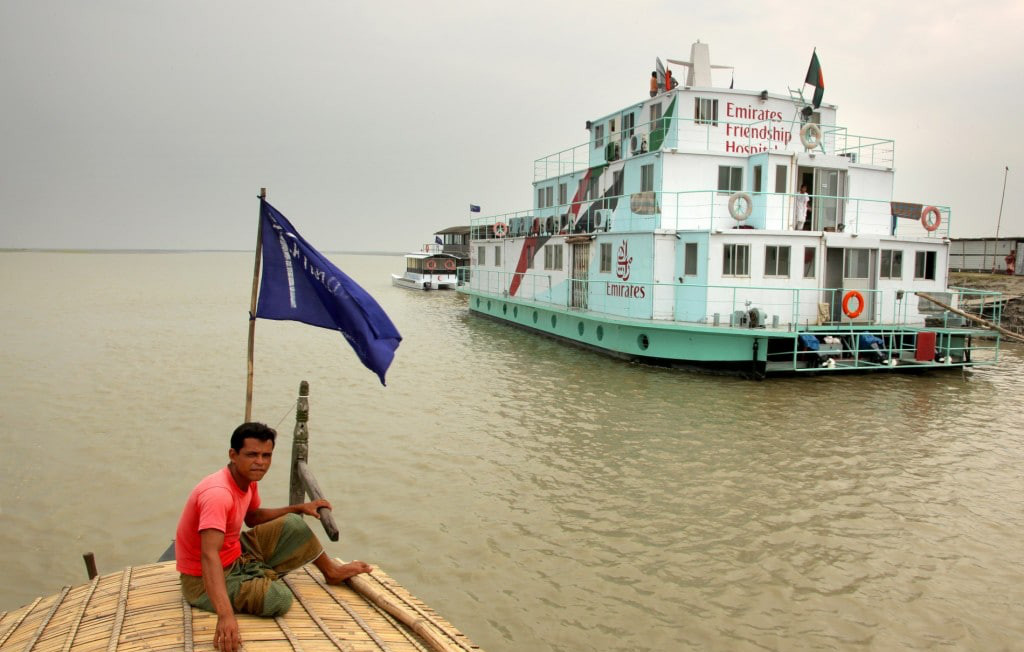 Services adapted to climate-impacted environment
Friendship works in hard-to-reach and underserved areas of Bangladesh that are exposed to extreme climatic events. All projects and programs of Friendship have been conceived and developed, by necessity, to be adapted to such climate-impacted environments. All services are designed to minimise disruptions and damages due to climate events. By maintaining access to vital services, we ensure that the climatic realities faced by these most vulnerable communities do not hamper their opportunity to live with dignity and hope.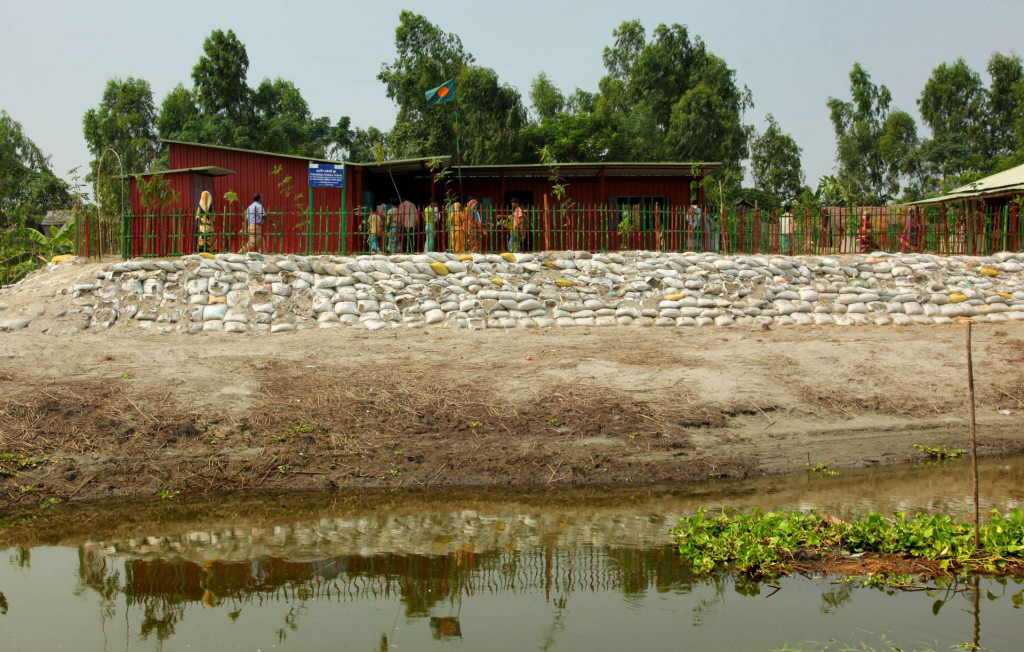 Pre-fabricated schools adapted to flood threat
Instead of letting children's education be disrupted by inevitable floods and river erosion calamities, we adapt by building school premises that are prefabricated and that can be dismantled and set up again within a few hours. Friendship makes sure that our schools follow our students. In the unfortunate event of community migration to other chars, Friendship dismantles school classrooms and sets them up again in the locations where the majority of students' families have migrated to.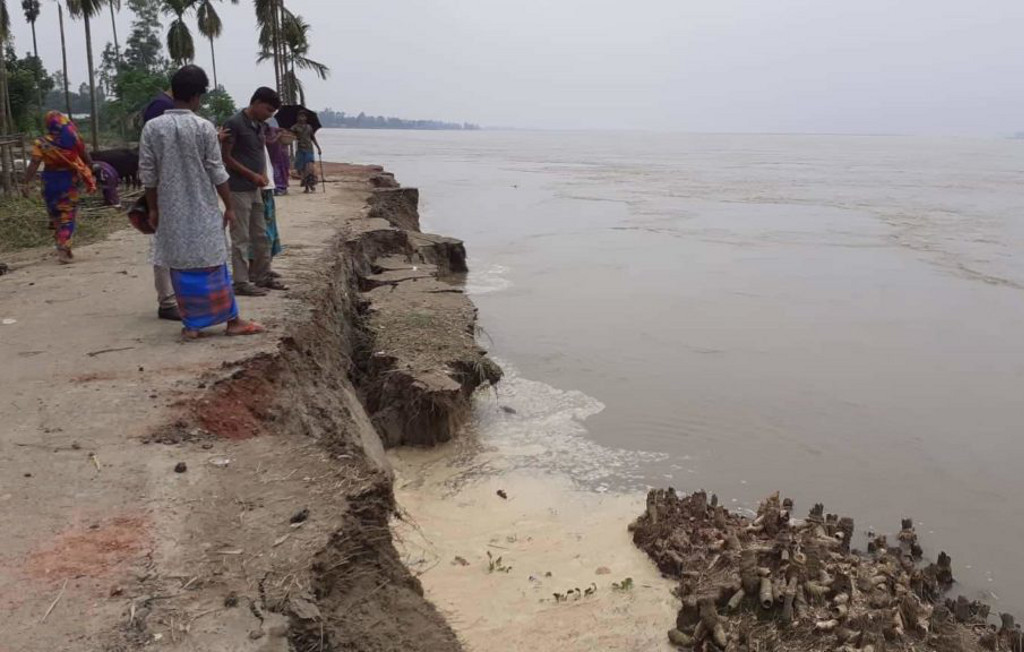 Awareness raising about Locally Led Adaptation
Our climate adaptation solutions are all locally-led and community-managed. At the field level, awareness raising about climate change, preparedness and proportionate response are key for the communities to avoid losses and become more resilient. At the other end of the spectrum, Friendship has established a global network, which is a source of financial resources but also constitutes a unique platform for exchanging skills and ideas. Within this network and even beyond, we actively engage to inform and advocate about the effectiveness of locally-led adaptation, and Bangladesh being a world leader in climate adaptation. Participating in international events and forums is also a way to convey the voices from the frontlines of climate change.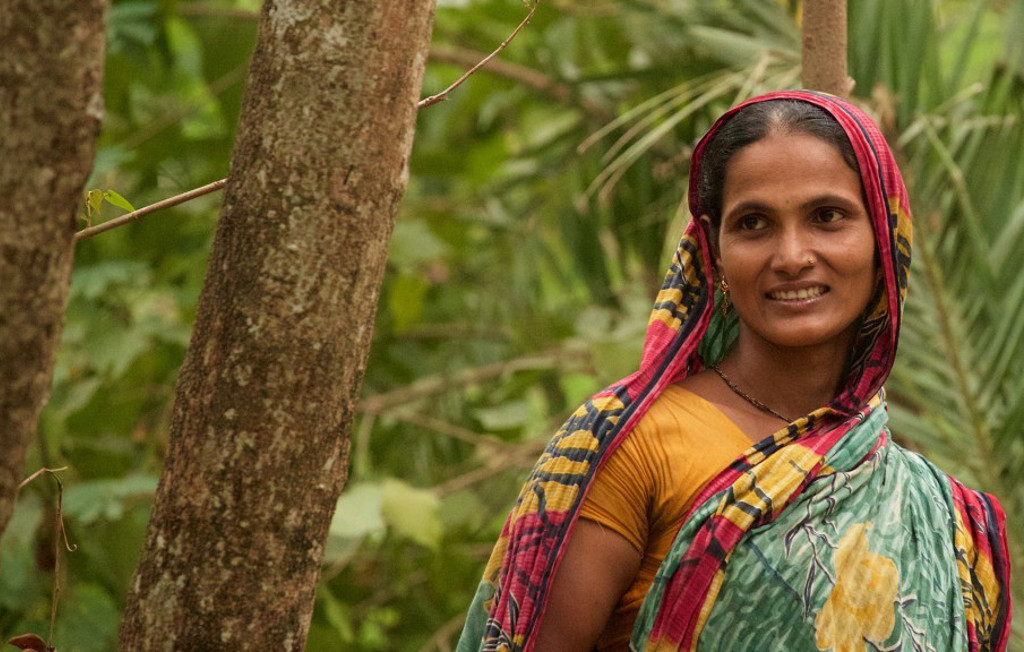 Awareness Raising on tree plantation
Every year, Friendship conducts household-level tree plantation campaigns to sensitise communities about the importance of a greener world. We give them information on the best kind of trees, the right time and right method to plant them. If needed, we support beneficiaries with seeds, saplings and fertilisers for the tree plantation. At schools, we conduct separate awareness sessions for children to let them know about the importance of planting trees and to encourage them to help their parents in tree plantation.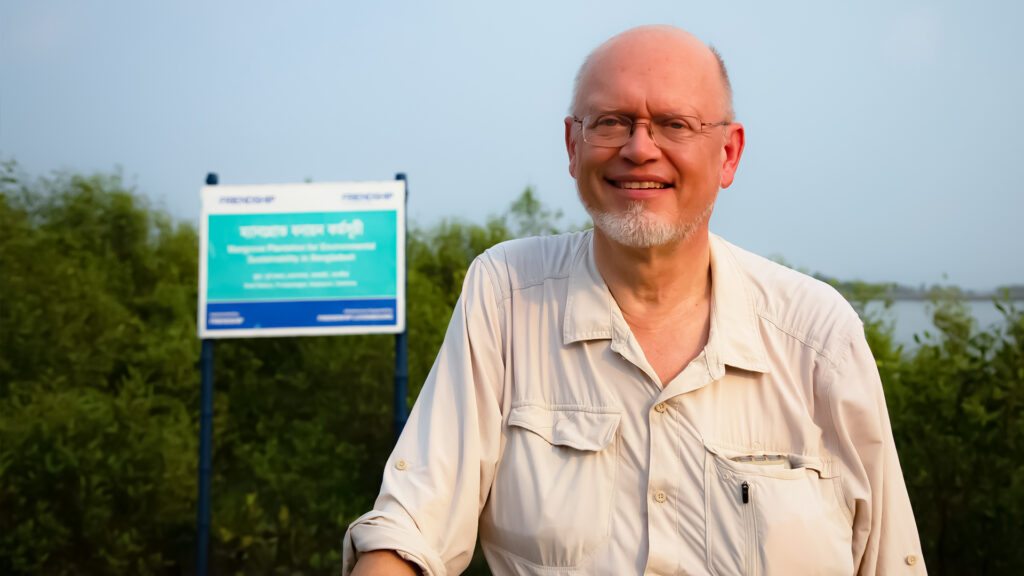 The Mangrove Project is Very Important: It Shows Things Can be Done
Climate Adaptation, Editorial/Opinion, News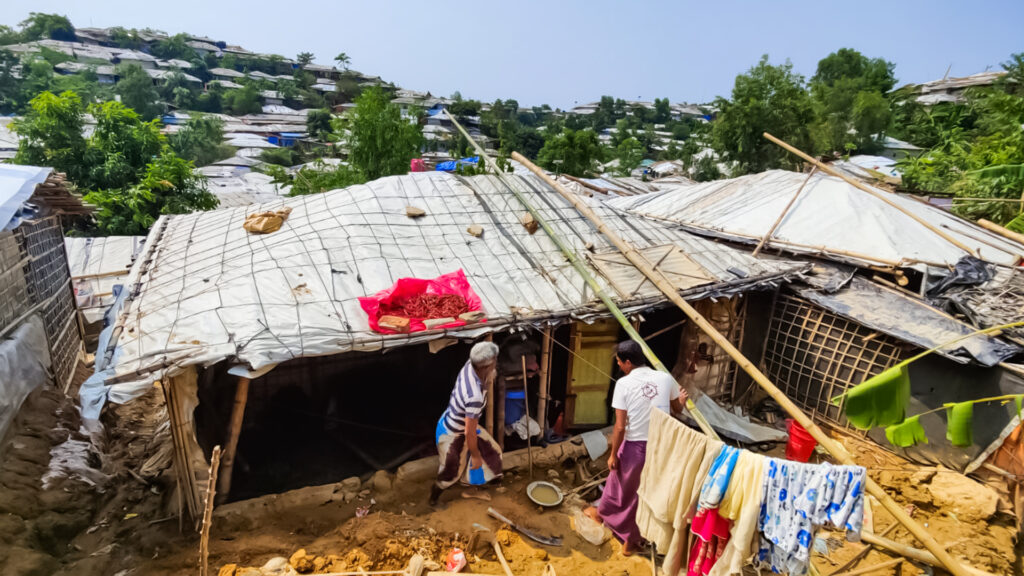 Cyclone Mocha makes landfall; Bangladesh spared mass destruction
Climate Adaptation, Friendship Bangladesh, News