What we do
Friendship works together with vulnerable people in remote communities in Bangladesh to help them transform their lives.
BREAKING THE CYCLE OF POVERTY
We implement six core programmes in an integrated approach (see below).
Our work with the poor began with Healthcare, but it soon became clear that to make a lasting impact on people's lives we had to resolve other issues at the same time to break the cycle.
Our latest articles and stories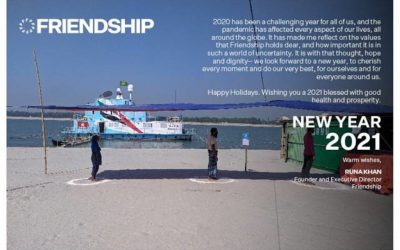 by Marc Elvinger, Chairperson, Friendship Luxembourg Dear Friends of Friendship,Chers amis, chères amies (traduction ci-dessous), At the outset of this year 2021, I am sharing with you New Year's greetings from Runa Khan, Founder and Executive Director of Friendship,...
read more
Watch our featured videos