Friendship and Housing and Building Research Institute (HBRI) develop cyclone resilient housing for disaster-prone coastal communities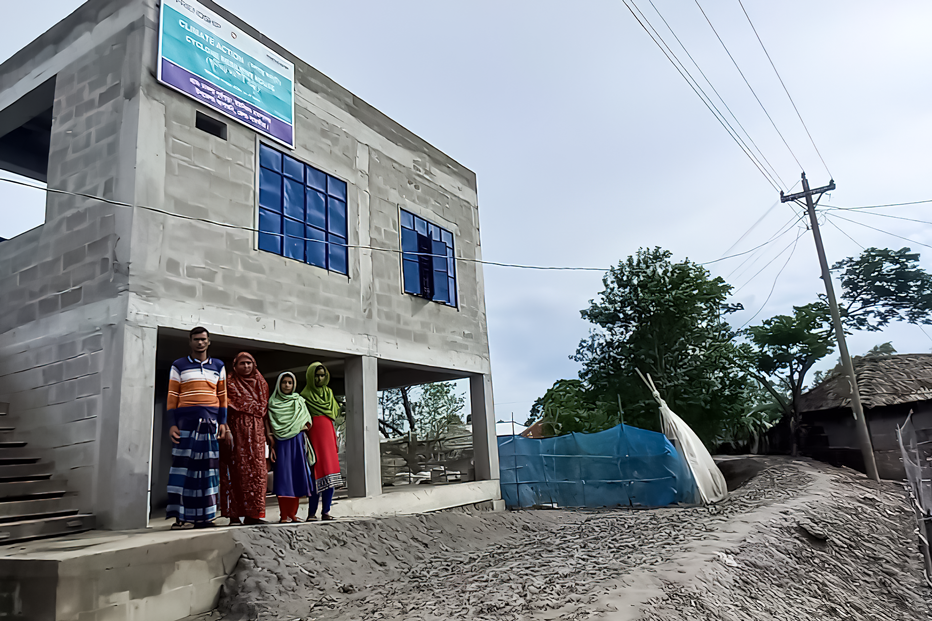 by Tahmeed Chaudhury
July 25, 2022
When cyclone Amphan struck her locality in 2020, Rahida Khatun, a resident of Patuakhali, Shyamnagar, was living with her partially paralysed mother Hazera Khatun and her then-2-year-old daughter. "Strong tidal waves inundated our village, breaking embankments and flooding homes," says Rahida. With her house under water, she rushed to a relative's home in a nearby neighbourhood with her family and spent the night there. The next morning she returned to find her home in ruins. "The cyclone completely destroyed my house, there was nothing left."
The southern coastal belt of Bangladesh is home to communities at the forefront of the global climate crisis. Residents along the 710 km long coastline are bombarded by disasters such as tidal surges and severe cyclonic storms approximately once every five years, destroying homes, breaking embankments, and plaguing fertile lands with salinity, impacting lives and livelihoods. Locally-built traditional or non-engineered houses suffer severe damages.
Days were hard to get by for Rahida. "When I was young, my mother had a stroke and became partially paralysed. My father married elsewhere and left. Frustrated with my decision to stay with my mother and take care of her, my husband divorced me. I am a single mother living with and taking care of my partially paralysed mother and the only source of income we have is from farming fish in my mother's small piece of land, which is barely enough for us to live. With our house in shambles, we didn't know what to do."
Relief came to her in the form of a cyclone resilient house. Friendship partnered with the Housing and Building Research Institute (HBRI) of the Ministry of Housing and Public Works to pilot four cyclone resilient houses in four coastal sub-districts: Shyamnagar, Assasuni, Mongla and Kolapara. Experts from government agencies, educational institutions, research bodies, and private organisations also took part in consultancy roles. People from the community donated their land for the cause. While the houses will be owned and inhabited by the donors of the lands during normal times, each house will accommodate a further five families should a cyclone or a natural disaster of any kind hit the locality.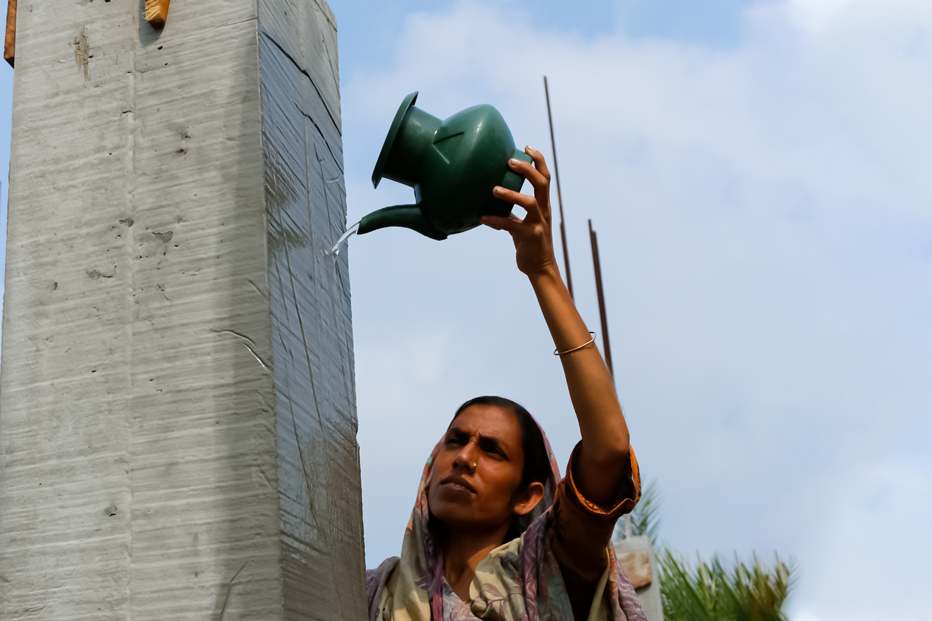 Rahida's is one of the lands selected for piloting, and she is happy because not only will her small family of three have a house to live in, but it is also one where she will feel safe if a disaster strikes again. "They (Friendship) wanted to build this mini-cyclone shelter on our land as we lost our house during the last cyclone. We happily donated it. What makes me happier is that we will be able to shelter vulnerable people in our community when a disaster strikes in the future."
According to Kazi Amdadul Hoque, head of Friendship's Climate Action, the houses will provide a more practical solution to people at risk during cyclones as government cyclone shelters are often miles of treacherous roads away from communities. "It is difficult for people to travel such long distances during a catastrophe. Moreover, cyclone shelters tend to be overcrowded with little to no privacy, especially for women.
"The cyclone resilient houses are in communities with each belonging to a family within the community. Five families from each neighbourhood will be able to take shelter without moving far from their houses and compromising the safety of their belongings."
Instead of going with the conventional brick structures, the houses have been built using hollow sand cement blocks, with sand collected from dredged soil in nearby rivers and moulded into blocks by local masons, thereby avoiding the carbon footprint associated with emissions from brick kilns. The structure is designed to withstand wind up to 260 km/h, expecting to resist severe cyclonic storms and safeguard the people inside.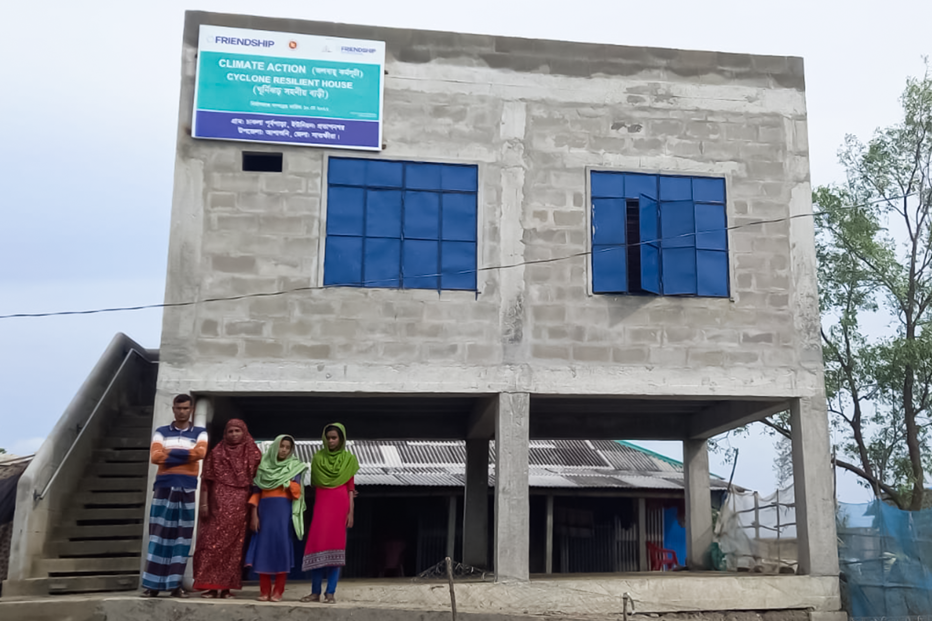 "We wanted to develop a community-oriented, replicable housing solution for cyclone vulnerable communities in the south," continues Kazi. "The houses have been built using local materials by local labourers and the technology and materials used are environment friendly, cost-effective, endurable and replicable."
The two-storied houses are space efficient, with ample room to accommodate around 30 people (six families) during disasters, and sufficient space to keep livestock and belongings on the ground floor. Separate compartments have also been made to ensure privacy for female inhabitants. Furthermore, railings and specially designed wheelchair tracks in the stairs make the houses more accessible for elderly and disabled people.
The building is raised significantly above ground level as protection during tidal surges and against salinity. A rainwater harvesting mechanism on the roof is capable of storing around 3,400 litres of rainwater in a tank, providing much needed fresh water for drinking, cooking and irrigation to people not only living in the house, but also in nearby neighbourhoods.
Friendship has, in the meantime, conducted mock drills for neighbours to help familiarise them with the houses and to prepare them for quick relocation immediately before a cyclone hits. It is now assessing the landscape of the villages to identify potential risk factors along with BUET (Bangladesh University of Engineering and Technology).
Ahmadul Haque, director of the Cyclone Preparedness Program (CPP), feels this concept of individual housing cum cyclone shelter will only make communities more resilient. "The government is taking initiatives to build more disaster resilient structures. If this cyclone resilient housing project is combined with the national efforts, it might prove to be more effective and resilient for the communities."
The first of four prototype cyclone resilient homes developed by Friendship is now in use in Assasuni, Satkhira. The rest will be opened for living by the end of July.