Online Legal Information and Help Desk in Gaibandha district court helping marginalised people seek timely justice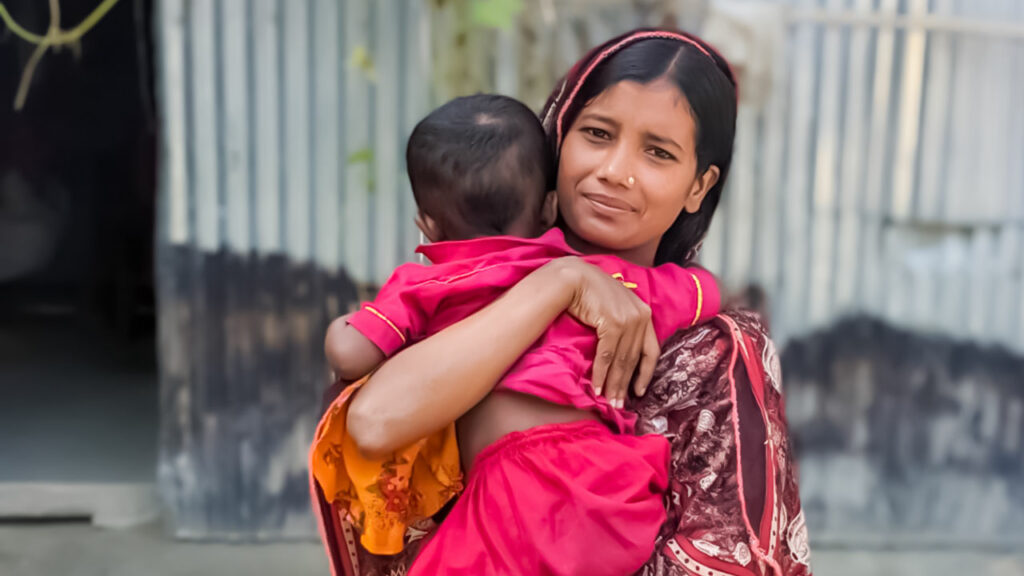 by Tahmeed Chaudhury
January 24, 2023
Raheela Akhter, 22, is a resident of a char (a sedimentary deltaic island) named Batikamari in Gaibandha, a northern district. After completing her matriculation exams, her parents arranged her marriage with a farmer from their neighbouring locality. From the word go, she was subjected to severe mental and physical abuse by her husband, who never compromised on his ever-increasing demands for dowry money from her family. Along with his parents, he would beat her to the point that she would not be able to walk. All this, despite dowry being illegal in Bangladesh, albeit a common traditional practice.
"I rushed back to my parents' home on two occasions being unable to withstand the torture. The first time, I returned to save my marriage and the second time my husband followed me and begged me to take him back, promising to treat me with respect and build a family," says Raheela.
It wasn't long before her husband went back to his old habits and on one night, he abandoned Raheela and fled the house, taking the cattle that Raheela's struggling father bought for the couple. Raheela was four months pregnant at the time. "I received a divorce letter soon after. When we contacted them, they refused to pay my mahr (dower money), which I am legally bound to receive. Furthermore, he did not care to check up on me or be physically present when I gave birth to our daughter."
Miftah ul Jannat, Raheela's daughter, is now a year-and-a-half old and she hasn't yet received an ounce of love from her father. Worse yet, he has refused to bear her expenses. Desolate and unable to find justice, she went to the Friendship Legal Aid Booth in char Batikamari and sought advice from the community paralegal, Mohammad Akhter Hossain.
Akhter initially tried to resolve the matter by sharing the matter through a traditional saalish (informal dispute resolution), where the elderly and influential people of the village try to resolve problems between two parties before the matter goes to court. Raheela's husband and his family were summoned, but they failed to show up at the meetings. Akhter then took Raheela and her father to the Gaibandha District Court to share her testimony with the District Legal Aid Committee (DLAC). Friendship's newly inaugurated Online Legal Information and Help Desk at the court building facilitated the meeting.
Friendship opened the help desk at the Gaibandha District Court on October 25, 2022 with the aim of facilitating a faster route to justice for underserved populations living in remote, hard to reach areas in Gaibandha District Court.
The DLAC initially suggested Alternative Dispute Resolution (ADR) to solve the matter internally. However, when the accused failed to show up on the ADR dates, legal action was the only way to go. Raheela became the plaintiff of a case filed against her husband for his refusal to pay mahr and the expenses of her child.
The case is ongoing and Raheela is hopeful. "Paralegal Akhter bhai came as a blessing for me and my family at a time when we were hopeless and in shambles. He helped me take my case to court, that too without any cost. After more than two years of suffering, I am now optimistic. I hope I get justice, at least for my daughter's sake."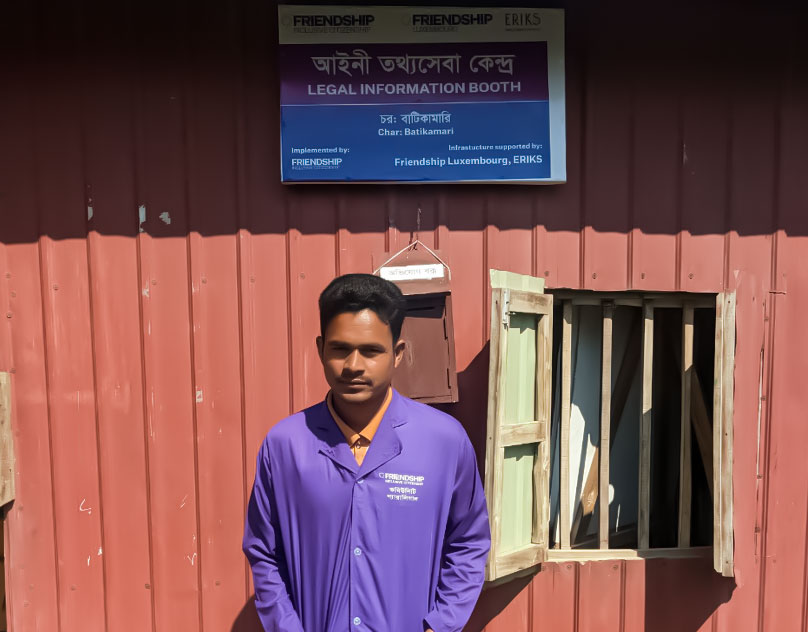 Friendship's legal aid booth at the Gaibandha District Court is the second of its kind in a court building. The organisation has been operating a legal aid booth at the Kurigram District Court for more than two years, and it has successfully helped bring justice to people who live in regions far away from the mainland. The legal aid information booths offer free consultations to oppressed, marginalised and poverty-stricken justice seekers and offer them dispute resolution services, often facilitating the filing of cases at the court. The legal booths at the court buildings help ensure a faster route to justice. At the same time, paralegals work to spread awareness regarding the rights, privileges and protections accorded to them by the law, which these remote communities are most often woefully unaware of.
Ahmed Toufiqur Rahman, assistant director of Friendship's Inclusive Citizenship sector, believes Friendship brings relief to dwellers of hard-to-reach areas. "The legal information booths give them access to the government and to justice. The fear and anxiety that once resided in them have subsided, now that they found a system that fights and works for them."
Marc Elvinger, co-chair of Friendship International, says, "To me it is very important that after having set up legal booths in 80 remote chars where Friendship Paralegals can provide legal advice and support at the doorstep of the communities which it serves, Friendship has taken the additional step of setting up such legal booths in the respective District Courts of Kurigram and Gaibandha, thereby ensuring that, whenever required, the work done in the communities can be smoothly linked up to the official justice system."