Global IWD event features messages, presentations and an award to four extraordinary women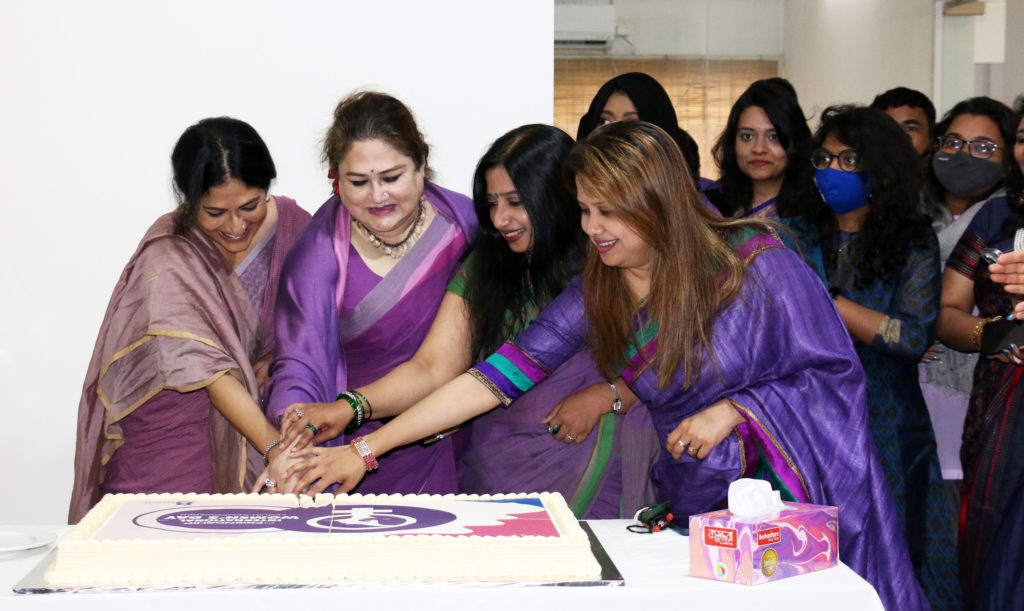 Friendship News Desk
March 10, 2022
Friendship held a global celebration on March 8, as part of the International Women's Day (IWD) campaign, where Runa Khan awarded four Friendship community staff with the Women of Valour award for outstanding contributions to their communities. The IWD campaign also involved a cake-cutting ceremony and a meeting with journalists on March 1.
Friendship's staff from all the field offices around Bangladesh, as well as the international offices joined in online to attend the event, with live and recorded messages from staff, both women and men. Hygiene boxes were installed in every female bathroom as well, to support the needs of the staff at the head office in Dhaka. The facility will be extended to all of Friendship's offices over the coming days.
"Today is a day that we celebrate women, and what they stand for," said Runa Khan, founder, to kick off the webinar. Wearing purple to celebrate the day, many of the female staff at the head office gathered at the board room on the top floor, while the rest joined over Zoom.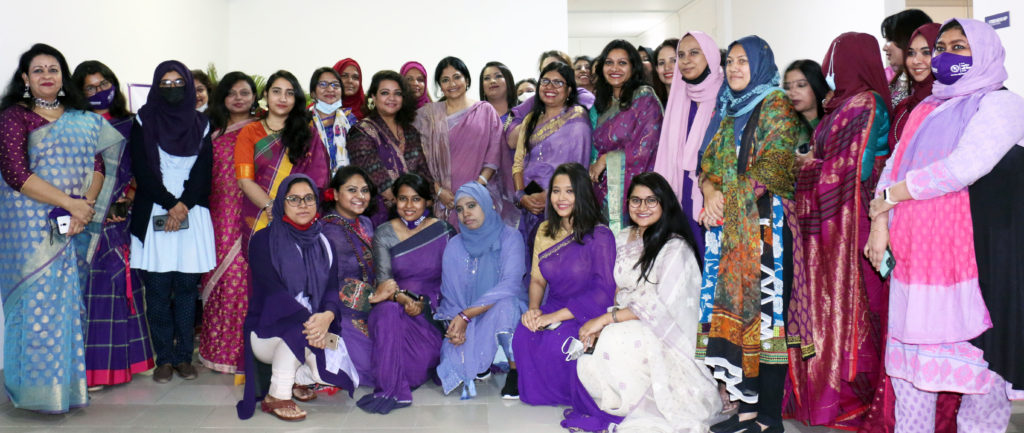 Operating in some of the most remote areas of the country, Friendship employs as many men as women, particularly noteworthy given how restrictive and difficult circumstances are for women from these communities. From teachers to paramedics, administrative staff to heads of departments, trainees to heads of Friendship's international entities, Friendship employs women at every level, and was founded by a woman.
The Women of Valour joined in to receive their awards live on camera, and the three girls who were recently admitted into the Asian University for Women also came on to share their thoughts. The three girls who made it into a world-class university with a 100% scholarship, did so despite what would seem like insurmountable socio-economic hurdles.
"I am not the same woman I was 10 years ago," says Morsheda Begum, Women of Valour award winner for the Saving Lives category. "I used to just be a village girl, and now everyone calls me 'the doctor lady', and that's all thanks for Friendship. Whenever [my community] are in trouble, they come to me."
Shantona Irin, winner for the Empowerment category said, "I have wanted to beloved teacher ever since I was a child, and now I think I can say I am. I am the happiest when I am with my kids, and even when we are on school break, I can't wait to see them. My students are my biggest reward."
Speaking of students, Muktara Parvin, one of the three girls admitted to AUW said, "my journey was neither easy nor convenient, but I remembered what Friendship told me—that girls are unstoppable and resilient, and I believed it."