Roundtable meeting on Improving the Living Standard of Northern Char Dwellers of Bangladesh held in Dhaka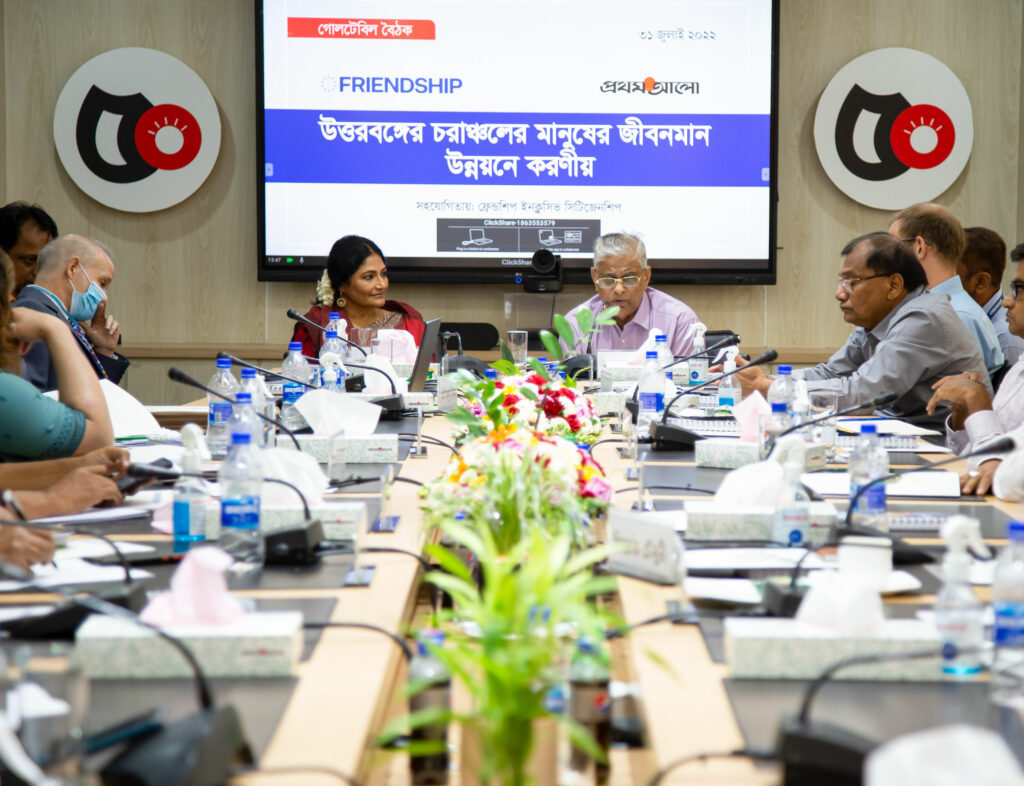 by Raeed Abd-Allah Chowdhury
August 4, 2022
A roundtable discussion was held on July 31, at the office of Prothom Alo, the largest Bangla newspaper, to discuss the state of the riverine islands, or chars, of Bangladesh, and what to do about them. State minister for planning Dr. Shamsul Alam, participated as the chief guest while Friendship founder Runa Khan chaired the proceedings.
Professor of development studies at the University of Dhaka, Dr. Kazi Maruful Islam presented his research at the discussion, forming the main topic of discussion. He said the sedimentary islands in the northern division of Rangpur are not just the poorest in the country, but has actually gotten poorer recently. This is despite the fact that the country as a whole has climbed out of being underdeveloped, to a lower-middle income country in 2015.
Focused on the socio-economic and geo-logistical circumstances of the region, Dr. Islam went on to illuminate how the inaccessibility to services and infrastructure, coupled with the climate impacts endemic to these islands form the perfect storm, so to speak, of conditions that exacerbate difficult living conditions.
The state minister for planning added that it is the intent of Prime Minister Sheikh Hasina, for Bangladesh to be included in the UN's list of developed countries by 2026, which is why it is of the utmost importance that the entirety of the country come up together.
To this end he named two essential initiatives to improve lives and livelihoods of char people: "First, we need to improve digitisation efforts in chars. This way, people will be able to gain knowledge and take advice on agriculture, health, education, etc.
"Second, we should increase dependence on solar systems in chars. Since the main grid is inaccessible, solar systems can provide much needed electrification for schools, homes, irrigation etc."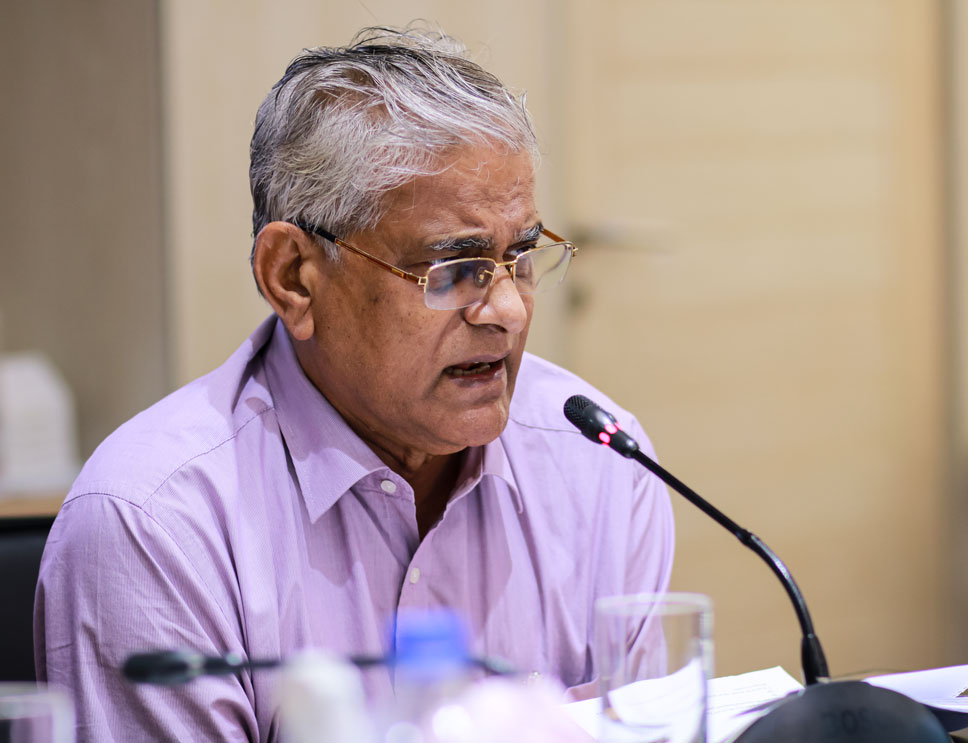 The chars or sedimentary islands form, break apart and go back under water frequently, shifting with the river's current. The impermanence discourages permanent fixtures—roads, bridges, even docks as well as gas, running water or electricity. Essential services like healthcare, education, legal aid, financial aid or climate adaptation or awareness regarding any of those are very difficult to reach to these communities, making development work an extreme challenge.
Nuri Chowdhury, a Friendship community paralegal, paints a dire picture of the conditions during floods. "We've nowhere to go during the floods. People are trapped at home, and subject to exposure from the elements, infections and insect bites. Animals are forced into close proximity, for example children often get bitten by rabid dogs and their families can neither afford nor have access to shots."
"Some people desperately try to relocate on rafts made out of banana trees which are rickety and unsafe, and children and the elderly fall off and can't swim, subsequently drowning," she continues, "and I have seen cases where the mother and son from the same family died because they were out in the open and lightning struck near them. People are forced to drink river water, defecate in the open and go without food for seven or even ten days at a stretch."
"Boats become a rare and expensive commodity during the floods. All of them get occupied, so an expecting mother who gets cramps in the middle of the night can neither find a boat to get to a hospital, nor afford to reserve one for 700-1,000 BDT. Their fetuses succumb while they wait at the docks, and they still have to go to the hospital to evacuate it. They have to borrow money to birth a still-born, travelling on a simple boat that cannot provide oxygen or any kind of emergency services," says an impassioned Nuri.
Luva Nahid Chowdhury, director general, Bengal Foundation, says "I think we have scope to rethink the water-land relationship in Bangladesh. Instead approaching the waters from the land, we could approach the land from water. The delta plan in Bangladesh is progressing, why can't even incorporate chars into that plan?"
Friendship has been working for 20 years to bridge these gaps in essential services. As per Dr. Islam's presentation, Friendship's innovative, integrated, bottom-up, holistic interventions have been providing multidisciplinary solutions to all of these issues, in these most difficult of working areas.
During his presentation, he reiterated the need for intermediaries to connect char people to government services. "Unfortunately, regular government procedures do not work for people in the chars as they do for other citizens. Like a boat is needed to go from the mainland to a char, intermediaries are needed to connect char people to services and to ensure their rights and inclusion. Otherwise, they will remain marginalised."
Runa Khan said, "Women, girls and disabled people from backward and marginalised areas are often victims of family violence, injustice and discrimination. In such a context, social purpose organisation Friendship started operations in 2002 with the dream of establishing dignity for all. Friendship's mission from inception has been in saving lives, poverty alleviation, climate adaptation and empowerment. We work towards these four commitments through interventions in health, education, inclusive citizenship, sustainable economic development, climate action and cultural preservation."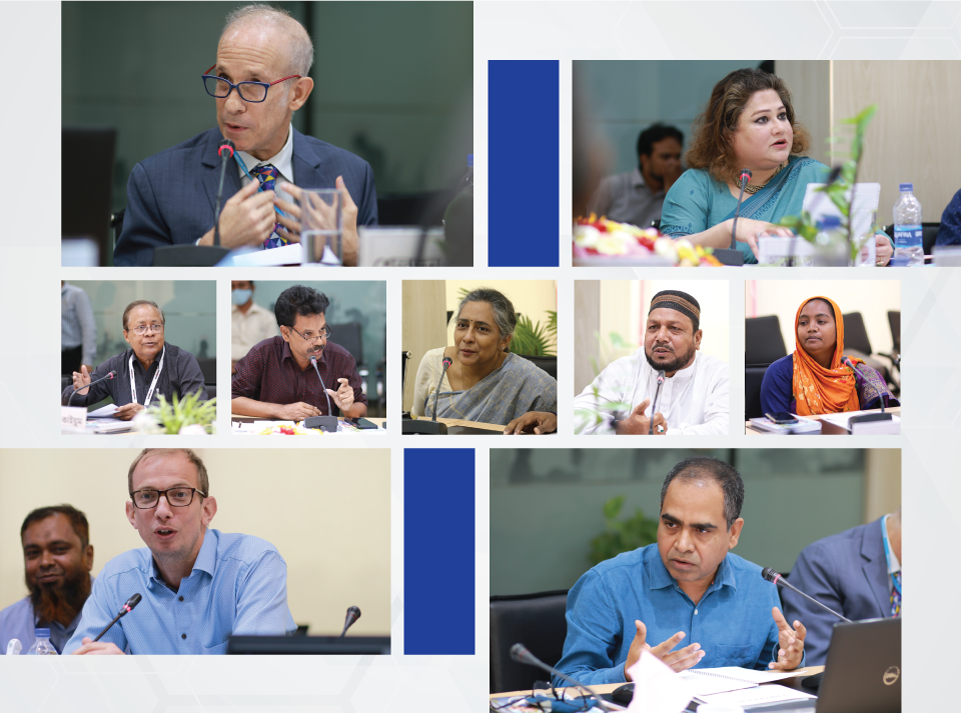 The roundtable panelists included Luva Nahid Choudhury, director general of Bengal Foundation; Md. Abdul Majid Pramanik, joint director of Rural Development Academy, Bogura; Onno Van Manen, country director of Save the Children, Bangladesh; Shelden Yett, UNICEF representative to Bangladesh; Md Nazrul Ghani, head of administration and general service, RDRS Bangladesh; Shahariar Sadat, director, Centre for Peace and Justice, BRAC University; Zahid Rahman, member secretary, National Char Alliance; Barrister Ayesha Taasin Khan, senior director and head of Inclusive Citizenship, Friendship; Mohammad Altaf Hossain, associate professor, Department of Anthropology, Rajshahi University; Abdul Gafur, chairman, Jatrapur Union Parishad, Kurigram Sadar; and Nuri Chowdhury, a Friendship Community Paralegal from Gaibandha.
The roundtable was co-anchored by Abdul Quayum, associate editor, and Firoz Choudhury, assistant editor, of Prothom Alo.