Friendship and the Luxembourg Institute of Science and Technology (LIST) hold roundtable discussions to ascertain the best flood prediction practices and protocols for Bangladesh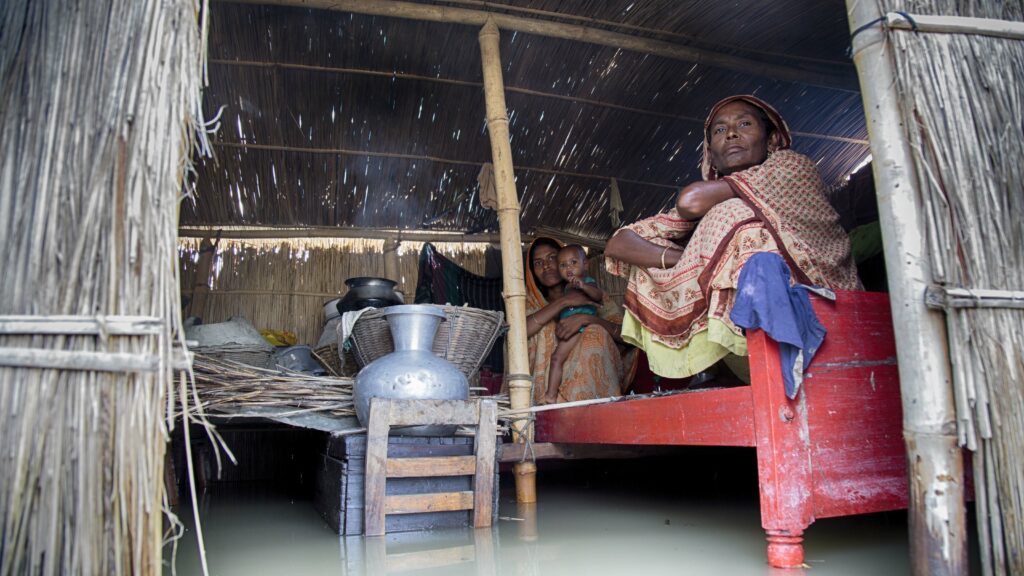 by Raeed Abd-Allah Chowdhury
September 25, 2023
On September 25, Friendship convened a roundtable discussion on flood inundation modeling towards flood risk management in underserved areas of Bangladesh. The discussion is based on improving flood disaster resilience through retrieving flood-related information from multi-source remote sensing data and integrating such information into an operational decision support system. Simply, the roundtable sought to find the best ways to predict floods and relay the warning to those most likely to be affected.
The discussion was participated by experts, Government officials from relevant departments, NGOs workers, officials from the European Commission Humanitarian Office (ECHO), and other relevant stakeholders. The findings generated from the roundtable discussion will help to improve the existing early warning system for floods.
The roundtable was held at the Sheraton Hotel in the capital, Dhaka and was attended by Nazmul Ahsan, secretary, the Ministry of Water Resources, and Mohammad Kamrul Hasan, secretary, the Ministry of Disaster Management and Relief . Also attending were officials and experts from ministries, UNICEF, (I)NGOs, including the Water Development Board, Department of Disaster Management, Bangladesh Meteorological Department, Department of Agriculture Extension (DAE), Institute of Water Modelling, Institute of Water and Flood Management, Centre of Environmental and Geographic Information Services (CEGIS), , Rimes, World Food Programme, and Practical Action.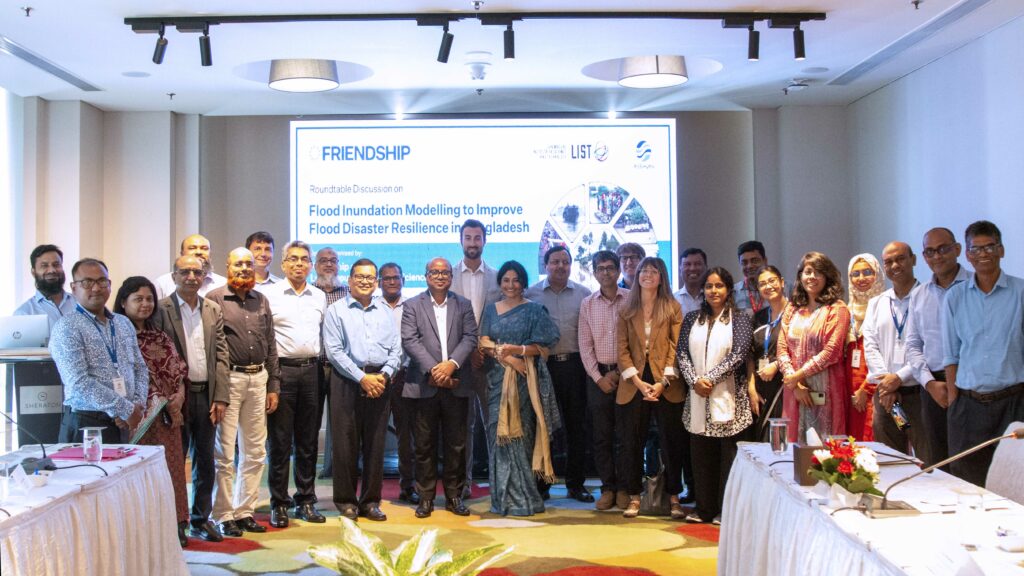 Nazmul Ahsan, stated in his inaugural speech, "Our two knowledge centres CEGIS, IWM can also be on board to reach a more accurate mechanism considering the physics of water flow, combining innovative EO-derived flood extent data with topography information that can reduce uncertainties in spatially distributed water depth over pre-defined river segments and connected floodplains. Both CEGIS and  IWM have their practicing experience and knowledge that can further assist Friendship and her other associates."
He further said, "I wish this roundtable success in discussing strategies and concrete actions, fostering partnerships and engagement, and brainstorming future programming on flood management endeavours collectively. I assure you of our highest facilitation in the process."
A team of experts from the Luxembourg Institute of Science and Technology (LIST) and RSS-Hydro will be taking the lead in conducting the scientific research and Friendship will implement the prevention plan and relief and rehabilitation through engaging vulnerable communities and local authorities. The latter is a dynamic R&D company operating across geospatial fields such as earth observation, remote sensing, and modelling of water risks to achieve industry impact for a number of SDGs and to better inform decision-makers. The early forecasting and subsequent warning systems will therefore assist in preserving the lives and livelihoods of remote, river-island communities that are already affected by continuous climate migration as well as the lack of access to basic services and infrastructure.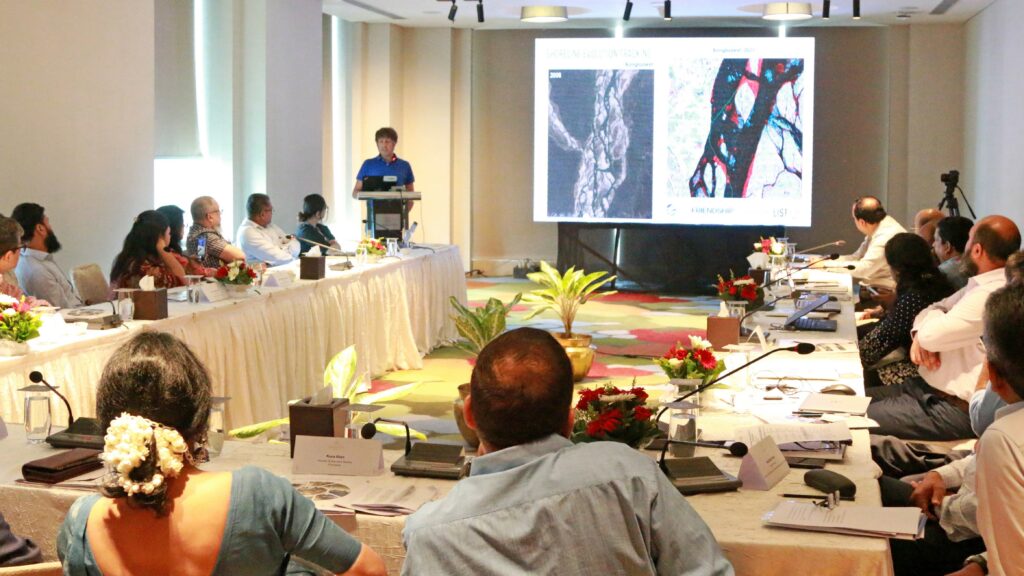 The sedimentary islands that Friendship works on are some of the most climate-affected areas of the country, where storms, floods, land erosion, and other effects are endemic, forcing the communities to move to other islands dozens of times within a lifespan. When these natural disasters occur, the people living in these areas have little by way of forewarning and have had to abandon their homes, farms, and lands over and over, starting their lives again from scratch every time. An early-warning system would go a long way in changing the narrative.
In the concluding address, Kamrul Hasan stated that around 230 rivers across Bangladesh, have become shallow due to the accumulation of silt, resulting in an elevated risk of flooding. He also appreciated the LIST team for visiting the field to learn about the situation with their own eyes.   
A four-day (September 17 – 20) field visit and consultation sessions have been conducted at the local levels. The foreign team and Friendship visited to ascertain the disaster risk reduction strategies undertaken at the local levels. Following the visit, was a local-level roundtable held at Friendship Centre in Gaibandha, an award-winning training facility that the special-purpose organisation also uses for such occasions. It was organised by the Climate Adaptation Project with support from LIST, LuxAid, and LuxDev.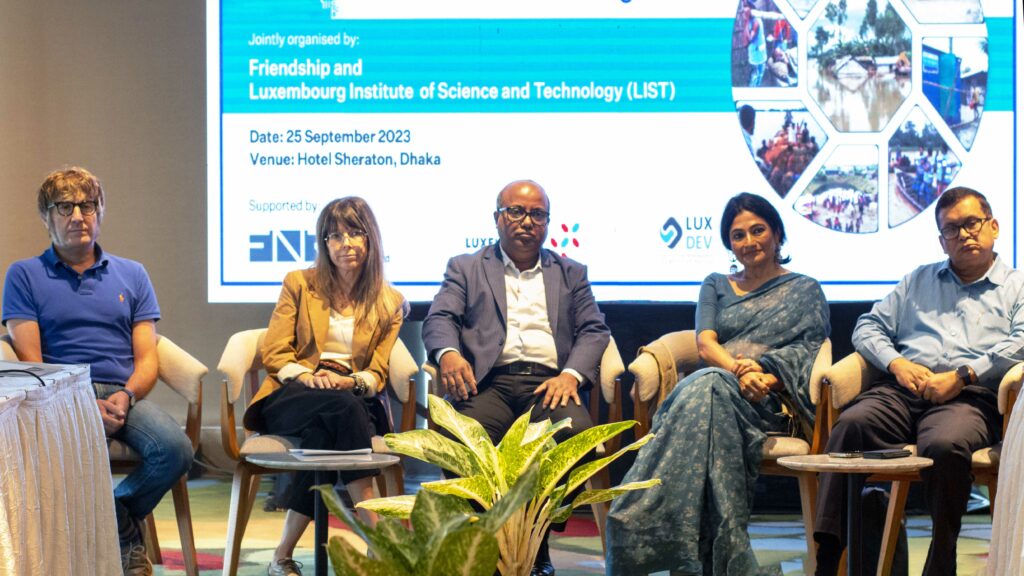 The deputy director of the local government division, Shoriful Alam attended as chief guest, accompanied by the deputy director of the Department of Agricultural Extensions (DAE) Khorshed Alam Sarkar, and the sub-divisional engineer of the Water Development Board (WDB) Walid Arshad, meteorologist Mostafizar Rahman, Bangladesh Meteorological Department, Rangpur Division, local union chairs and representatives from CARE Bangladesh, RIMES, BDRCS and SKS Foundation. There were presentations of findings made by scientists from LIST as well as the Bangladesh Meteorological Department.
The international and local-level roundtables will disseminate the research findings and discuss the best practices and protocols that would be the most beneficial for the local communities that are affected by floods year after year, and even more in recent years thanks to climate change. The research, supported by LIST, will be crucial to that end.