While we work to protect our communities and our countries against Covid-19, we need to also prepare them to deal with the climate crisis, writes Runa Khan.
It feels as though nature has left humankind reeling, our sense of vulnerability siphoned collectively towards a staggered peak. Our unearned confidence as prevailers of our own destinies, questioned. Those who thought themselves to be the most powerful have discovered how powerless they can be at its wake. Covid-19 has shown us that we are not in control of anything. It has also shown us that the fates of those who are most disadvantaged in the world are inextricably linked to our own. Unless the basics are strong: that is, unless we have systems in place that can protect everybody, we are all vulnerable.
Yet, one expects that this pandemic will pass, eventually. We can still harbour hope of getting out of this crisis but surviving the pandemic will not necessarily ensure humanity's survival.
Due to its sudden nature, and the fact that everyone is equally at risk irrespective of power, money or work, the whole world is working towards finding a solution to Covid-19. Unfortunately, we do not see our direction so clearly when it comes to the ravages we are making to our planet. Perhaps this is because the rich and powerful are still not seeing and feeling its full brunt. And thus, the solidarity we need to fight the climate crisis is absent. But like the novel coronavirus it will impact everybody, and when it does, it will be too late to save our planet or find a solution.
Those of us who work in the developing world deal daily with humanitarian disasters. Right now, we must respond to both climate change and Covid-19, simultaneously. While we work to protect our communities and our countries against Covid-19, we need to also think about how we can strengthen them to deal with future crises. The pandemic has shown us that healthcare is our most important line of defence—but how can we bolster health services for the future? How do we consolidate our economic and social systems to weather nature's forces today and in the coming decades?
I started Friendship 18 years ago with a floating hospital that took healthcare to one of the most poverty-stricken and neglected communities in the world. Millions lived on this landscape of moving islands in the middle of the Jamuna—the widest, in a land of the 1000 rivers. This landscape is made of deposits from the river, and every year, the land breaks away in one place, and forms elsewhere, upon the river's whim. An island with thousands of households can break away entirely within a few years. Permanent structures are impossible here. For generations, the population has been deprived of roads, electricity, schools, hospitals, the police—things that others can take for granted.
Having worked here for 20 years, we learned what it means to deal not only with disaster when it strikes but planning and working in harmony with nature. After all, for the people we were working with, floods, storms, infestations and droughts are yearly visitors. Besides service delivery, we worked to strengthen civil society in these communities. We trained community medic-aides, paralegals, technicians, and organised disaster management committees and volunteers. This empowers local communities so that during a disaster, they would be connected to the government, to NGOs and better connected amongst themselves.
Covid-19 was not the kind of disaster these communities had experienced before. But being prepared made the difference. Women on these remote islands who we trained as weavers so that they could be independent, are today manufacturing cloth masks for our workers, for policemen, jailers, prisoners, orphanages, and journalists. The same Friendship Disaster management volunteers who organize to warn villagers of floods, and who are trained to rescue people when the flood strikes are now, armed with personal protective gear and loudspeakers, disseminating messages about social distancing and hygiene. Even our teachers, paralegals and technicians are spreading awareness through WHO and government messages, localized so everyone can understand. And people are listening and doing as instructed. Why? Because firstly they understand what it means to be affected by disaster. They have been victims. Secondly, for two decades they have been learning about hygiene and basic healthcare concepts from Friendship's satellite clinics and community medic-aides, and many have received extensive treatment.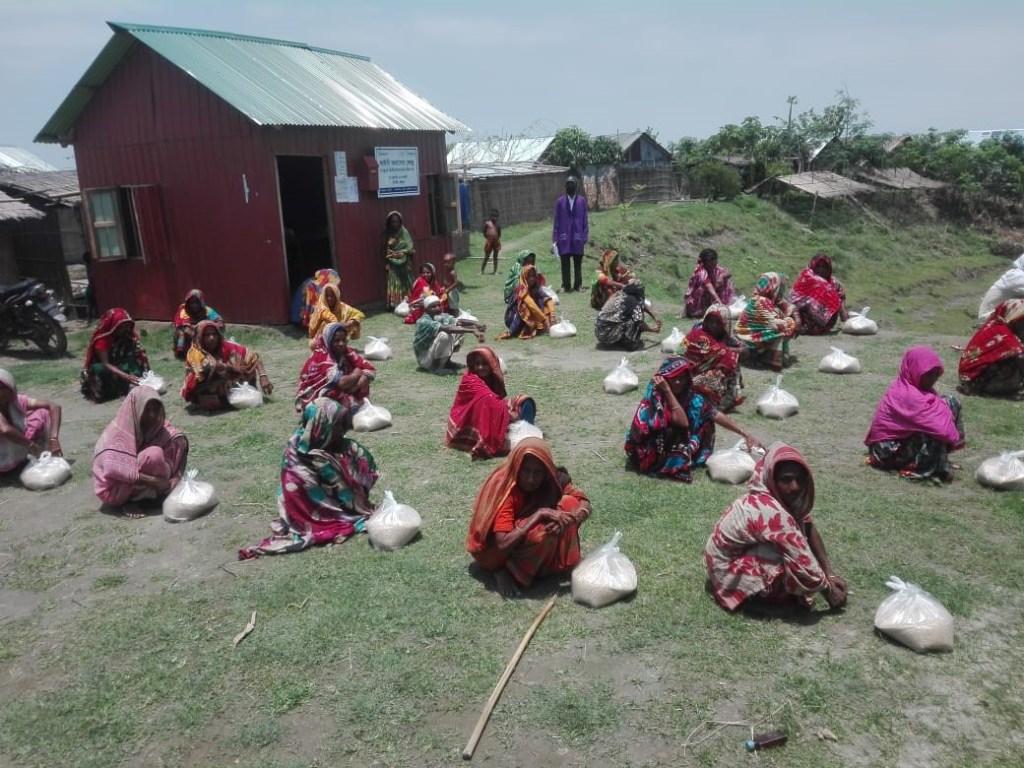 Our work in climate-impacted areas prepared local communities to deal with the pandemic, but it also prepared us to take on greater responsibility. Since the 23rd of March, our doctors and health workers have been on the frontlines of the national response. Internally we began taking preparations since February, before the Government of Bangladesh officially declared its response. We arranged safety gear for our 1096 doctors, medical personnel and medics. We implemented social distancing and hygiene arrangements in our offices.
During the crisis, four Friendship hospitals and 18 clinics have remained in operation. Our Health services have served over 100,000 patients since the first confirmed cases of Covid-19 in Bangladesh on March 8. We are working alongside the local government in 23 unions as part of the Covid Response Teams, and working with the government to collect samples for Covid-19 testing in two subdistricts. Friendship Shyamnagar Hospital is also responsible for training the "COVID19 Warriors," the government's frontline volunteer responders. We have 24-7 contact centres managed by our medical staff. Our clinics in the Rohingya camps continue to treat both physical, mental and psychosocial conditions and also provide family planning tools and emergency medicines. Friendship Centre in Gaibandha has been selected by the Office of the Civil Surgeon to keep government doctors isolated in case of exposure.
With schools being closed till September, Friendship is uploading video classes continuously. A technique that we implemented six years ago to educate remote char communities who had no access to education is today linked to the government's national educational platforms both online and on national TV. We have extended the videos to ensure that dignity and ethics are also part of each lesson. Because the novel coronavirus has proven that human values are no less critical than competence. Values like unity and equality, generosity, commitment and honesty are essentially part of the solution to a global problem. We cannot overcome a pandemic by thinking individualistically.
The Bangladesh Government has a tough job. No one can deny this. In one of the most densely populated countries of the world, with 160 million people, 40 million are food insecure under normal circumstances, according to the World Food Programme (WFP). An estimated 50 million are daily wage labourers or factory workers with irregular pay. These millions are now being hit by what WFP has warned will be a "hunger pandemic." But staying locked down at home is non-negotiable for Bangladesh even though for millions, it spells calamity.
There is no question that we are struggling, and must continue to struggle to build the capacity to respond to Covid-19, as the number of cases in Bangladesh continue to grow. However, there are lessons in this that are of supreme importance. The basic principles in this struggle to build capacity are valid also for the broader threats that face humanity in years to come: the principles of a strong healthcare to be able to save lives, resilience in vulnerable communities, and human values.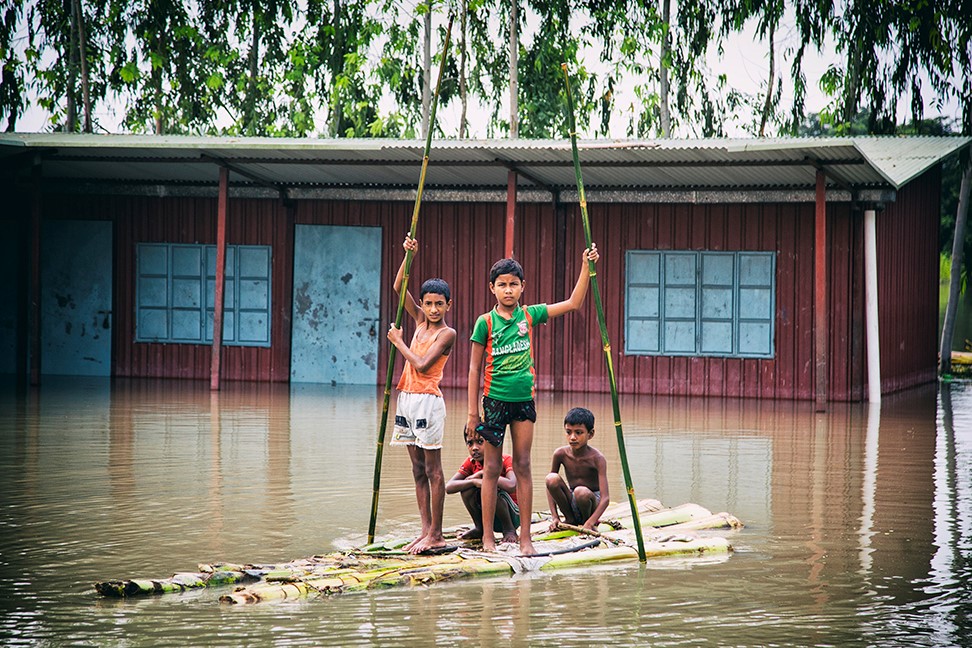 Friendship has always relied on collaboration and cooperation. Our greatest resource is people who are willing to mobilise to save lives, fight for human rights and make positive change. During this period of turmoil and insecurity Friendship remains dedicated to working in a community of people helping people. We have seen in the communities where we work, that women who were once outcasts, shunned by their own families and societies, if they are given the wherewithal, they become heroes in their communities as our Friendship Community Medic-Aides, paralegals and teachers.
Human beings may be responsible for climate change, but they are also the only creatures capable of such ingenuity, and such love and compassion, as to save humanity. Hope for the future lies in harnessing that potential greatness within us all.
This article was first published in ResInt Research Review.