6 months after its official launch
Since its official launch in December 2018 in Brussels during a friendly and inspiring evening, Friendship Belgium has grown steadily and with some success.
A substantial amount of several thousand euros of donations has already been collected. This amount will be allocated to fund the Vocational Training Centres created by Friendship for the training of women in weaving and sewing in the districts of Gaibandha and Kurigram in Northern Bangladesh. Friendship Belgium's financial support for this project should be considered in addition to a collaboration currently being considered with a renowned designer/stylist to develop the products woven in these training centres. The Board of Directors of Friendship Belgium hopes to eventually set up other collaborations to give added-value to the woven products and in particular with the School of Arts of La Cambre in Brussels.
Various contacts are underway between Friendship Belgium and future Belgian partners, ready to support Friendship's action in favour of communities in the most remote regions of Bangladesh. In particular, there is an intention to develop partnerships with universities in Belgium. Friendship is recognized for the quality of its work and the relevance of its participatory and integrated development model. Taking this model to the next level — i.e. conceptualization, recognition and replication — requires impact assessments, documentation and external expertise that only academic research could provide. In this context, two students from the University of Liège have already left for a two-month internship in Bangladesh to analyse the integrated model developed by Friendship with the aim of having the results of their work taken up by researchers from the university.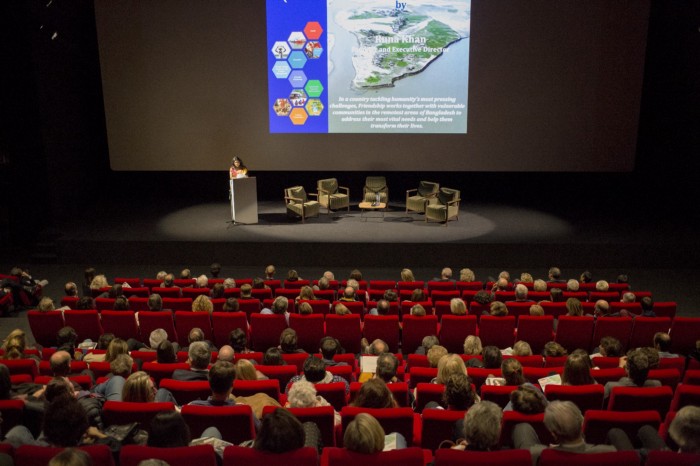 Friendship Belgium is the fifth European member to join the Friendship International network, a unique model of South-North partnership that allows close contacts with European donors while guaranteeing Friendship Bangladesh's autonomy of action in accordance with its own principles and objectives, based on community needs. As has been done very effectively in Luxembourg, the Netherlands, France and the United Kingdom, Friendship Belgium also aims to establish partnerships with companies based in Belgium that wish to support causes related to climate change, refugees, women's empowerment, education, health and/or work in a sector that could be linked to Friendship activities and/or Bangladesh.
In 2019 and beyond, Friendship Belgium will continue to work to increase its reputation in Belgium (see below the press articles already published). The Belgian entity also aims to find new active members in order to extend the network of "Friends of Friendship Belgium". Experience in other countries has shown that a strong support network makes it possible to truly deploy the full effectiveness of Friendship, particularly in the optimal use of resources that are still too often limited. Any idea, any partnership proposal being always welcome, do not hesitate to contact us (info-be@friendship.ngo).
Finally, Friendship is always looking for volunteer doctors who are willing to travel to Bangladesh for missions of ten to twelve days. Everyone can also support opportunities, dignity and hope in the poorest communities at their own level through a tax-deductible donation, also in Belgium.