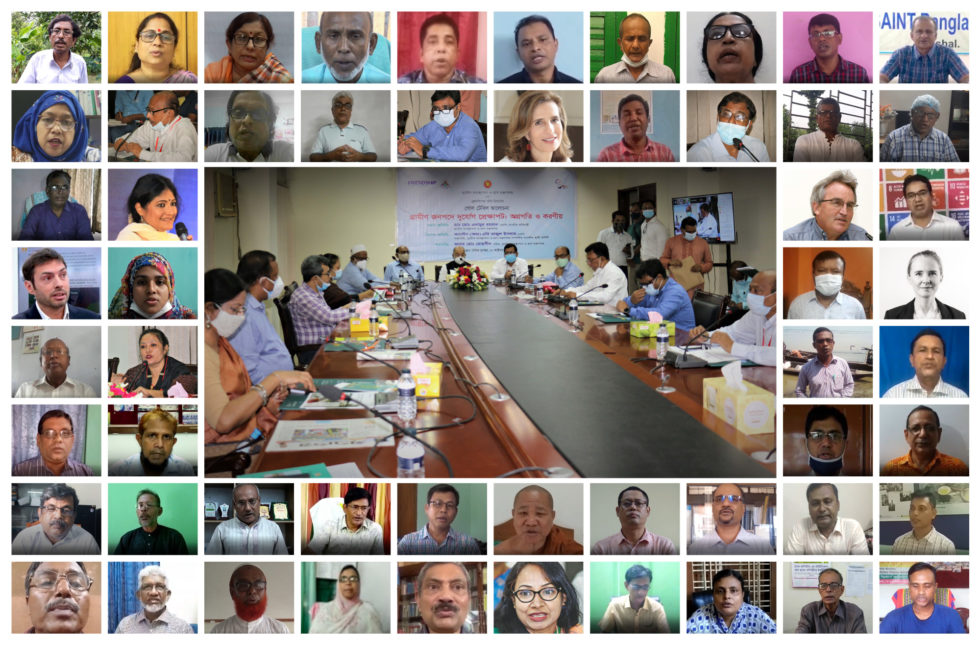 On October 10, 2020, Friendship hosted a roundtable conference which gave a national platform to grassroots organisations working at the forefront of the struggle against the climate crisis.  Fifty-three grassroots organisations battling climate disasters in some of the most vulnerable areas all over Bangladesh presented their situations and recommendations directly to the State Minister for Disaster Management and Relief, high level officials at the Department of Disaster Management, and national and international development agencies. The event brought together representatives from a diversity of segments, including national NGOs like BRAC, cyclone volunteers who are part of the government-backed Cyclone Preparedness Program, research organizations like Centre for Participatory Research and Development, and NGOs based in indigenous and hill tract areas. Here are messages from three grassroots organisers who attended the event.
Ziaul Ahsan, Pirojpur Gono Unnayan Samity, Pirojpur:
Being a coastal district, Pirojpur is prone to various natural disasters, including cyclones, salination, and erosion. We frequently face major cyclones, like Amphan this year.
The minister seemed like a very positive person, but it is difficult for him to be aware of the specific local situation in places like these. For example, on paper, there are disaster management committees in every corner of the country, but in many areas, these are not functional because the members are not clearly identified, and are never seen in action. On paper there are many cyclone shelters, but many are not properly maintained, and people don't want to, or can't, go there during a disaster.
Many of the men in our area are deep-sea fishermen. There was also an initiative to set up a warning system that would cover the Bay of Bengal to let fishermen know when they were in danger of facing major storms. But this has not been set up yet, and therefore many fishermen continue to die in storms in the deep sea.
Our district used to be a freshwater district, but the salinity of our soil has been steadily increasing, to the extent that it is no longer possible to grow what farmers traditionally used to grow here. So, many have adapted to newer crops like sunflowers which give oil. There are a lot of organisations that sell seeds and machinery for salt-resistant farming, but there is nobody who trains farmers on modern farming methods. As a result, farmers use hybrid practices blending traditional and modern agricultural techniques.
The people here accept that since it is a disaster-prone area, they have to do what they can to survive. If the real local picture can be presented to the ministry, and if there is advocacy of our local issues, then I believe there can be progress. The Director General and Additional Secretary of the Department of Disaster Management also seemed very positive and sincere.
Ven Sumanalankar Mahathero, Parbatiya Buddha Mission, Khagrachhari:
In the hill tracts of Khagrachhari it often rains for several days non-stop, swelling the Chengi river beyond its banks, causing flash floods. Thousands of homes and countless crop yields every year in the ensuing landslides and erosion. The residents of these hills are usually members of indigenous minorities who are already marginalised and underprivileged. This has been happening for a very long time and the people living here have no options and nobody to help them.
In our area, we investigated and found that the problem is that the water gets blocked at a spot downriver. Our recommendation is to deepen this channel, and other similar spots where the water gets blocked. The work would take a lot of resources.
I do believe there is some work going on in the area, but we are not involved in that. We are not able to influence those programs, as the decisions are taken at a very high level.
There has been a lot of talk about flash floods and landslides at the local levels, but no action. At the October 10 event, we finally had the opportunity to take our recommendations to higher government officials.
Boniface Gomes, Bangladesh Association for Sustainable Development (BASD), Bagerhat:
BASD has been working in Bagerhat, Khulna, Narayanganj, Sunamganj, Moulovibazar, Cox's Bazar and Dhaka districts since 1991 for the integrated development of the local vulnerable poor women, children, fishermen, day labourers, tea garden workers, Rohingya refugees and disaster-affected people of the coastal areas.
The major activities of the organization encompass women's empowerment, human rights, skill and capacity building, disaster adaptation and risk reduction, environment and ecological development, organic cultivation, permaculture design, ecovillage design, child rights, and the education of brothel girls and children. Our model programs for climate resilience are being implemented in South Bengal (Bagerhat and Khulna). We are working on adapting and replicating them in other districts.
At the Roundtable event on October 10, BASD got the opportunity to learn the government's plans on disaster risk reduction, disaster management, etc. At the same time, BASD learned also about Friendship's activities and its contribution to the country.
BASD is working to transition farming communities in 1,000 villages into permaculture and ecovillages within its current five-year Strategic Plan. These ecovillages will practice healthy and peaceful living with strong social values. The program is built around the four dimensions of ecology, economy, sociology and worldview.
We were very happy to attend the roundtable meeting.
Read more:
"Change Can Happen from Bottom Up" — HRH Princess Esmeralda of Belgium