by Runa Khan, Founder and Executive Director, Friendship
Tackling the impact of Covid-19 on a country of 170 million people and frequent natural disasters, we felt that the year 2020 was not like any other in our lifetimes. We shared our struggle to contain the spread of Covid-19 and meet healthcare and related economic needs with the whole world. Then came the super-cyclone Amphan which displaced 2.4 million people in Bangladesh, and many more in neighbouring India. And today Bangladesh faces yet another disaster: that of the monsoon floods.
The life and livelihoods of the people we work with are deeply impacted by natural disasters every year. Friendship works with some of the most climate-impacted communities in the world. In northern Bangladesh where the great Brahmaputra river enters the country, millions live on islands formed from the river's silt. These islands are directly exposed to all of the river's forces.
At this time of the year, the river swells and its current grow stronger. It breaks away the same land that it has formed and bestowed with life. Together with the houses and farms, entire livelihoods are swept away by the current. Every few years, there is a particularly bad flood which destroys crops, homes, livestock, roads and embankments. Tube wells and latrines are left unusable, and the water carries refuse everywhere, spreading disease. Every year, lives are lost and children are drowned in these floods.

On the television coverage of Bangladesh's floods, we always see development and humanitarian agencies rushing to deliver packages of food to the victims. Handing out food relief is only a secondary part of saving lives. It addresses just one of the concerns, at that time.
For saving Lives, the most immediate necessity on the rivers are boats to rescue people and their possessions. Next, you need a safe, dry place where people can disembark. There, they need basic facilities to survive: water, sanitation, a roof over their heads. Then there is the need for food and healthcare. This year whatever space they found to try to fit their family and possessions has become a danger for their very life, because social distancing is next to impossible.
The tragedy of it all is that, even if they survive the raging river and the pandemic and get the help they need, people cannot really go back to living their lives in the same way after the water recedes. Their homes are damaged or swept away, their crops are lost, and often their land has eroded. During a flood like this one, which comes in waves, farmers are uncertain when to plant their next crop. Crucially, for those who have lost their homes and income, there needs to be a way to recover.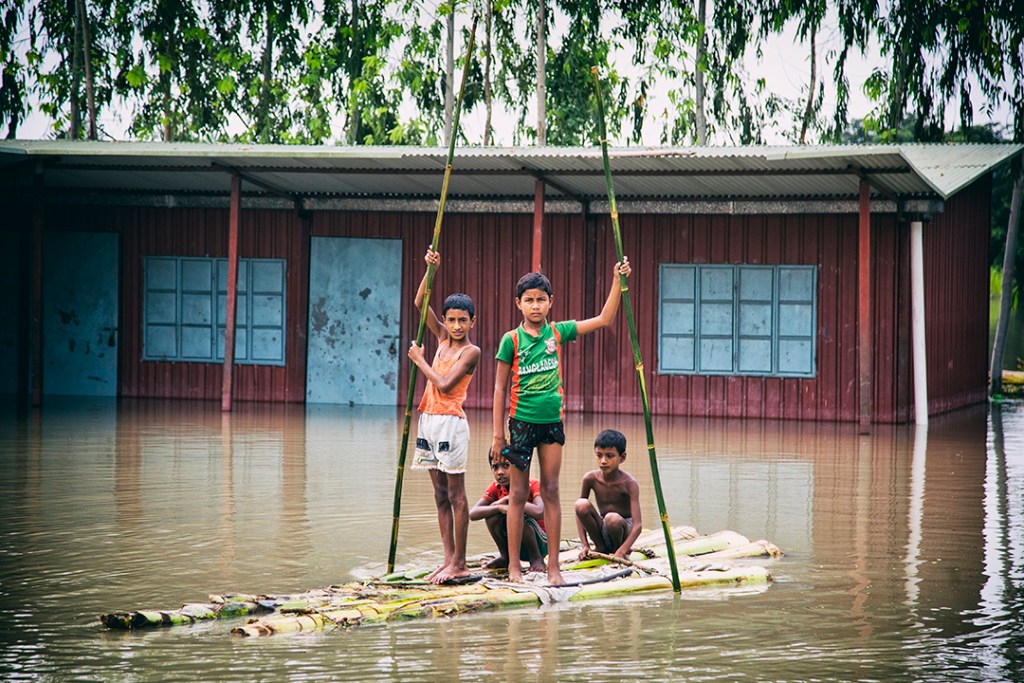 From boats to disaster volunteers trained to rescue people; from mechanics ready to install tube wells and latrines, to programs that help people recover their livelihoods; from food relief to roving health services—it is our duty to stand by our people in every way possible. But when there are multiple disasters ongoing at the same time, even the best-prepared communities will face insurmountable difficulties. Already multitudes of people who depend on labour jobs in cities are out of work due to Covid-19. Already the economy is suffering. That makes recovery from floods a lot more difficult this year.
At times like these, one might think that nature is the enemy, coming at us from all directions. But nature is the basis of life, and the reason we are alive. Therefore, we must make deep changes in our mindset, and every solution must respect nature's power, and endeavour to be rooted in knowledge and understanding of nature's forces. Thankfully, the waters, for the second time this season, are reducing in the north on the Rivers Brahmaputra, Dharla and Teesta, and for now, water is slowly receding away from the homes of our communities in our working areas in Kurigram and Gaibandha.
Devastation of homes, loss of cattle and livelihood, and for many utter destitution is left behind and many still fear another flood may come. As the northern areas start to recover from the water the southern districts will now start to experience the flooding—a cycle worsening in impact year after year. Support and help for lives of the community are more and more needed beyond only food relief and some cash funds, as communities need to prepare and recover strongly and with self-reliance. Help is needed now to raise and rebuild houses, restart schools, empower communities, and rebuild the economy once again.