Floods in Bangladesh hit 5 million people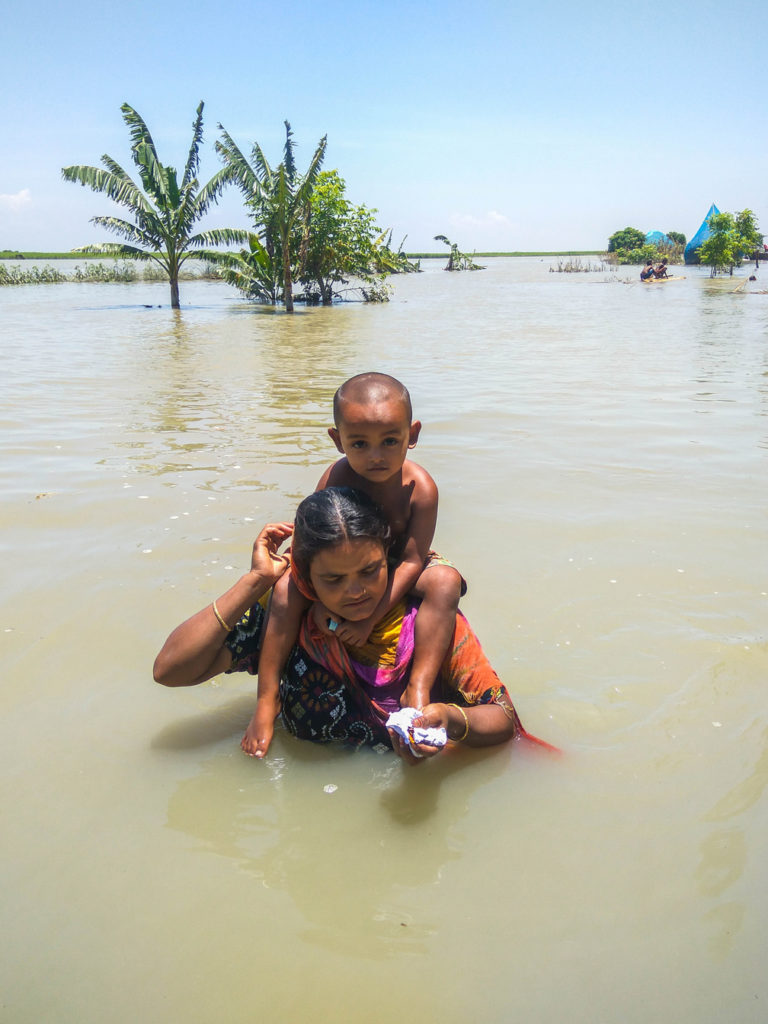 by Naushad Ali Husein
August 5, 2019
Jasim Uddin has managed to get within a stone's throw from his home by boat. But now the boat struggles, squeezed between two buildings before coming to his doorstep. It suddenly dawns on him that the boat won't make it through. After a day of helping flood victims, there's only one way home — swimming.
It's been five years since Jasim started working for Friendship, building disaster resilience in the island communities along Bangladesh's immense rivers. In the chars (or river islands) floods are an annual misfortune.
But this year, the surge has breached the embankments that protect the mainland, and Jasim and his colleagues are experiencing the disaster first hand.
In a normal year, the waters will surge high enough to submerge the chars twice over. The homes are designed so that the water comes and goes like that unwanted guest you can't turn away. Valuables go inside a trunk, whilst beds, tables and charpoys are raised on bricks or stilts to provide dry surfaces for everything from cooking to a platform for live chickens. Meanwhile, waters rise as high as a foot or two, and sometimes even higher.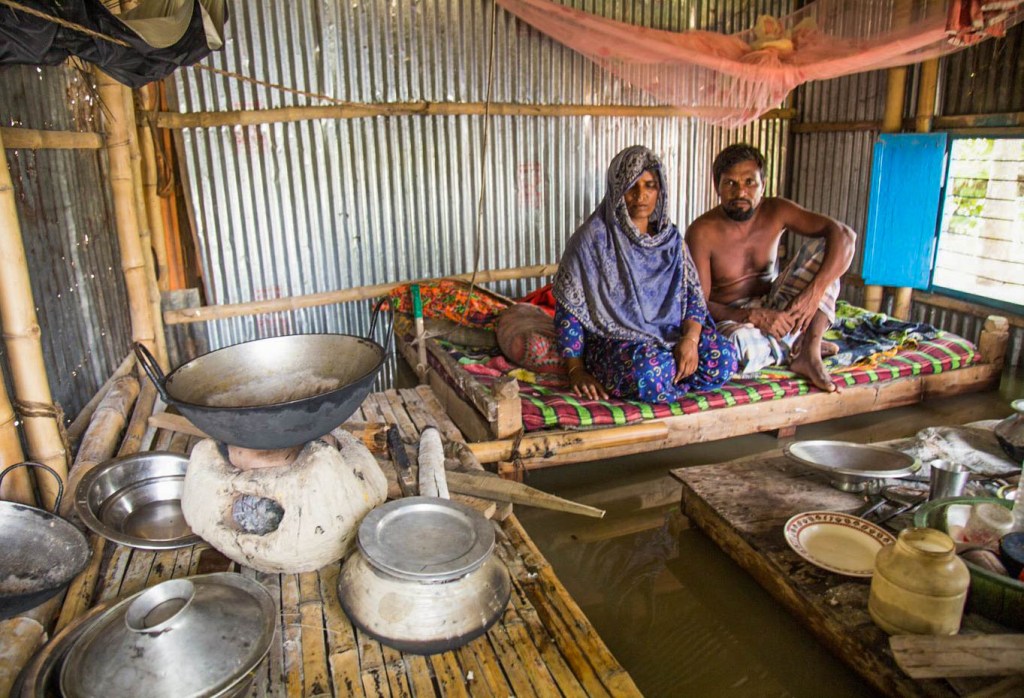 "But the floods this year have been much more intense than in previous years," said Jasim. "In many places, water has surpassed the roofs. No land was left in Rowmari that wasn't flooded." Thankfully, in recent years the communities have developed several ways to cope.
A disaster volunteer team consisting of five men and five women works in the 20 villages in Rowmari where Friendship is active. "These teams scoured the area, rescuing people who were no longer able to live in their homes," said Masrafur Rahman Masum, project manager at Friendship. "We've trained them in search and rescue techniques, and they have been helping people move their livestock and possessions to the nearest high grounds."
"One family our volunteers rescued had a child that was only five days old," said Masrafur. "They had raised their bed so that they could keep the child dry. When we reached them, the water had risen above the level of the bed. They didn't even have a boat in which to escape."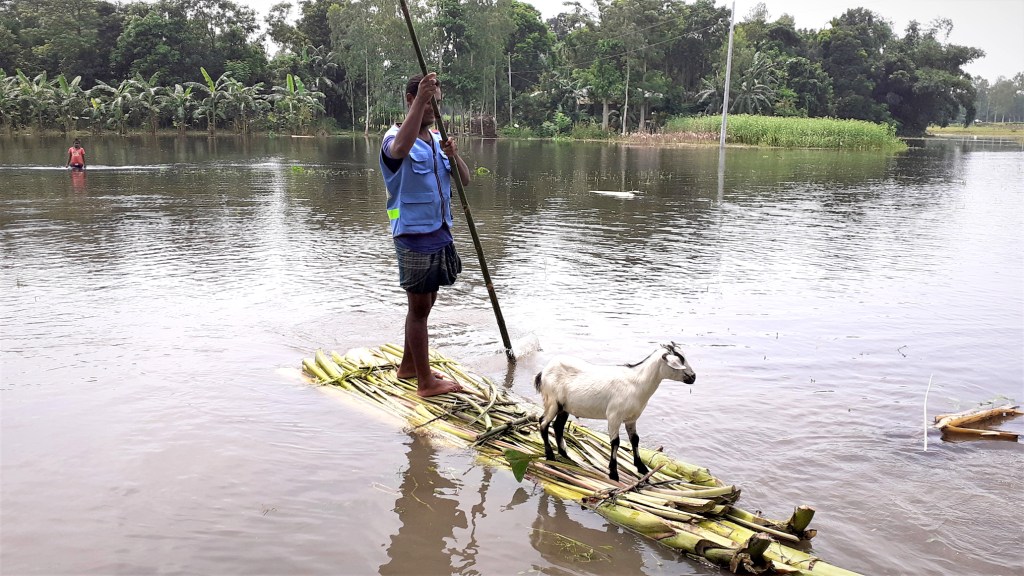 In order to achieve effective rescue, assessments are required to be made beforehand. Several river island villages now have a Friendship Disaster Management Committee consisting of village elders, local politicians, and proactive residents who work all year to find ways to be better prepared for disasters.
"The FDMC surveys their village to identify people who are particularly vulnerable," said Md. Mostafizer Rahman, a field facilitator at Friendship. "So during a disaster, volunteers can quickly rescue disabled people or people in particularly low-lying houses."
Anywhere else within a country as prone to natural disaster as Bangladesh, a shelter might be somewhere close at hand. But the char landscape is continuously shifting, eroding in one place and forming afresh in another. Where the land itself is temporary, any kind of permanent structure — hospitals, electrical lines or flood shelters — are impossible.
In Rowmari, two of the available shelters were Friendship's "plinths," or raised villages that are designed to accommodate families and their assets during floods. They are equipped with tube wells, latrines, and medical services.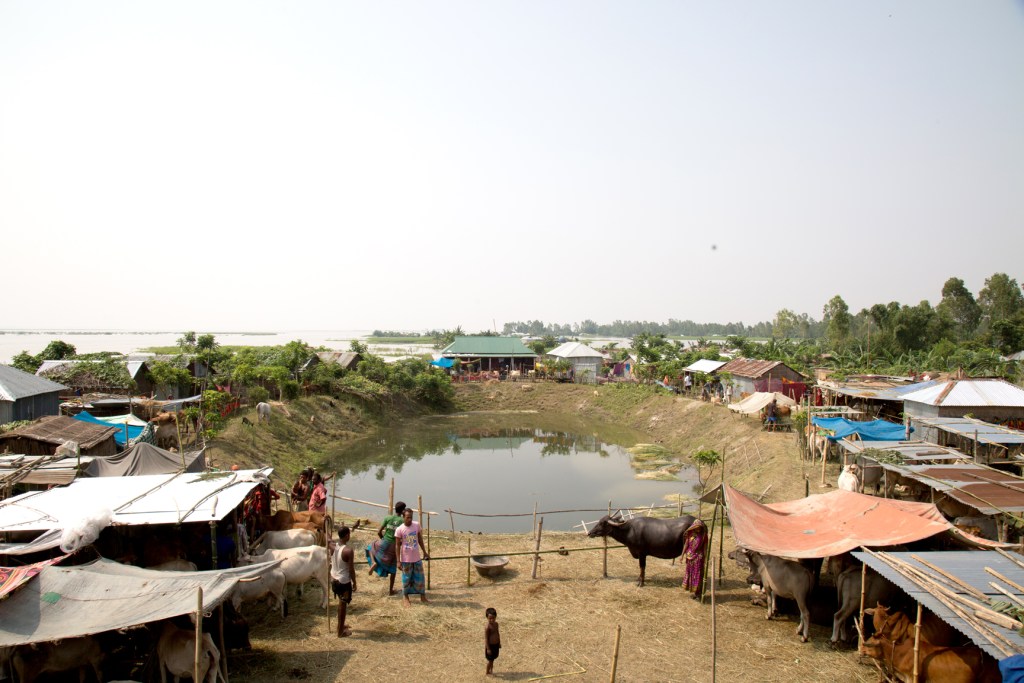 People further away from any plinths are forced to take shelter on the shoulders of highways or railway lines. These places are not equipped to be shelters, therefore have no basic amenities.
"I appealed to Friendship to do something for those taking shelter on the embankment highway, who had no access to safe drinking water or sanitation," said Delowar Hossen, chairman of Panchgachi Union, Kurigram. "It's impossible to express in words the benefit that the people have received from these facilities."
He points out other places where lots of people are taking shelter and still have no access to these facilities, noting that a lot of work is still to be done.
"All 45,000 families of our union have been flooded, including myself," said the chairman. "There is water in my house. When I visit the bazar or the embankment, I take two lungis. One gets wet on the way, and then I change over there."
The economic impact of floods is long-lasting. Simply in the locations where Friendship works, 590 cows have been killed by floods. For many village families, just one cow yields a full year's earnings. A family will buy an animal and fatten it all year so that around this time of year (before the Eid festival of animal sacrifice) they can sell it at a premium price. Therefore, understanding the value of these cows for the average family further highlights the threat of uncertainty they are catapulted into when their livestock is killed by these floods.
With all crops washed away, people live on dry food during the floods. But when the flood waters linger for over a week, the stores begin to deplete. "In Char Lalkura we had one pregnant woman who literally swam through neck-deep water to collect relief for her family," said Md. Mynul Islam, a colleague of Jasim. "She had left a toddler with her mother-in-law. For whatever reason, her husband was not there."
Similarly, communication, transportation, medical care all come to a standstill, and people's needs become more urgent. Medical needs are exacerbated by the risk of infectious diseases, because people are in constant contact with dirty water, often without access to sanitation and safe water.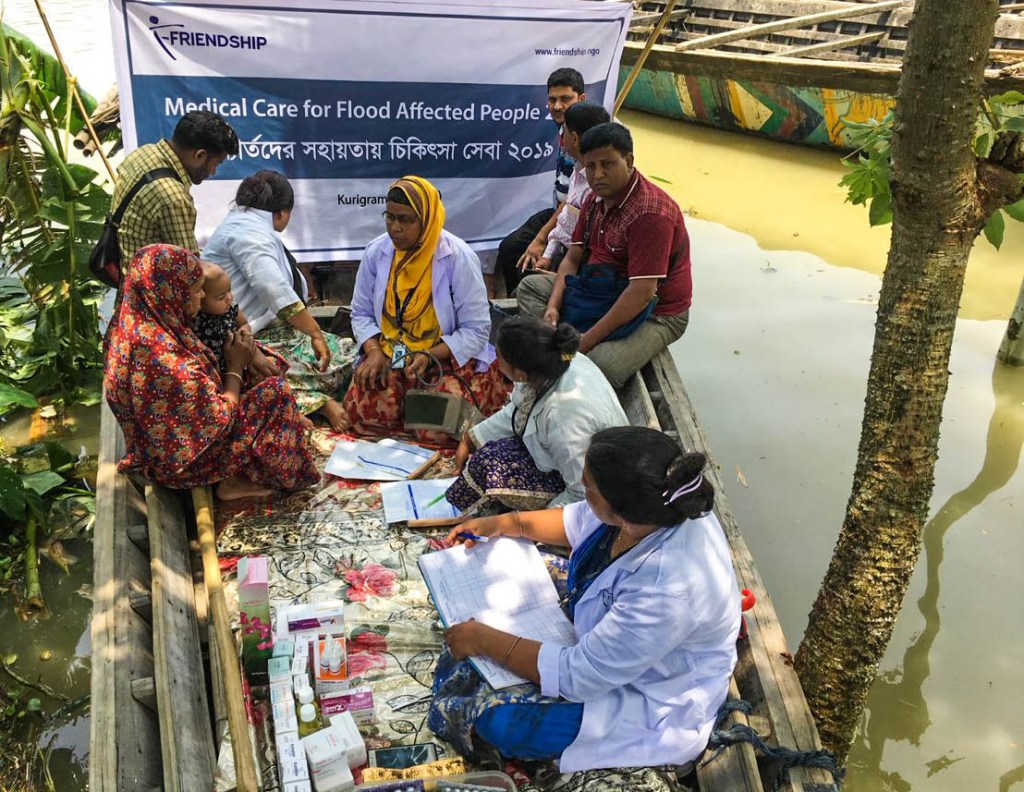 "We regularly work with flood-affected people, but it has never affected us like this," said Masrafur. "It's difficult to explain how distressing it was."
On July 18, Jasim returned from the office to find that his home was flooded to a dangerous level. Most of his neighbours had evacuated. He had nowhere to go. "I did the only thing I could, which was to pile up the beds, and add bricks under them until I had a surface that wouldn't go underwater. For three days we cooked and slept and did everything on top of that."
With the latrines submerged, there was nowhere for them to go. The only way was for them to go in bags or bottles and then dispose of those somewhere far away.
Masrafur says the experience was so dehumanizing, it changed his attitude towards the people he works with. While flooded out, Masrafur was tasked with the difficult job of assembling floating latrines for waterlogged villages. Doubtless, his own experience made him work even harder to aid those with no access to washrooms and restore their dignity.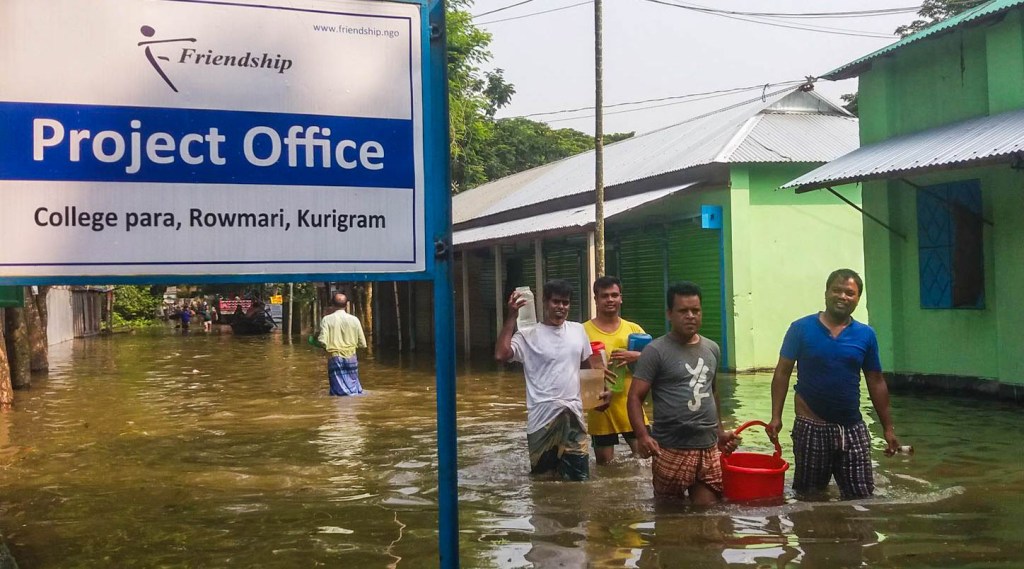 The waters have now mostly receded several feet, and people have returned to their homes from the shelters… But the real disaster has only begun.
"During the flood they need one set of things, and now after, it's a different set of requirements. A couple of days ago people needed dry foods and feed for their livestock, now what is needed is materials to repair their tube wells and latrines. They're asking for carbolic acid to keep poisonous river snakes away. Many illnesses are about to intensify."
But this year, the thousands who have lost their incomes have also learned techniques to quickly create alternatives. A few will be able to put together vegetable patches in a matter of a few months, with seeds they have saved. Mechanics from within the communities will rebuild tube wells and solar power systems. Local governments are more aware of the need for reconstructing roads and houses.
The path to recovery will be a long one, but the communities have never been better equipped to tackle it.