A young, indigenous girl defeats social norms as well as competing teams to achieve victory and uphold the values celebrated on the International Day of the Girl Child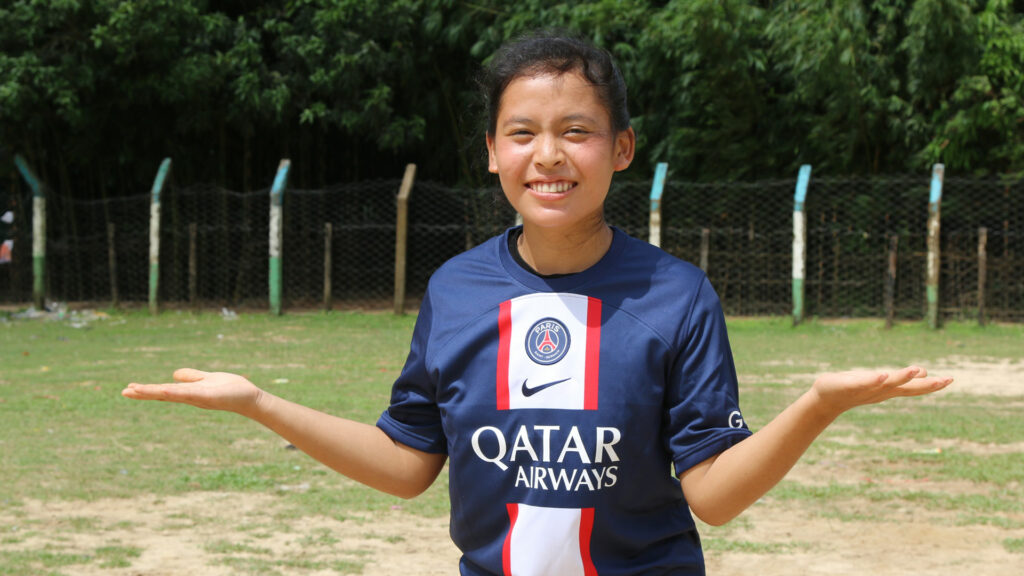 by Molla Shihab Uddin and B M Mostafa Jahan Adro
October 11, 2023
In the remote village of Thaningkhali, nestled amidst the rolling hills of Cox's Bazar, Bangladesh, there lives a young girl whose story is a testament to determination, resilience, and the power of dreams. Maya Debi Chakma, a member of the marginalised indigenous community, is not your average teenager. She has not only shattered stereotypes but has also emerged as a beacon of hope for her community.
Her life took an interesting twist when she assumed the role of captain for the Thaningkhali High School girls' football team, a team of underdogs formed less than a year prior. Under Maya's leadership, the Thaingkhali High School girls' football team achieved an astonishing feat by emerging as the champions of the 50th National Inter-School, Madrasah, and Technical Education Sports Competition. This was no small achievement, especially considering the tough competition they faced from well-established teams. Maya's dedication to her sport and her team was unwavering, and it paid off in ways they could never have imagined.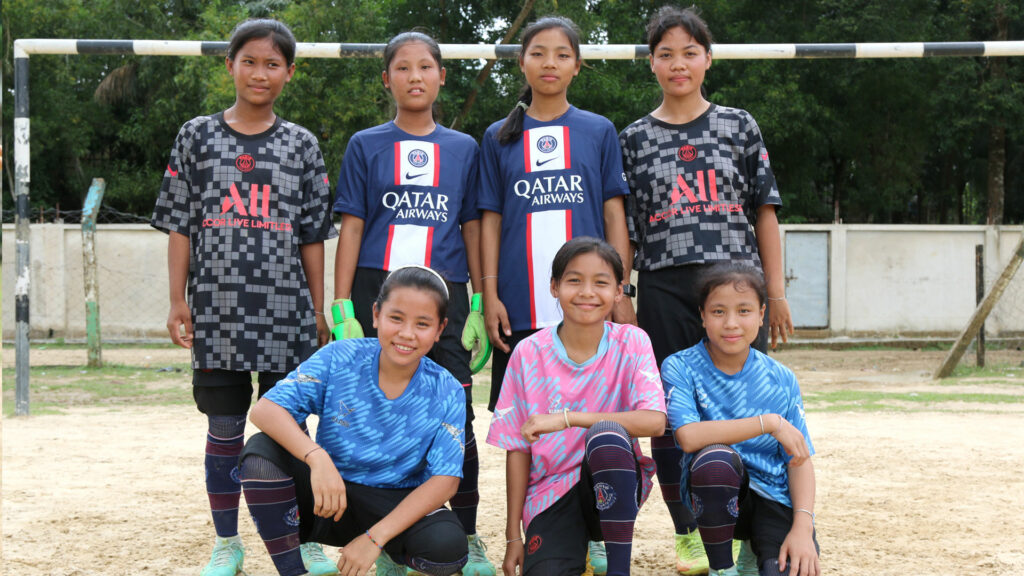 Maya's journey into the world of football began under the initiative of a joint sporting project by Dutch organisation KLABU, French football club Paris Saint-Germain and Friendship SPO. This project not only provided her with the opportunity to pursue her passion but also served as a platform to prove that girls from indigenous communities could excel in sports just as much as anyone else.
Their victory at the district-level competition meant that they had earned a spot at the divisional-level games, a challenge they eagerly embraced. While they couldn't make it past the first round at that level, Maya's spirit remained unbroken. She saw the setback as an opportunity for growth and learning from their experiences.
However, Maya's journey hasn't been without its share of obstacles. In a society where gender norms and expectations are deeply entrenched, she and her team faced criticism and scepticism. People would question why girls were allowed to play football and whether it held any value. Such comments were disheartening, but Maya's determination to prove them wrong only grew stronger.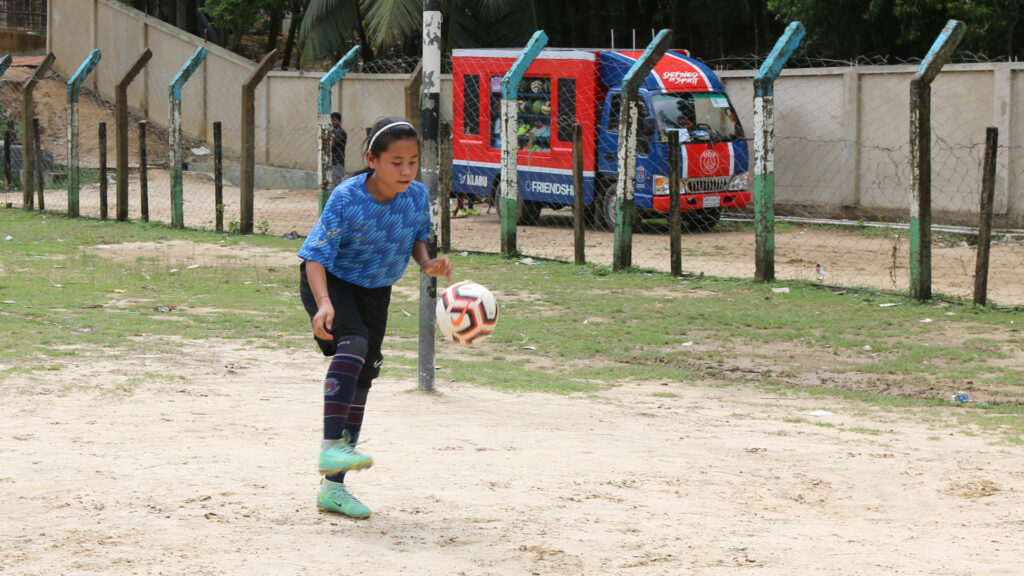 Even during the interview, as she sat on a dusty field where her team practiced, a group of young boys, no older than 20, passed by. They made crude remarks, dismissing their efforts, and belittling their dreams. Maya's eyes welled up with tears, but she quickly wiped them away. With unwavering resolve, she stated, "They won't stop me." Maya's determination extended beyond the football field, and she understood that to empower her team fully, she needed to break down barriers within her own community.
"Shapna's parents would not let her play at first. She is the defender on our team. Even though she wanted to play on the team so mucha few other girls and I from the team had to go to her house every day for at least two weeks before she got permission to play."
Maya not only persisted despite her own circumstances but fought to pull other girls up alongside her. She embodies the values that are celebrated on the International Day of the Girl Child, where, despite every hurdle, she was tenacious in her desire to have girls like herself live their own lives, on their own terms and have agency and value. She proved that where there is a will, there is a way, and that hard work, determination and unwavering resolve are a winning combination.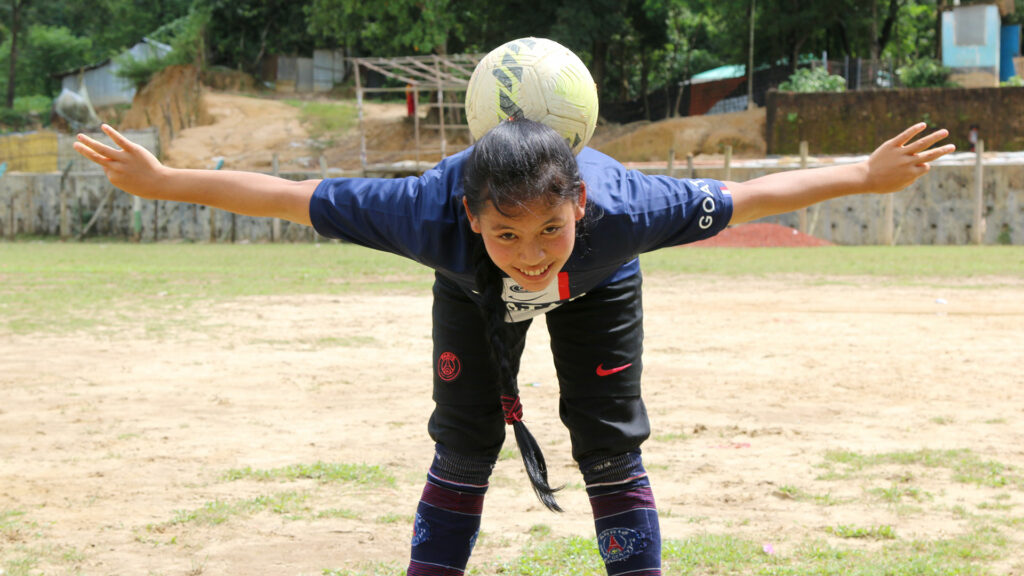 "Before the inter-school tournament final, one of the boys from our neighbourhood hurt his shoulder. My parents and a few others were adamant they wouldn't let us play anymore. But the whole team got together and had to convince them," she continued.
"My team takes care of me, and we take care of each other," she added.
Maya Debi and her team aren't just players; they are a symbol of hope and empowerment for the community. They are the girls, the daughters and future of the community that are making a change.