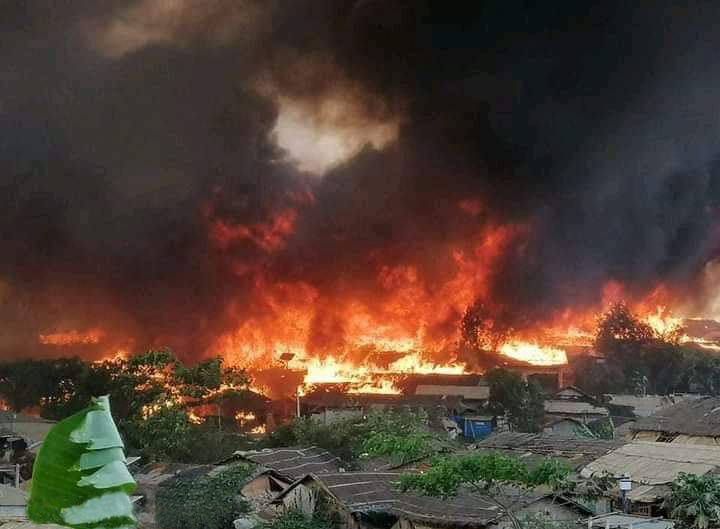 situation overview
At around 3pm on March 22, 2021, a devastating fire broke out in camp 8W of the Kutupalong camp network which houses some 880,000 Rohingya refugees who fled genocide in adjacent Myanmar. Fueled by dry weather and breeze, the fire quickly spread to camps 8E, 8W, 9 and 10.
According to the Inter Sector Coordination Group (ISCG), at least 10,000 shelters have been affected with 45,000 individuals displaced—about 66% of the population of camps 9, 10, 8E and 8W. Representatives of the UN Refugee Agency UNHCR have said the numbers are likely to grow.
Several people have been injured and 400 are separated from their families.
Camp 9 and 8E/8W are badly damaged. In some places the only things standing are metal pillars and sewing machines. Camp 7 and 10 are partially damaged with similar impact.
People from nearby camps rushed to the incident as first responders followed by UN agencies, and international and national NGOs.
People have sought refuge in nearby camps, at shelters of friends and relatives, learning centres, and UNHCR transit sites. Development partners have established child friendly spaces at central points to receive lost and unidentified children.
The fire subsided the same day but only after destroying several essential infrastructure such as learning centres, health facilities, latrines and water supply networks.
areas hit by fire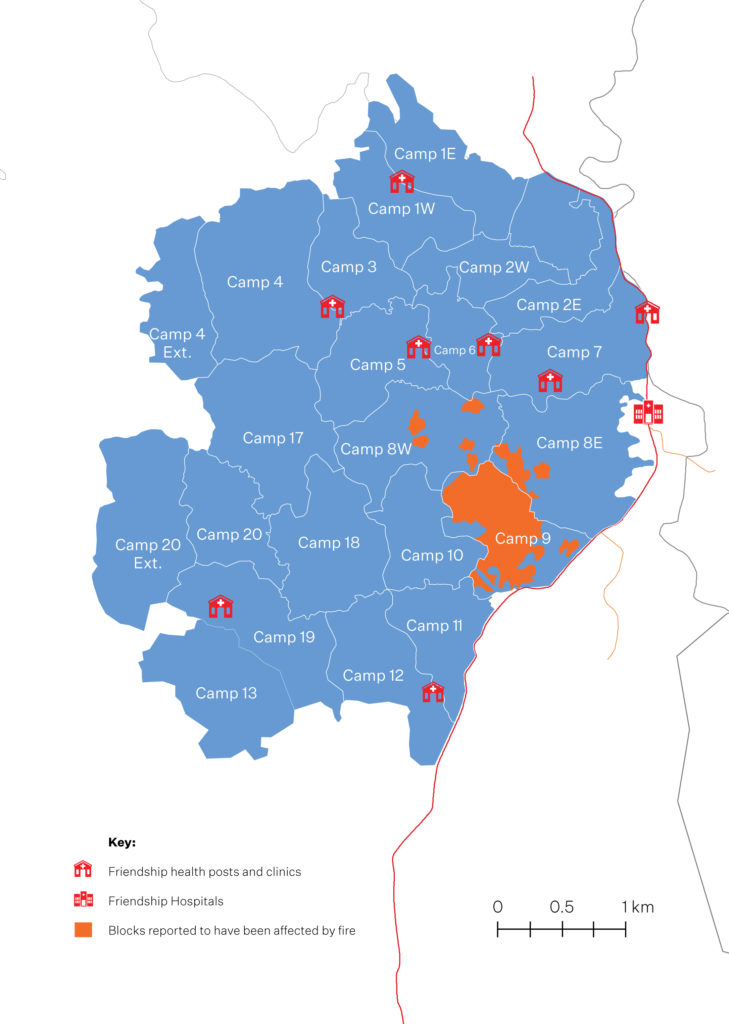 health situation
314 people so far reported have been affected with various types of injuries and burns. Death toll figures are not yet verified, although UNHCR has said that at least 15 people have died.
General health service delivery is affected due to the destruction of numerous health facilities.
Turkish Hospital, Médecins Sans Frontières and International Organization for Migration facilities have been damaged. As such, primary and general surgical capacity in the area are severely compromised.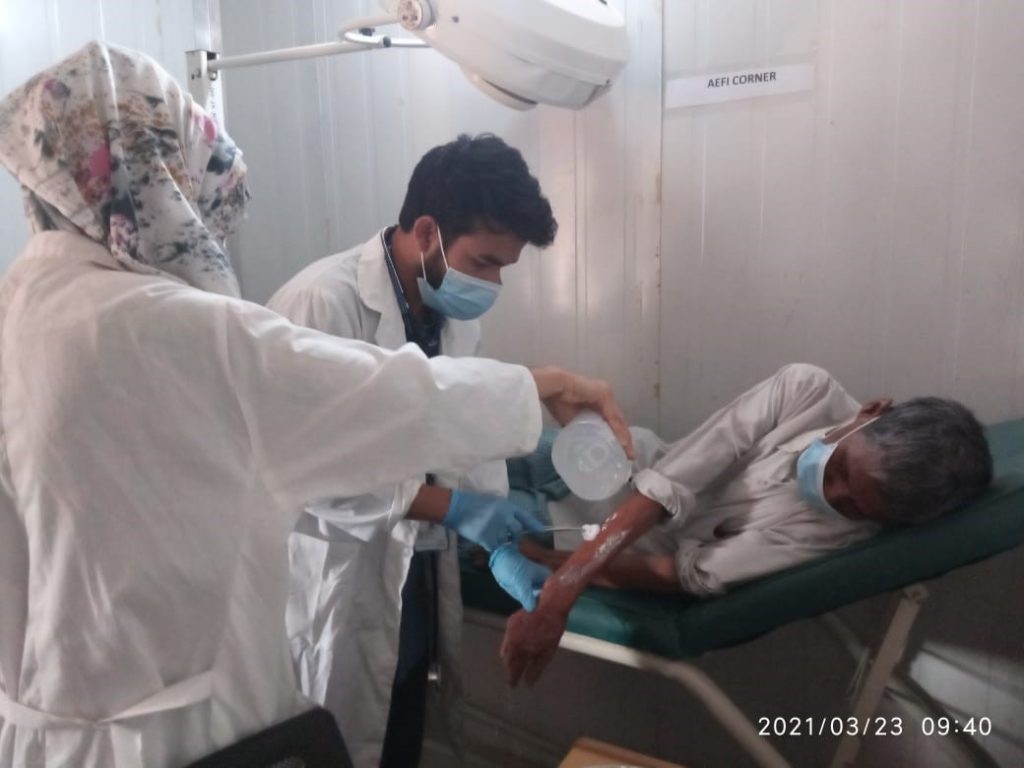 Friendship's response
Friendship has 5 health posts, 1 primary health centers and 1 hospital in adjacent camps, which treated victims of the fire, and remained alert and on standby during and after the incident.
9 medical officers and 14 medical assistants and nurses were deployed to manage emergency situations in 5 camps adjacent to the fire sites.
A Friendship ambulance has been deployed for rescue operation and transferring patients to health facilities.
Medical supplies for treating victims are kept as ready stock in the adjacent facilities.
325 patients have been served in adjacent camps on March 23, including victims of the fire.
About 120 Friendship volunteers in 5 adjacent camps were engaged to rescue people.
Existing 6 mHealth teams (Community Outreach Health Teams) of Friendship provided primary healthcare and psychosocial support to fire victims and survivors in camps 5, 6, 7, 8E and 11.
Friendship coordinated with partners to be a focal point for mental health and psychosocial support services at camp 11 for trauma patients.
Friendship is currently analysing the service gap and need for medical care for the fire victims in consultation with the mobile medical team coordinator. Two mobile medical teams are ready to be deployed in the relevant sites immediately after primary situation assessment.
This article was updated on March 28, 2021.