Friendship teams up with Lalithakala Akademi and Preema Arte Foundation for Kranti Art Exchange Programme between India and Bangladesh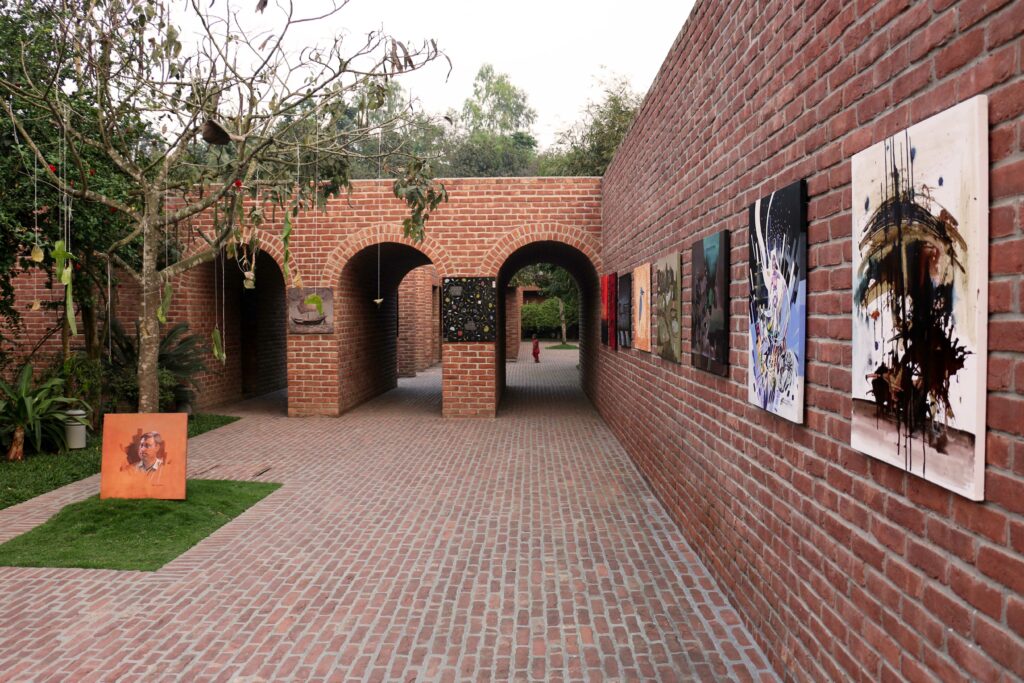 by Raeed Abd-Allah Chowdhury
March 21, 2022
"What you seek, is seeking you" says Nazia Andaleeb Preema, chair of Preema Arte Foundation, one of the organisers of the Kranti Art Workshop, quoting Rumi, nestled in a shaded corner of a courtyard in the Friendship Centre in Gaibandha. She is surrounded by bare-brick gazebos, an open-walled conference room and a trough filled with serene, green water covered in algae. "I don't know if I found art, or art found me," says Preema, "but it was always a calling for me."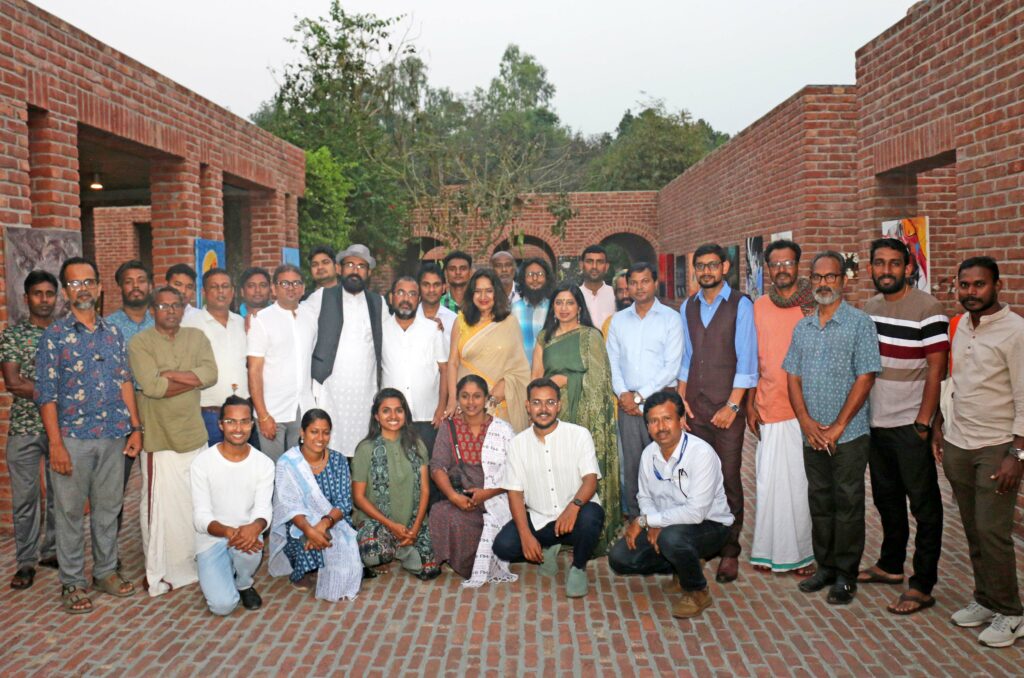 Around her, 18 artists are in various stages of their craft, brushing a starter coat across a blank canvas, getting their first layers in, or standing back with a pensive hand on their chins. Half are from the Lalithakala Akademi in Kerala, India, and the other half, associated with Preema Arte Foundation in Dhaka, Bangladesh.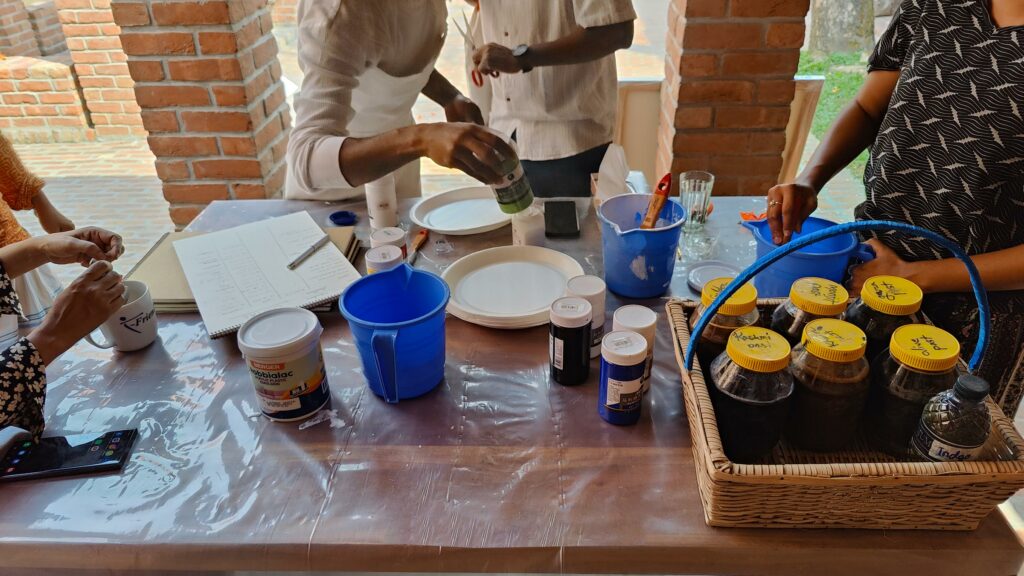 In the previous days, the artists visited Friendship's work areas in the deltaic islets, or chars, of the north of the country, had a cruise aboard the B613, the largest malar in existence, and spoke to beneficiaries, the local communities, staff and volunteers alike. The workshop that started with a field visit from March 6, concluded with a small ceremony at the Friendship Centre on the 11th.
Trained at Chayanaut, the Bangladesh Academy of Fine Arts (BAFA) and Charukola—the faculty of fine art at the University of Dhaka, Preema has decades of experience in the art world, and found herself familiar with Friendship, in particular the cultural preservation programme. "Art is an inherent part of our culture. It transcends language and time. We still appreciate the work of Renaissance artists, Egyptian murals and Greco-Roman statues. There were cave paintings before there was language," she relays, "art is a part of us. It is the truest form of expression. And so, art is for everyone. It's not high-brow, it's not something you need to be cultured to understand, because it is culture. Visual art, clothes, architecture—I mean look around us, this place is a work of art," she says, waving a hand at the award-winning open-concept courtyard, "food, music, literature, cinema, it's all art. We consume it and appreciate it some form or the other, so it is an inherent part of who we are, both as people, and as a people."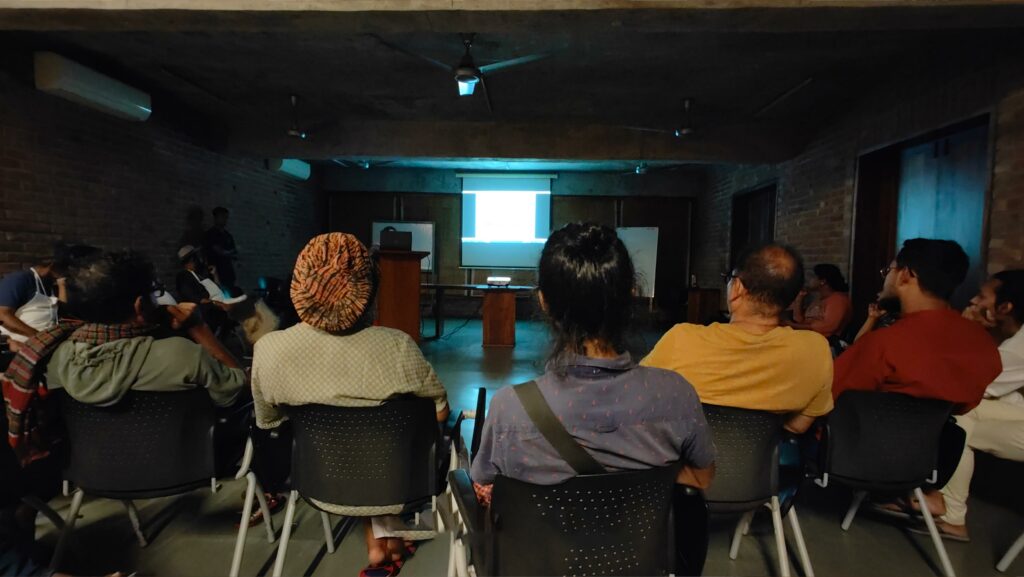 Indeed, it was that thought that brought her to Gaibandha, to find inspiration for the artists under her watchful eye. Having attended an art camp in Kerala, a Bangladeshi chapter was already in the making when she contacted Friendship. The rest she says, "was a natural connection."
What you seek, is seeking you

Jalāl al-Dīn Muḥammad Rūmī
Asked what inspired them the most, one shy Bangladeshi artist, Rasel Rana says, "it amazed me how open and accepting the char people are. They were so willing to share, their food, their thoughts, their experiences; to interact. I feel awkward talking to new people, in new surroundings, but they didn't. Despite everything, they are so present," he says, inferring the isolation and lack of access to basic services in the deltaic islands. "That's what inspired me, it's a very dream-like place."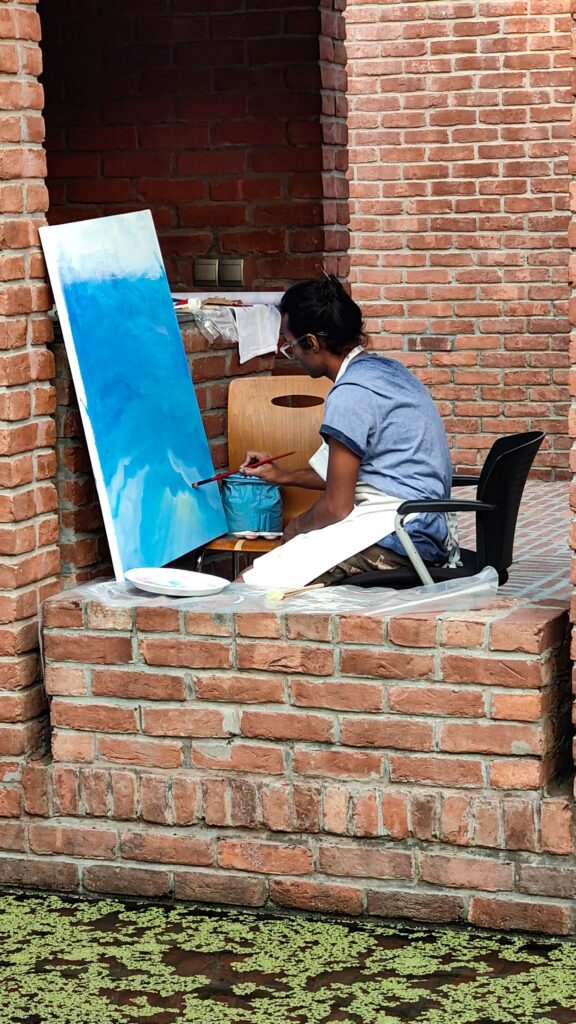 Another artist expertly scrambles up and wedges himself between two columns, gleefully posing for a picture, boyishly quite pleased with himself, before jumping down and disappearing from view. Another sits deep in thought, gazing at the glittering, jade-hued water. Yet another is splayed on the floor over her canvas, hands and elbows covered in paint. Several have set up in the conference room, sitting, standing, reclining, dozing in the shade. Some have retreated to the cafeteria area, stirring tea and chatting ecstatically, taking a quick break between bouts of inspiration and frantic flurries of dexterous hands going from splotchy easels to canvas.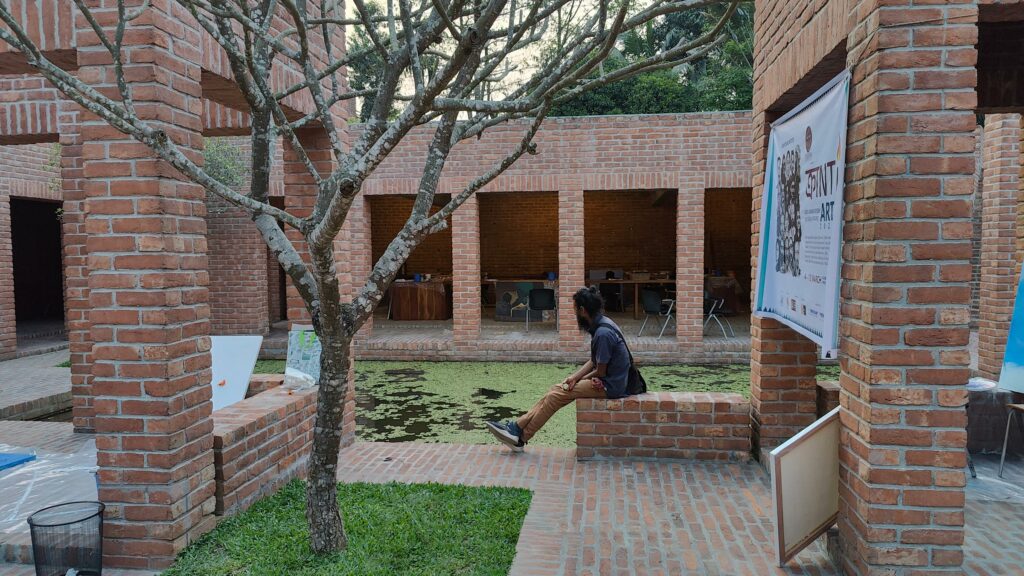 They will, by the end of the workshop, each produce a piece that will be up for sale, through the affiliated partners of the exchange programme, with proceeds going towards the betterment of remote communities. Friendship has not only been preserving culture, but also taking it abroad in exhibitions and museum installations everywhere from the far east to Europe. Kranti provided a unique opportunity to highlight up-and-coming artists in Bangladesh and India to an international audience who may very well be unaware of the talent in South Asia. The workshop also included presentations on the artists' work, in particular those of the female-identifying individuals on International Women's Day, discussions, and other collaborative activities.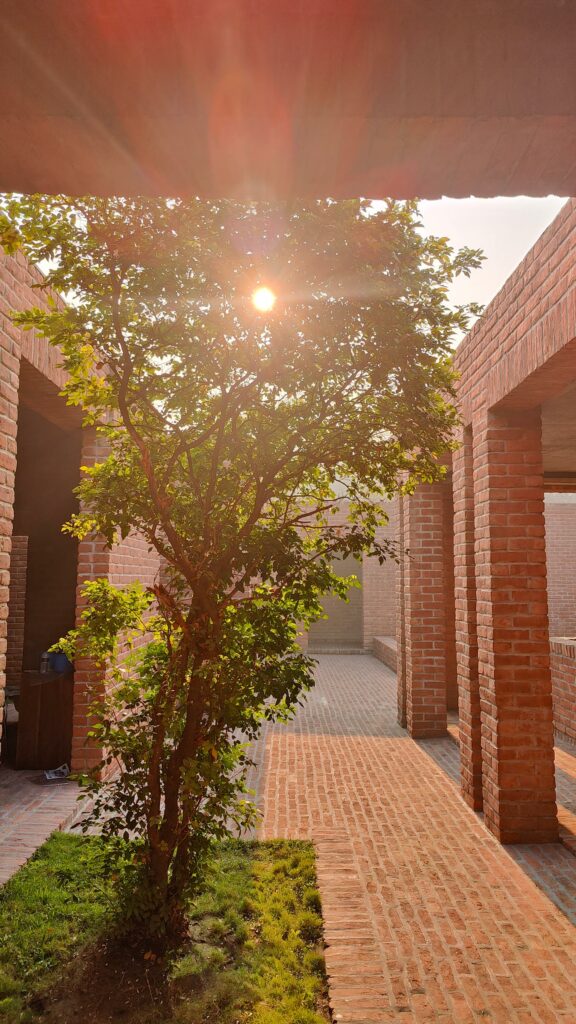 In the cool breeze of the purposefully cross-ventilated courtyards of the facility, designed to resemble, aptly, the ancient monastic university, Mahasthangarh, the participants are each creating unique works of art. They are inspired by their experiences in the field, seeing the chars, the riverine landscapes, the local communities that live therein, and hearing about their lives, stories and experiences.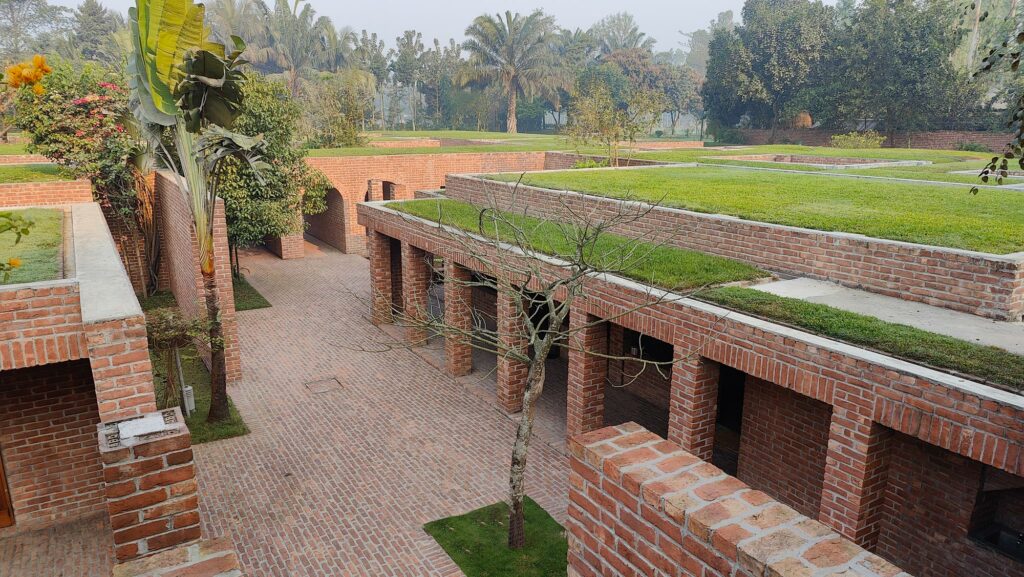 "Bangladesh is rich in art and culture. The cultural preservation sector of Friendship is working towards that end to ensure global awareness. By fostering strong relationships within local communities and empowering individuals to collaborate to protect and promote their cultural heritage, new life has been breathed into the dying arts of Bangladesh. In this way, we ensure that culture has been preserved and shall continue to be nurtured for years to come," says Nazra Mahjabeen Sabet, director of operations for Nodi, Friendship's enterprise wing.