An interview with Franz Fayot, Luxembourg minister for development cooperation and humanitarian affairs, following his two-day trip to remote chars in the north
by Friendship News Desk
May 3, 2023
Franz Fayot, Luxembourg Minister for Development Cooperation and Humanitarian Affairs, led an 11-member delegation from his ministry to the riverine sandbar islands (chars) in Gaibandha and Kurigram districts on April 28 and 29, 2023. Luxembourg has been providing substantial support to Friendship's programs in those areas over the last 15 years.
During the two-day visit, the delegation visited various Friendship programmes including a floating hospital, the Persons with Disabilities (PWD) project, primary and secondary Friendship schools, agriculture and rural electrification projects, disaster preparedness programmes, etc., all while interacting with the char communities and beneficiaries of each intervention.
We interviewed the minister at the end of his visit to take his insights on the present circumstances of marginalised char communities and what more could be done to improve their lives in the future.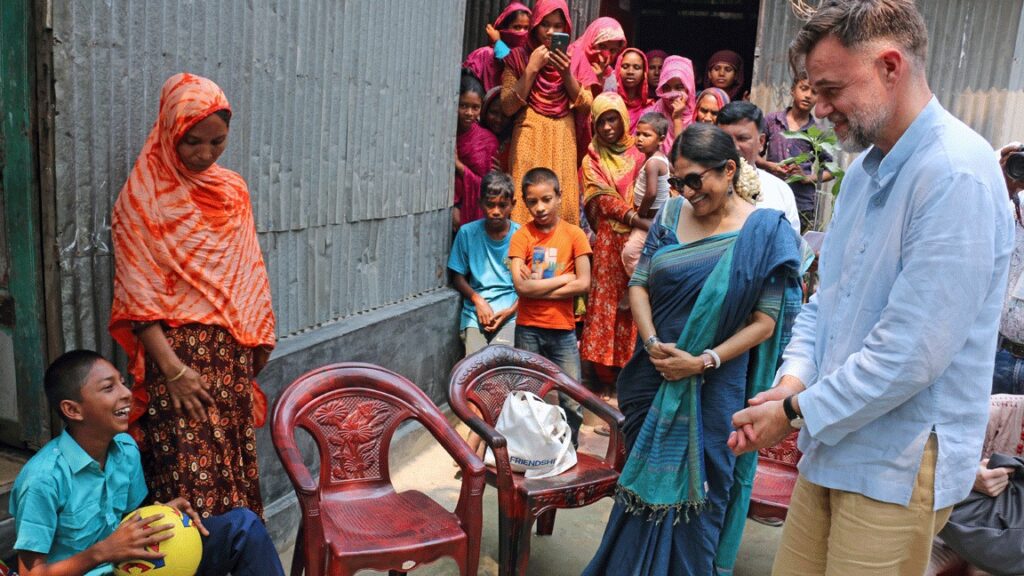 Q1. What takeaways do you have from your trip to Bangladesh and what insights have you gained?
A: First of all, it's a beautiful country with a great landscape and very warm people. I'm very impressed by the warmth and kindness shown by the people here. The country is facing a lot of challenges and is at the forefront of the global climate crisis. It is a very special country with a lot of deltas and it copes remarkably well with challenges and the people are very resilient.
Q2. What are your insights about the chars and the circumstances faced by the marginalised people living on these remote islands?
A: From the chars I have visited and the wonderful Friendship projects here, I understand there is a very complicated context in these nomadic islands that appear one season and disappear in the next one. So, it's fascinating to see how these people live in the rivers with a culture built around boats and how communities adjust to very adverse conditions. And also again, the landscape is spectacular with a lot of water with people living around the waters. Furthermore, people have to cope and be resilient in the face of the changing environment they live in.
Q3. Luxembourg has been a great friend of Friendship; how do you think Friendship works for these communities?
A: I think Friendship is doing a wonderful job. They are trying to understand the needs of these communities. Nobody before them went there 20 years ago and to understand how the people live here in the chars. Furthermore, they are coming up with solutions to improve livelihoods, take people out of poverty and make people more resilient in the face of floods in particular, when the water is coming back and land disappearing. They have other impactful initiatives on education and health, of course with the floating hospital we are sponsoring. I am impressed by how impactful and relevant their work is and how the communities are involved deeply in these works.
For example, in the school that I'm in right now, most of the teachers are from the communities and have been taught how to teach these kids. They are doing this with dedication and devotion and that is very exceptional.
Q4. Do you see new areas of cooperation between the Luxembourg government and Friendship in the future?
A: There are always new ideas, Friendship is full of ideas. We are working on the next framework agreement for another four years. This work is now in process, and it will identify new projects and I'm sure there are many things Friendship can come up with that we can be a partner of.