Farmer clubs in climate-impacted communities drive innovation and prosperity in agriculture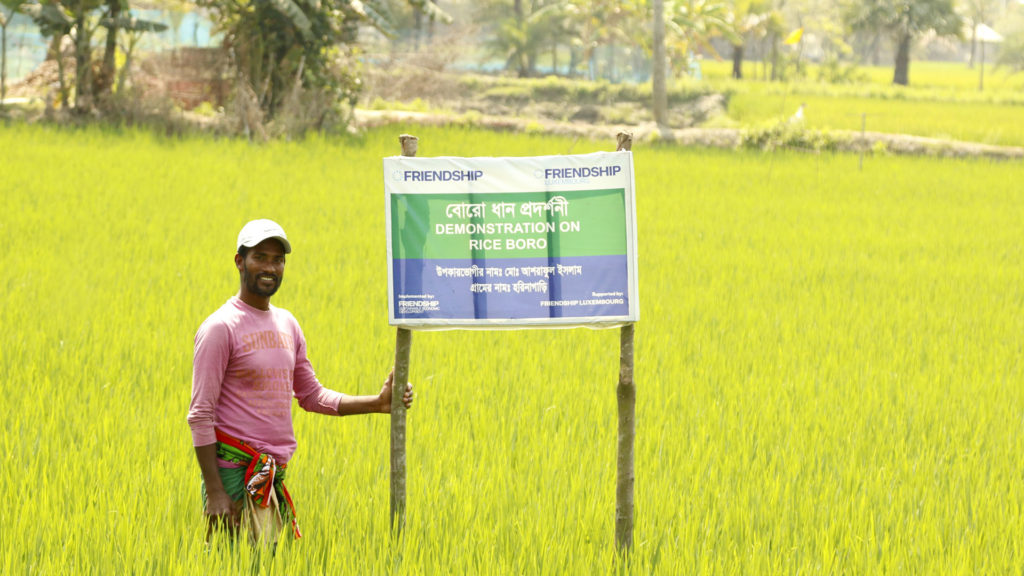 by NAUSHAD ALI HUSEIN
April 27, 2022
Farmers are the original innovators. 10,000 years ago, enterprising humans transformed society as it had existed for the previous 2.5 million years, by beginning to farm. That moment in history, known as the Agricultural Revolution, changed us from wandering bands of hunter-gatherers into settled inhabitants of villages and cities. Agriculture was the birth of modern society.
But the revolution never stopped. Our survival is dependent on constant agricultural innovation. As the climate changes—and with it, the soil, topography and landscapes—our ability to grow food is impacted. Farmers are hard-pressed to adapt. If they fail, so does our food supply.
In the coastal belt of Bangladesh, rising sea levels, worsening cyclones, and decaying embankments have caused saline water intrusion for decades. In many places one can see vast stretches of paddy fields turned into wastelands. The local economy has moved from traditional farming towards cash crops like shrimp. Shrimp farming in turn, aggravates salinisation.
For the ordinary farmer, change and innovation are essential for survival and success. Friendship has been working with farmers in 40 villages in the border subdistrict of Shyamnagar to push them to new successes.
Chicken champion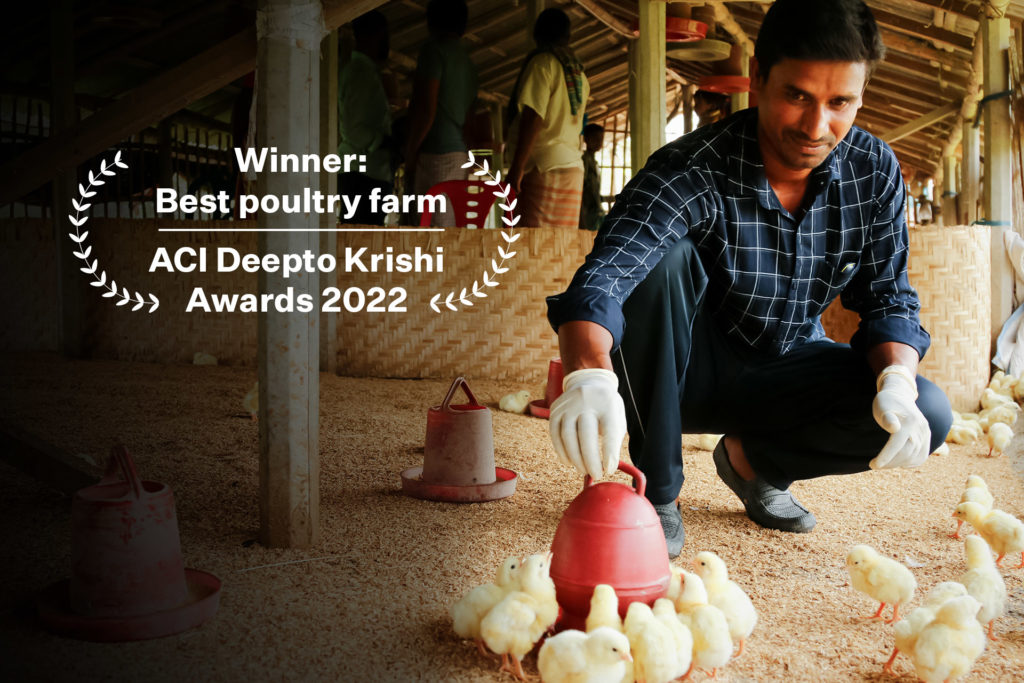 Shibpad Roptan's family in Harinagari, Shyamnagar, has been pouring their sweat onto other people's land for generations, without questioning their fate. It was hard work, but everyone got by. He also had 3 bighas (1 acre) of his own land, to plant his own vegetables and supplement his income from labour.
However, as the economy changes, and freshwater grows increasingly scarce, the prospects of traditional agriculture have declined. Shibpad's sons are taking advantage of niche opportunities that his father had never known.
In February, Biswajit Roptan was featured on national television for his outstanding success in a very specialised chicken farming project. Unlike traditional chicken farmers, he doesn't have to worry about breeding or hatching chickens. Instead, he buys day-old broiler chicks and sells them after 35 to 40 days, when they mature.
It was a bold venture to get into, when he started in 2016. He invested 70,000 taka (700 euro) on the shed, and 18,000 taka (180 euro) on his first batch of chicks. He also spent on food and medicines. "I had them vaccinated for Raniket and Gambura diseases and yet, three weeks later, about 80 of the chicks died," says Biswajit. "I lost about 24,000 taka."
It was a hefty loss, but he didn't give up. He had better luck with the next lot, and the following one. Then, on another occasion, all the chicks in one lot became deformed. Like this, he often suffered losses.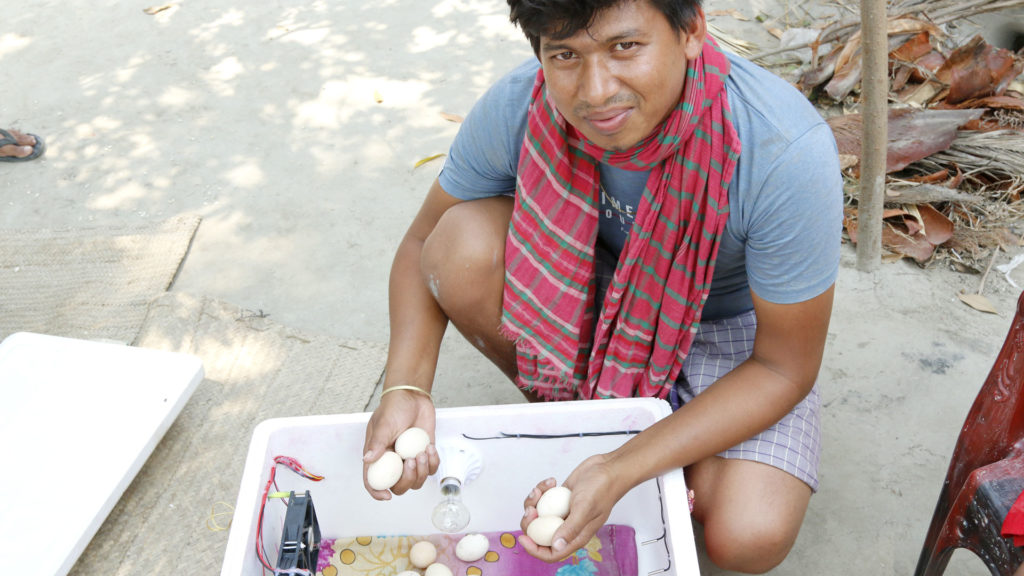 In January 2020, Friendship started a farmer's club in Harinagari. Biswajit joined, and since then, his business has been smooth sailing. "Friendship brought experts from the subdistrict livestock department to try to understand the causes of the diseases, and to figure out the appropriate treatment."
With this extra support, Biswajit's business became so successful that it became a model for the village, and won him the countrywide Deepto TV and ACI Farming Award for best poultry farmer.
---
Versatility and innovation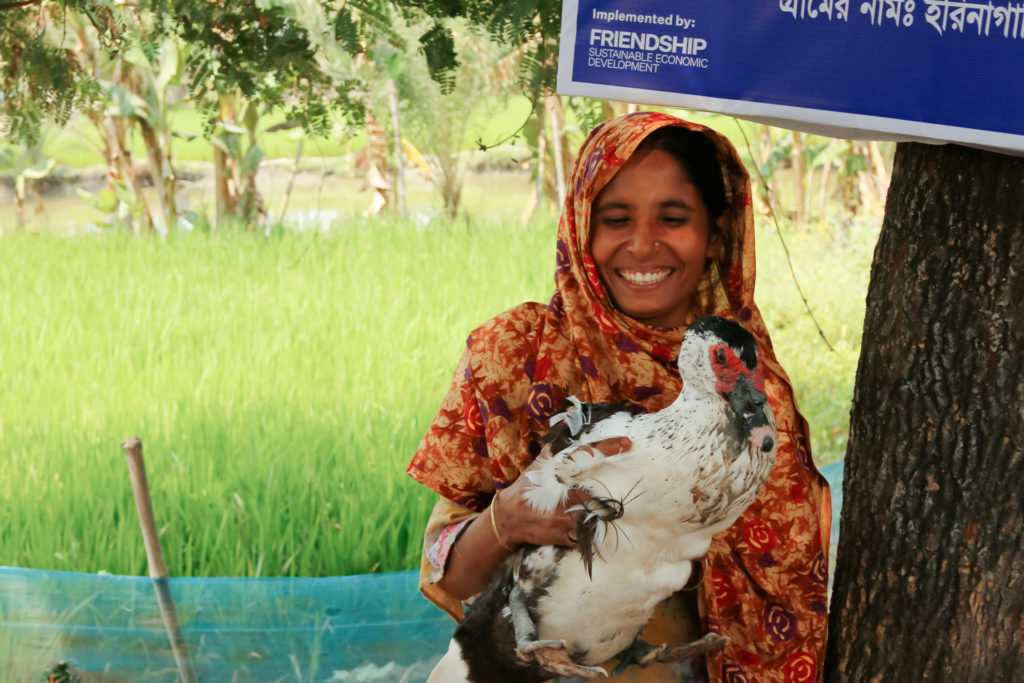 Agriculture means versatility and constant innovation. Friendship Farmer's Club (FFC) members get together twice each month to share their lessons and solutions to common problems like pests and weather issues. They also share ideas for new products.
Romesa Khatun recently started using earthworms to make fertiliser—a relatively new practice in Harinagari. She gets the dung from her cows, and sells the product and also uses it in her vegetable farm. She says the farmer's club's support, and that of Sherazul Islam, project officer at Friendship's Sustainable Economic Development sector, have empowered her and made it easier to run her family. Her farming enterprises add to her husband's income, and gives her support when he is away for months at a time, working at the brickfields.
"Romesa has shown a lot of talent," says Sherazul. "She was already raising ducks and swans, and she has now very quickly learned how to make this fertiliser."
In addition to the farmer's club, Friendship also runs Friendship Community Development Committees (FCDC), which connect locals to government facilities such as experts and pieces of training from the subdistrict fisheries, livestock and agriculture offices.
"Much of our help to these farmers comes at no cost," notes Sherazul, visibly proud as he displays the achievements of the FFC and FCDC members.
"We essentially link the farmers to each other and government services that they would otherwise never learn about. Just connecting people makes a world of difference."