I love the world and all that it brings. I love to travel, meet new people, experience other cultures and explore nature. Loving the world does not only include travelling for me, but it is also striving to reduce the causes and effects of climate change. Loving the world means to empower people to work with nature and not against it. It means to strive for a world without suffering.
My name is Elisa Vandermeer from the Netherlands and celebrated my 23rd birthday in Dhaka last weekend. I arrived in October to volunteer at Friendship's Climate Change Adaptation & Disaster Management department for a total of five months as a part of my studies in International Humanitarian Action. My love for travelling has driven my consciousness about environmental preservation, climate change and disasters. If we want to keep enjoying the beautifulness provided by nature, we need to fight against the current trends.
Considering the fact that climate change is one of the causes of current humanitarian crises, an amount that will only increase in the future if we do not act now, I was surprised that my studies barely addressed the component of climate change. Wherever I could see fit, I steered my studies towards the topic of climate change. The more I learnt about it, the more engaged I got and the more I wanted to learn. When the internship came around, I instantly knew I wanted it to be in this field. Finding an internship in this field was easier said than done. It took months before Friendship came on my path. Upon finding Friendship and exploring their website, my enthusiasm about their activities grew. All in all, I consider myself lucky to have found Friendship as I am not only learning a lot about climate change adaptation and disaster risk reduction, Friendship's localised approach also provides me with new perceptions.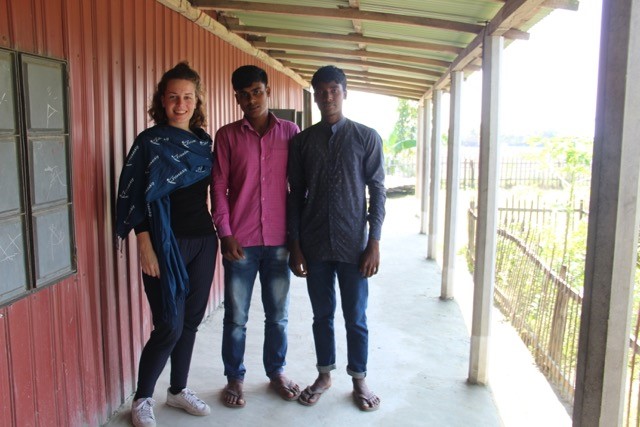 Bangladesh being one of the countries most prone to climate change, Friendship gives me the opportunity to acquire knowledge about solutions that I would not have gotten anywhere else. My first weeks here are proof of this. I have learnt an incredible amount about climate change, and still learning every day. The members of the team and my supervisor keep challenging me to think differently and further. Coming months, I expect to learn more about the situations on the chars and how Friendship empowers the communities to manage the increasingly damaging disasters. I aim to gain the knowledge and skills to duplicate the techniques in other contexts and aspire to be a valuable asset to my team and to contribute to Friendship's work by shedding a new and critical eye to their current practices, but more importantly, Friendship gives me back the invaluable opportunity to love the world a little bit more than I already did.