by Raeed Abd-Allah Chowdhury
The outbreak of Coronavirus (COVID-19) has infected over 4.8 million people, and over 315,000 fatalities at the time of writing. In Bangladesh, infections have surpassed 23,000 and continue to rise exponentially. Undoubtedly, this situation has brought enormous suffering and difficulty in every aspect of life – health, education, the economy, employment and so on. Consequently, this crisis will create food shortage very soon, especially in poorer countries like Bangladesh, where large portions of the population do not have regular incomes or job security.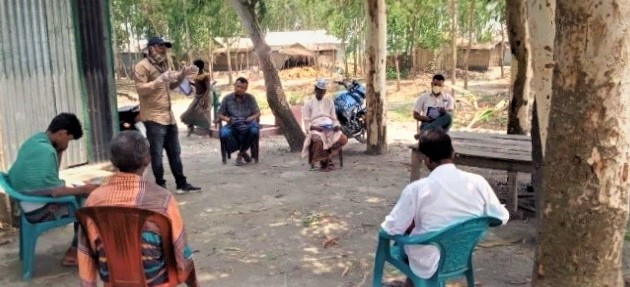 Anticipating this fact, Friendship has established a food bank in the remote, sedimentary deltaic islands that are its main working areas. This food bank is designed to assist the people who are the most at risk of starvation in these already marginalized areas, such as the old, infirm, divorced, disabled, etc. during this pandemic situation. The aim is to relieve the immediate hunger crisis by providing food (such as rice, potato, lentils, corn, etc.).
The concept is to gather donations from people that are financially solvent in the form of food, that will be aggregated, sorted, divided up and stored in the pre-determined centres and mosques for subsequent distribution. Mosques were selected as distribution points as they are already strategically placed to be accessible and are familiar to the local communities, and usually have comparatively large premises. Before this, however, Friendship will use the rapport that it has already established in the local communities to do an extensive demographic and logistical analysis, and ensure the smoothest implementation. Friendship took extensive measures to ensure that the smoothest, safest, most effective protocols with the highest transparency. At every stage, committees were consulted with representation from every facet of the entire process.
Overall, the committee will be primarily responsible for food collection, distribution, administration, demographic and logistical analysis, and contacting the donors and recipients, while the FCPs and FCGAs will conduct the overall supervision and monitoring.
The Upazilla Nirbahi Officer (UNO) appreciated the initiative and assured his support to establish similar banks in other chars for necessities such as health services, agricultural equipment, etc.
At present, over 1,118 families received relief from the food bank, in 83 communities.