The worst is yet to come in Friendship working areas in Kurigram and Gaibandha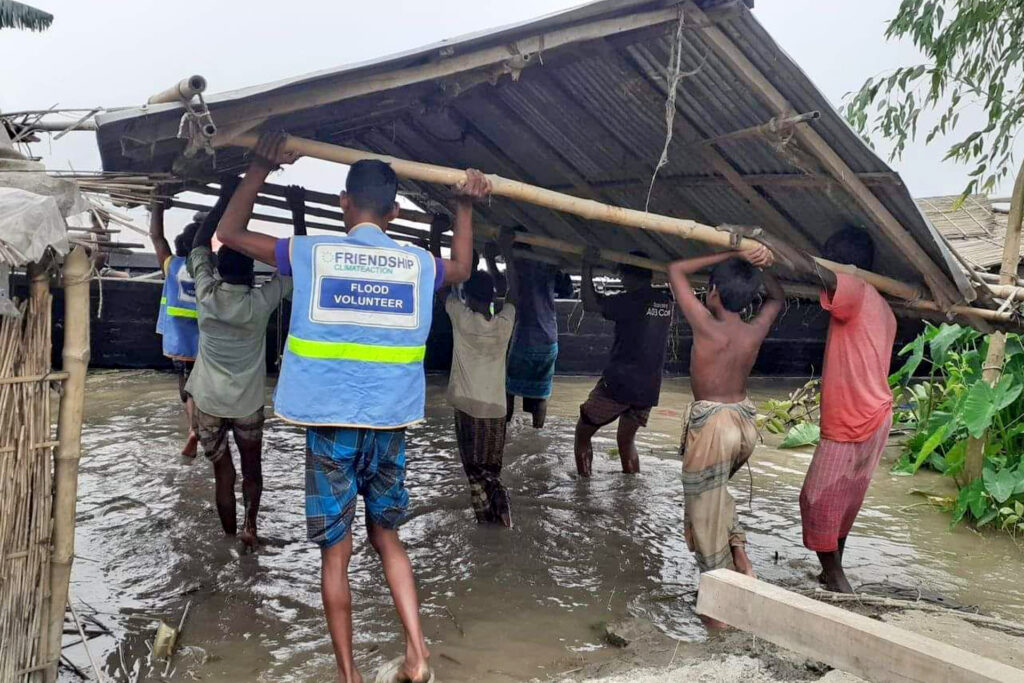 Friendship News Desk
June 20, 2022
(updated June 21, 2022)
With the north-eastern regions of Bangladesh reeling from the worst flooding in nearly two decades, and waters rising all over the country, Friendship's communities are bracing themselves for severe impact. The floods were caused by heavy downpours following a weeks-long heatwave, as well as runoff from across the Indian border. The first and worst is the flood in Sylhet, where Friendship's health outreach services in Jagannathpur, Sunamganj, have been suspended. The area is significantly affected, and with no electricity, people are unable to charge their phones. The network reception is also poor, therefore communication is very weak.
Field office staff have reported that the Friendship district office building is waterlogged. There is also now a scarcity of food, low-pressure gas for cooking and shortage of other essentials. Some people have not been able to leave their homes in two days, and the homes of all 20 Friendship Community Medic-aides in the area have been affected.
"It's become quite difficult, and it's hard to get that across with the problems in the mobile networks. You can see some of it on TV, but you can't really tell without seeing it yourself; all-in-all things have gotten quite bad. I can only empathise with those people who have it even worse right now," said senior paramedic, Sayema Khatun.
Friendship's health sector is also working in Ajmeriganj, Hobiganj where the situation is relatively better, but the water level is increasing. The flood is Sylhet is currently the worst overall, with 72% of its area inundated, but other areas in the north of Bangladesh are quickly catching up.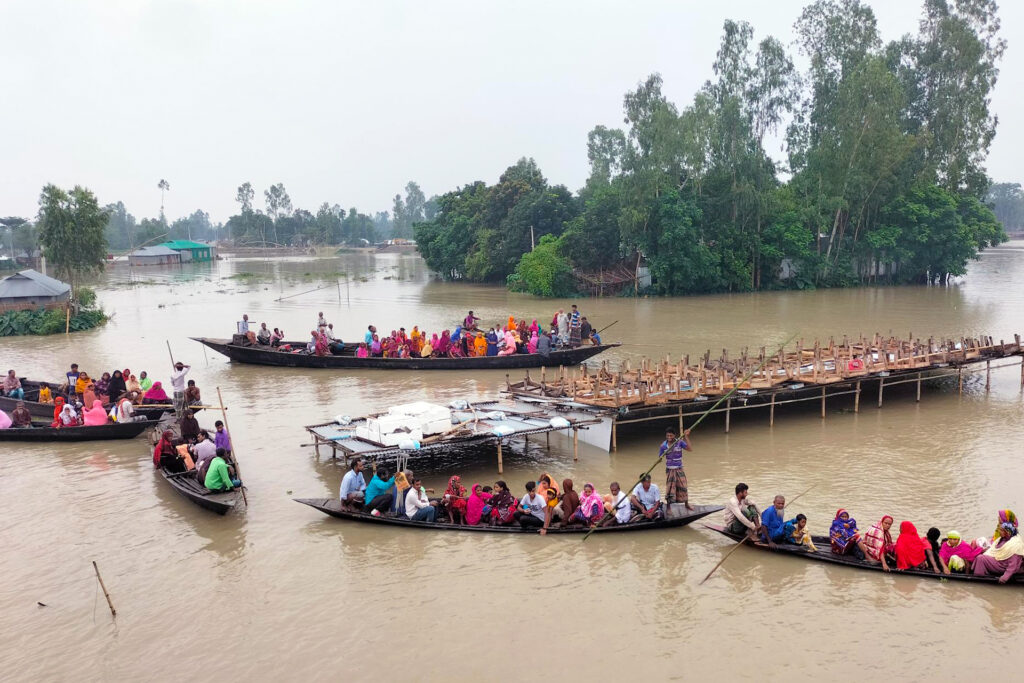 According to Relief Web, 4 million people have been affected across Bangladesh, of which 1.6 million are children. More than 8 children have died as of the June 20, with another one reported this morning to be a Friendship school student. The child died from severe diarrhoea, stemming from ingestion of infected floodwater. According to the BBC, 21 deaths in Bangladesh have resulted from lightning strikes, with at least 3 of them being children.
| | | | | | | |
| --- | --- | --- | --- | --- | --- | --- |
| District | No. of Working Char / Village | Total Population | Affected Population | Total Households | Affected Household | Affected Friendship Beneficiaries' households |
| Kurigram | 259 | 416,536 | 48,420 | 90,297 | 13,962 | 9,741 |
| Gaibhandha | 52 | 84,035 | 12,698 | 22,574 | 2,982 | 2,982 |
| Bogura | 22 | 42,251 | 2,143 | 10,702 | 526 | 526 |
| Jamalpur | 24 | 43,913 | 3,474 | 11,292 | 711 | 711 |
| Sirajganj | 25 | 51,934 | 4,276 | 13,083 | 1,069 | 1,069 |
| Total | 382 | 638,669 | 71,011 | 147,948 | 19,250 | 15,029 |
| In % | | | 12% | | 13% | 78% |
Water is rising in Friendship's working areas in the north-western river island areas. According to the Flood Forecasting and Warning Centre (FFWC), the Brahmaputra/Jamuna is flowing above danger levels all over Kurigram and Gaibandha, and in parts of Jamalpur, Bogura and Sirajganj. Out of 382 chars in five districts (Kurigram, Gaibandha, Bogra, Jamalpur and Sirajganj) in north, 287 chars are flooding, where a cumulative 81% of Friendship beneficiaries' households have been affected.
The FFWC says the floods will continue to worsen in these areas this week. The FFWC is forecasting rain in Northern Bangladesh and adjacent areas in India in the next 48 hours, which is likely to contribute to the rising water level.
An estimated 4.3 million people are impacted by this sudden flash flood and water congestion in seven northeastern districts of Sylhet, Sunamganj, Moulivazar, Habiganj, Netrakona, and Brahmanbaria. Many households are isolated due to floods, while some have taken shelter in open areas. The safety and security of women and girls in those households are at high risk. As many as 25,000 people have been taken to around 450 shelter centres in Sylhet; at the same time, 65,000 people were evacuated to 200 shelter centres in Sunamganj in a combined effort of the army, navy, fire service, and the local authorities, according to the Ministry of Disaster Management and Relief (MoDMR).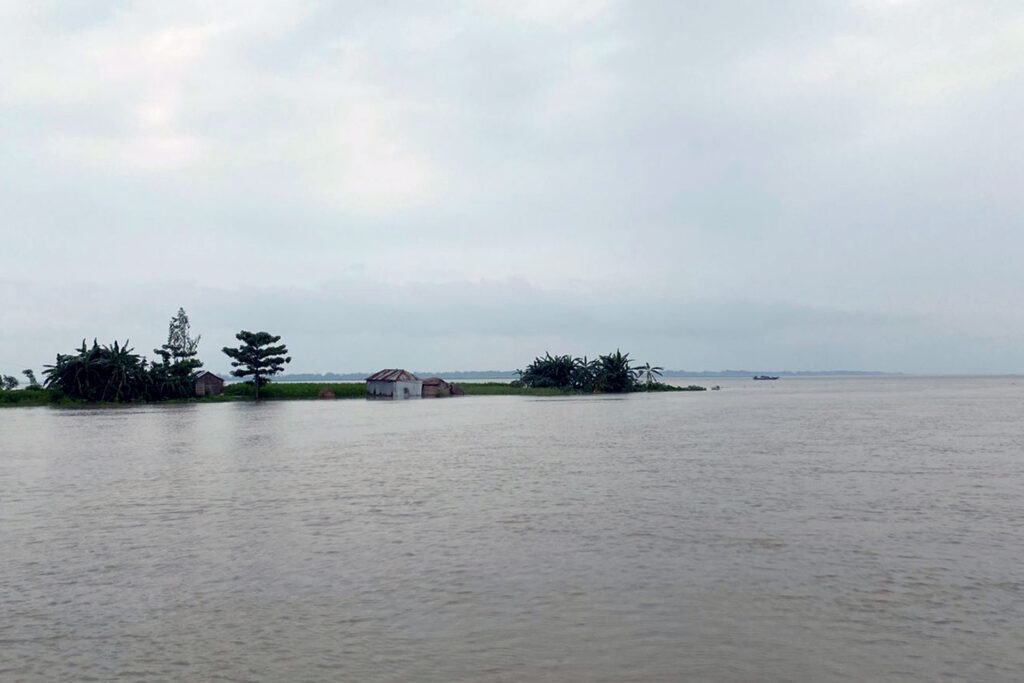 One of Friendship's floating hospitals is currently at Lalchamar, Gaibandha with 10 beds available for the worst-affected flood victims, along with a water ambulance. 112 life vests have also been distributed in the district as of June 18. The other hospital ship is in Bogra. Both are continuing their regular healthcare services in addition to the emergency response arrangements that have been taken in the last few days. 67 first aid boxes and as many rescue kits have also been distributed through Kurigram, Chilmari, Rowmari, Rajibpur and Gaibandha.
The annual, national Secondary School Certificate (SSC) exams, which were scheduled to start on June 19 have been indefinitely postponed due to the flooding. 58 Friendship schools and 49 Adult Learning Centres are affected. Five schools that have been seriously threatened are being dismantled and another six schools are also in significant danger. Flood waters are increasing around the remaining 47 schools. Because of the flood, students' movement has also been restricted. Around 30-35% of students are now unable to attend classes. Considering the situation, Friendship schools are going to be closed from June 22 till further notice.
As of reporting, 490 flood volunteers have been deployed to assist in search and rescue of people and assets. Twelve volunteers have managed to rescue three people and relocate two houses so far, and fourteen solar home systems have been retrieved intact from beneficiaries' houses. Friendship Community Governance Aides have also managed to shift four more houses at Kharjani Char. Four floating toilets have been constructed in Chilmari, and raised areas are being scouted to install emergency latrines and tube-wells. Water, sanitation and hygiene (WASH) materials have been stocked and kept at the ready. Fifteen containers of safe drinking water have been deposited in the Solar Village in Kurigram. Para-Solar Technicians are ready to be deployed to install temporary/emergency solar panels that can be used for charging mobile phones, among other purposes.
This is very much a still-developing situation, with updates coming in from field offices as this is being written. Keep an eye on our social media channels and website to know more, and find out how you can help. The flood in Sylhet is the one making the news, but many other areas seem set to follow.