4.3 million affected in less than a week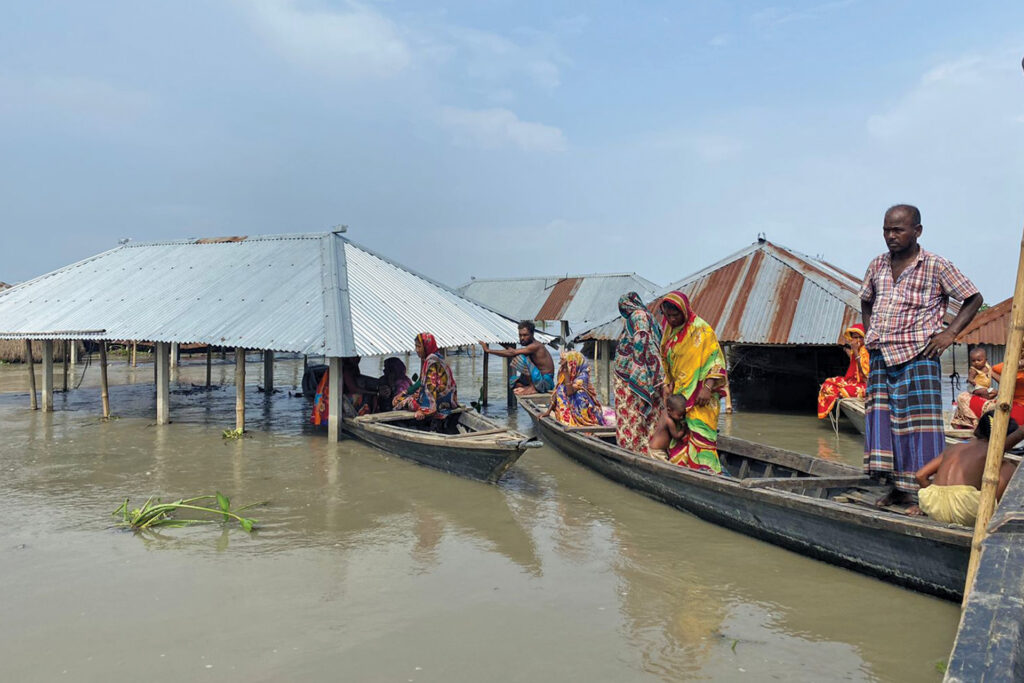 Friendship News Desk
June 22, 2022

With the north-eastern regions reeling from the worst flash floods in nearly two decades, and waters rising all over the country, Friendship's communities are bracing themselves for the severe impact of the flood in Bangladesh.
The first and worst is Sylhet division, where Friendship's health outreach services in Jagannathpur, Sunamganj, have been suspended. 72% of Sylhet is underwater, and much of it is with no electricity, disallowing people to charge their phones. The network reception is also poor, therefore communication is very weak.
Meanwhile, Friendship's working areas in the north-western river island (char) areas, water levels have crossed danger levels over the last week. The typical flooding season in the Brahmaputra is during July and August, however, an early, and relatively unexpected flood has been caused by heavy downpours following a weeks-long heatwave, as well as runoff from across the Indian border.
According to the Flood Forecasting and Warning Centre (FFWC), the Brahmaputra/Jamuna is flowing above danger levels all over Kurigram and Gaibandha, and in parts of Jamalpur, Bogura and Sirajganj.
Out of 382 chars in five districts (Kurigram, Gaibandha, Bogura, Jamalpur and Sirajganj) in the north, 287 chars are flooding, where a cumulative 81% of Friendship beneficiaries' households have been affected:
| | | | |
| --- | --- | --- | --- |
| | Number of households in our chars | Affected Households | Affected beneficiary households |
| Kurigram | 90,297 | 17,708 | 13,320 |
| Gaibhandha | 22,574 | 3,227 | 3,227 |
| Bogura | 10,702 | 712 | 712 |
| Jamalpur | 11,292 | 831 | 831 |
| Sirajganj | 13,083 | 1,170 | 1,170 |
| Total | 147,948 | 23,648 | 19,260 |
| in % | | 16% | 81% |

Friendship works with the most climate-vulnerable households in its communities, 81% of whom are impacted on flooding chars. Data: Friendship
"Despite the attention on Sylhet, families in Kurigram and Gaibandha districts are suffering similar difficulties," said Kazi Amdadul Hoque, head of climate action at Friendship.
"Whereas a decade ago, floods would cause starvation, and we would be called upon to immediately provide food relief, now our communities have gained the wherewithal to ensure they have dry food stocks at home. But now they are in urgent need of mobility, health services, clean water and latrines" he said.
"This shows that they have developed a certain level of resilience. However, resilience has its limits, and repeated disasters will push recovering families back into a cycle of poverty."
Friendship fears that if the crisis continues for more than two weeks, the resulting loss of daily earnings, coupled with the lost crops, is certain to cause a food crisis. Fodder for livestock and nutrition for children will also present a major challenge.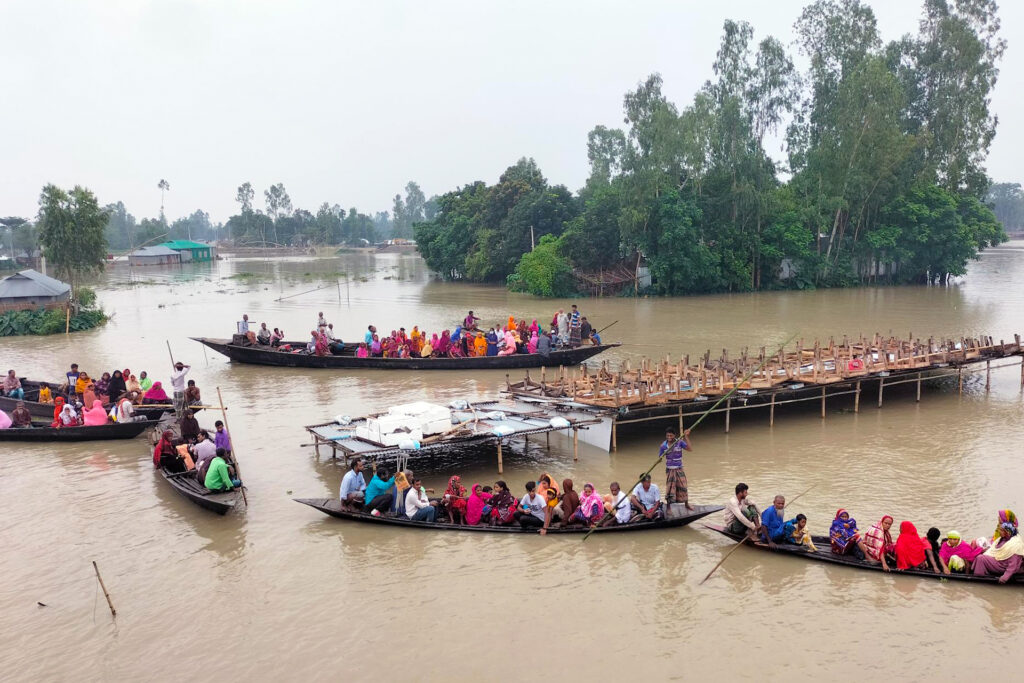 Damage:
Crop damage: 12,703 acres
Partially damaged (repairable) tube-wells: 143
Fully damaged tube-wells: 23
Partially damaged (repairable) latrines: 2,412
Fully damaged latrines: 816
According to Relief Web, 4.3 million people have been affected across Bangladesh, of which 1.6 million are children. More than 8 children have died as of the 20th, with another one reported on June 22 to be a Friendship school student. The child died from severe diarrhoea, stemming from ingestion of floodwater. According to the BBC, at least 32 people have died in the floods as of July 21.
Spotlight: WASH installations in Boraibari, Kurigram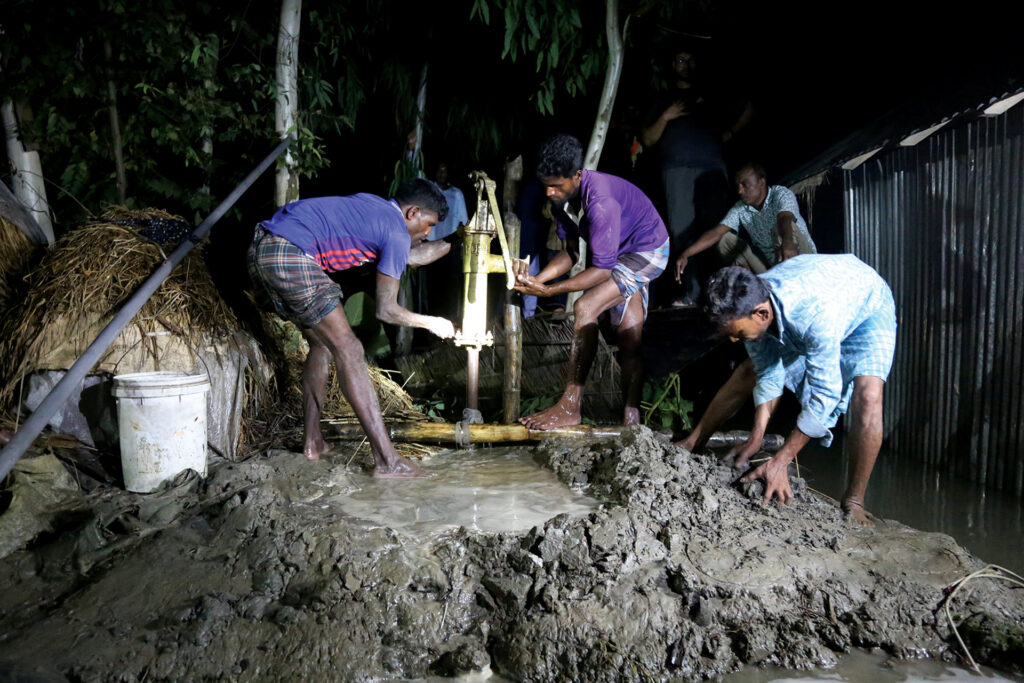 Residents of low-lying areas in Char Boraibari in Kurigram were in a desperate situation as water levels crossed danger levels this week. The rising river water has submerged most of the latrines and tube-wells in the area.
Boraibari's residents either collected unhygienic drinking water from partially submerged tube wells or travelled for up to an hour through flood waters to stand in line and collect water.
Last night, Friendship installed a tube-well and floating latrine that would serve 15 families in low-lying parts of the river island.
"I struggle to cook," said Mossammet Ronjina Begum, who lives adjacent to the tube well installation. "My tube well is submerged, its water causes diarrhoea and fever."
For latrines, the struggle was even more painful. "We had to sneak into our neighbours' outhouse late at night. They get annoyed."
The floating latrine is a Friendship innovation being used in flooded and waterlogged areas in the north and south of the country.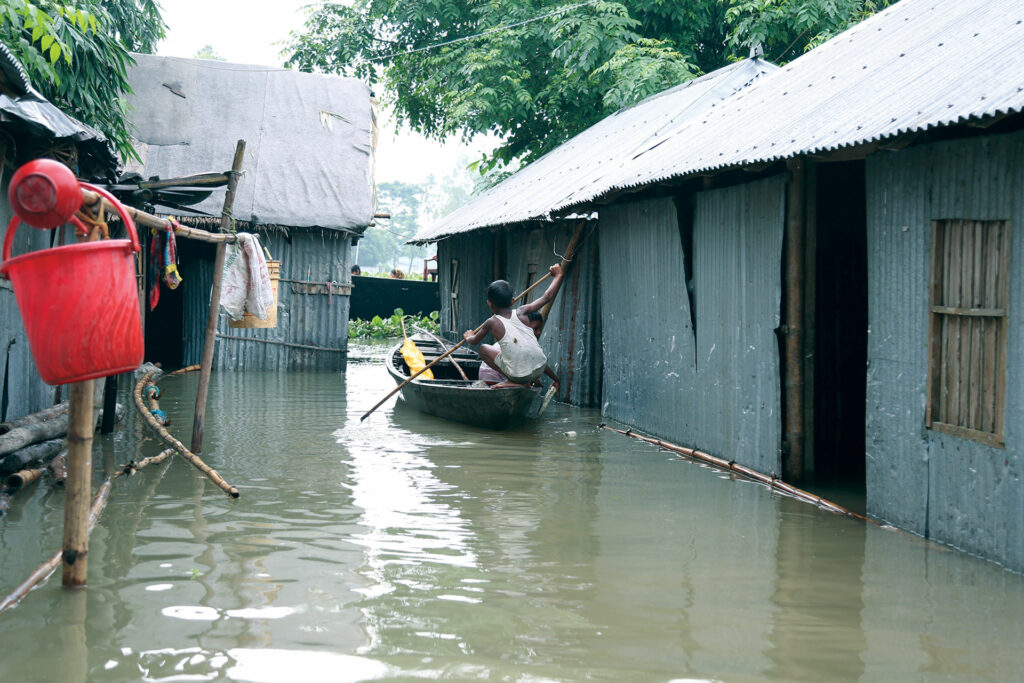 Support Friendship's emergency interventions
490 flood volunteers working to rescue people and assets in addition to Friendship Community Governance Aides and other frontline community workers
100 homes shifted by frontline Friendship workers
Emergency Health Camps ongoing in 4 chars in Kurigram district
14 solar home systems removed from beneficiary houses
Water, sanitation and hygiene stocks are being monitored, tube-wells are being installed
Installed 5 floating toilets at Chilmari Upazila.
Friendship's floating hospital in Gaibandha has made 10 beds available for the worst-affected flood victims, along with a water ambulance
Water plant at the solar village in Goynar Potol, Kurigram providing safe drinking water to flood-impacted families
Response of Bangladesh Government in Friendship communites:
Local administration is distributing relief to remote char areas
District Health Department has been formed 285 medical teams for emergency support
The Ministry of Disaster Management and Relief has provided 80 tons of rice and BDT 1.3 million (USD 14,000) assistance to Gaibandha.
District Relief and Rehabilitation Office Kurigram has confirmed that they have distributed 295 metric tons of rice; 1.45 million taka; baby food worth 1.895 million taka; stock fodder worth 1.775 million taka and 1,000 packets of dry food.
Anticipatory action needed
"If we do not take anticipatory action such ensuring vital needs such as food supply and mobility of all members of the community are met, this could push families or individuals to extreme levels of suffering as they would need to sell off assets or get into debt," said Kazi Amdadul Hoque. "Therefore we need support to set up and repair structures within communities that safeguard their resilience, both economically and in terms of saving lives."