Runa Khan addresses the inaugural session of the International Dialogue on Migration 2021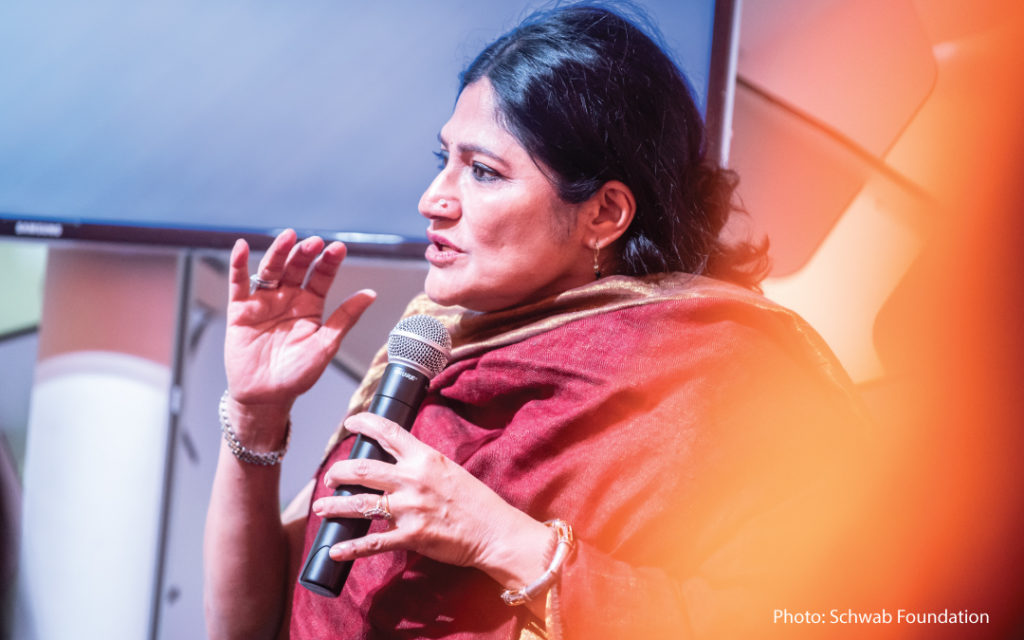 Initiated in 2001, the International Dialogue on Migration (IDM) is the principal forum for migration policy dialogue of the International Organization for Migration (IOM), bringing together stakeholders from around the world. The IDM has enabled the IOM "to provide a forum for states as well as international and other organizations for the exchange of views and experiences and the promotion of cooperation and coordination of efforts on international migration issues, including studies on such issues in order to develop practical solutions," as stated in the organisation's constitution.
Friendship founder and executive director Runa Khan addressed the inaugural session of IDM 2021 on May 25. The session examined the linkages between the migration, climate change and health. Organisers believe discussion will contribute to global initiatives that promote a sustainable recovery from the Covid-19 pandemic.
Keynote remarks were also made by Antonio Vitorino, IOM director general, Josaia Voreqe Bainimarama, Prime Minister of Fiji; Nasser Bourita, Moroccan Minister of Foreign Affairs; Volkan Bozkir, president of the 75th session of the United Nations General Assembly; and Amina J Mohammed, deputy secretary-general of the United Nations.
Click here to see the full WDP session.
Transcript of Runa Khan's speech at IDM 2021
Good morning Mr Antonio Vitorino, distinguished speakers, guests. Thank you for the invitation to speak at this much-needed international dialogue on migration.
Forced migration is an overwhelming reality today. Its impact and possible scale, a frightening thought for our coming tomorrow. Ideas, policies, course of actions are gaining momentum. But truth is, nothing is decreasing its volume or dangers or pain of each occurrence.
"All washed away in front of my eyes, my home, my land!"
"Salinity has taken over, no longer can I grow crops or drink the water of my land."
"I used to have a happy home, wife, children, food and hope. Today I pull a rickshaw, live in the slums, alone with no hope left in me."
"My child wrenched from my arms was thrown into the fire."
…all told to me by affected migrants.
Migration due to predictable climate issues has been happening historically. But what a difference when unpredictability of unimaginable magnitude happens along with overwhelming increase in demography! For then, no longer does it allow migrants to plan and secure physical space for restarting their lives elsewhere.
What happens when refugees do not migrate in tens, but in millions?
Trying to take steps for prevention is no longer acceptable. Actions need to be spoken of as already taken.
The condition of migrants
Climate migrants are a global phenomenon. Environmental degradation has led to people being trapped in their vulnerability.
In 2019, 24.9 million new Internally Displaced Persons (IDPs) across 140 countries were linked to sudden-onset disasters. Conflict and violence led to an additional 8.5 million IDPs. Data for slow migration like sea level rise, or river erosion triggered displacement, is hard to come by. With Covid-19, more than ever before, people are moving to different places in search of livelihoods.
The world's biggest challenges are accelerating: the climate crisis and migration, poverty and migration, migration from fear of terrorism, political migration, pollution of air, water, migration due to demography, lack of space and global health crisis! All defying borders, yet raising new and still higher barriers.
So going through traditional modalities of negotiations for about-to-be-made policies, its already late. Because by the time anything is decided and implemented, new challenges have already arisen.
How do you perceive to be able to manage the fact that climate migrants are going to multiply at least three to four times in coming years, and will sooner or later break borders?
Friendship in Bangladesh
Internal displacement, unlike inter-country migration, is mostly silent and invisible.
Bangladesh is a country of 170 million people on 148,000 sq km of land, with 52 percent of it often under water, ranking 7th on the Global Climate Risk Index.
With a 1-meter rise [in sea level] a fifth of the country goes under water—thus becoming foremost in number of people to be impacted.
Friendship, over 20 years has been working successfully finding adaptation solutions to access basic human needs for migrant communities:
Health, through floating hospitals and services given by trained community medics; prevention, easing suffering to curing; being by their sides; preparing them through our community-initiated disaster risk programs; giving access to knowledge and funds through our climate resilience economic actions; training; empowering microsocial entrepreneurs so they always carry their knowledge, training and crafts; farmers, fishermen, para solar technicians, para-vets, paralegals, medic-aides, teachers, weavers; then strengthening them with linkages to government services and legal help, ensuring deep understanding of their own worth and their own ecosystem, to continue in enabling to give services, earn and restart their lives, within their moving communities.
Ensuring that we are nurturing dignity and self-respect is the single most important factor for enabling this distressed pained community to return to the mainstream.
Solutions
For 20 years I have been a witness and a problem-solving actor in this changing environment, dealing with IDPs, and today the Rohingyas.
Serving more than 6.5 million people annually. Realising everything is not totally unsolvable.
"I have received my share of the rice. My neighbours still need it, please give it to them."
"I have savings with Friendship, and the school has now shifted to this very island, I don't need more."
"I know now that drinking saline water had caused me three miscarriages, but having a clinic at my door and fresh drinking water from the water plants, today I have a beautiful healthy baby."
Hope happens. But actions are needed for it to happen.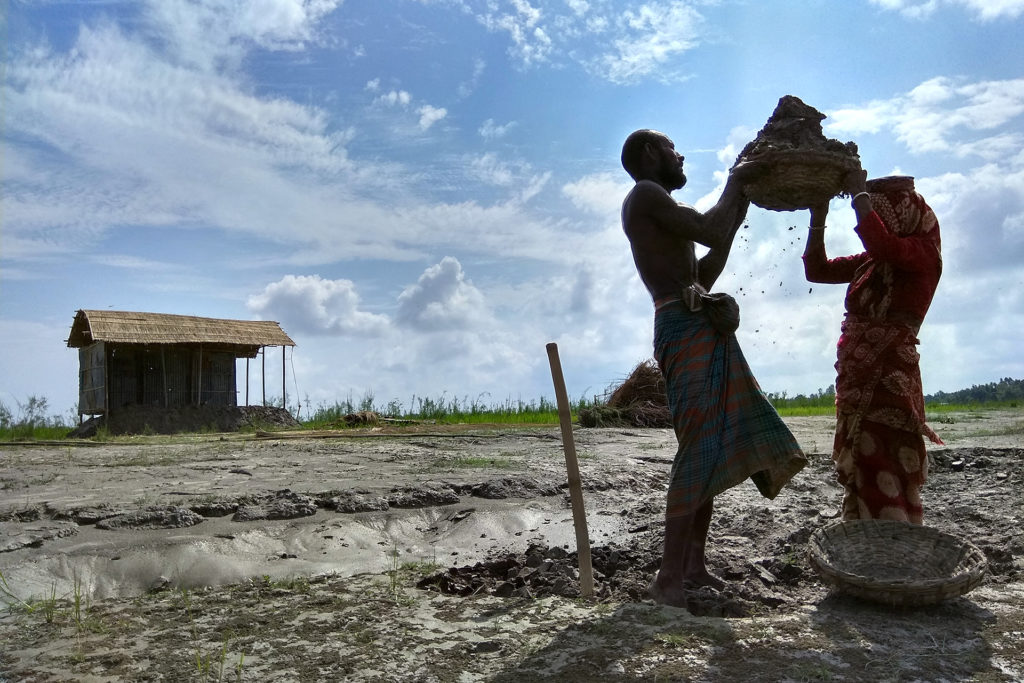 Safety in migration
Each migration, each reason for migration, each migrating community in each country has unique issues and problems. It needs to be micro- and macro-managed! There is no panacea for everyone everywhere. We need to accept this. To prevent forced migration is the long-term solution, yet seeing the daily migrants we know simultaneously people need protection and they need it now!
With each migration, people fall below poverty line shifting the economy curve downwards, it has a direct impact on any country which wants to reach the Sustainable Development Goals.
Governments need to identify climate-vulnerable migrant communities, and treat them as valuable members of their own society. So often they are ignored.
[They need to] ensure policies address directly and practically, the reality of the migrations, and that they are addressed with solidarity, compassion and empathy. Policies should be credible, practical and acceptable by the population and communities.
If IOM extends their help for doing this in a way acceptable to the governments, helping in providing dialogue for collaboration with policy makers and civil society, sharing experiences in finding internal solutions, forced migration, or at least the impact of forced migration, may lessen.
Safety in migration needs to be ensured so that people for whom this is happening do not see it as a failure, a fear, or a tragedy but tool to restart their lives.
Preparedness is key—preparedness and foresight for all of us stakeholders involved
Most migratory population spiral economically downwards due to total lack of needed economic and life skills and lack of strength due to no access to basic services.
Good health, education, skill training, access to finance, understanding of legal processes and knowledge of where to go to get support—which very often the governments provide—are key to a migrant's ability to restart their lives sometimes even two or three times a year.
Minimising scales of many natural disasters by simply caring and improving management, for example, by repairing embankment leaks, shelters, foreseeing and giving timely warnings for threatening famines, cyclones, floods, along with preparedness.
Twenty-year-old Molida, a trained Friendship Disaster Volunteer from char (river island) Goynar Potol, rescued 45 women and children on a raft made from banana tree stalks.
With all the finances and good intentions, how is it not possible to address this issue more impactfully?
It's not only about assistance but about empowering people in a way where massive assistance will not be needed. Helping them to become more resilient and empowered, being able to restart their lives with opportunity and hope; to have the strength and dignity to make their own decisions.
For all of us here today, this is a responsibility, acting on this responsibility is our only option.