by Marc Elvinger, Chairman Friendship Luxembourg
Chères amies, chers amis,
Dear Friends of Friendship (English translation below)
Pour Friendship, ce mois de novembre a été un mois particulièrement fort en émotions et c'est le moment d'en passer brièvement revue ici :
– Le 5 novembre, notre ami Pierre Brahms nous quitte pour toujours. Pierre était un ami de la tout première heure de Friendship Luxembourg et – c'était comme génétique chez lui – d'une fidélité indéfectible, à la mesure seulement de sa discrétion. Le dernier fait d'armes de Pierre à l'égard de Friendship a été la mise à disposition, en accord avec ses amis copropriétaires, du premier véritable Pop-Up Store de Friendship au 3 Côte d'Eich, du 1er octobre jusqu'au 15 novembre. Ceux qui savent les exigences que Pierre avait en matière de style et d'élégance, comprendront à quel point nous avons été rassurés – et fiers – quand Pierre a trouvé le shop «vraiment bien fait» et a manifesté sa satisfaction sous forme d'un bouquet de fleurs hebdomadaire – ouf :-)! Pour Runa, notre fondatrice, le Luxembourg sans Pierre ne sera plus tout à fait le Luxembourg; tout comme pour bon nombre d'entre nous, la Grand-Rue sans Pierre ne sera plus tout à fait la Grand-Rue (ni le 3 Côte d'Eich le 3 Côte d'Eich) ! Que Pierre repose en paix !
– Le 7 novembre, nous avons, en présence de pas moins de 70 à 80 personnes, ouvert l'exposition « I am a Rohingya » à la galerie Clairefontaine. Tout en célébrant la dignité et l'incommensurable courage de celles et de ceux qu'elle représente, l'émotion que l'exposition provoque est bien celle de la révolte devant l'inacceptable. Une révolte bien nécessaire pour que le silence ne finisse pas par s'installer ! L'exposition sera en place jusqu'au 21 décembre; l'ensemble des revenus en provenant bénéficiera aux activités de Friendship dans les camps.
– Les 9 et 10 novembre, le cyclone Bulbul a tenu les équipes de Friendship en haleine, ou plutôt en action, même si, comme pour le cyclone Fani au début du mois de mai dernier, son impact dans les régions d'intervention de Friendship restera au final relativement limité, y compris, très certainement, en raison des mesures de prévention et de préparation mises en place. Ce sera en particulier pour la deuxième fois que le Friendship Cyclone Shelter de Kuakata aura servi, en accueillant plus de 200 personnes vulnérables en son sein.
– Le 12 novembre, nous avons pu accueillir plus de 150 personnes lors de notre conférence «Restoring Dignity, Sustaining Hope: How much can a humanitarian organisation do?». Moyennant une intervention tout à la fois poignante et, hélas, peut-être prémonitoire, Philippe Depoorter, membre du conseil d'administration de Friendship, de retour du Bangladesh le jour même, a d'emblée donné le ton de la soirée. L'embrasement couve en effet sur les hauteurs autrefois luxuriantes de Cox's Bazar ! Vous pouvez (re)lire et (re)visionner ici les différentes interventions et films de la soirée, dont les interventions de Mme Paulette Lenert, Ministre de la Coopération et de l'Action Humanitaire et Runa Khan, Fondatrice et Directrice exécutive de Friendship Bangladesh.
– Le 13 novembre, Shehzar Doja a, dans un contexte fait de malheurs, nourri notre bonheur moyennant une lecture de poésie d'une grande intensité à la Galerie Clairefontaine. La force avec laquelle Shehzar a présenté les poèmes Rohingya tirés de l'anthologie «I am a Rohingya – Voices from the Camps and Beyond», co-édité par lui et James Byrne, ainsi que quelques poèmes à lui, est faite pour nous faire croire à son rêve que la poésie puisse changer le monde. Eric Chenal a su capter de façon subtile les vibrations de cette soirée particulièrement inspirante. Vous pourrez d'ailleurs réécouter Shehzar, cette fois-ci ensemble avec son collègue James Byrne, pendant la deuxième moitié de décembre à la Galerie Clairefontaine.
– Ce 21 novembre, je me suis retrouvé sur les hauteurs des camps de Cox's Bazar. Cela a été par une superbe journée de début d'hiver au Bangladesh qui laissait tout apparaître sous son meilleur jour. L'infinité de la vue des camps m'a laissé aussi désemparé que toujours.
Mais ce qui m'aura le plus impressionné lors de cette quatrième visite dans les camps a été le foisonnement des échoppes, des commerces et des marchés – alimentaires et non alimentaires – et le bouillonnement des activités en leur sein. Une économie est en train d'y naître – avec ses parts d'ombre bien sûr, faite de commerce seulement, et sous perfusion certes – mais une économie quand-même. Et sans que les autorités du Bangladesh ne cherchent à la tenir en échec.
Y aurait-il de l'espoir quand-même?
Pendant ces jours-ci, nous sommes une bonne cinquantaine à Dhaka à réfléchir et travailler ensemble sur la stratégie de Friendship pour les années à venir. Comment servir toujours mieux les communautés les plus marginalisées et leur permettre de développer pleinement leur potentiel ? En nous acquittant ainsi aussi de notre responsabilité vis-à-vis de tous ceux qui, comme beaucoup d'entre vous, rendent cette action possible par le soutien qu'ils nous accordent sous différentes formes et sans lequel nous ne savons rien faire !
Vous pouvez trouver d'autres informations encore quant aux activités récentes de Friendship dans la Newsletter de ce mois de novembre « Always Prepared ».
Merci, toujours, pour votre appui !
---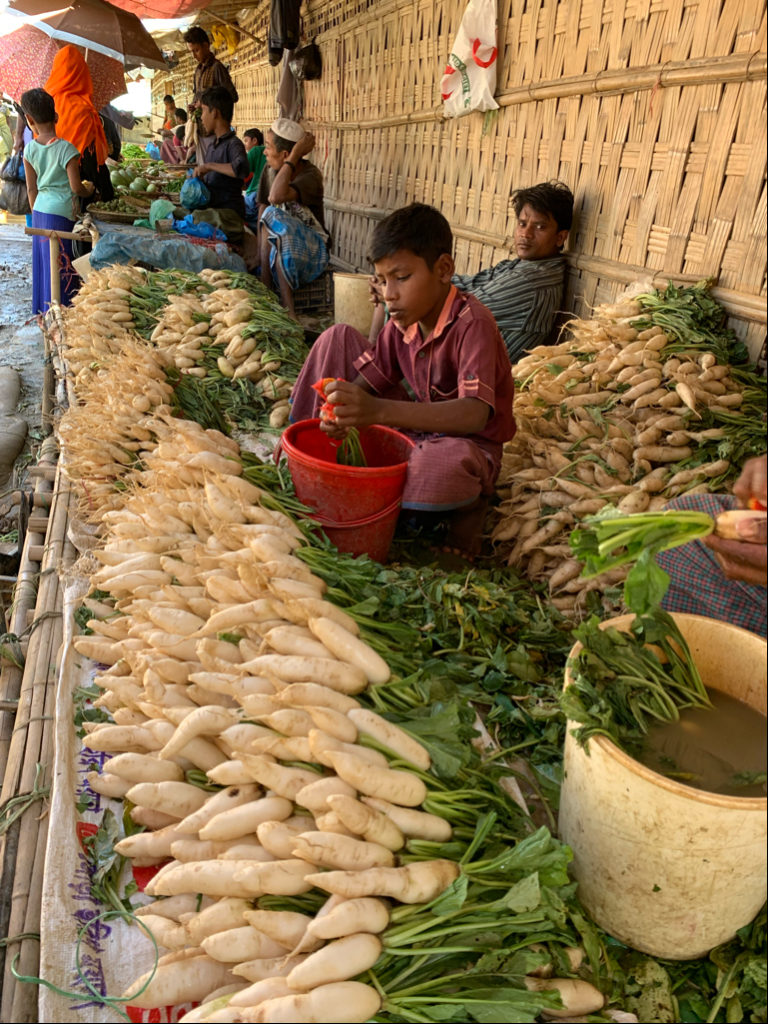 Dear Friends of Friendship,
For Friendship, this month of November has been as a particularly emotional one and I would like to review it briefly here:
– On November 5, our friend Pierre Brahms passed away. Pierre was a friend of Friendship Luxembourg from the very first moment and – this was in his genes – of an unfailing loyalty matched only by his discretion. Pierre's last act of generosity towards Friendship was the provision, with the consent of his co-owner friends, of the first real Friendship Pop-Up Store at 3 Côte d'Eich from October 1 to November 15. Those who know what Pierre's standards were in matters of style and elegance, will easily understand how reassured – and proud – we were when he said the shop was "truly well done" and expressed his satisfaction in the form of a weekly bouquet of flowers – what a relief for us :-)! For Runa, our founder, Luxembourg without Pierre will no longer be really Luxembourg; just as for many of us, the Grand-Rue without Pierre will no longer be really the Grand-Rue, nor will the 3 Côte d'Eich be really the 3 Côte d'Eich ! May Pierre rest in peace!
– On November 7, with no less than 70 to 80 people in attendance, we opened the exhibition "I am a Rohingya" at Clairefontaine Gallery. While celebrating the dignity and the immeasurable courage of those it represents, the emotion that the exhibition provokes is that of revolt in the face of the unacceptable. A revolt that is very necessary so that silence does settle in once for all! The exhibition will be in place until December 21; all proceeds from sales at the exhibition will benefit Friendship's activities in the camps.
– On 9 and 10 November, Cyclone Bulbul kept the Friendship teams in Bangladesh in suspense, or rather ready for action, even if, as was the case with Cyclone Fani at the beginning of May this year, its impact in Friendship's working areas ultimately remained relatively limited. This was for sure also due to the prevention and preparedness measures put in place. In particular, this will be the second time that the Friendship Cyclone Shelter of Kuakata has served its purpose, providing safe shelter to more than 200 vulnerable people.
– On November 12, we welcomed more than 150 attendees at our conference "Restoring Dignity, Sustaining Hope: How much can a humanitarian organisation do?" With an opening speech that was both poignant and, alas, perhaps premonitory, Philippe Depoorter, a member of the Friendship Luxembourg board of directors, who had returned that very same day from Bangladesh, immediately set the tone for the evening. Fire may indeed break out any time now from under the surface of the once lush heights of Cox's Bazar! You can (re)read and (re)view here the different presentations and films of the evening, in particular the interventions of Mrs Paulette Lenert, Minister for Cooperation and Humanitarian Action and Mrs Runa Khan, Founder and Executive Director of Friendship Bangladesh.
– On November 13, Shehzar Doja, in a context of Rohingya misfortune, fueled our happiness with a very intense poetry reading at Galerie Clairefontaine. The strength with which Shehzar presented the Rohingya poems published in the anthology "I am a Rohingya – Voices from the Camps and Beyond", co-edited by him and James Byrne, as well as some of his own poems, is designed to make us believe in his dream that poetry can change the world. Eric Chenal in a subtle manner captured the vibe of this particularly inspiring evening. You will have the opportunity to listen to Shehzar again, this time together with his colleague James Byrne, later in December, at Galerie Clairefontaine.
– On November 21, I found myself once again on the heights of the camps in Cox's Bazar. It was on a superb early winter day in Bangladesh, which showed everything at its best. The endless view over the camps left me as distraught as ever.
However, what impressed me most during this fourth visit to the camps, was the proliferation of shops, businesses and markets – food and non-food – and the profusion of activity within them. An economy is emerging here – with its shadowy sides for sure, made of trade only and on life-support of course – but an economy, nevertheless. And without any sign that the Bangladeshi authorities are trying to hold it back.
Would there thus nevertheless still be Hope?
Over the next few days, there will be about fifty of us in Dhaka, reflecting and working together on Friendship's strategy for the coming years, asking ourselves how can we better serve the most marginalized communities and enable them to develop their full potential, and how can we best fulfil our responsibility towards all those who, like many among you, make this action possible through the varied contributions they provide to us and without which we can achieve nothing.
You may find additional information about Friendship's recent activities in its November Newsletter "Always Prepared".
Thank you always for your support.
Marc Elvinger
Chairman Friendship Luxembourg