Friendship primary school student overcomes a life of struggle and uncertainty to gain admission at the Rangpur Medical College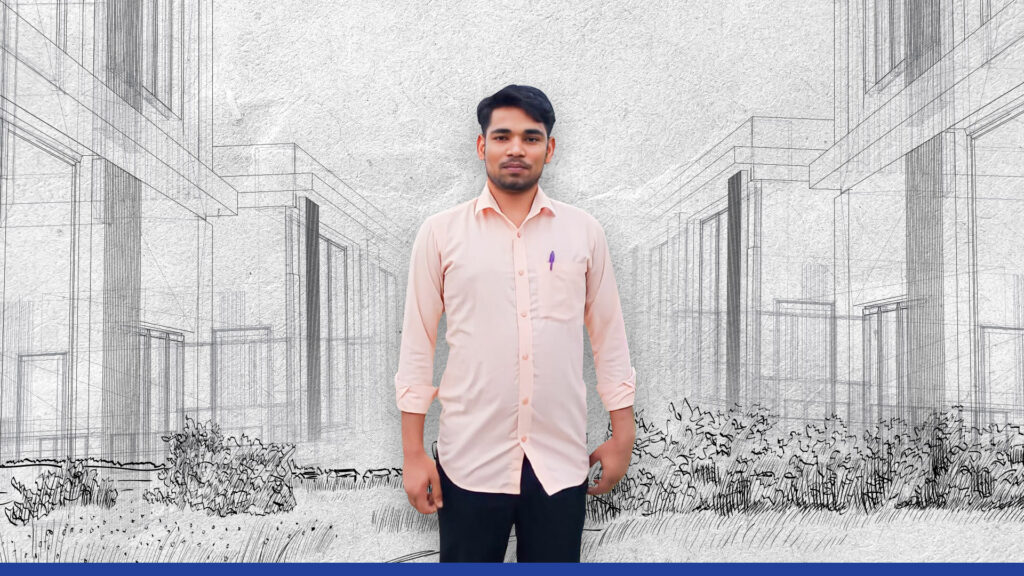 by Tahmeed Chaudhury
April 9, 2023
Ashadul Islam's family lost everything and relocated thrice in his lifetime due to river erosion. At 15, he had to leave home to fend for himself, but despite the isolation and struggle, Ashadul held tight onto his goal of studying medicine. This year, out of 139,217 students who sat for med school admission exams in Bangladesh, Ashadul was among the 3,384 admitted on merit to a public university.
Ashadul began his schooling at Friendship Primary School Nawshala in Rajibpur, Kurigram, where he studied until the fifth grade. The rest of his schooling was marred by frequent shifting of homes due to river erosion. Having lost their farmlands and source of income, Ashadul's parents moved to Dhaka to find employment as RMG workers, while Ashadul stayed back. He lived with his sister for a while, but when he faced resentment from her in-laws, he left to fend for himself at the age of 15.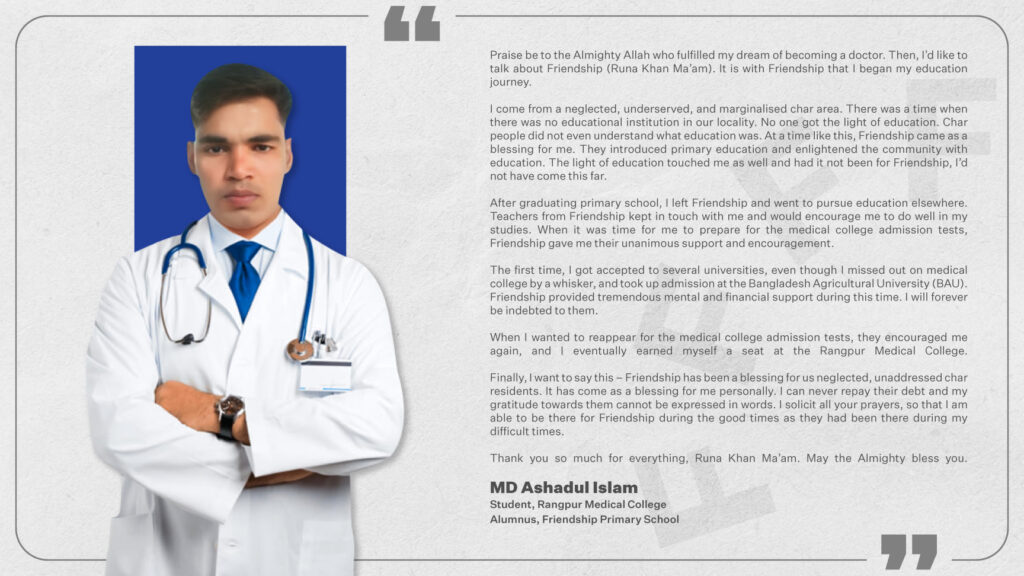 Ashadul's journey took him to Sundarganj, Gaibandha, where he enrolled at a local high school. With an empty pocket and no one to look out for him, he first lived with a family friend who offered him accommodation in exchange for working at their shop in a local market. He then lived with a relative who made him tutor young children in exchange for accommodation.
"I was consistently at the top of the class throughout my school life," says Ashadul, his voice brimming with confidence and ambition. "Circumstances were difficult, but I kept going. I passed my secondary school certificate (SSC) examinations with A+ grades." He went on to obtain A+ grades in his higher secondary certificate (HSC) examinations as well.
Ashadul did not want to stop there, he wanted to be a doctor. Aptly, Friendship's Career Guidance Cell (CGC) contacted him around the time he was preparing for his HSC. "Ashadul is not alone," says Olive Hassan, assistant manager at Friendship Education. "Like him, there are hundreds who, if given the opportunity, can go much further. But there are many barriers to higher education for students from the char."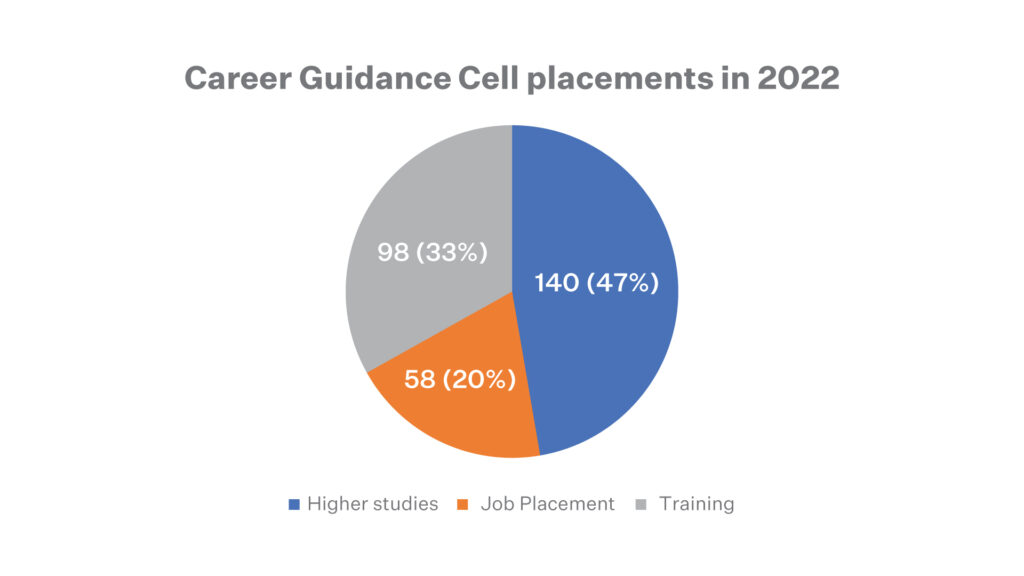 A study by the University of Dhaka's Institute for Educational Research found that promising char students were not getting fulfilling opportunities after high school, ending up in odd jobs despite considerable academic potential. The barriers range from logistical—owing to the distance of the char areas from the mainland; to financial—the costs associated with university education; to lack of information—char students often have no idea what options lie ahead of them or how to go about applying.
"That's why we founded the CGC," says Olive. "We figured that if we make a determined effort, the students will go places." So far, the CGC has connected students to reputable universities, polytechnic training programmes, and to jobs.
With the CGC's help, Ashadul sat for the admission tests, gaining admission into Jahangirnagar University, Rajshahi University and the Bangladesh Agriculture University. But the prize he wanted most—med school—evaded him. We interviewed him at the time, and he showed no disappointment about failing to get into Rangpur Medical College (embedded below). But now he confesses: "Despite making it to three top universities, I was crestfallen. I fell into a depression and lost contact with friends and family."
But he wouldn't let go of his dream of becoming a doctor. After appearing for the exam a second time, he was finally successful.
"The years of struggle eventually paid off. I can chase my dream now." Ashadul now wants to complete his MBBS and become a specialised doctor.
Olive says that the struggle is far from over. "Our students have earned spots at Asian University for Women, Jagannath University, and many others—and we find that even once they're in, there are many barriers they continue to face.
"We had one student who made it into the economics programme at Hajee Mohammad Danesh Science & Technology University. But because he had no financial support, he was unable to attend for one year, and had to quit the programme. He is now studying English at another university."
But Ashadul seems unstoppable. "One day, I want to open a clinic in my village and help my community access better healthcare."