Joyeeta Award winner Akhterunnahar Rikhta sets an example of perseverance for women in rural communities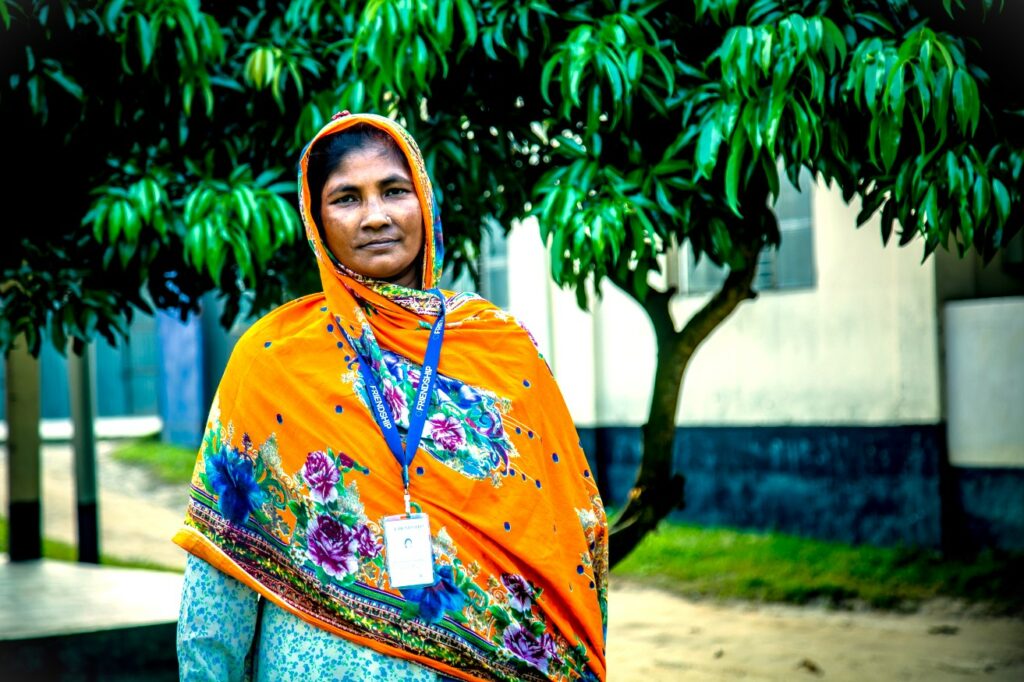 by Tahmeed Chaudhury
October 1, 2023
Akhterunnahar Rikhta was four when her mother died due to improper treatment by a kobiraj (uncertified village doctor). Her sister was only an infant. Growing up in a marginalised community on a remote riverine island (char), this was just the first in a series of setbacks throughout her life. She would grow up without parents, act as a surrogate mother to her younger sister, face opposition in her aspirations to pursue an education, face discrimination for her complexion, and eventually fall into debt because of a scam. However, she turned her life around, paying for her husband's master's education and ensuring decent living circumstances for her daughters. Her resilience helped her receive the Joyeeta Award for contributions to education and empowerment, as well as her role as a mother.
Following her mother's death, Rikhta's father remarried and left the village for work, leaving her and her sister in their maternal village home in char Mogholbasha of Rowmari subdistrict in Kurigram district. "I was forced to perform household chores all day by my grandmother and uncle, from cooking and cleaning to ensuring the needs of the elders in the house were met, on top of taking care of my younger sister when I was very young myself," she says.
She found refuge in her studies and was a highly motivated learner. Yet, her aspirations of getting an education and developing her own identity were frowned upon by those at home and in her community. In remote, rural villages, education and empowerment of girls are looked down upon and child marriage is a social norm, despite being illegal. "Everyone at home, including my father, wanted me to get married early. My maternal aunt would always taunt me about my dark complexion and tell me no one would marry me when I grew up," she says.
She withstood the pressure and passed her secondary school certificate (SSC) and higher secondary certificate (HSC) examinations in 1991 and 1993 respectively and subsequently earned a diploma in social science in 1995. Rikhta says she had to sell handmade clothes and tutor children to manage funds for her education.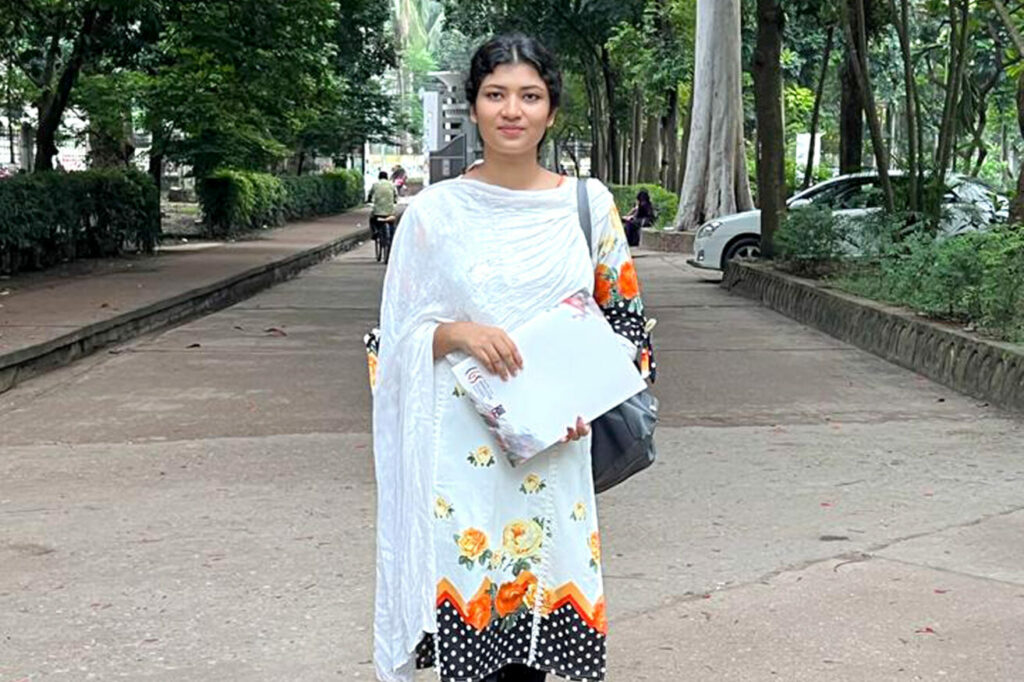 She then got married, by choice, and found employment in an NGO for a modest salary. At the time, her husband was in his third year as a university student and did not have a job or any means to pay his tuition fees. Rikhta would pay his tuition fees from her income. Next, she became a working mother, juggling multiple responsibilities at home and in the workplace, in a bit to ensure a good life for her family. "I even left my daughters behind at home, including the youngest one who was aged two, to work in another district at one point."
Tragically, the progress Rikhta made was reversed in 2007, when she and her husband were scammed for a total of BDT 800,000 by a company they worked together at. They invested in a scheme announced by the company, where they were promised a healthy profit a few years down the line. Rikhta and her husband gave up a significant portion of their salaries each month for three years, only to find out it was a scam that eventually robbed hundreds of thousands of people of their money in the name of investments. The company was later closed down. They never got their money back.
Bankruptcy followed and Rikhta had to mortgage her land to neighbours in exchange for money, with the condition that she would only get her land back when she was able to pay it back. "We lost everything and getting a meal had become difficult. I was pessimistic about the future and completely broken."
In 2014, Rikhta found employment as a supervisor at Friendship's Chilmari office. Her husband, Abdul Baten, is also employed by Friendship's Climate Action sector in their building resilience project. It took the couple eight long years of hard work, patience, and mental fortitude to save as much as they could to pay their lenders and reclaim their land. They have since overcome their hardships and are living better lives with their three daughters.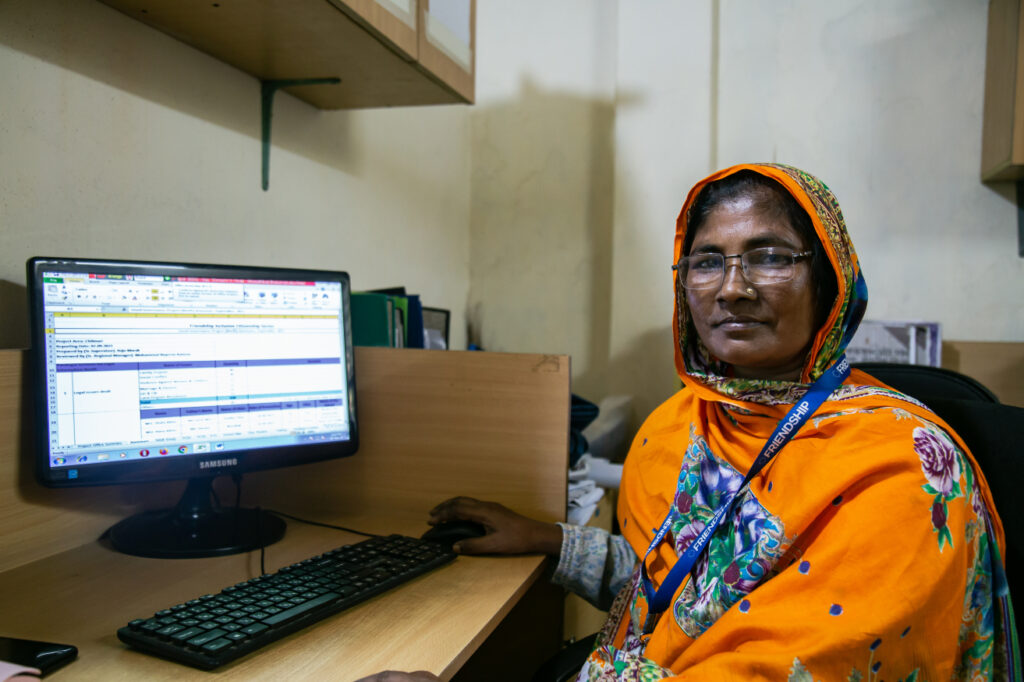 Rikhta now encourages her daughters to establish their identities and self-sufficiency. Her eldest daughter is a student at the prestigious University of Dhaka (DU), her second daughter is approaching her SSC exams and the youngest achieved A+ grades in fifth grade and is now preparing for admission tests at army-run cadet colleges. All of them are excelling in their education.
"My mother's work ethic amazed me from a young age. She manages household tasks, works full time, assists others, and prioritises our education. She's my biggest inspiration in life," says Prity, a second-year Cultural Studies student at DU.
Rikhta has big dreams for her daughters and wants them to become "influential" officers in the country and contribute to the welfare of society and its people. "I faced immense pressure and shame from the community for my circumstances, and my ambitions were ridiculed. I want my daughters to be able to break societal barriers with an iron fist."
Barrister Ayesha Taasin Khan, senior director of Friendship's Inclusive Citizenship, feels Rikhta symbolises the epitome of a strong woman. "Rikhta is a complete and competent woman," she says. "Against all odds, she thrived and drew abundance towards herself and her family."
In 2022, Rikhta was accorded the Joyeeta Award, which is given by the Ministry of Women and Children Affairs to women for achievements in entrepreneurship, social development, education, employment, motherhood, prevention of repression, and other fields.