Humanitarian services remain open despite catastrophic monsoon
On what was previously just a hilly forest, The Kutupalong Expansion Sites which shelter some 600,000 of a million Rohingya people living in Bangladesh were built in a matter of weeks.
Denuded two years ago, the hills do not deal well with the elements. This year's monsoon season saw downpours every day for two weeks, causing almost a hundred landslides, vicious flash-floods and lightning strikes. Four people died in weather-related incidents within that time.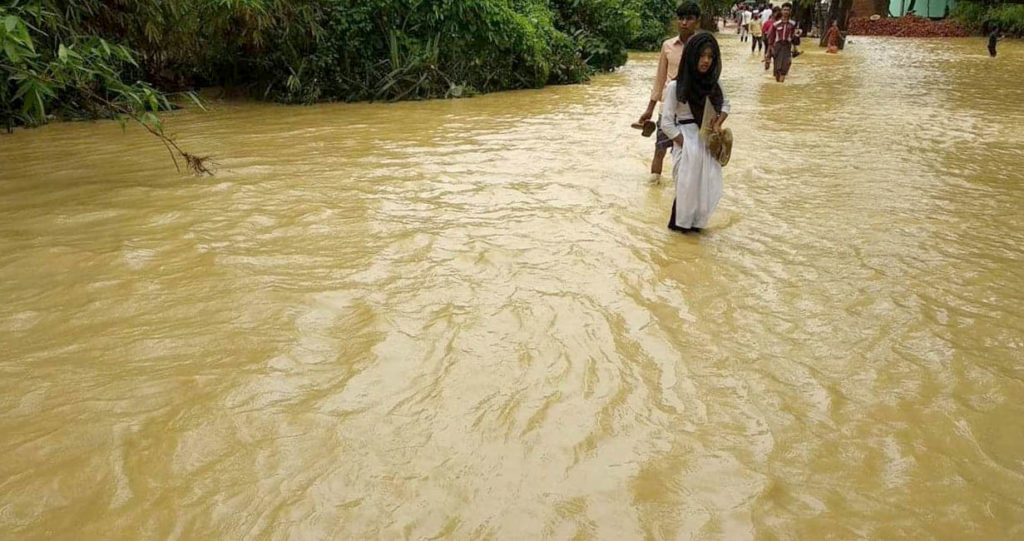 For NGOs and development agencies working in the camps, these are testing times. Nayeem Kamran has to assess the condition at each of Friendship's learning centers in camp 7 and intends to negotiate with the result of the torrential rains. There are three routes there from the main Cox's Bazar-Teknaf Highway. The most direct (about a 5-minute walk) is completely inaccessible – the bridge at the route's entrance is broken, and after that the road is completely submerged in waist deep water.
The alternative route Nayeem chooses takes him an hour, during which he makes his way through knee-deep muck, a submerged paddy field, and almost loses balance several times on steep, slippery slopes. At the end of the ordeal he finally arrives at a school. This one is closed, but next door, the Friendship Health Post is full of activity.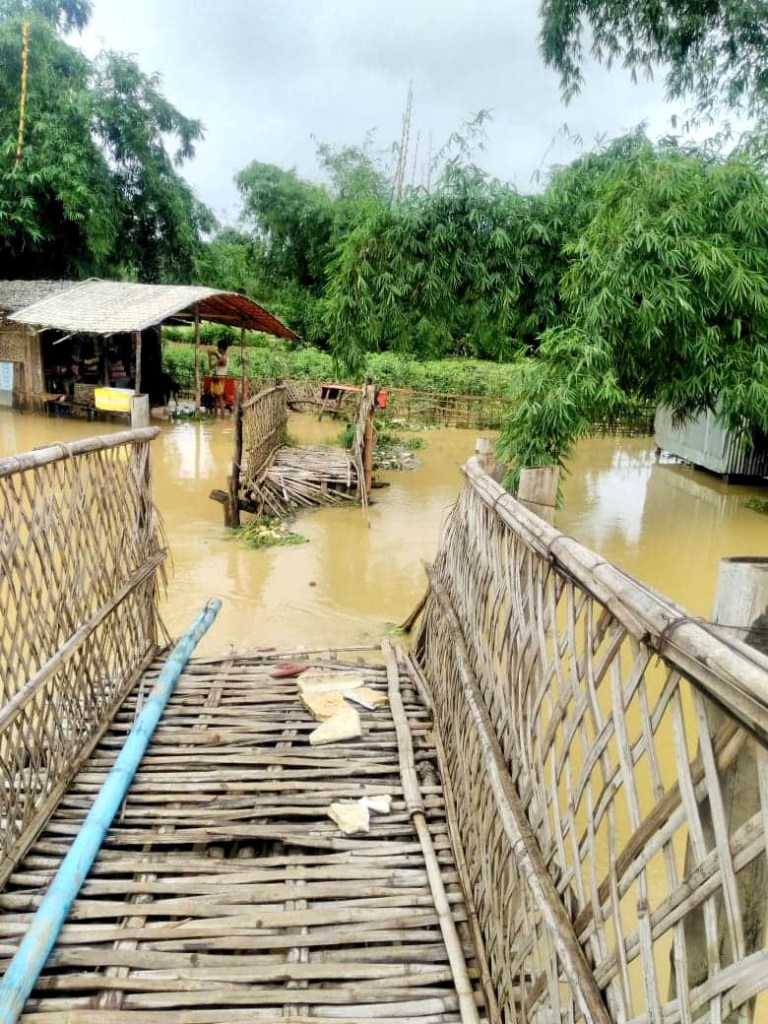 Dr. Md. Rakibul Islam and his crew of eight are all present. They busy themselves with towels and fresh water for us.
"You've been bitten by a leech?" Rakib asks me, disinfecting the bleeding area. "Someone from our staff gets bitten almost every day. I've jokingly asked administration for a boat. It would make it easier to get to work."
These conditions make movement difficult for those who are perfectly fit. For those who are unwell, it's nearly impossible, he says. On the average day Rakib and his team sees at least a hundred patients. Today there have been only 23.
The clinic was closed for two days during very severe floods. The rest of the time it has been open.
In the two weeks of continuous rain, four of Friendship's 15 health facilities faced closures. A birthing centre was closed for three days, and suffered damage to paper records and medicines due to flash floods. Outreach activities were conducted with difficulty where possible.
Nayeem finds a learning centre that it has remained open through the rains, but attendance is down to 34 per cent. "The older children somehow manage to come," said Nasima Begum, the LC facilitator. "For the younger kids it's almost impossible."
The lower area behind the school, which has washrooms and a tube well, became flooded with slimy mud several feet deep. The centre volunteer called her husband when the floods occurred, and he dug a drain for the water to pass, and cleaned up the inside of the school, which was also flooded with muck.
Heavy rainfall is a frequent and ordinary event everywhere in Bangladesh, but it leaves the Rohingya camp a mess.
"We had to accommodate a million people in the space of a few weeks," says Kazi Amdadul Haque, head of climate change adaptation and disaster management at Friendship. "There was no time to consider the capacity of the land to weather climatic emergencies."
The camp's vulnerability to the climate adds another obstacle for the refugee camps for which nobody really has a solution.