The pandemic slashed the fashion market, but Friendship Colours of the Chars pivoted its resources to produce masks, protecting local communities and creating opportunities for artisans in marginalised communities.
by Rad Sharar bin Kamal
The pandemic has left showrooms bare, production centres quiet and local Bangladeshi artisans in dire need of financial support. "No business as usual," as said by Friendship Colours of the Chars, a social enterprise of Friendship promoting sustainable fashion. Yet, rather than halting production entirely, they saw it as an opportunity to innovate.
Most of their revenue from fashion retail is redirected to the economic development of marginalised char (river island) regions. While demand for the usual products plummeted due to the pandemic, Friendship realised in early March that masks would be essential for containing the spread of the virus. Mask production would offer dual benefits: saving lives in Bangladesh and beyond, whilst alleviating poverty and empowering communities locally by providing a financial opportunity in exports to western consumers.
Colours of the Chars designed three- and four-layer masks with naturally dyes, 100% cotton, shaped for maximum protection. The fine mesh prevents entry of particles as small as 0.02 microns. (Covid-19 is 0.1 microns.) By mid-April, some 20,000 masks had already been made and distributed directly to the organization's staff and amongst community members. To date, Friendship has produced 140,000 masks, in addition to coveralls and gowns.
"Our methods ensure maximum safety for everybody, being free of harmful chemicals," says Nazra Mahjabeen Sabet, deputy director at Colours of the Chars. "The materials used are woven on traditional handlooms at our own production centers. We ensure the masks are breathable, easily washable and perfect for reuse."
One step further
The bulk of masks produced by Friendship have been given to those who need it most within the local community: marginalised households, police, journalists and jail inmates. However, they are also being used for the safety of Friendship's frontline workers.
Moreover, masks are being marketed in Friendship Colours of the Chars stores in Banani, Dhaka and Grand Rue, Luxembourg and exported to corporate clients across Europe. The revenues sustain the artisans, who are mostly women from char communities.
"The production of masks is providing a source of income and sustenance for the char communities," says Runa Khan, founder and executive director of Friendship. "It is one of the few economic opportunities during the pandemic period."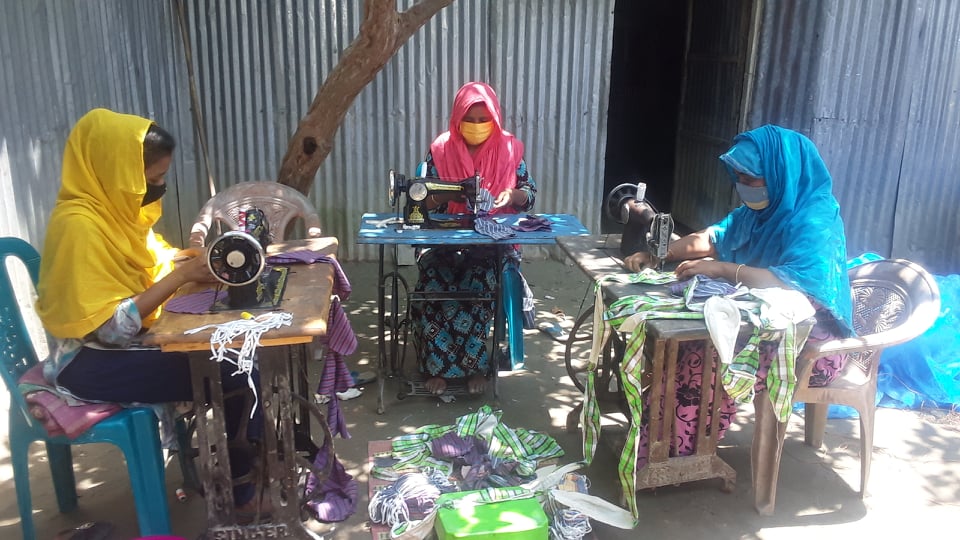 Two steps further
The brand also is offering "add-on" features, as companies can now have their logos printed over the masks. Employers' unions such as Fedil, Recyma and Groupement Des Entrepreneurs, Soludec, a major construction firm, and Fondation Marguerite and Aimé Maeght are among those who have taken up the offer. The Luxembourg Ministry of Foreign and European Affairs has also shown their support and contributed to the cause.
In addition, for every mask that is bought in Europe, one is donated to the Luxembourg Red Cross, and another distributed to marginalised communities in Bangladesh.
Taking a step back
The production of the masks has been taking place in the northern areas of Chilmari and Goynar Potol, of Kurigram district, Rangpur division. Production centres have been adapted to allow social distancing of six feet between workers. On arrival it is compulsory for all staff to wash their hands and be sprayed with disinfectant, before changing into masks and gloves. These measures not only ensured every worker's safety, they also ensure the workplace to continue production into the future.
Where to buy?
Bangladesh: Visit the showroom at House 40, Road 12, Block E, Banani, Dhaka 1213. Open every day from 10am to 4pm. Corporate clients may email: alvin@friendship.ngo
Luxembourg: Visit the Pop-up Store at 43, Grand Rue, Luxembourg Ville or email lux-shop@friendship.ngo.