As schools remain shut, Friendship's digital lessons are shared nationally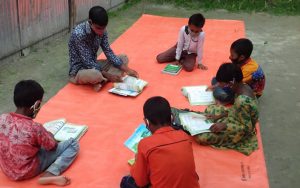 by Niamh Rowe
October 6, 2020
Currently, due to COVID-19, 50% of students across the world are learning from home. At the virus's peak in April, that figure stood at 90%, impacting 1.8 billion students, according to UNESCO. During this time, in developed and developing nations alike, the lifeline of children's education has been distance learning via videos and calls.
Friendship has been spearheading distance learning for years, as a solution to a very different problem—the lack of qualified teachers in the remote river islands of North Bengal.  As a result, we are now able to contribute to the government's effort to continue educating 10 million secondary school children locked out of the classroom in Bangladesh.
Innovation borne of necessity
The river islands are fleeting by nature, made from the ebbs and flows of silt. Detached from the mainland, and tucked away 300 km away from the bustling capital, the river communities have been deprived of many state services, including education, for years.
In the 16 years since Friendship began their education programme their 43 primary schools have produced students that are excelling and graduating into secondary school. But there is a shortage of teachers sufficiently educated to teach older students. So, Friendship worked with some of the country's best teachers to record video lessons for them, which they watch on televisions powered by solar panels. Local facilitators run the classes, answer simple queries and relay more difficult ones to the teachers.
The results have been encouraging, as students continually exceed national averages. In 2018, the first year it was trialled, all but one student achieved an A grade.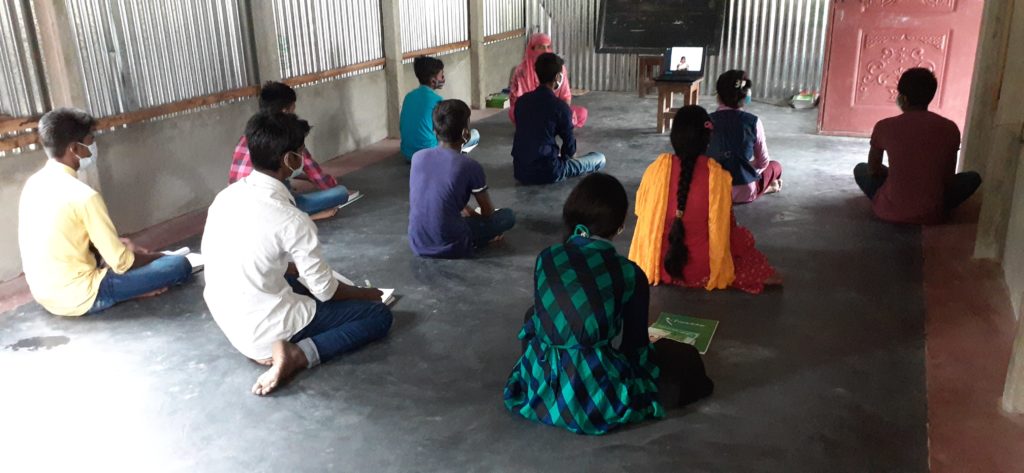 A supply for new demand
When the pandemic struck and schools closed their doors, the video lessons suddenly had a national significance. Friendship has since uploaded these lessons to a dedicated Friendship Education YouTube channel, and also linked them to the government's online platform "Kishore Batayon,"  to share this resource for free with students across the country. Friendship has also partnered with the government to broadcast the lessons on the national television program "Amar Ghore Amar School," meaning my school is in my home.
"It was just the right thing to do," said Brig Gen Ilyas Iftekhar Rasul (retired), director and head of Education. "Along with our students, the youth around the country now gets access."
Closing the technological gap
Students in the chars face technical challenges in creating classrooms within their homes. Although there are now 66.4 million internet users in Bangladesh, char families aren't among them.
"Our teachers are guiding students and monitoring their studies through telephone calls and home visits," explained Ilyas. "This is further reinforced by getting caregivers and parents involved in the learning. Assessment tests in small groups were taken and the outcome is very encouraging."
For the secondary students, where possible, teachers are showing the video lessons via laptop to small groups while maintaining health precautions.
Distance learning can democratise education and overcome geographical obstacles in the pursuit of equal opportunities. Exclusion from technology still presents a significant obstacle to learning, hence the work of local teachers trained by Friendship has never been more essential in reaching these students, and ensuring that they keep learning.