Friendship and Aspire to Innovate (a2i) host global dialogue on 'Realising the Rights and Improving Accessible and Smart Services for Persons with Disabilities in Hard-to-Reach Areas'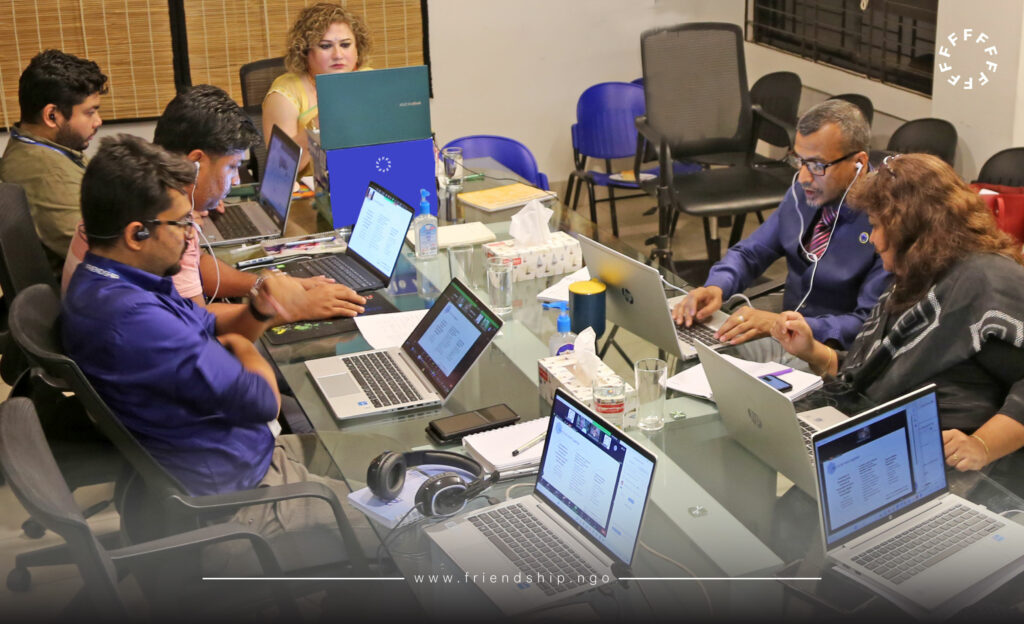 Friendship News Desk
August 10, 2023
Friendship and Aspire to Innovate (a2i) of the government of Bangladesh's ICT Division arranged a virtual international webinar yesterday, August 9, 2023 to underscore the importance of accessibility and inclusiveness in the planning, distribution and availability of public services, especially for people with disabilities. The dialogue, titled "Realising the Rights and Improving Accessible and Smart Services for Persons with Disabilities in Hard-to-Reach Areas" was attended by almost 200 participants from around the globe.
In remote, hard-to-reach areas such as chars, marginalised communities are often unable to access mainstream services such as education, healthcare, infrastructure and government services. The picture is bleaker for persons with disabilities who, in addition to the challenges mentioned above, are also subjected to social stigma and are usually deprived of the basic requirements for a satisfactory life; education, employment, marriage and mental satisfaction. Since 2020, Friendship has been working to improve the lives of persons with disabilities in the river islands of northern Bangladesh. The programme includes door-to-door services like physiotherapy, counselling and routine follow-ups to households with persons that have a disability, as well as raising awareness through youth groups to make the public more empathic towards and inclusive of disabled people. Furthermore, it informs persons with disability of their rights and connects them to vital services.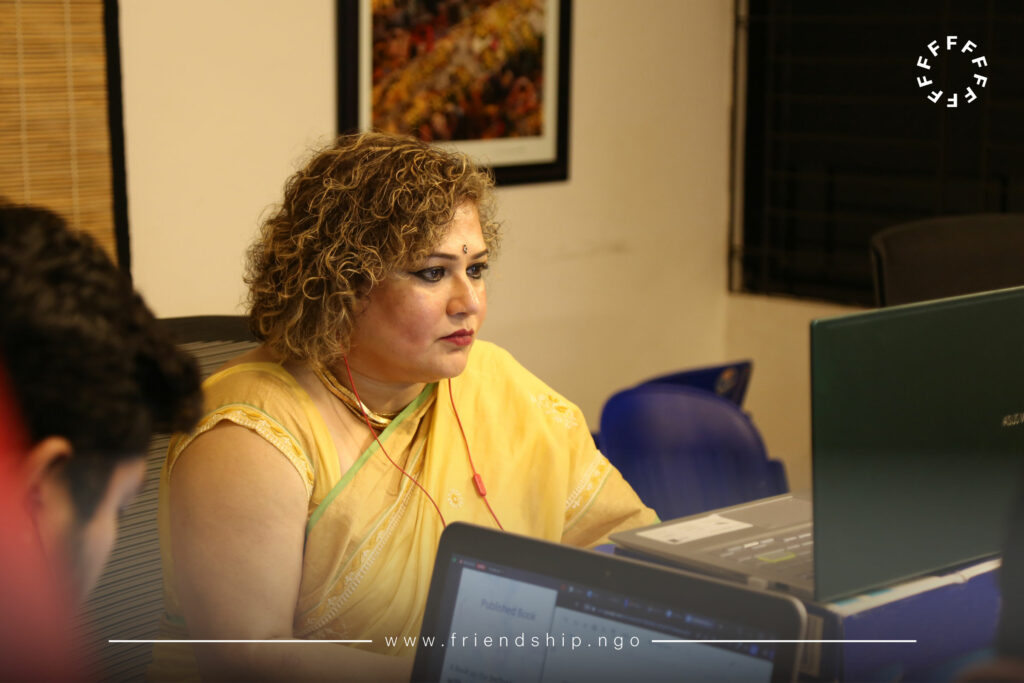 Subsequently, the Government of Bangladesh has taken various measures to support persons with disabilities through infrastructure development, mobile rehabilitation services, funding of organisations working for persons with disabilities, quota facilities in various service and employment sectors, and other assistive services. a2i focuses on disability inclusion and digitization, emphasizing on the relevant legislation to foster a disability-inclusive country. Towards that end, the government has asked various NGOs, the garments industry and the manufacturing industry to submit various collaborations, advocacy programmes and technologies towards the vision of building an inclusive "smart" nation.
"Collaboration, engagement and ratification will lead to justice for people with disabilities in marginalised communities, paving the way towards a Smart Bangladesh," said Ayesha Taasin Khan, senior director and head of Inclusive Citizenship at Friendship SPO while speaking at the event as the host.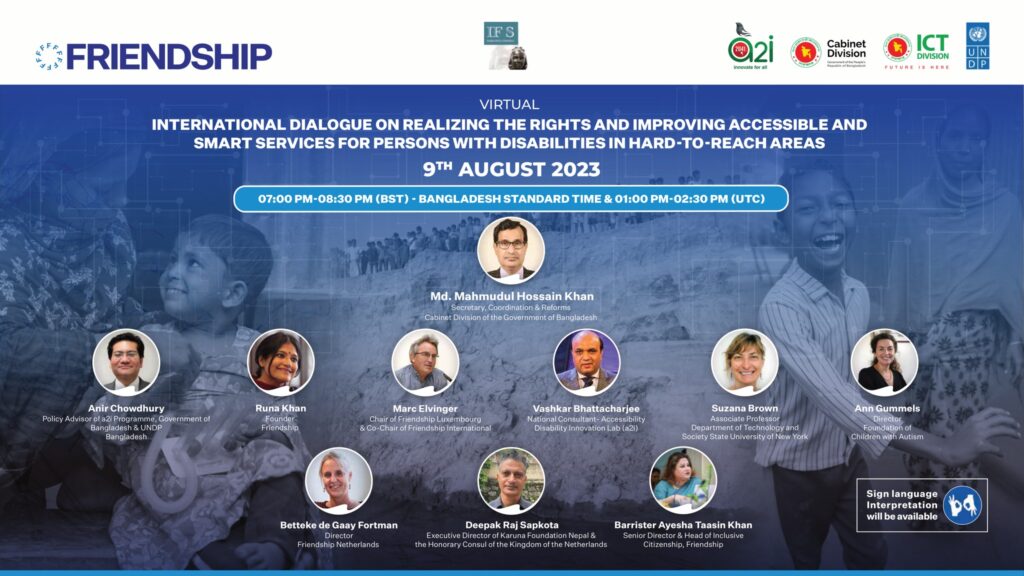 The government's efforts extend to digital inclusion in education, mobile financing and the relevant legal aspect to ensure equality for all citizens, including people with disabilities in Bangladesh. This has economic implications as well, as Friendship is working for people with disabilities by leveraging more creativity and international funding to link digitalisation to school programmes to empower and educate the youth. It is in keeping with Friendship's ethos, bringing opportunity, dignity and hope to remote and marginalized communities in Bangladesh, and delivering justice so no one is left behind.
On the note of dignity, one of the points discussed in the dialogue was ensuring sensitivity, empathy, emotion and sustainable development for vulnerable people through technology. It is not enough to provide services, but also be mindful of how they are provided.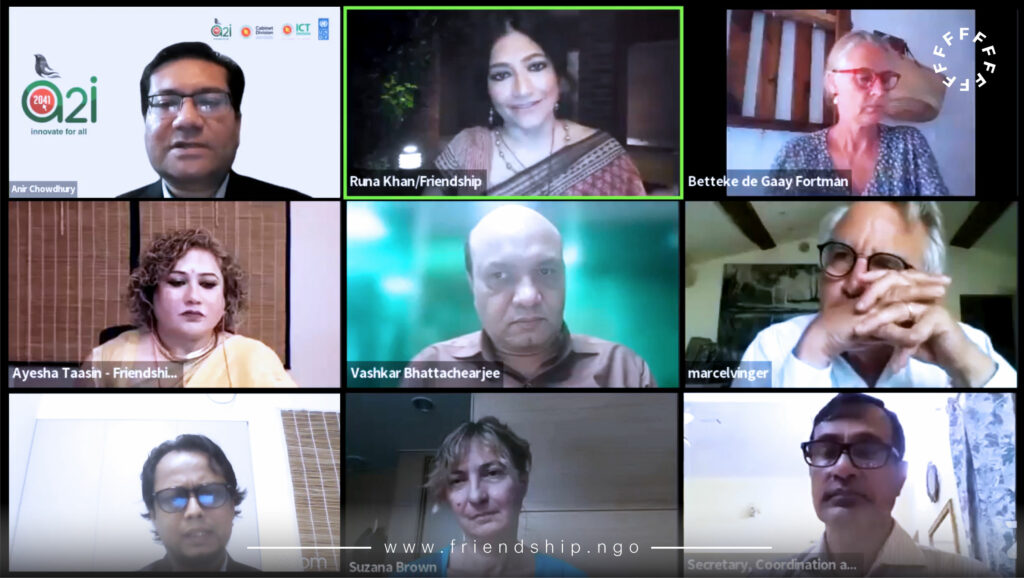 Aspire to Innovate (a2i) is part of the ICT Division under the Ministry of Posts, Telecommunications and Information Technology. It acts as the leading digital inclusion lab for people with disabilities. Inclusivity through various digital accessibility acts to ensure equal rights for all and digital access to the banking sector and local government are the strong commitments from a2i towards a smart Bangladesh with a focus on SDG 2030. The recording of the dialogue can be watched here.
Among the attendees and speakers at the event were Md. Mahmudul Hossain Khan, secretary, coordination and reforms, Cabinet of Bangladesh; Anir Chowdhury, policy advisor to a2i, Government of Bangladesh and UNDP Bangladesh; Runa Khan, founder Friendship; Marc Elvinger, chair of Friendship Luxembourg and co-chair of Friendship International; Betteke de Gaay Fortman, director of Friendship Netherlands, Suzana Brown, associate professor, Department of Technology at the State University of New York; and Ann Gummels, director, Foundation of Children with Autism.