Journalists' training on 'Disability and Digital Inclusion' organised by Friendship and a2i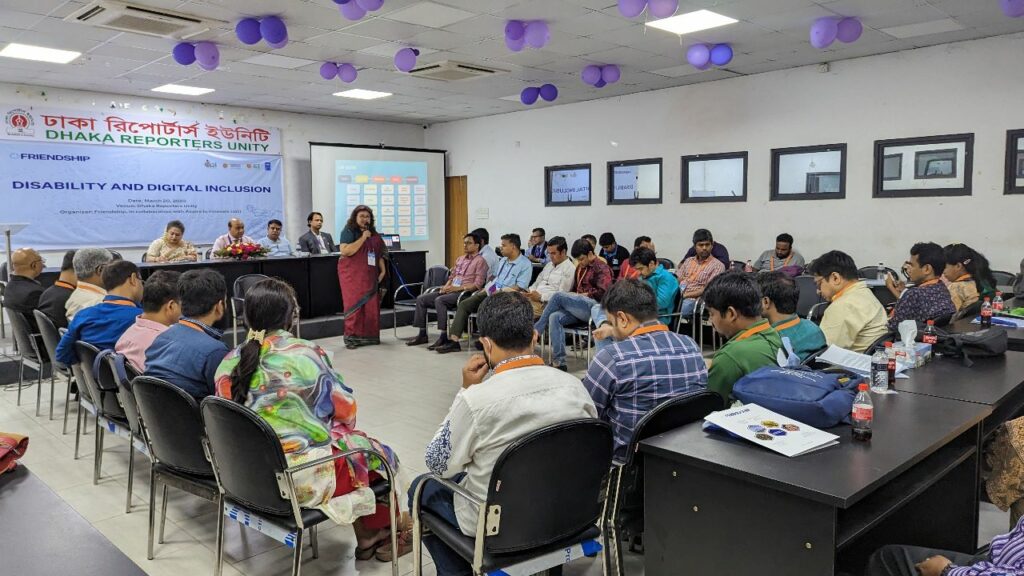 by Friendship News Desk
March 21, 2023
On March 20, 2023, Friendship Inclusive Citizenship sector and Aspire to Innovate (a2i) organised a day-long training programme on "Disability and Digital Inclusion" for 25 prominent journalists from various national media outlets. The event was held at the offices of the Dhaka Reporters Unity (DRU).
As the chief guest, Ayesha Tahsin Khan, senior director of Friendship discussed the disability project activities in northern chars (sedimentary islands) of Gaibandha and Kurigram districts in Bangladesh, including the global practices and prevalence in the session. She said, "persons with disabilities living in the northern, hard-to-reach, climate-impacted chars of Bangladesh regularly face multiple challenges, including stigma, discrimination, and lack of access to basic needs-based services. Due to cultural and social norms, persons with disabilities are often ostracised and seen as a burden on their families and communities. As a result, persons with disabilities in the northern chars of Bangladesh find it challenging to maintain dignified livelihoods, access education, and participate in community activities. To address these challenges, inclusive development initiatives are essential."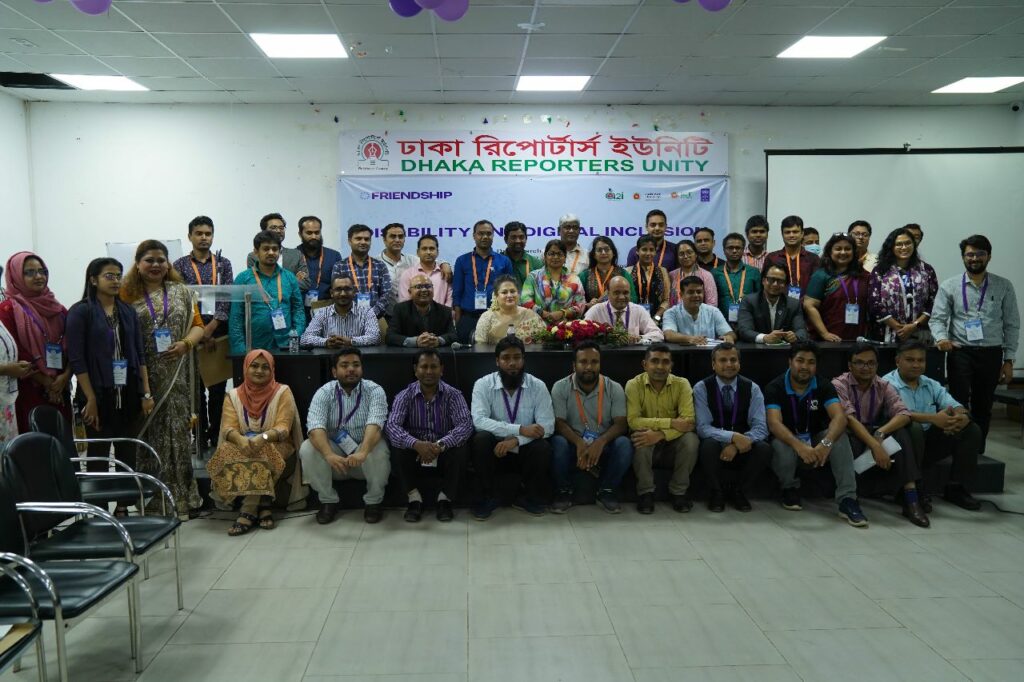 Morsalin Nomani, president of DRU, was the special guest at the certificate-giving ceremony. Ahmed Toufiqur Rahman, assistant director of Friendship said that the training event aimed to improve the capacities and skills on reporting disability issues in Bangladesh and equip the journalists with basic knowledge of disability issues, needs and rights of persons with disabilities, and the importance of their inclusion in all sectors for ensuring sustainability.
The sessions were conducted by the national consultant of a2i Vashkar Bhattacharjee, director of Friendship Netherlands, Betteke de Gaay Fortman, and other staff from both organisations. The sessions were interpreted in sign language by Arafat Sultana Lata.
Friendship's disability project is supported by the donor agency Ineke Feitz-Stichting and Friendship Netherlands is working to improve the living conditions and situation among families of persons with disabilities and change the behavior of community people towards them.