by Friendship News Desk
May 21, 2023
Global Accessibility Awareness Day (GAAD) is a day meant to raise awareness about inclusive digital accessibility for over a billion disabled individuals around the world, including more than 16 million people residing in Bangladesh. The day is celebrated globally every year on the third Thursday of May, the 12th iteration falling on May 18, 2023. The Access to Information (a2i) programme of the Information and Communication Technology Division of the Government of Bangladesh and Friendship jointly observed the day. The theme of the event was "Technology will be accessible to all".
The days celebrations sought to inform disabled individuals of disability-friendly web and mobile apps, and digital services. Furthermore, both public and private service providers at all levels will be encouraged to make their own digital services accessible through assistive digital technology for variously disabled individuals.
This year's event was held at a2i's office premises. The chief guest at the event was Samsul Arefin, secretary of the Information and Communication Technology Division, and the special guests included Dr. Abu Saleh Mostafa Kamal, director-general of the Department of Social Services, and Ahmed Toufiqur Rahman, deputy director of Inclusive Citizenship from Friendship.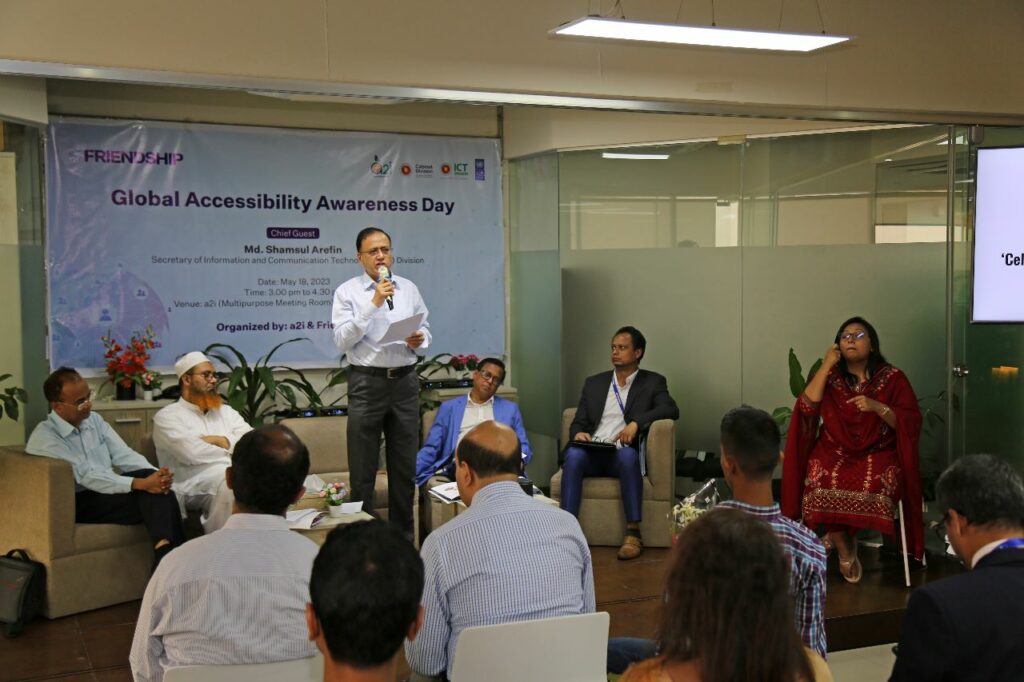 In addition, representatives from relevant government departments, government and non-governmental organisations working on disabilities, donor agencies, banking and financial service providers, and print, electronic and online media were present as guests.
The project director of the a2i programme, Dr. Dewan Muhammad Humayun Kabir, presided over the event where guests and experts emphasised the necessity of accessibility to web or e-services.
Dr. Kamal said that the Government of Bangladesh has prioritised disability in its development agenda. Bangladesh is among the first 20 countries to sign and ratify the United Nations Convention on the Rights of Persons with Disabilities (UNCRPD). He said that the government enacted The Rights and Protection of Persons with Disabilities Act, 2013, in accordance with its 2009 election manifesto, which mentions inclusive digital services and accessibility for persons with disabilities to digital services.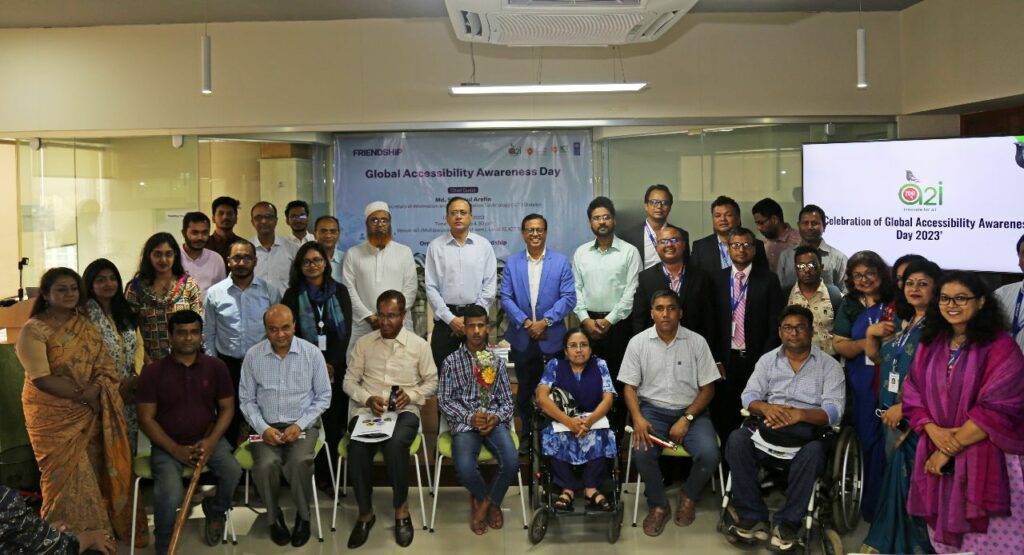 The Nuruzzaman Ahmed, honorable minister of Social Welfare also said that to raise awareness about digital accessibility for people with disabilities, the Ministry is declaring solidarity with the world in observing this day. He recommended celebrating this day every year in consideration of its importance, and assured that full cooperation will be provided from his ministry for future observances.
Toufiqur Rahman, said that since 2002, Friendship has been working in the remote chars of northern Bangladesh, the coastal regions of the south, and in Cox's Bazar. He highlighted the need for more planning and research at government and non-government levels to facilitate access to internet services, online services, and national hotline numbers for disabled individuals living in remote chars separated from the mainland. This way, people in remote areas could access ICT-based services and use them in their daily lives.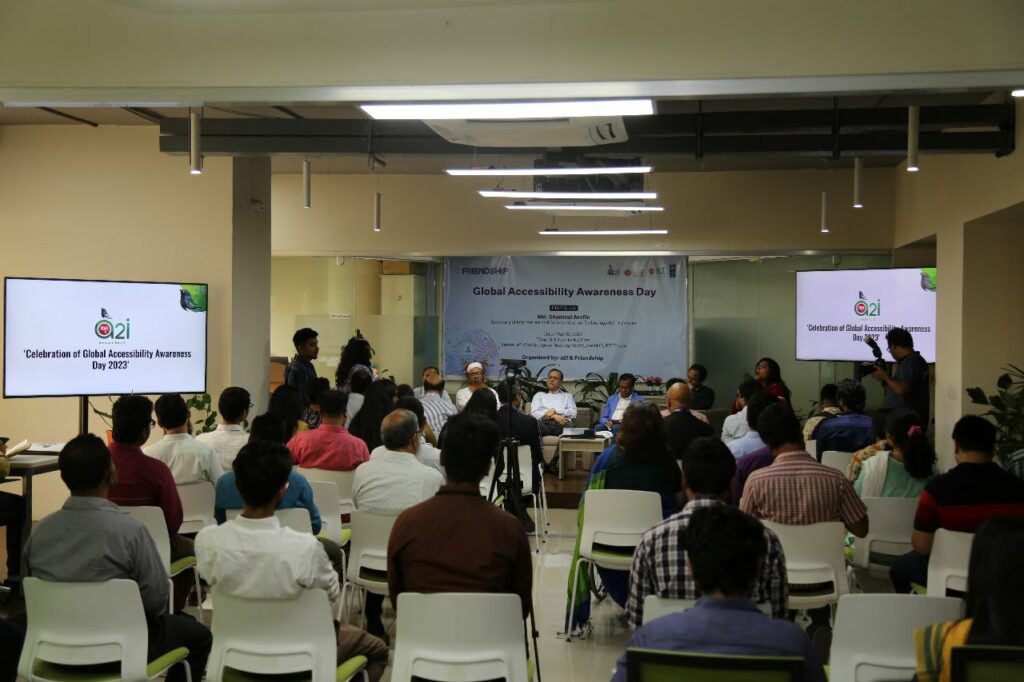 He further suggested that with the collaboration of various universities, government, non-government, private organisations, and organisations for disabled individuals, provisions should be made for disabled people in Bangladesh, including the production of accessible devices and resources. This would require financial investment, and expertise from both within the country and abroad. He also emphasized the need to train ICT professionals to develop apps, websites, or accessibility options on devices (such as Braille display or Braille terminal devices, speech-to-text apps, digital communication learning tools) within the country.