Friendship displays crafts at Dhaka Art Summit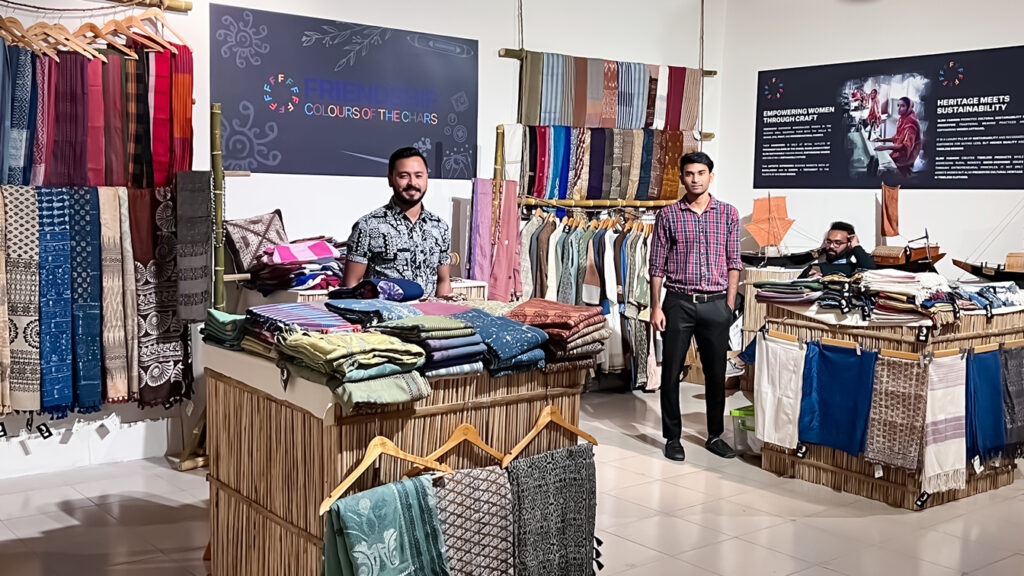 by Tamim Khan
February 9, 2023
Friendship Colours of the Chars was born out of the need to help marginalised women live a life of dignity. To this end, they are taught traditional handloom weaving techniques and also how to use natural dyes to create eco-friendly lifestyle items.
Dhaka Art Summit (DAS) is a non-commercial research and exhibition platform which empowers artists and the public through the interaction between its exhibitions, education, and public programmes. It is a perfect platform to demonstrate Colours's work and craftsmanship.
Friendship Colours of the Chars (FCOC) has a similar motive as DAS, empowering craftsmen and preparing them for the future. FCOC allows women from the sandbar islands (chars) to seek opportunities themselves from a root level, which doesn't only help them to sustain themselves but also to create a future.
The main theme for DAS this year was Bonna (বন্যা) which means flood. Many of our beneficiaries are affected by floods and river erosion each year which displaces them and their families to other chars frequently.
Friendship's plinths (flood shelters) and rescue mechanisms save lives, while other programmes ensure that families who have suffered losses during climatic disasters are able to grow back stronger through innovative and robust mechanisms for sustainable economic development.
By coming together, these two initiatives serve to uplift and support communities affected by floods and other challenges, helping them to sustain themselves and build a brighter future. The synergy between Friendship Colours of the Char and Dhaka Art Summit underscores the importance of empowering those who are often marginalised and overlooked. DAS attendants got to see and learn about high-quality and sustainable products made through ethically responsible slow fashion at the FCOC stall, which got to display its resplendent wares for the audience.