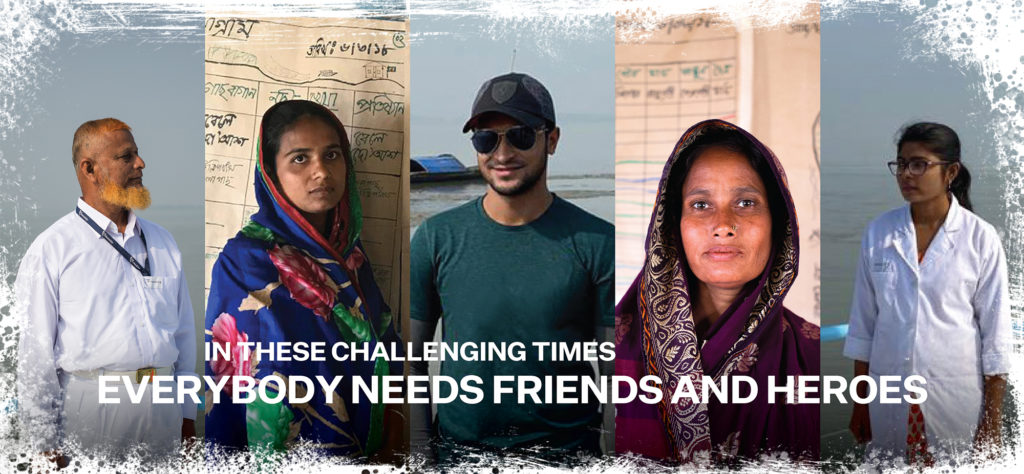 FRIENDSHIP NEWS DESK
February 24, 2021
Dhaka, February 15, 2021. Friendship launched its "Friends and Heroes" campaign featuring Shakib Al Hasan, the world's top cricket allrounder from Bangladesh, to share its vision of a world where people have equal opportunities to live with dignity and hope.
The campaign features everyday heroes from within and around Friendship, who work to help their communities survive in the face of the climate crisis and intensifying global challenges.
These include medical teams dedicating their lives to work year after year on ship hospitals away from their home and family; the foreign doctors and nurses performing life-changing surgeries in remote riverine communities; the Friendship Paralegals combatting child marriage, discrimination and exclusion from public services; down to the girls and boys from the Friendship schools who, whilst studying in often treacherous climatic conditions, achieve results above the national average.
"The Covid-19 crisis had highlighted the importance of frontline workers, who are the real heroes," said Runa Khan, founder and executive director of Friendship.
"When Covid-19 hit our working areas," said Runa Khan, "and it hit hard, because many of the breadwinners in these communities are reliant on informal and casual labour opportunities in Dhaka and other cities—we saw the true results of the work we have been doing over 20 years."
"When people were completely helpless, and nobody else was by their side, heroes from within their own communities stepped up." This included Friendship medics-aides, teachers, disaster volunteers, paralegals, and other workers trained and recruited from within its working communities.
A friend to the heroes
At the launch event, Shakib recalled his trip to Friendship's project areas in the riverine islands in North Bengal in November 2019. "The journey itself was difficult," he said. "We had to take a plane and then a car, and then a boat, then a bike, and then we walked. And then finally we met the people and we sat with them and spoke with them."
"I saw that Friendship is doing incredible work. Especially the floating hospitals. And the schools, which are run by locals. The hard work of these everyday heroes was transforming their communities. I thought that if I could be a friend to these heroes, it would be a great achievement. So I hopped on board."
The program also featured two frontlines heroes, including Friendship paralegal Noori Chowdhury, who worked with Friendship field staff to create a programme where well-off people within communities donated food to their starving neighbours.
"As the world perseveres against Covid-19", said Friendship's brand and creative advisor Shubhankar Ray, "we find ourselves leaning not on superheroes or celebrities, but on ordinary everyday heroes […] and their extraordinary strength and kindness."
The campaign was launched on Facebook LIVE and other social networks. National and local journalists joined the event by video conference. View full event here.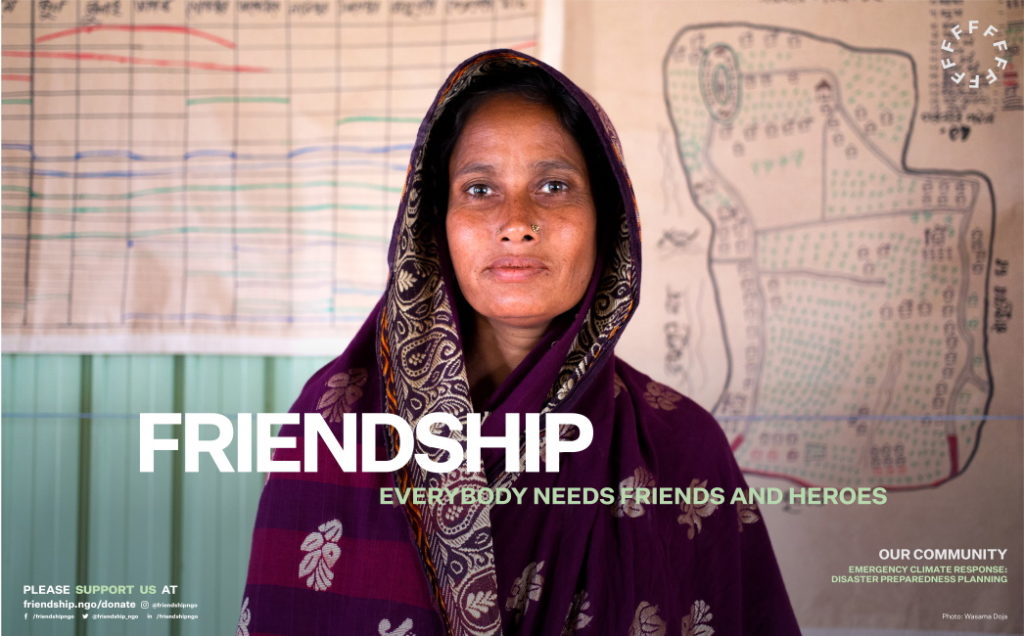 Shakib eyes a long partnership with Friendship, seeks opportunities for further collaboration
"I see this as a lifelong partnership," Shakib Al Hasan said to journalists after the event. "We don't need a MoU for this, this is a matter of mutual feeling. I believe that if we can continue to collaborate at every opportunity, then Friendship, Shakib Foundation, Runa apa and myself will all be happy."
Shakib committed to return to the chars and to visit the other areas in which Friendship works all over Bangladesh, and work with Friendship for the further development of the char communities.
Asked about the possibility of developing cricketing talent in the char areas, Shakib said: "I think that the children should have an opportunity to play. If they are attracted towards cricket, then they should be able to play that, and if they are attracted towards football, they should play that. In the chars, football is more convenient, since you only need a ball and you can play. For cricket you need more things." He also said that he had considered collaborating with Friendship to develop talents from the chars through his Shakib Al Hasan Academy.