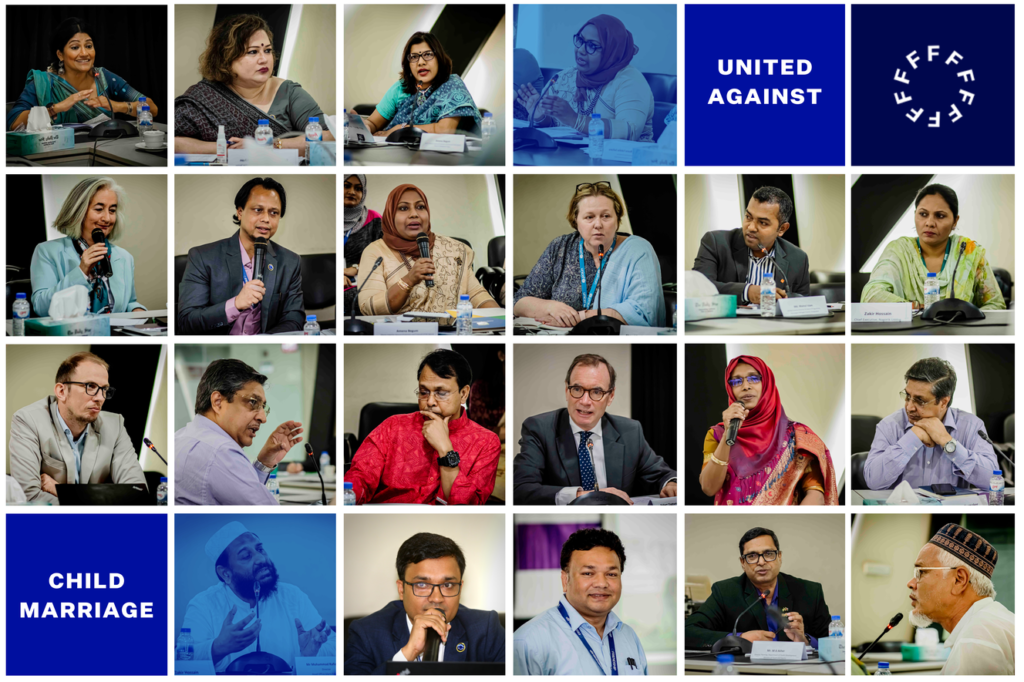 Friendship News Desk
March 17, 2023
Despite a consistent and impressive GDP growth rate, and success in many areas of development, including primary education and family planning, 51% of Bangladeshi girls are married off before the age of 18—the third-highest rate of child marriage in the world, and the highest in South Asia.
The country's leading English newspaper The Daily Star and Friendship jointly organised a conference on Prevention of Child Marriage in Remote and Marginalised Chars of Northern Bangladesh on March 16, 2023 at the head office of The Daily Star.
The attendees included representatives from various levels of government, from national and international non-government organisations, and diplomats.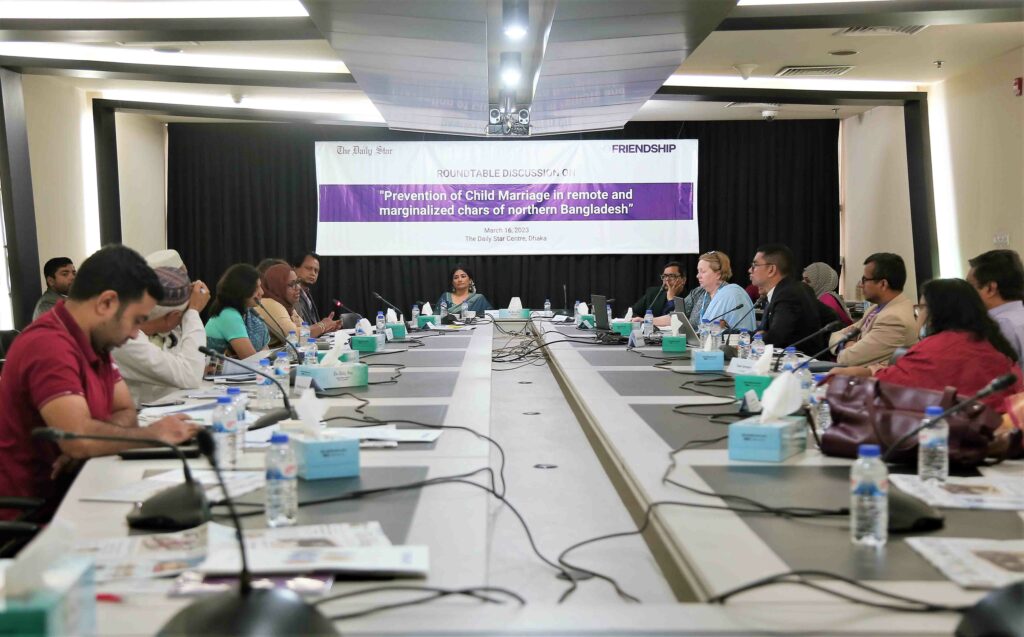 A national commitment to eradicate child marriage
Keynote speaker Ahmed Toufiqur Rahman, assistant director of Inclusive Citizenship at Friendship, pointed out that child marriage is a global problem, with at least 12 million cases each year globally. But he noted that despite the government and civil society's numerous efforts to stop child marriage—such as the National Action Plan to Eliminate Child Marriage 2018-2030, the helplines, various laws and acts protecting children and women—child marriage remained increasingly common, especially after the advent of Covid-19.
The speakers agreed that economic realities are directly or indirectly responsible for most instances of child marriage. Another recurring theme was the security and safety of women from eve teasing, harassment, social stigmatisation and cyber bullying.
"The Child Marriage Restraint Act 2017 itself is wonderful," said Barrister Ayesha Taasin Khan, senior director and head of Inclusive Citizenship at Friendship. "But when it comes to implementation, that is where the problem lies. To a certain extent it has been implemented in urban areas. As far as these remote places are concerned, there is much more to be said. It is not as effective in the places where Friendship works."
National policies must translate to effective local action
Natalie McCauley, chief of Child Protection at UNICEF said that it wasn't good enough to have strong policies and laws at the national level, and that it is essential to invest in workers in the community to implement them. "A social worker is just as important as a teacher in a school or a doctor in a hospital," she said. "And we need to start supporting social workers as a profession, and this could be an opportunity for the country to build another profession for young women and young men supporting their communities."
British High Commissioner Robert Chatterton Dickson said Friendship plays a key role in ensuring policies have an impact on the ground. "I think the point about Friendship—is that this is where what is being done at the policy level, meets up with what is being done at the practical level among very marginalised communities in the chars," he said. "And I think if there's anybody that I've come across in Bangladesh that has the expertise—but also bases that expertise on respect for the communities that they deal with—it's Friendship."
Mst. Laki Akter, programme manager of Nagorik Uddyog, an organisation working in climate-impacted subdistricts in Barisal and Rangpur, noted that social work might remain ineffective if the economic vulnerability of communities—particularly in climate-impacted ones—remains unaddressed. She said: "In disaster-prone areas, in places where disasters are occurring, economic vulnerability naturally hits hard. Then parents take a drastic step no matter the awareness we spread. When, with the help of local communities we stop a child marriage on the spot, the parents go to a different spot after one month, and get the marriage done. Even the imams and kazis avoid coming to our meetings now."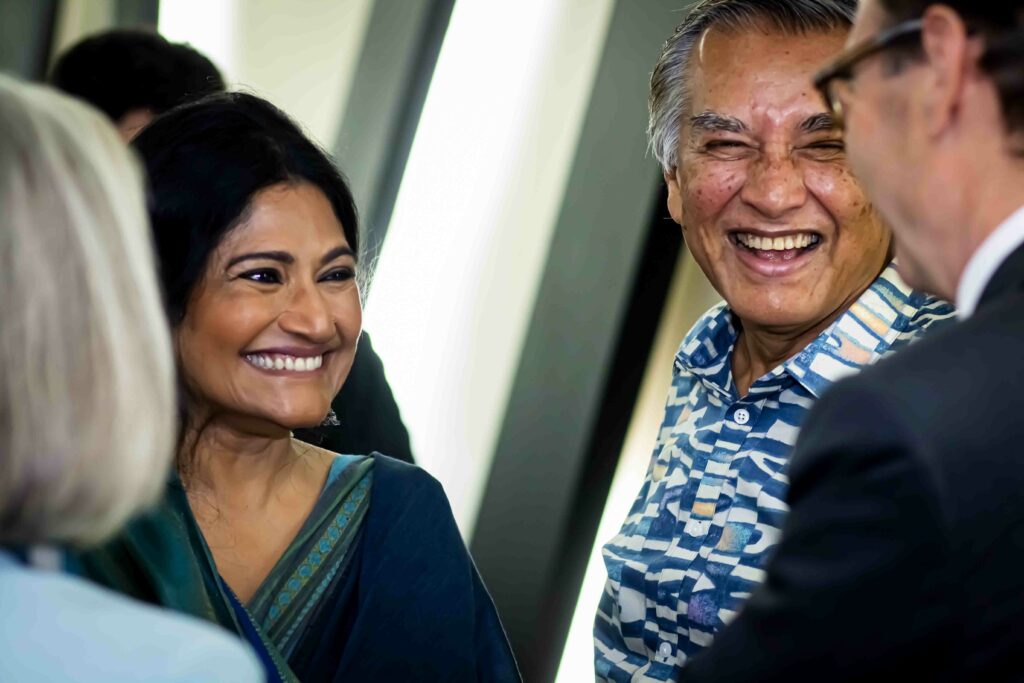 Empowerment is key
Dr. Umme Busra Fateha Sultana, chairperson of the Department of Women and Gender Studies at Dhaka University, pointed out that child marriage is particularly terrifying because girls are not given any sexual education, and are unaware of family planning.
"I want to suggest that if there are girls who are already married, we need to ensure that the situation doesn't get any worse. Like, raising awareness so that they don't get into early pregnancy," she said. "Also, if the girl is married [we must ensure that] they can still continue their education. We have to help them know about self-defence and what kind of legal help they can get."
Speaking after Dr. Sultana, country director for Save the Children Onno Van Manen said that it was better to prevent child marriage in the first place, rather than trying to improve the conditions once they had happened. To this end, he said despite the strength of the laws, there remain legal loopholes that must be closed through legal reform and enforcement.
The roundtable was also attended by the director of Planning at the Department of Youth Development under the Ministry of Youth and Sports, MA Akher, the chairperson of Bhogdanga union council in Kurigram, and others. Tanjim Ferdous from the Daily Star hosted the event.
In her concluding remarks, Friendship founder Runa Khan said, "we really need to find a solution. And solution cannot be ad hoc or one element. The solution needs to be total. Once the awareness comes in, what happens? Okay, they're all aware. Poverty is still there, I'm sorry we need the government, other organisations, other systems to start alleviating poverty a little bit. But we mustn't lose heart because every child marriage prevented is one child saved."