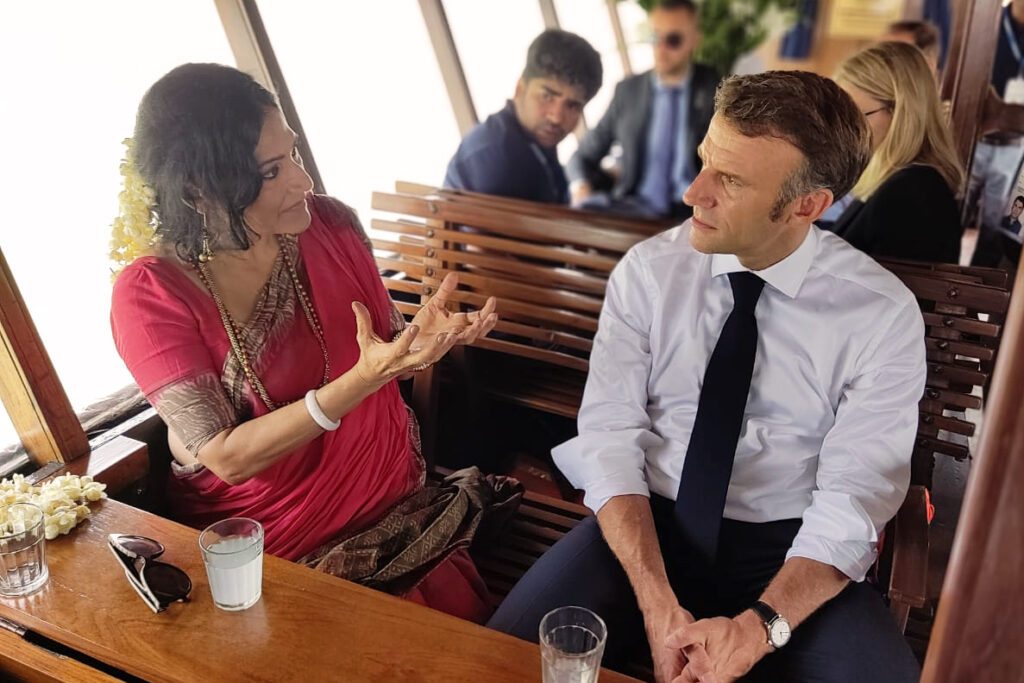 by Raeed Abd-Allah Chowdhury
September 11, 2023
French President H.E. Emmanuel Macron enjoyed a ride on a traditional panshi boat operated by Contic, a sister concern of Friendship, on Monday, September 11, around 12 noon. This boat trip was jointly organised by the Embassy of France in Dhaka and Friendship SPO.
The Flèche d'Or (which translates to "Golden Arrow"), the largest panshi boat still in operation, departed with the French President from Mirpur's Bara Bazar Eco Park dock on the shore of the Turag River. The leisure cruise also traversed through Karnatali River which flows past Kaundia Union in Savar, to take in the scenic beauty of rural, riverine Bangladesh.
Minister of Information and Broadcasting Dr. Hasan Mahmud, MP; as well as Bangladeshi member of parliament, Saber Hossain Chowdhury; the French ambassador to Bangladesh, H.E. Marie Masdupuy; Friendship founder, Runa Khan, and high-ranking officials of the two countries accompanied President Macron on the trip.
The organisers stated that this boat trip would highlight the lives and livelihoods of river-centric, rural Bangladesh and the centuries of culture and history tied to these waterways. About 72 feet long, the traditional panshi boat of Bengal is part of the conservation and cultural preservation efforts of Friendship. The wooden boat has a maximum capacity of 30 people and is one of more than 100 different types of boats that used to be common in Bangladesh as recently as the 1980s but have since become extinct. The passengers also enjoyed various festivities including a boat race, a musical performance featuring traditional instruments and baul folk songs, and a live demonstration of local fishing techniques during their cruise.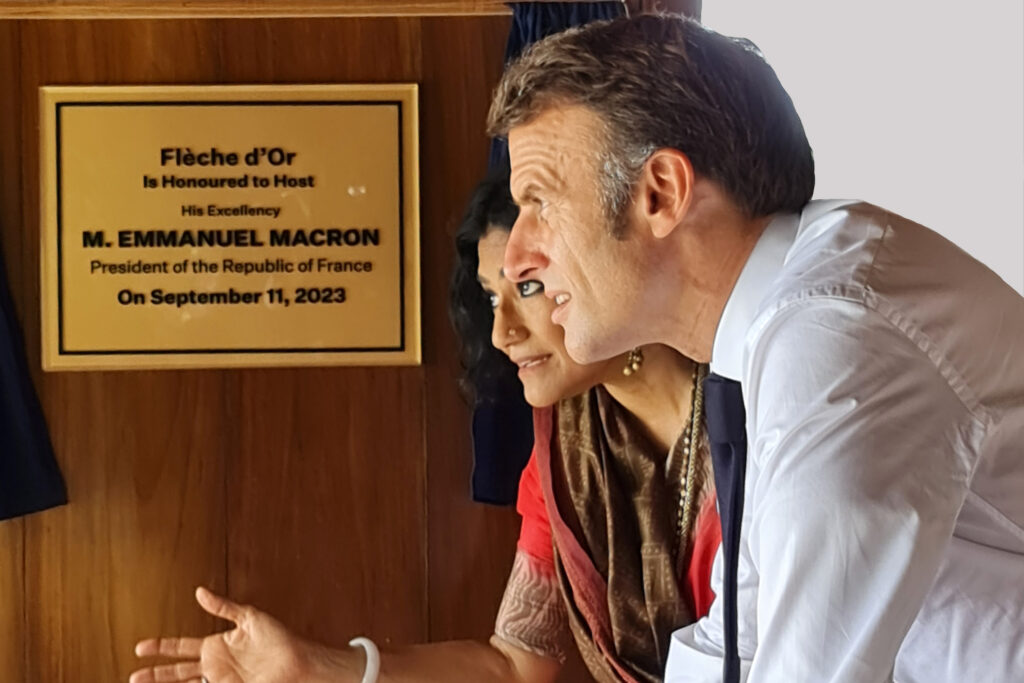 Panshi boats were one of the main means of transportation for people in the river basins of North Bengal when rivers and tributaries were the main highways connecting the various islands and villages. In particular, the farmers of Bengal used these boats to transport paddy from their fields to markets and other places, before diesel engines and generic factory-made boats rendered them obsolete. Wooden boats were used for everything from transporting cargo to racing to combat, along with commuting, fishing, and exploring.
While President Macron is the first head of state to have visited a Friendship boat while in office, former U.S. president Bill Clinton visited Friendship's traditional malar, the B613 in 2002. The B613 it might be mentioned, has the largest extant traditional wooden hull and sail still in use in the country.
About Friendship's Cultural Preservation Programme
Friendship is an international social purpose organisation guided by a vision where people—especially the hard-to-reach and unaddressed—have equal opportunities to live with dignity and hope. From Bangladesh, a country facing the most pressing of humanity's challenges, the SPO has been developing scalable solutions to strengthen marginalised communities and empower people to transform their lives and reach their full potential.
Among these interventions, Friendship has been preserving Bangladesh's 3,000-year-old riverine heritage of wooden boats for more than 20 years through documentation, exhibitions, boat tourism, and by preserving the ancient designs in the form of handcrafted replicas made using the same methods as the originals.
We work with the last remaining carpenters and artisans of the boatbuilding trade to transmit their ancestral technical skills, safeguard their knowledge, and ensure livelihoods to keep their craft alive—with the additional aim of documenting and preserving this national heritage.
Without this work, the boats, which once plied on the Brahmaputra and Ganges, and the technical knowledge of how they are built, risk disappearing altogether.