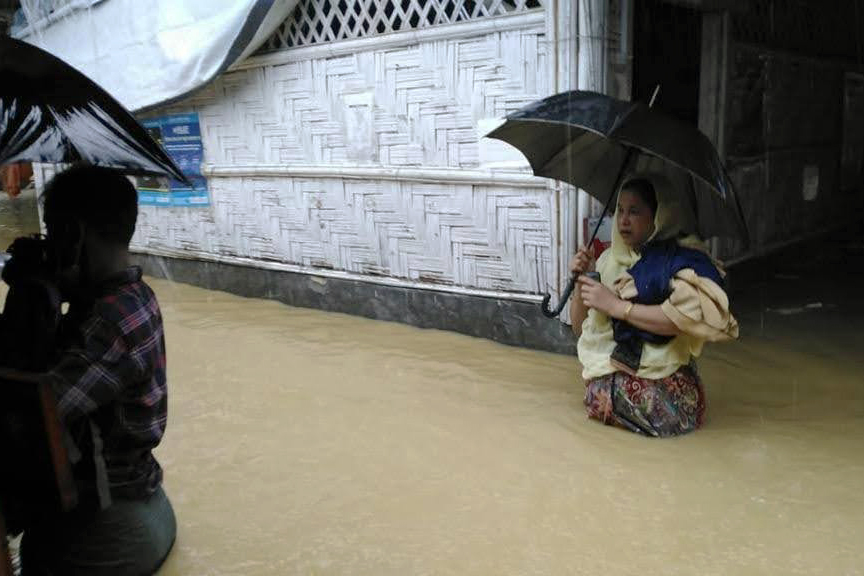 by RAEED ABD-ALLAH CHOWDHURY
July 29, 2021
Updated: August 2, 2021

Years after they escaped extremely violent persecution in the Rakhine State, the Rohingya population can't catch a break. Six people have died and over 3,851 shelters destroyed by floods and landslides since the July 26.

Following weeks of extreme heat, the monsoon rains have come, and have brought with them torrential rainfall and landslides. Stripped of most of the trees to make space for the human occupants, these hilly camps have little natural protection from landslides during the annual monsoons.
After a near full day of rain on the 26th, and then further rain on the 27th, five people died, including two children, due to landslides in Camp 10, plus another fatality from drowning in Camp 18, as confirmed by the office of the Refugee Relief and Repatriation Commissioner (RRRC). About 3,851 shelters are also badly damaged. 21,606 Rohingya have been affected, of which 13,432 have been completely displaced. Majority of affected households were impacted by flooding, slope failure, and windstorms.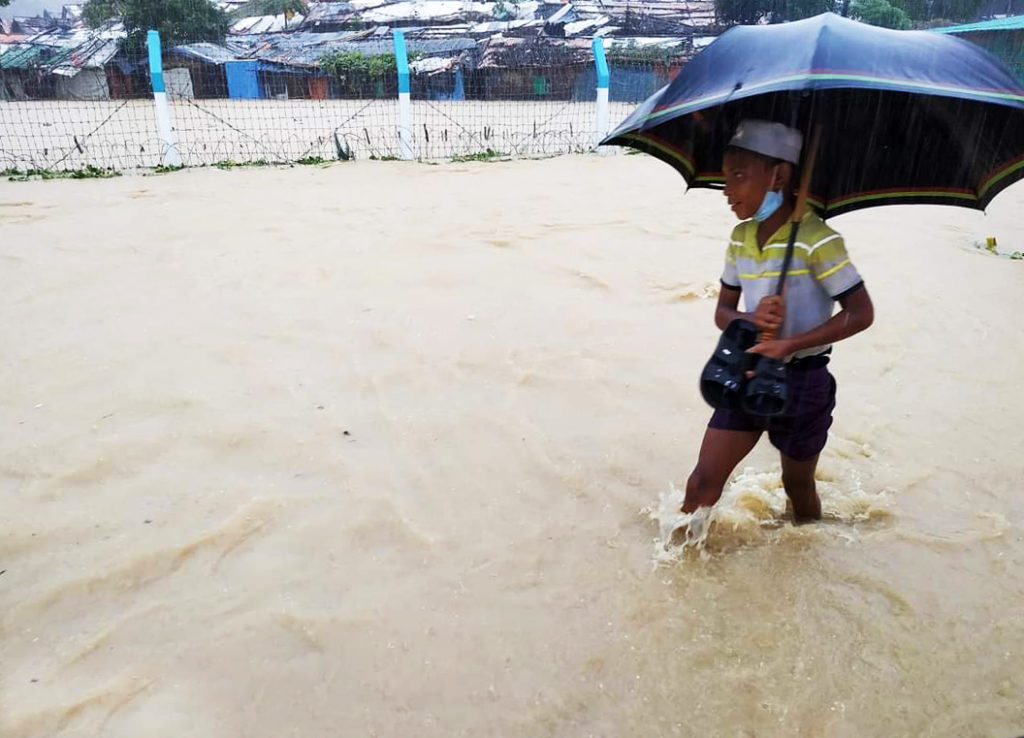 Shelters, food distribution sites, health centres, surface water treatment plant, latrines, and water points were reported to be fully or partially damaged. 15 health centres were affected, including four that remain closed. One primary health centre run by Relief International and UNHCR has been evacuated. Two of Friendship's health severely affected, of which one is closed. The families in the affected areas have been shifted to mosques, schools and women-friendly spaces. As of today, the flash floods have passed and displaces persons have begun returning to their shelters.
Uncertainties and vulnerability remain
Though they are in the process of being shifted to Bhasan Char, a large, deltaic island in the Bay of Bengal, most of the near-million people are still at the camps in Ukhiya, Cox's Bazaar. The flooding has been reported in camps 1W, 5, 7, 8E, 8W, 13, 19, and 21; and Ukhiya and Teknaf highway, near Balukhali all the way to Chakmakul, as well as near Teknaf solar panels. However, the worst-affected camps according to the Site Management Sector are camps, 4, 5, 12, and 19.
In the last month, two Rohingya people were killed in separate landslides during heavy rains. Thousands of these Rohingya families, especially those who live in the valleys within the 7,000-acre (2,832-hectare) settlements, remain at high risk of landslides every year during the monsoon.
Facilities reported to be damaged or partially damaged are shelters, food distribution sites, health facilities including Friendship health post, surface water treatment plant, latrines, and water points. Families of the affected areas have been shifted to mosque, schools as well as women-friendly spaces.
Humanitarian Response and Needs
According to the Inter-Sector Coordination Group (ISCG), humanitarian agencies at the camps distributed fortified biscuits to about 3,200 Rohingya households and over 27,000 cooked meals between July 27 and 28. In the host communities, 552 displaced households were supported with 552 cartons of fortified biscuits and 1,000 cooked meals.
In order to prevent spread of disease, humanitarian agencies are desludging and repairing damaged latrines and tube wells, distributing water purification tablets and spreading awareness messaging about safe drinking water, waterborne disease prevention, drowning and landslide prevention, etc. Psychosocial support and protection services for children have been initiated in 32 camps along with specific support for female Rohingyas through the support of 19 of their leaders and 80 volunteers.
Road blockages from the monsoons and Covid-19 restrictions have limited the nutrition support work, aid assessments, repair work and overall response, reports ISCG.
Water and sanitation infrastructure is still damaged or inoperable, including 1,300 latrines, 414 bathing cubicles, 425 tube wells, 84 tap stands and 14 sludge management posts. Hygiene and menstruation kits are also in dire shortage. Five nutrition facilities, 342 learning facilities and the women's market are also damaged.
The Rohingya themselves have expressed a hesitancy to move to new locations, which exacerbated the crises, stemming from their fears of lack of privacy, space or losing their shelter plots, as well fears about the spread of disease, Covid-19 and diarrhoea in particular.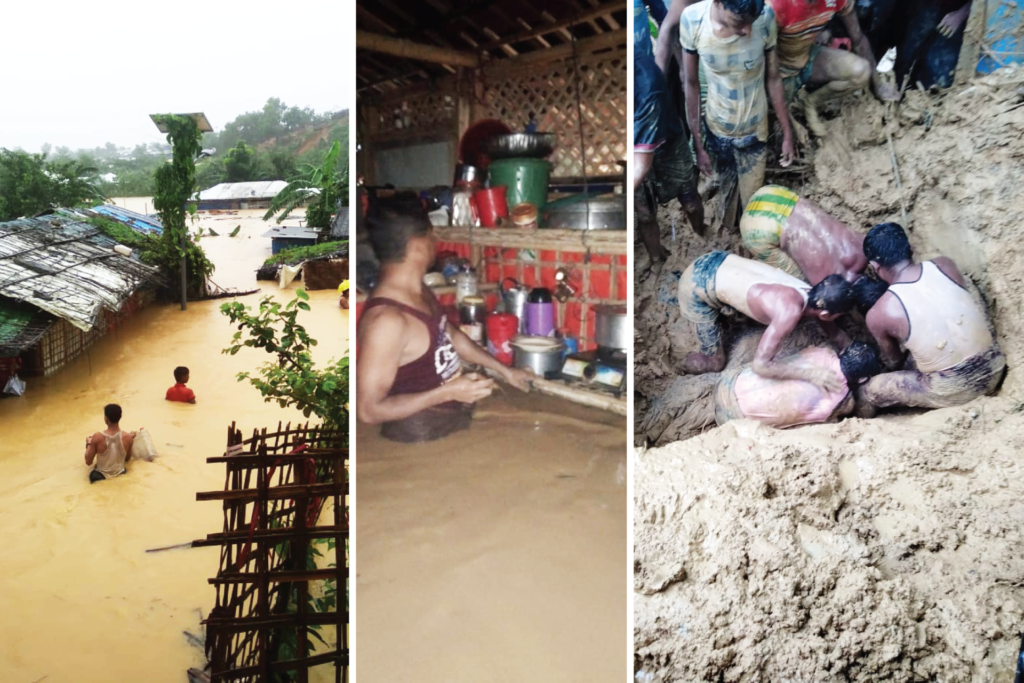 Initiatives taken by Friendship:
Friendship operates 24/7 health facilities in Camps 7 and 26, and one adjacent to 8E, along with other facilities are ready to provide necessary support to the victims as well as survivors.
Friendship Maternity Centre and Primary Health Centre have been recommended by International Organization for Migration (IOM) as referral points for Sexual and Reproductive Health, general, and injury patients.
Oral saline and water purifiers have been dispatched for supply to the affected population.
Situation assessment is underway.
Friendship's mobile medical team (MMT) along with an ambulance were the first to be deployed to respond the crisis as part of the MMT Working Group led by the IOM.
Friendship facilities are prepared to deal with acute diarrhoea patients through its health facilities.
A Friendship ambulance is on standby 24/7.
Medical supplies for treating victims are stocked in the adjacent facilities.
About 500 flood victims were treated through Friendship health facilities, including one emergency patient.