The Covid-19 pandemic has highlighted inequalities in our world today, where communities are left unaddressed due to lack of access to vital services, extreme poverty and vulnerability to the climate crisis. It has also shown our connectedness, highlighting the fact that we are collectively at risk when the marginalised people at the fringes of society are.
At this moment of collective consciousness, Friendship has launched a campaign highlighting everyday heroes who work to bring dignity and hope to their communities, especially those at the forefront of the global challenges that define our world today.
Friendship founder and executive director Runa Khan and brand and creative advisor Shubhankar Ray explain the ideas and strategies behind the Friends and Heroes campaign launched last week.
What is the purpose of Friends and Heroes campaign?
Shubhankar Ray: The Friends and Heroes campaign is part of a larger brand project to showcase that Friendship operates via "people helping people." The brand project also includes a new logo design, new website and short film. This is not just another ad campaign but rather an idea transmission system which underlines a new direction of travel for Friendship after 20 years. Our heroes today are different and there's been a shift in who we look up to and admire and so it felt right to celebrate 20 years of Friendship by celebrating our everyday heroes. They were always heroes working tirelessly often risking their lives in the service of others—but they are also normal people and there is such a beauty in normality, but it's taken a global crisis for us all to see this.
Why did you choose to work with the star cricketer Shakib Al Hasan?
Runa Khan: Our message is that, in these challenging times, everybody needs friends and heroes. They are the ones who uplift and inspire us, more than a logo on a product. And who better to rally people together for a good cause than someone who has been rallying the whole nation and winning global acknowledgement, praise and recognition already? Moreover, Shakib was already doing great work through his own foundation, and we thought that a partnership seemed only natural with our new direction. We invited him to come take a look at our work, and the rest is history.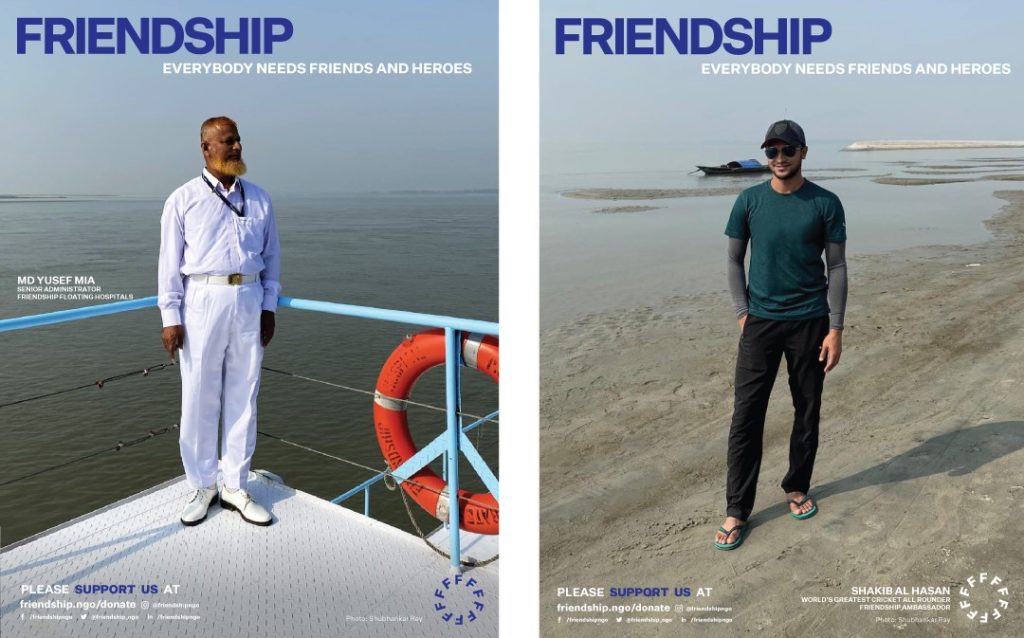 How do you nurture Heroes?
RK: Nurturing values, ethics, dignity and good citizenship is integral to the work we do. Our Code of Ethics is taught in not just all our schools, but in many state-run and private schools as well. We work from the bottom up, allowing beneficiaries to tell us what they need, instead of us asserting what we think they need. We need a give people a sense of pride, and the dignity to speak for themselves and demand the rights and privileges that every human being has. Heroes come from a sense of responsibility.
In addition, we also train people from within our working communities to be civil society members, medic-aides, paralegals and lead their communities in various other capacities. A sense of dignity and responsibility coupled with empowerment through training and knowledge—this is our recipe for nurturing heroes.
How will it benefit your beneficiaries to have Shakib associated with the organisation?
SR: Shakib is not just another face for a campaign but also an accelerator or impactor for Friendship's message to be able to shine a light on our everyday heroes and Friendship's work around our four commitments of Saving Lives, Climate Adaptation, Poverty Alleviation and Empowerment. Together with Shakib we hope we can inspire people to join the movement of Friendship and spread Friendship's model and message. As the world perseveres against Covid-19, we find ourselves leaning not on superheroes nor celebrities but on ordinary everyday heroes and their extra-ordinary strength and kindness.
Why are you choosing to launch the 'Friends & Heroes' campaign during Covid-19?
SR: Covid-19 has heightened today's global challenges from climate crisis to extreme poverty to exclusion from vital services where Friendship has stepped up its work to empower marginalised communities by providing scalable solutions. Now that Friendship has played its part providing a needs based participative approach in our ongoing Covid-19 response that seems an apt moment to launch "everybody needs friends and heroes" as a concept to celebrate our everyday heroes and thank our friends while we show solidarity as a social purpose organisation that addresses social and environmental issues and always prioritising the interests of the hard to reach and unaddressed communities that Friendship serves.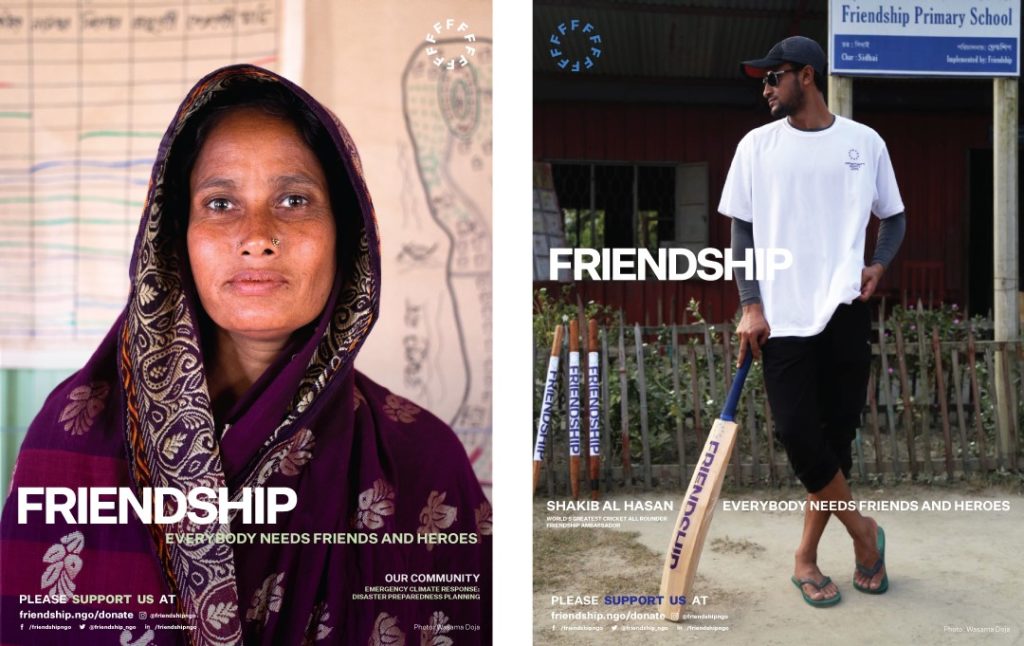 What are Friendship's plans, and its direction in the years ahead?
RK: We would like to spread awareness of our work and share the Friendship model that has proved itself successfully over 20 years. We plan to scale up our programmes and work with others to apply them in other areas that are remote, unaddressed, and impacted by the climate crisis.
We also want to provide a voice for smaller NGOs working in remote areas, who have strong local knowledge and can provide solutions, but at present find it difficult to make themselves heard or to obtain resources.
Also, we would like to develop Friendship University, which would bring together the years of innovation and hard work that have enabled our success. The goal is to create a University for Climate and Development studies, embodying Friendship's ethics and values—an ethics-driven University enriching human character and dealing with the most challenging crises of the day. With the multiple challenges it has faced, Bangladesh has been a forum for innovators, a laboratory for development and there is much to learn from the adaptation solutions it has brought forth.