Life and survival in the Sundarbans—a photo essay
photos by AJ GHANI
text by NAUSHAD ALI HUSEIN
December 30, 2021
Much of coastal Bangladesh, the areas around the Sundarbans—the world's largest continuous mangrove forest—is in a state of transformation. In some areas, the change is slow. Other landscapes have become entirely unrecognisable over the course of one or two cyclone seasons.
As embankments that protect coastal communities weaken, as sea levels rise, and paddy fields are replaced by the more lucrative crab, shrimp, and fish farms; the salinity intrudes further and further inland, changing lives and livelihoods. There are big winners, and then there are those who are left harshly impacted, with no income and no opportunities for a better future.
These photos give a poignant glimpse at life in one of Friendship's challenging and changing project areas: the border subdistrict of Shyamnagar, Satkhira.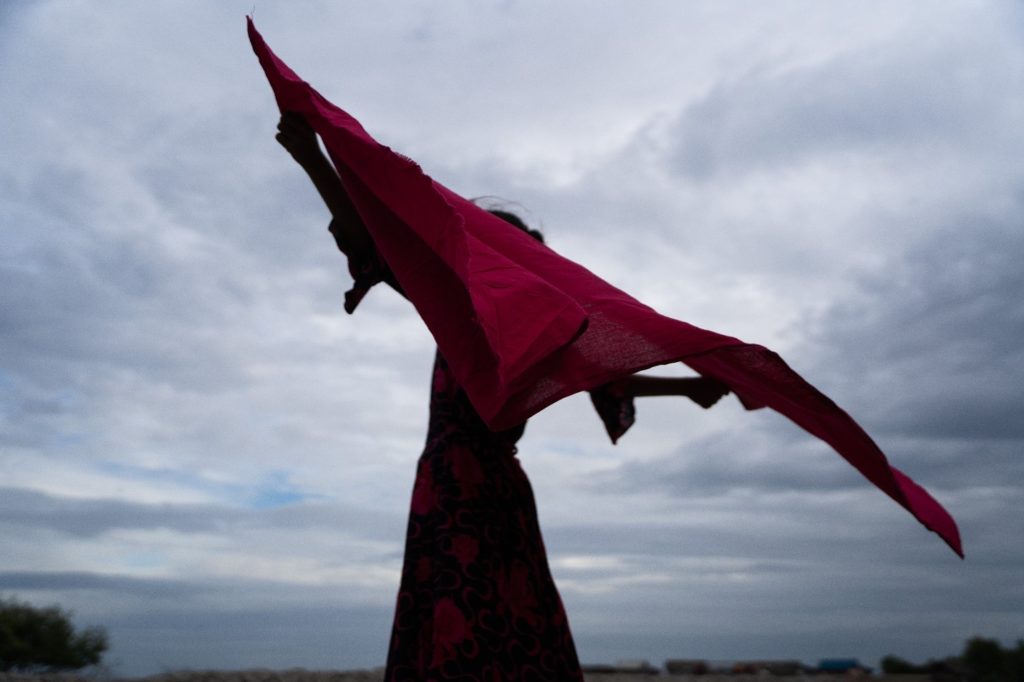 Isolated, bored, bound to this barren patch of land deformed by saline water intrusion, Sumaiya's only true companion is the wind. The neighbourhood fields have become cracked and parched. Nobody plays there anymore. The girls now mostly stay inside and help with housework. (Protapnagar, 2021)
---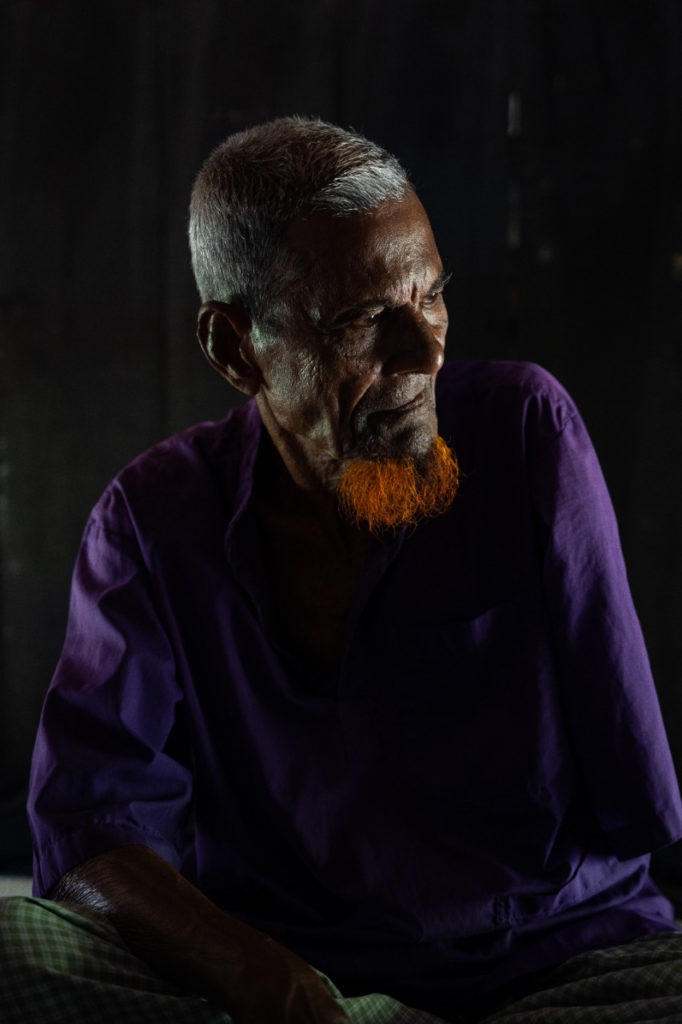 In a place where people are largely reliant on going into the forest for their livelihoods, injuries due to animal attacks are commonplace. Kader Sardar was newly married when he was bitten by a gharial, a kind of fish-eating crocodile. At the time he was working as a labourer for a logging company. The bite itself was small, but it got infected, and he had to have his arm amputated. "Eating, drinking, sleeping, praying—everything has been with this one arm," he says. The thought moves him to tears.
But his one arm has not only sustained his family. It has brought him a degree of success. He lives in relative comfort now. His children are educated and solvent. One of his sons is a successful and well-known cleric. (Datinakhali, 2021)
---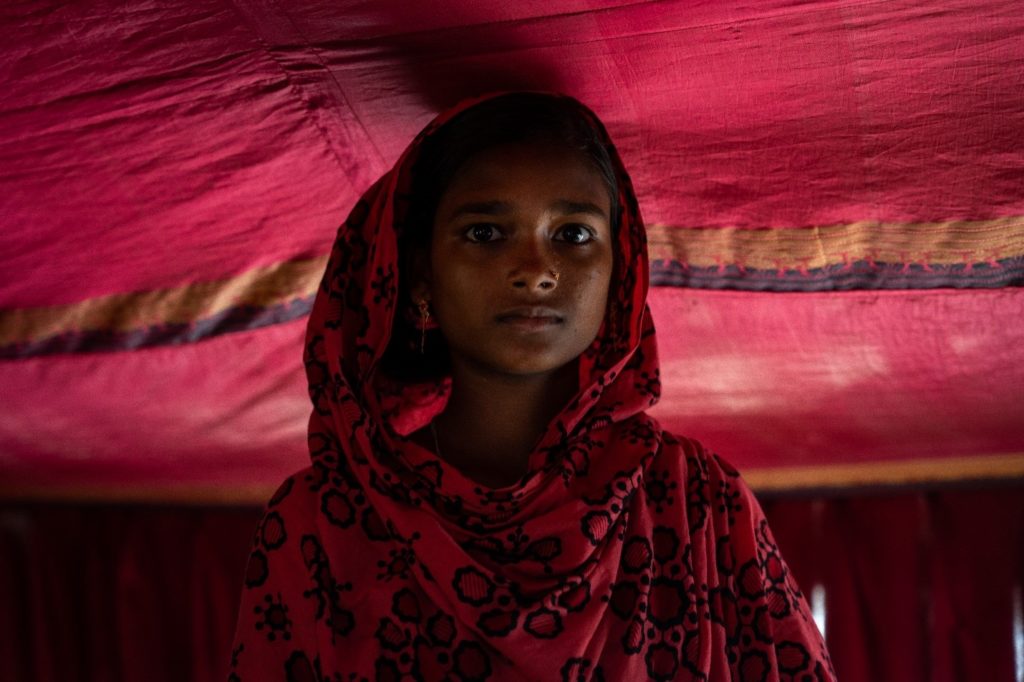 When we first encountered Shakila Khatun, she was three months pregnant, and clearly no older than 15, even though she was legally married on paper. She was alone at home with her mother-in-law. Her husband and father-in-law were away on a week-long trip to the forest to hunt for fish. Her family got her married and fled to India through the Sundarbans after falling heavily into debt from their declining business ventures. They are difficult to reach but remain in touch by phone. She can't call them, but they often call her. She was getting regular check-ups with the local Friendship Community Medic-aide (FCM). The next time the house was full and festive was after her husband returned from a successful hunt. (Datinakhali, 2021)
---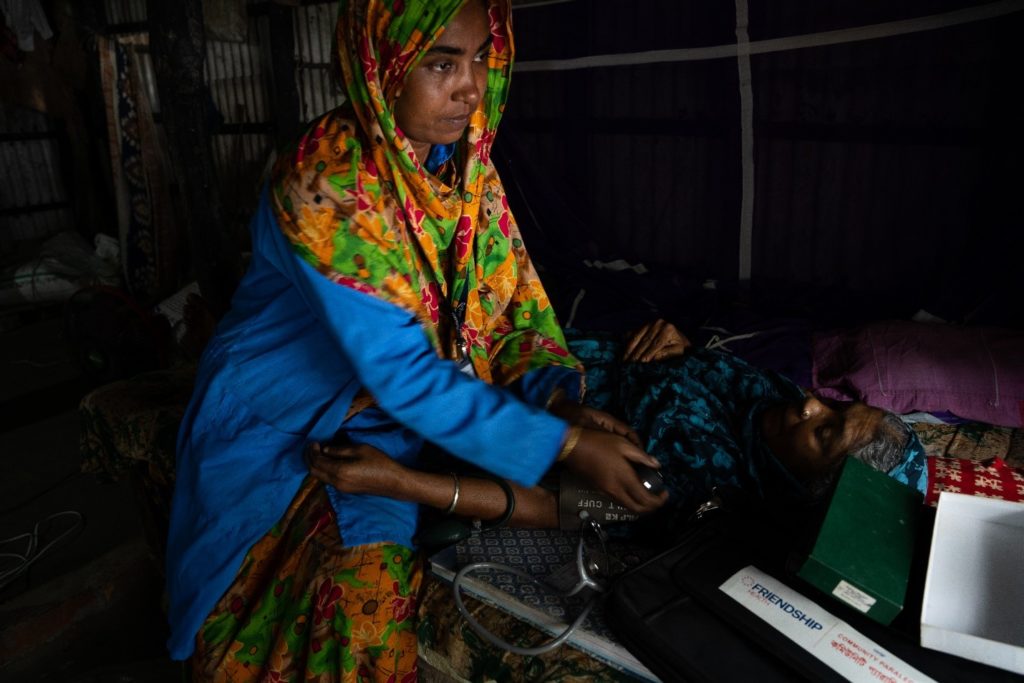 When Nurunnahar Begum was in grade 5, her parents decided to get her married, though she wanted to study. "I wouldn't stop crying and yelling. I made a real scene," she says. The village elders, seeing her zeal, advised her parents to let her stay in school a few more years. She studied till class 8 before her parents married her off. She still cried, but to no avail.
Her literacy and education have been incredible assets in life. Running her family had been a struggle because her husband was not very successful at his occupation, which was hunting for crab and fish in the Sundarbans. In 2017 she learned that Friendship was looking for someone to train and employ as a community medic-aide. She applied and got the job, thanks to her schooling. Since then, she has been able to supplement her family's income, and her role in the community has won her respect and status.
"Due to salinisation we have a water problem in this area, and there are a lot of skin conditions and other illnesses" Salinisation is also associated with high blood pressure and an increased likelihood of miscarriage. Friendship Community Medic-aide Nurunnahar cares for the old and infirm and makes sure they have access to more advanced healthcare if needed. (Datinakhali, 2021)
---
Rabeya Khatun (left) is the only person in this family portrait who can hear or speak. Her son is particularly mischievous, she says. "How am I to make him understand? When I scold him he doesn't listen." And he has the perfect excuse not to. That said, she is more concerned about her daughter. Her bright eyes show keen intelligence, she reads and writes well, but her mother worries nobody will marry her because of her disability.
Despite her worries, Rabeya's smile and humorous manner remain as she tells her story. Her home aptly fortified, its rooms clean and organised, showing that the burden of being the de-facto head of a family whose income and survival in a disaster-prone region only seems to have made her stronger and more efficient. (Protapnagar, 2021)
---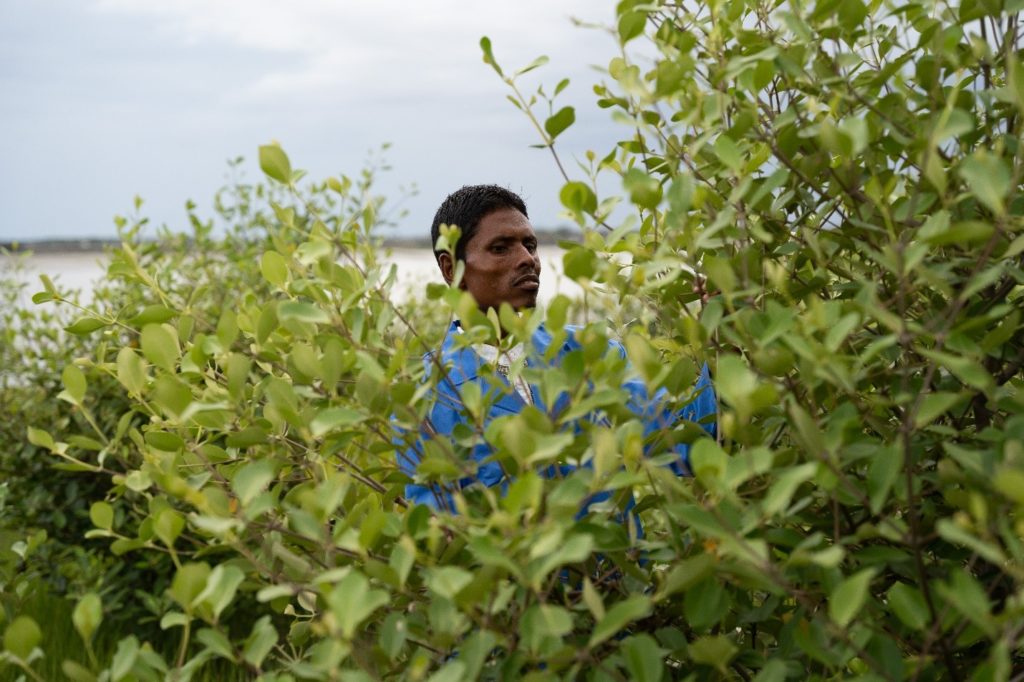 Ibrahim Hossain's house had been flooded with seawater for nine months after Cyclone Amphan breached the embankments and left Protapnagar waterlogged in 2020. The landscape of this union has transformed permanently since then.
Even when the flooding was at its peak, Ibrahim would dutifully rise every dawn and visit the mudflats beyond the embankment to keep a close watch on the progress of Friendship's mangrove plantation. As a caretaker for the mangrove afforestation project, he looks after the saplings and maintains the surrounding fence that keeps hungry goats from eating the saplings.
Ibrahim and his neighbours hope that this plantation will become a barrier to protect the embankments and their homes against storms and tidal surges—while attracting fish, crabs, honey bees, and yielding fruits and branches for firewood.
---