Friendship schoolchildren define dignity through their creative expression as part of twentieth-anniversary celebrations.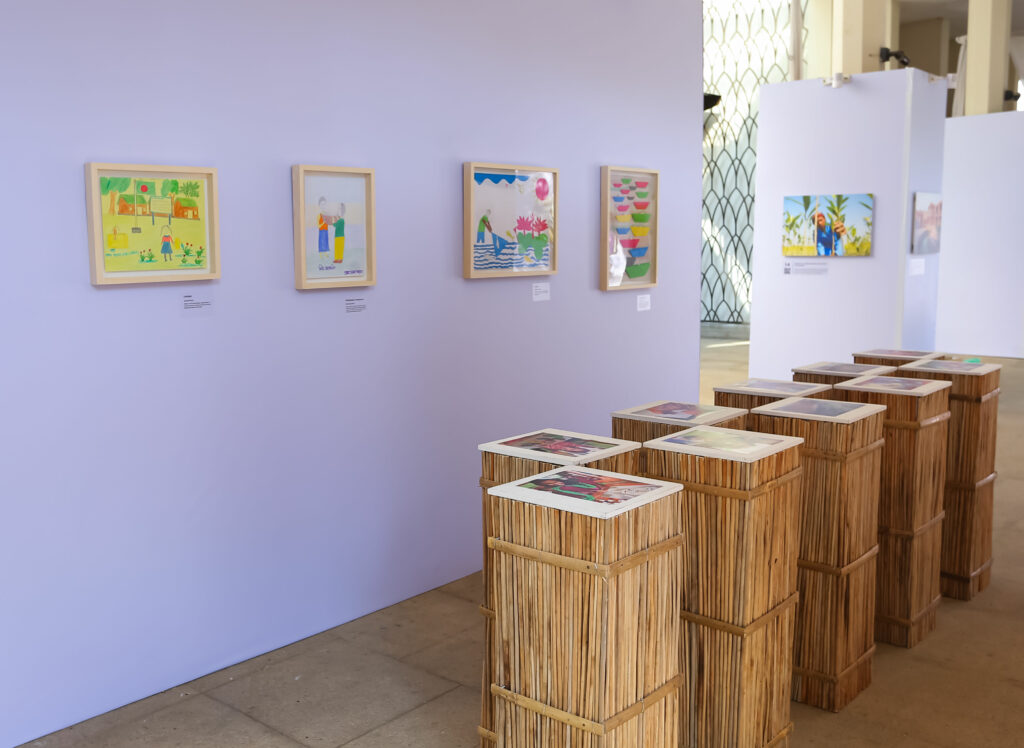 by Tahmeed Chaudhury
December 7, 2022
How would dignity look on a canvas? On Global Dignity Day 2022, artist Ehsan Protik, founder of creative crafts and painting firm Charuputhi visited Friendship Secondary School on the river island of Batikamari in Gaibandha and led an art workshop to inspire the children to use their imagination to portray their idea of dignity on the canvas. The children's artwork was displayed at a day-long exhibition to celebrate the 20th anniversary of Friendship on November 25, 2022 at the InterContinental Hotel in Dhaka.
"The children used local and organic materials, like hay, jute and coconut husk, which impressed me," said Protik. "They also loved the opportunity to explore new mediums like watercolours. I really think it's excellent for children to explore expression like this."
Here are some of the results of the workshop.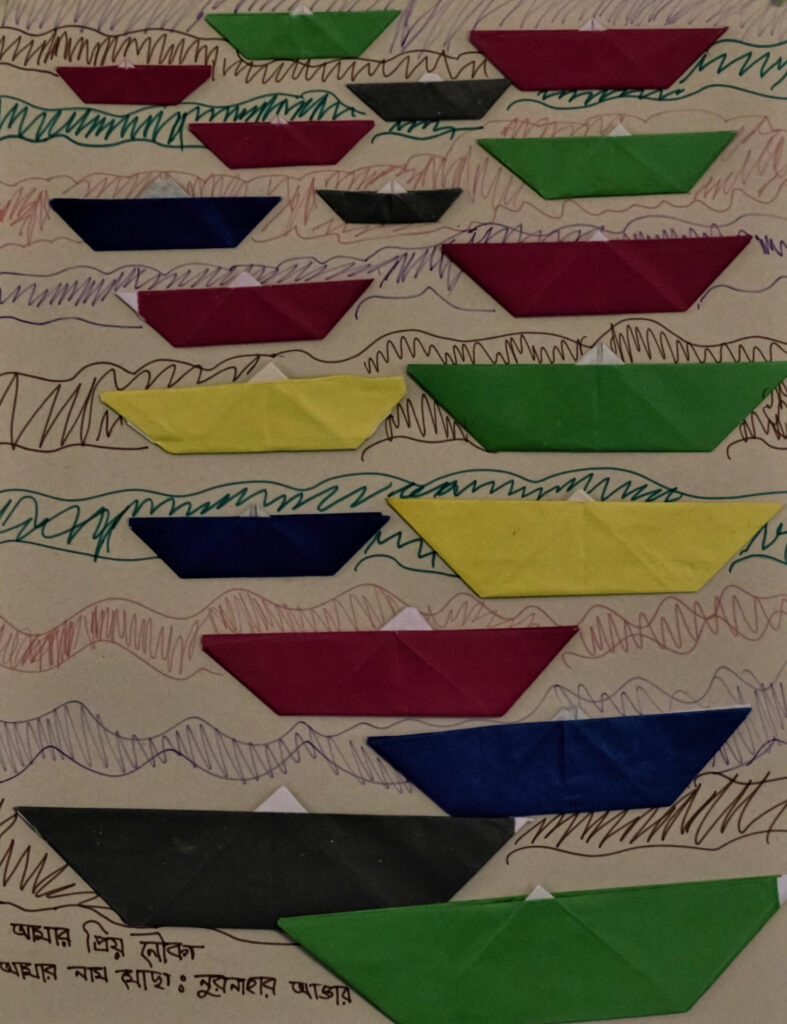 Nurunnahar Akhter – "Amar priyo nouka" (my favourite boat)

Nurunnahar lives in a char (a river island) where boats are at times, the only mode of transport. She painted a number of different boats to uphold her culture and raise awareness about the ones that are about to go defunct.
---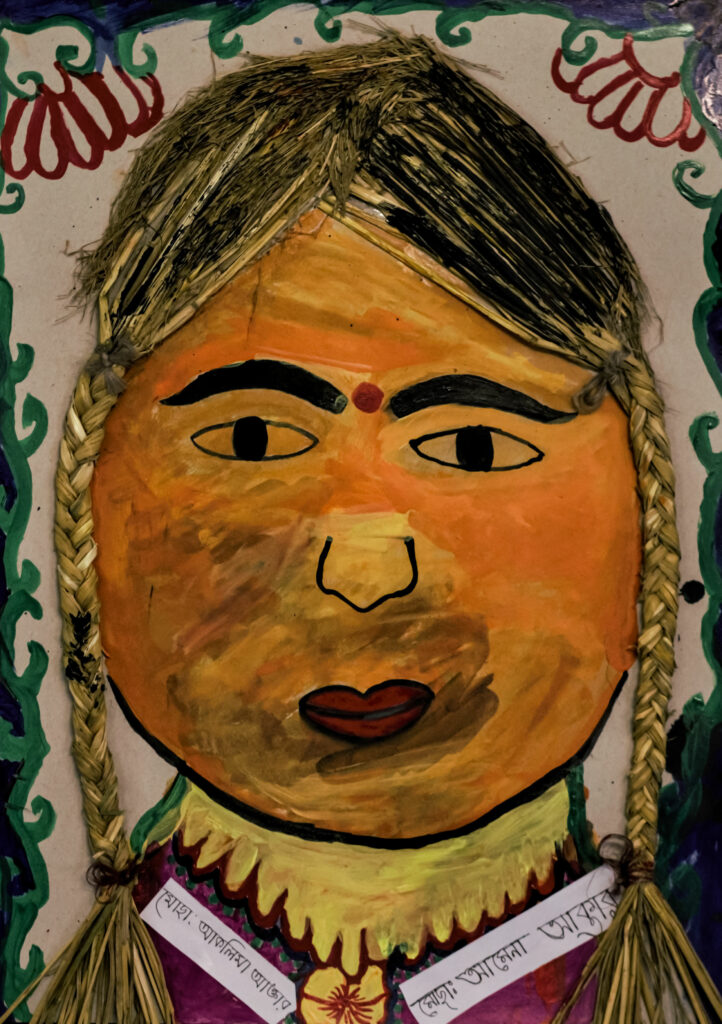 Aklima Akhter/Amena

When Aklima thinks of dignity, she sees the face of a mother – a symbol of sacrifice, strength, and unconditional love. Hers and Amena's art depicts a mother, in all her glory.
---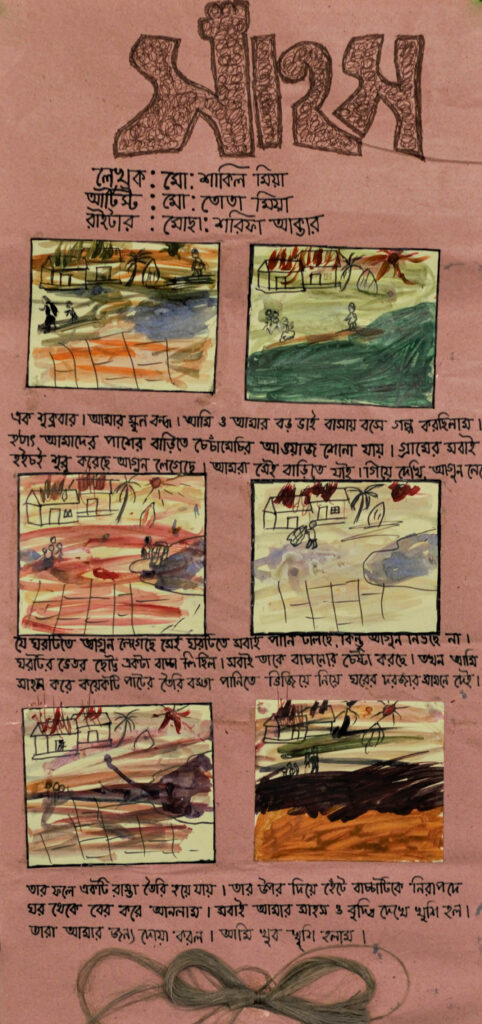 Md. Shakil Mia – "Shahosh" (Courage)
Courage. A must-have trait for char dwellers to survive. Md. Shakil Mia wants his words to inspire courage in the people of his community.
---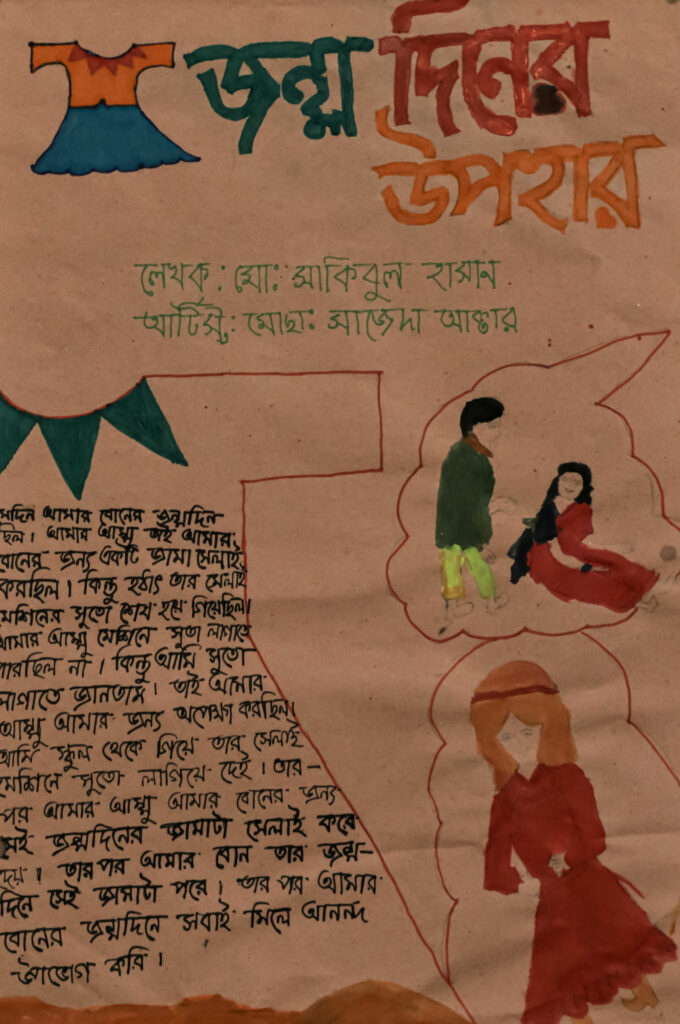 Sakibul Hassan/Sajeda Akhter – "Jonmo din er upohar" (Birthday present)

Sajeda Akhter grew up in a culture where gifting clothes as birthday presents is a norm. Through her art, she recalls her childhood and the tradition of gift-giving on birthdays.
---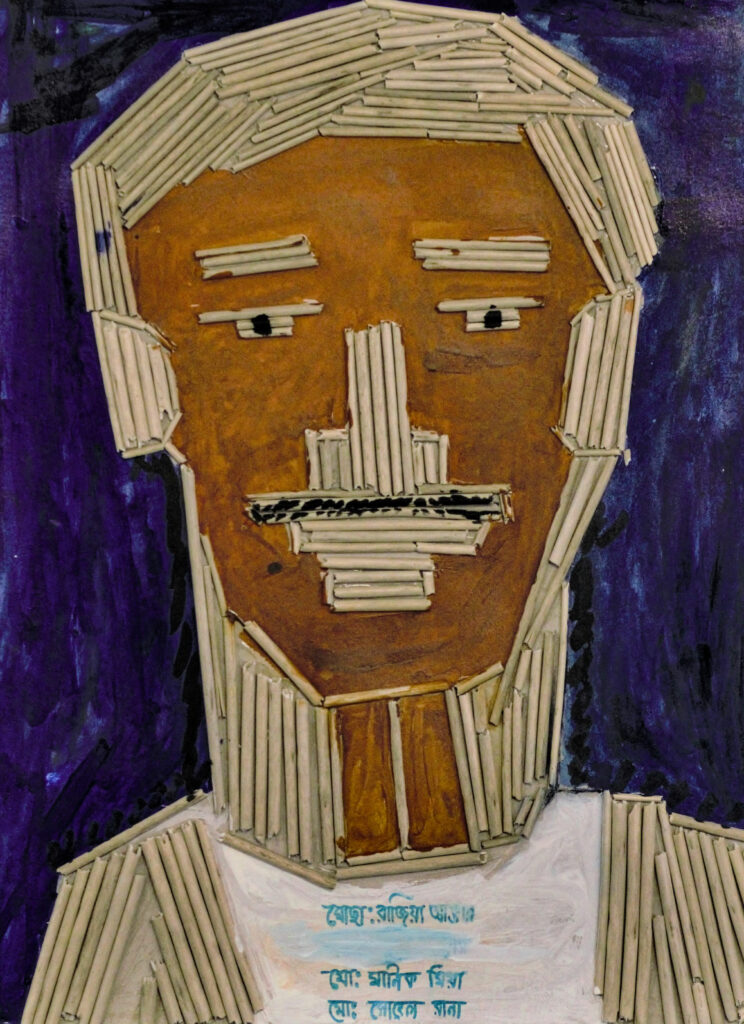 Mst. Raziya Akhter/Sohel Rana/Manik Mia

The face of a dignified human being. Sohel Rana, an eighth grader uses bamboo sticks on a canvas to portray his idea of dignity.
---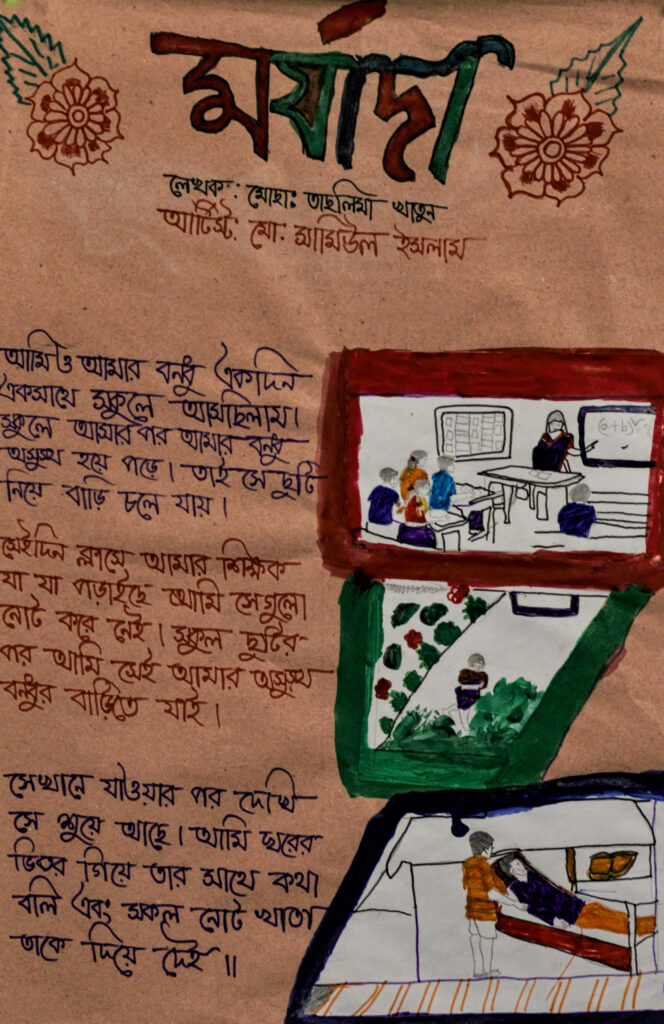 Mst. Taslima Khatun/Md. Samiul Islam – "Morjada" (Dignity)

Empathy is a key component of dignity. Taslima Khatun narrates her story of showing empathy and compassion towards her friend and classmate.
---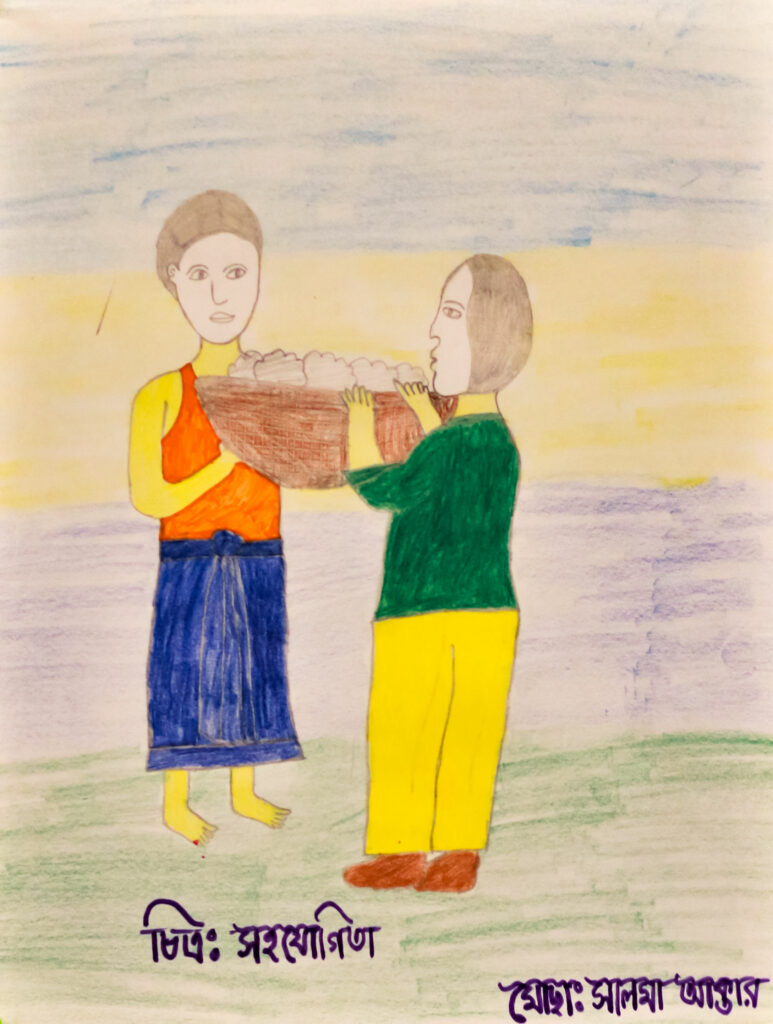 Mst. Salma Akhter – "Shohojogita" (Assistance)

Salma Akhter believes lending a hand of assistance to those who need it will not only help a person in distress, but contribute to the collective good of entire communities.
---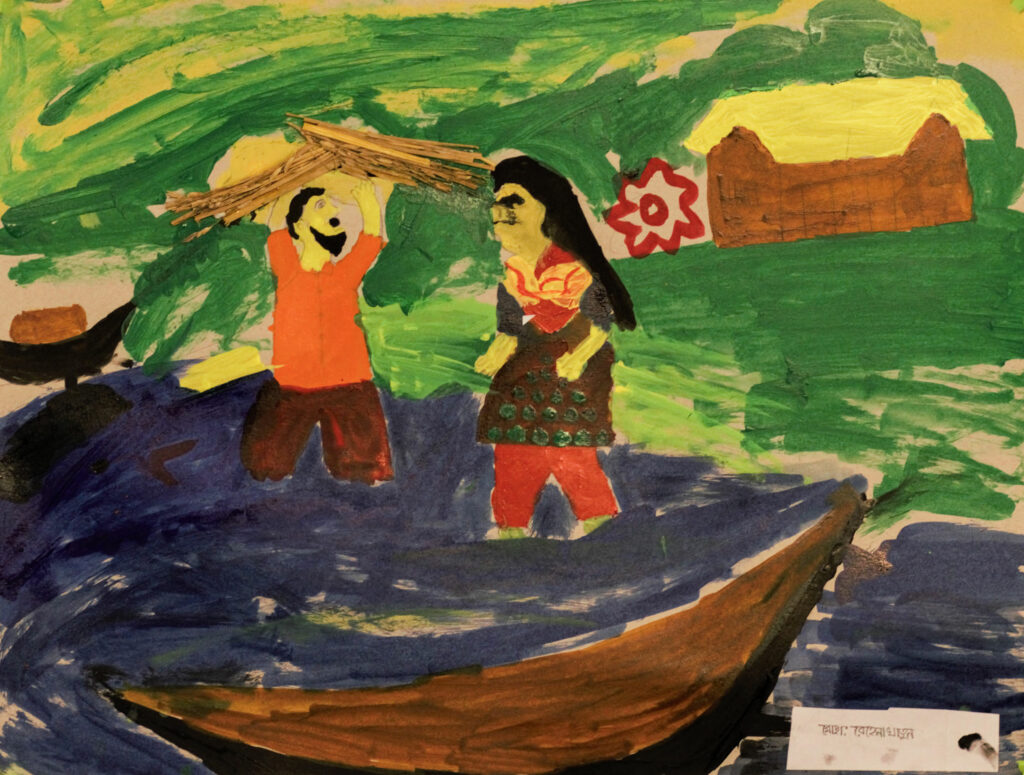 Mst. Rehana Khatun

A hand of friendship. Rehana Khatun portrays a scene frequently witnessed in char areas – a man helping a woman carry her belongings during a flood. She hopes this will inspire people to be tolerant and help those in distress.
---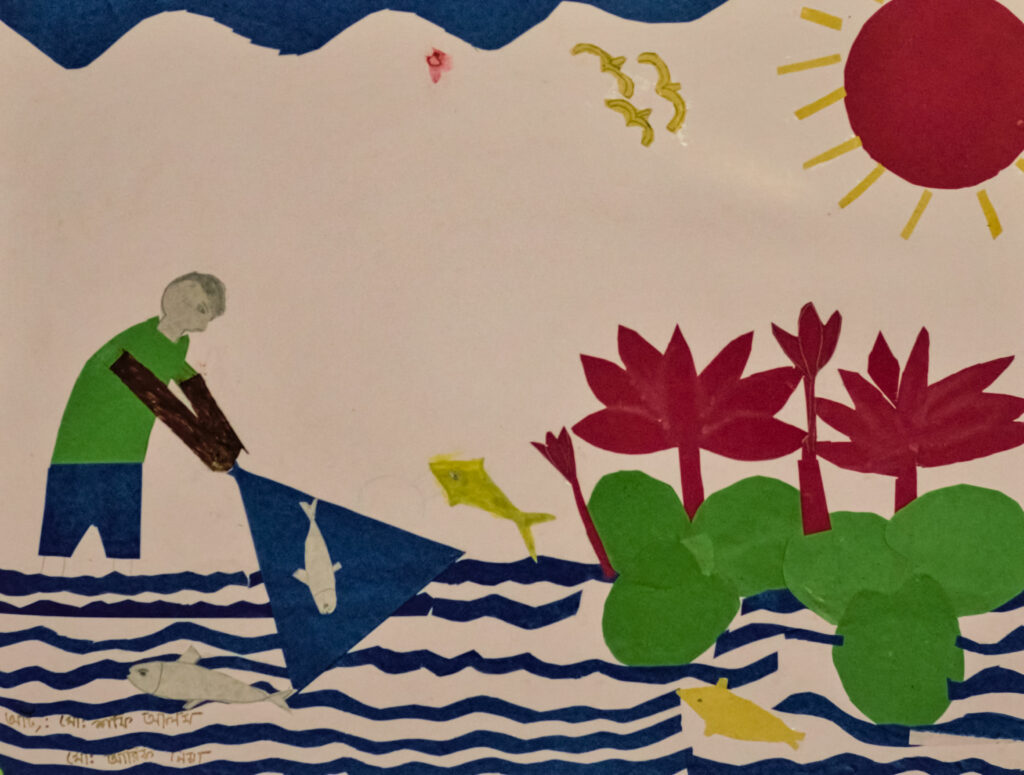 Shafi Alam/Arif Mia – Fishing

Shafi lives at the heart of a river where fishing is a common activity to earn a living. His village inspired his art.
---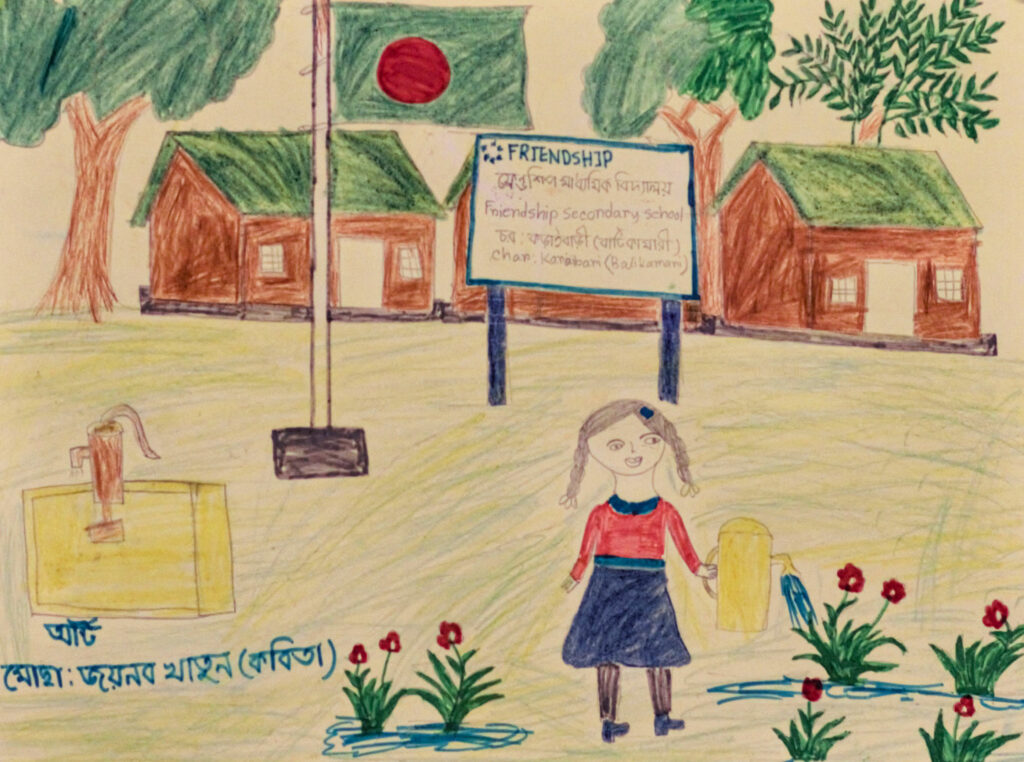 Joynab Khatun

School – where dreams begin. Joynab Khatun's art portrays the very place where she started dreaming of taking on the world.
---
Ripon Mia/Sadekul Islam – "Attobisshash" (Self-confidence)

Being a person with disability does not mean you are impaired. With self-confidence, you can take on the world. Sadekul Islam draws this to send a message that people with disabilities deserve respect too.