Friendship's community leaders stand by villagers facing Covid-19 lockdown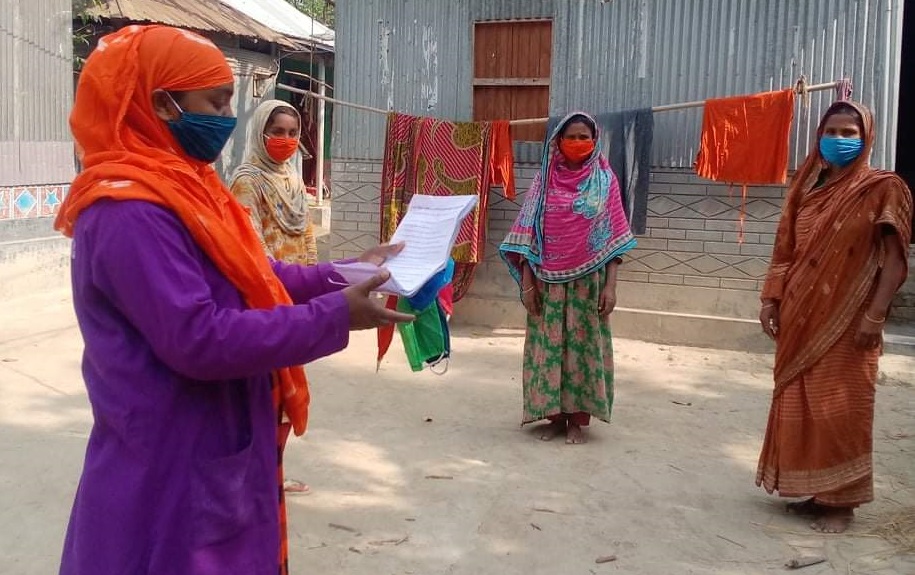 If you're reading this on a device connected to the Internet, in a space with adequate lighting and sound roofing, staying home is easy. For Lavli, whose home is a one-room corrugated iron hut in a crowded part of Madhya Uriya village in Gaibandha, staying home is not so straightforward.
Lavli's husband died in a road accident three years ago. He was the sole breadwinner for the family. Since then, Lavli has been working in neighbours' homes and finding labour reserved for the underprivileged to support her three daughters. The pay is not enough to get by on, forcing her to rely on money from her in-laws working in Dhaka.
Covid-19 has meant they too are out of work. Lavli's in-laws sent her 500 taka (5 euro) from their final paycheque which she and her daughters survived on for more than a week. Having exhausted that they are now living with her brother—a daily wager labourer who is also without work.
What happens when he too has used up his meagre resources? Where do people like Lavli go?
Lavli turned to Noori Chowdhury, a Friendship Community Paralegal who has built a reputation as someone to go to in times of crisis. Noori is one of 65 paralegals trained by Friendship to help their communities access the legal system and other government services. They ensure that even those in the most isolated communities are aware of their rights, and have a way to claim them.
During the Covid-19 crisis, 2,187 field level staff (community leaders like Friendship paralegals and volunteers) have been working hard to disseminate WHO and government messages about social distancing and hygiene. Yet Noori has gone beyond the call of duty by stitching 200 masks with her own resources and personally intervening with those not following quarantine regulations.
Now Noori is working with the local government to ensure that vulnerable families like Lavli's receive emergency relief supplies. The union council chairperson of Uriya relied on Noori's intimate knowledge of the community to make distribution lists. Knowing Lavli's situation, Noori is working to prioritise widows who she believes are "some of the worst affected by the crisis". Already approximately 1200 families in Madhya Uriya have been located to receive this aid.
Currently 500 families have received Friendship's emergency food and hygiene packages which will last them 10 days. This aid will bring necessary respite for Lavli after weeks of uncertainty. Yet much work remains to be done in the coming months.