Adult women in chars overcoming barriers and transforming their lives through education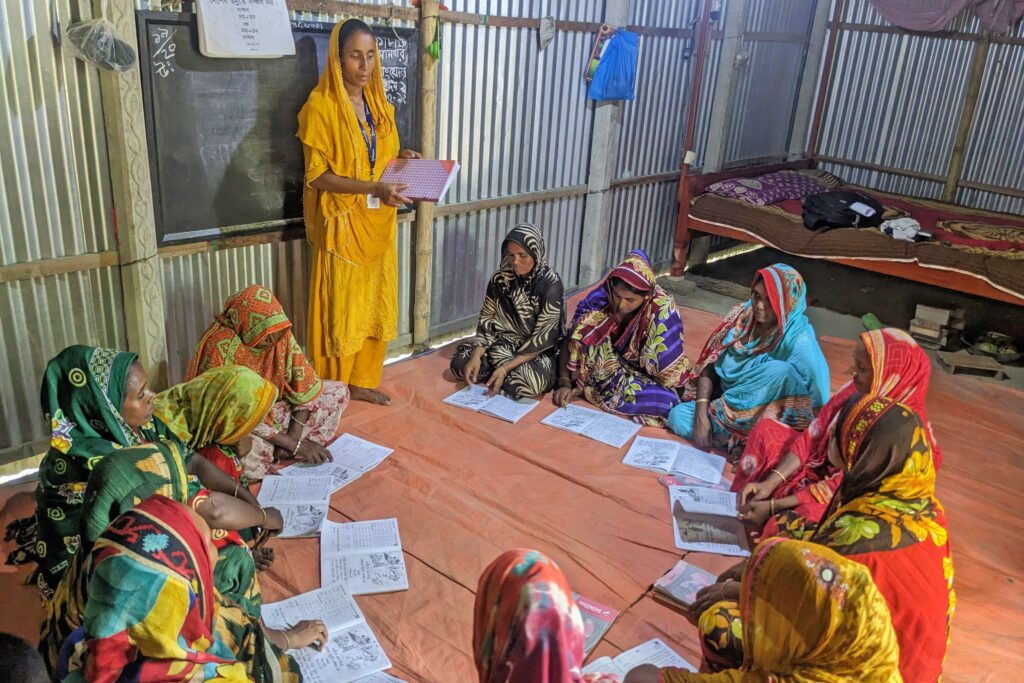 by Tahmeed Chaudhury
October 5, 2023
Johura Begum, 40, lives with her two young children in char Feska, a remote, shifting river island at the heart of the Brahmaputra River in the Chilmari sub-district of Kurigram district in northern Bangladesh. She is the second wife of her husband Abdur Gaffour, who largely remains absent, living away from the village and seldom contributing to Johura's household expenses. Without any education or skills, and without consistent contribution from her husband, Johura was once at a loss as to how to make ends meet and take care of her two children.
"I started providing manual labour at the local Union Council and in other people's fields to survive," says Johura. The amount she earned barely helped her put two meals on the table for herself and her children and she had no idea what the future held. She could not even recognise banknotes. However, when she enrolled herself in the new Adult Literacy Centre established by Friendship in her village, it signaled a change of fortune.
"I was learning for the first time in my life," she says. "In a short period of time, I knew how to read and write, plan and maintain my finances. It gave me the knowledge and confidence to start my own venture."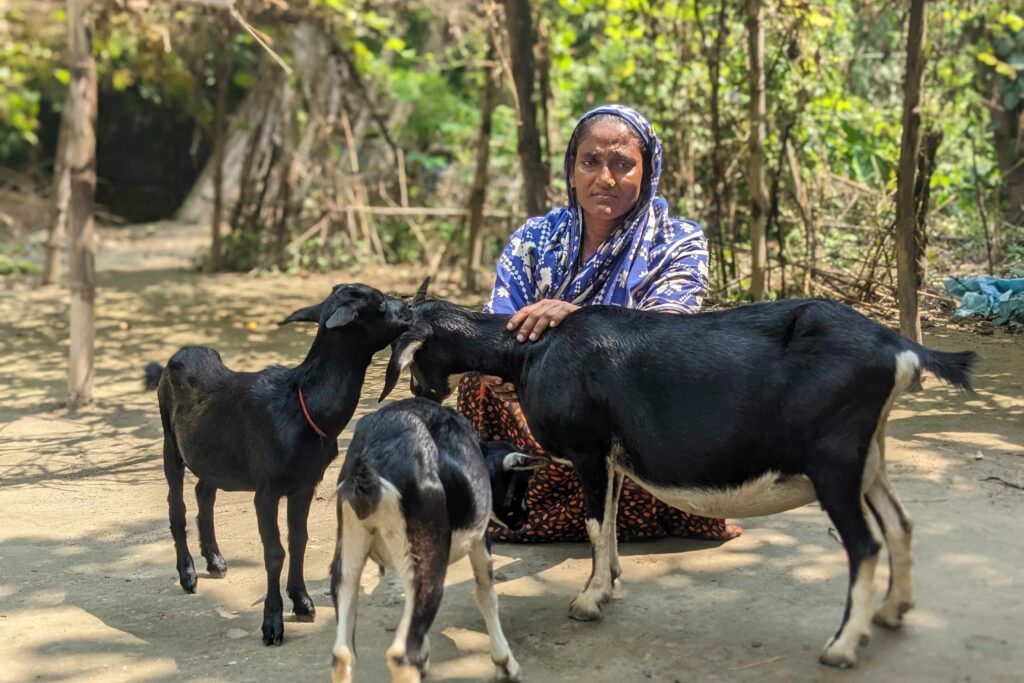 After graduating from the Adult Literacy Centre, Johura participated in training on income-generating activities where she learned how to rear livestock. She then bought a goat from her neighbour on credit and put her newly gained knowledge on livestock rearing to practice; caring, feeding, and raising the goat to be a healthy adult, before it gave birth to a pair of kids. The number of goats in her barn multiplied. She would raise kids to be healthy adults and sell them later for massive profits, with her income helping her purchase two cows as well. At present, she has grown to be a successful livestock farmer, with two cows, three goats, and four ducks at her disposal. She now earns an average income of BDT 30,000 (USD 250 approx.) per month, enough for her to significantly improve her family's living standards.
"I was very unaware of my surroundings before. Education has empowered me and now I am confident about taking charge of my life and planning for a better future. I am very satisfied with the life I am leading now, and my children are going to school." Johura is a source of inspiration to many women in her village, often disseminating knowledge to help aspiring livestock farmers start their ventures.
Friendship's Adult Literacy Centres provide basic education to adult women aged 20 and above who previously could not obtain a formal education. The programme teaches students to read and write, understand basic accounting and mathematics, pursue income-generating activities and educate them on rights and awareness.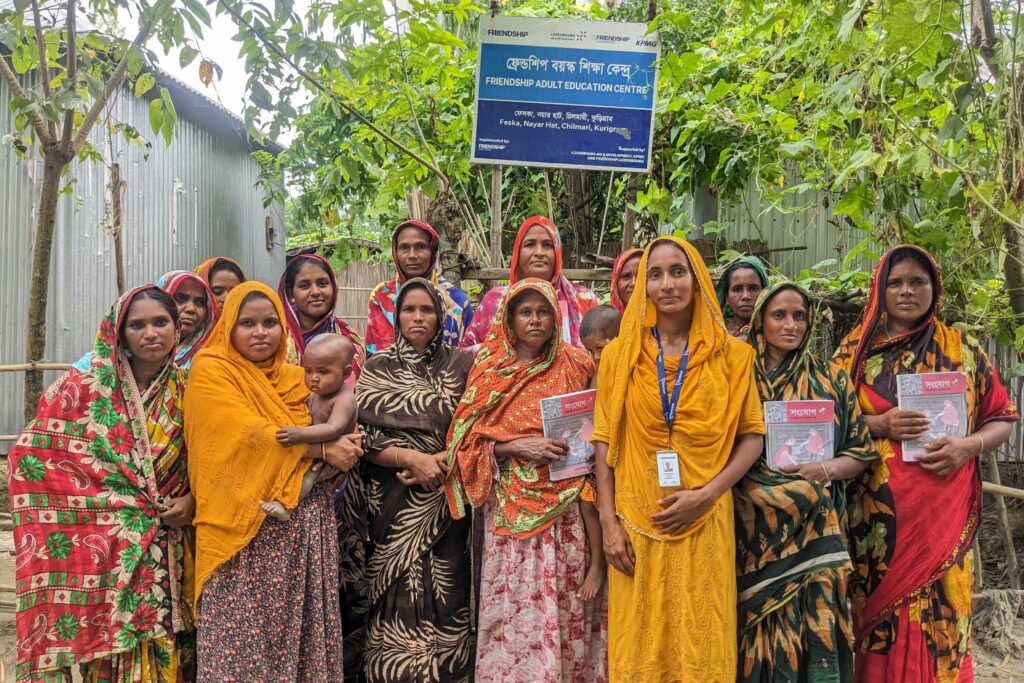 Like Johura Begum, many other women in char Feska benefitted from adult education, becoming empowered to overcome societal barriers that restrict them to the confinement of their homes. Many have since started earning, have taken charge of their lives and are contributing to household needs.
"I once did not know how to write my name. Now, I am able to read documents, provide my signature, make decisions, and help my children in their studies," says Minara Begum, also an adult education graduate at the char. Asirul Khatun, another graduate, says she plays a vital role in assisting her husband manage their household. "I have been receiving more respect at home and my opinion is always given importance."
According to Mosammat Shabnur Akter, the teacher at the Char Feska Adult Literacy Centre, literacy completely changes women who previously had very little knowledge about their rights, their children's rights, how to earn a livelihood or spend carefully, or about any societal norm. "It makes it very easy for them to be targeted or groomed," she says. "After graduating, they learn all these things that make their lives easier, they become assets to their families, they refuse to marry their daughters off young, etc. One of my students recently filed a case against her husband who had been torturing her for dowry for a number of years, after she learned how to access justice."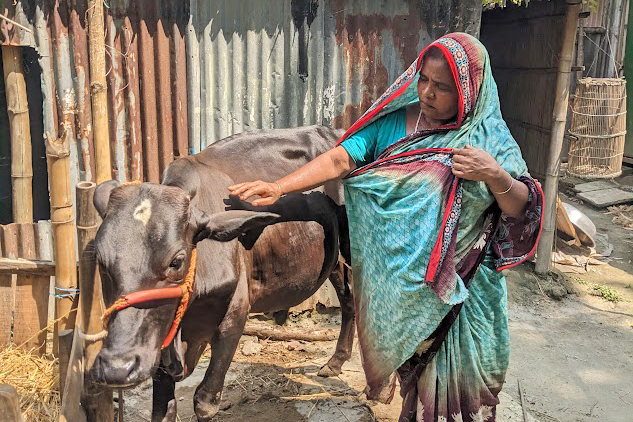 Brig Gen Ilyas Iftekhar Rasul (retd), head of Friendship's Education sector, feels encouraged by the positive outcomes of the Adult Learning Centres. "Adult Learning at remote chars not only makes adults literate and understand the value of education but also helps poverty-stricken families, especially women, to scale small entrepreneurship and improve their socio-economic conditions," he says.
A total of 49 Adult Literacy Centres are now in operation in Friendship's working areas in northern riverine chars and the southern coastal belt of Bangladesh. Till now, 10,450 adults have graduated from the centres.